This Long Island home is a masterclass in mixing interior materials – our top 3 takeaways
Mixing interior materials is a subtle art, and this historic Long Island home absolutely nails it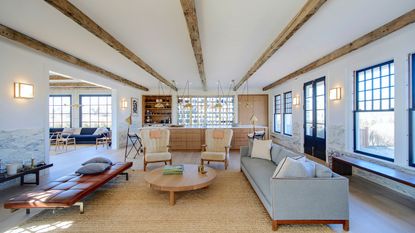 (Image credit: Richard Taverna for Sotheby's International Realty)
This Long Island Home shows how mixing materials should be done, creating an interior design that is at once natural and glamorous. The stunning rebuild of the 1902 10-bedroom mansion has a striking interior style that both showcases the original architectural features and introduces Mid-century and contemporary elements for a bespoke look.
What has really caught out eye is the expert blending of materials that aren't always easy to make work together. Here are the three main lessons in material mixing we're taking away from this gorgeous modern home.
1. Whitewashed rooms need strong accents
Although 25 Quimby Lane is a luxurious mansion, it has a cottage style to its rooms, complete with wooden beams. While these have been left exposed in some rooms, in others they have been painted for a more modern, neutral look.
What we really like is the strong, characterful contrast created with the handmade mahogany windows and the carefully curated collection on warm, Mid-century furniture pieces in wood and leather. These rooms are airy, yet they're anything but bland. We love how this hotel's similar lessons in mixed materials.
To learn more about placing warm wood accents in a room, discover our guide to Mid-century modern furniture.
2. You can have a luxury kitchen in natural wood
Natural, unpainted wood isn't necessarily the material that's most readily associated with modern kitchen design. But as this stunning open-plan kitchen proves it is perfectly possible to create a contemporary, luxurious kitchen by mixing wooden cabinetry with marble, brass, and glass. The central handmade glass display cabinet lends the whole kitchen design a very high-end look, and it helps that the wood is of a cooler tone harmonious with the other materials.
We have more beautiful wood kitchen ideas in our gallery.
3. Create a center of gravity with textured rugs
The use of textiles is kept to a minimum in this home to avoid too much competition with the already rich interplay of materials. However, where floor coverings are used, the result is stunning, because the rugs ground the open-plan spaces. For our money, this is the best use of a sisal rug we've ever seen – completely appropriate and somehow luxurious-looking.
25 Quimby Lane is on sale for $28,500,000 by Frank Newbold and Beate Moore of Sotheby's International Realty.
Anna is a professional writer with many years' experience. She has special interests in architecture, photography, and high-end interior design. Her work has appeared in Homes & Gardens, Gardeningetc, and many other publications.