Livingetc's House Tours Live is back - book your tickets now
Livingetc announces the return of House Tours, its brilliant live event happening in September 2021, with tickets available now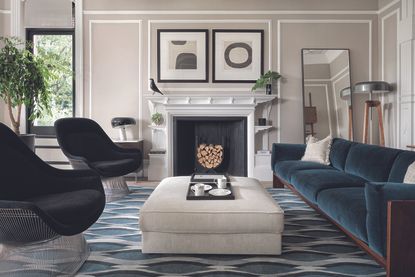 (Image credit: Carly Madhvani, NW3 Interiors)
We're getting so excited by the return of House Tours, our brilliant live event series.
This 9 and 10 September, we're throwing open the doors of six inspiring and beautiful homes that from the magazine, bringing our pages to life. Walking between each home, touring it and looking at each room in detail, you'll have the chance to get up close and personal with the design, to see how colours look in the true light of day, meet our editors and take notes on ideas to try yourself.
Tickets have only just gone on sale but are already selling fast - book your House Tours tickets here to ensure you don't miss out, as spaces are limited.
Go inside six amazing homes in London's Primrose Hill
This September, we're heading to London's Primrose Hill, once home to the cream of British rock and roll and now full of incredibly beautiful interiors. All six properties are in walking distance, giving you the chance to view them at your leisure.

The houses include the one above, which you may remember as the set for Sophie Dahl's cooking show, and (featured at the top of the page), the home of designer Carly Madhvani, the interior designer and founder of NW3 Interiors, full of luxe and exciting ideas.
You'll be outside for much of the day, and we've taken extra precautions to ensure the event will be Covid secure, socially distanced and safe. Come and meet the Livingetc team, have a snoop through houses you've read about and leave with a whole host of decor suggestions to put into practice at home. We know you love House Tours Live as much as we do. See you on the route in September!
Tickets are limited, so book here now to ensure you don't miss out.
Livingetc House Tours Live Primrose Hill takes place on 9 and 10 September, 10am - 4pm.
Each ticket costs £50, including access to six homes and the House Tours hub,
where you can refuel and meet the editorial team.
House Tours is brought to you in partnership with Sanderson and Yves Delorme.
Shining a spotlight on the now and the next in home design and decor, Livingetc is the UK's best selling high end and contemporary home design magazine. As a brand, Livingetc showcases the world's very best homes, breaks and makes the trends, and has access to leading international designers for insight and ideas. It was first published in 1998, and is currently edited by Pip Rich.