Step inside rug designer Erik Lindstrom amazing LA home
Erik Lindstrom's house is an eco-friendly haven just moments from Venice beach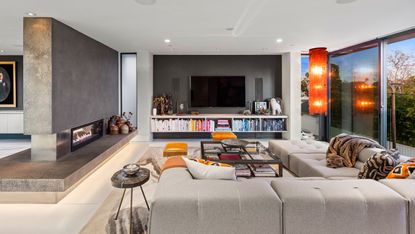 (Image credit: Marc Angeles)
Rug designer Erik Lindstrom is selling his exquisite house in Venice, LA, and this home is a treat for all the senses. Not only is this home beautiful, but it was designed using sustainable planning principles.
The building is a labor of love by architects Erla Dogg Ingjaldsdottir and Tryggvi Thorsteinsson of Minarc. The interiors are by Lisa Strong. The result is a house that is itself a work of art – a modern home par excellence.
With three bedrooms and four bathrooms, this 2,766-square-foot home boasts city and ocean views in an ideal location. The interiors combine airy minimalism with highly individual touches – you can tell that the owner really understands textiles, patterns, and how they can enhance interior design.
Privacy and seclusion in the middle of an urban area is what this home excels at – and the main guest suite is a prime example of this. The tranquil space combines hotel-style luxury with inspired artwork choices and has a glass wall that opens onto a spectacular private patio. Any guest would feel welcome and well looked after here.
Other rooms are less formal and a reminder that this is a family home. Each room emphasises the magnificent views of the surrounding greenery and the ocean. Large, wall-to-wall windows create a sense of spaciousness in even the smaller spaces.
The heart of this home is the great room – and open-plan living, kitchen, and dining space. The double-height, metal fireplace divides the different areas of this room, creating cozy and secluded area within the vast space.
This house isn't just about aesthetics, however. It features recyclable building system that results in net zero efficiency – a contemporary home that also is compatible with a carbon-neutral future. It will continue to be relevant as a prime example of luxurious eco-living.
For those who yearn for the great outdoors, this urban home offers an extraordinary roof terrace with 360-degree city and ocean views, an expansive fire pit, and plenty of room to lounge and entertain.
See: Backyard trends for small gardens
Erik Lindstrom's house at 621 Mildred Lane is on sale for $3,750,000 by The Agency.
Anna is Consumer Editor across Future home titles. She contributes to Livingetc, Homes & Gardens, Ideal Home and Real Homes, and she has a background in academic research. She is the author of London Writing of the 1930s. Not just an expert in consumer shopping trends, she has also written about literature, architecture, and photography, and has a special interest in high-end interior design.