7 trending planter styles designers rely on to instantly elevate backyards - and how you can use them
Wicker baskets outside? These flower container trends will add warmth and character to your outdoor space...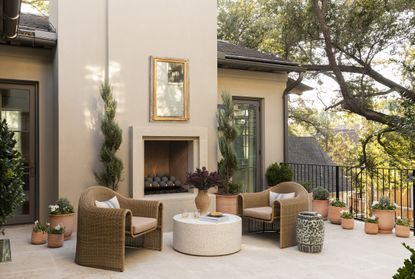 (Image credit: Ryan Street Interiors/Julie Soefer)
The Livingetc Newsletter
For style leaders and design lovers.
Thank you for signing up to LivingEtc. You will receive a verification email shortly.
There was a problem. Please refresh the page and try again.
Container planting is an easy way to inject life into your outdoor living room, adding greenery and pretty blooms for the win. But what planters should you be reaching for?
From wicker baskets to oversized terracotta pots, these designer-approved planter style trends will ensure your outdoor space feels fresh and up-to-date as well as pretty.
Whether you want to add charm to your courtyard garden, or make sure your backyard is in bloom, the flower container trends below will mean you're on point.
7 planter styles designers rely on
'The plantings within the pots should be a variety of annuals, perennials and even evergreen shrubs that can be grouped together to create a dramatic statement at your front entry or on your back terrace,' says Marci Bonner, an associate at Richardson & Associates Landscape Architecture.
See what the pots themselves should be like for an on-trend space below.
1. Terracotta
'Traditional terracotta pots are timeless in style,' says Kate Anne Gross, Principal, Kate Anne Designs.
'We love using them for their pop of bright, warm tones. They really help contrast a space and add some rustic charm.'
Jennifer Sissom, Lead Interior Designer, Ryan Street Interiors, is also a fan and used them to decorate the beautiful space above. She says: 'Terracotta pots have been used for centuries in various cultures around the world, contributing to their timeless appeal. By using different heights and sizes of pots on this rooftop garden off the primary suite, we were able to create our own oasis in the University Park neighborhood of Dallas, Texas. With different trees, shrubs and roses, the variety creates a curated garden at every angle- the perfect place to sit in the sun and enjoy an iced beverage.'
Another top styling tip? Group them together in threes - rule of three design tips always create an interesting visual appeal.
2. Wicker
Thought wicker baskets were just for your entryway? Think again. They're a great way to add a dash of welcoming country charm to your outdoor space, prettying up your patio. And they go with everything.
'We love using outdoor rated wicker baskets as planter coverings,' says Kate Anne Gross. 'They bring warmth and a country style to any space.'
3. Oversized
Love for an oversized vessel currently knows no bounds, and they're as successful outside as they are in modern interior design.
Opt for a patinated rustic clay pot to add character and warmth to any space.
Kate Anne Gross says: 'Oversized planters are helpful to being able to bring large trees into a space. This creates extra greenery, texture, and dimension. They're also nice in that you can easily add additional trailing plants and flowers for an added pop of color.'
4. Grey clay or concrete
The popularity of grey planters is going nowhere fast. Whether it's concrete, stone or patinated clay, a grey flower container or planter is a neutral piece that will work in a contemporary or country-style outdoor living room.
Choose stone or clay if you want to be really on-point and give a nod to the natural trend.
'The use of natural materials in flower containers is trending,' says Andrew Gaumond, horticulturist and editorial director, Petal Republic. 'Materials like stone and reclaimed wood can provide a more nature-centered, organic aesthetic to gardens, patios, and outdoor spaces.'
5. Vertical planters
'Hanging and wall (or fence) mounted flower containers have been incredibly popular over the past few years,' says Andrew Gaumond.
'Not only are they ideal for saving space, but they also allow you to bring container gardening to both indoor and outdoor locations.'
He adds: 'As an added benefit, I've also found them to be incredibly useful for pest management, such as evading foxes, rabbits, and other garden pests that have a habit of digging up flower beds.'
6. Spherical forms
Take the inside out and add the popularity of curve appeal to your outdoor space.
Spherical and round planters are a great choice for any backyards that may need a little softening.
Landscape designer Amber Freda's favorite go-to? 'The sphere planters from Crate & Barrel (seen above) are always very popular,' she says.
They work in the outdoor space above by softening the hard lines of the decking, box planters and bridge beyond.
7. Aqua
'Ceramic pots in various shades of blue are in this year,' says Amber Freda. 'Aqua, in particular, is a very popular ceramic planter color right now.'
Color can work as an antidote to very contemporary style houses, says Marci Bonner, an associate at Richardson & Associates Landscape Architecture.
She explains: 'One of the recent trends for new home styles has been modern which sometimes borders on sterile. In order to counteract that sterile new-build feeling is to bring in groupings of varying sized planter pots that have texture and/or color.
'The added character from the pots help to soften the clean lines of modern homes and warm-up exterior spaces.'
What are the best flowers and color combinations for container gardening?
'When it comes to the best color combinations for container gardening, people tend to either like jewel tones or pastels,' says landscape designer Amber Freda.
'And we also have a sizable number of gardens we work on where people prefer mostly shades of green with maybe a little bit of white or blue as occasional accents.'
In terms of flower types, there's been a move towards wildlife gardening and encouraging beneficial garden insects to your outdoor space.
'I see a growing trend of home gardeners prioritizing native flowers that can help support local ecosystems and pollinators,' says Andrew Gaumond.
'Native plants also benefit the environment, typically requiring less water, pest control, and fertilizer to thrive.'
Austin-based landscape designer Amy Hovis, Prinicipal, Eden Garden Design, agrees that native planting is the eco-friendly flower container trend for 2023 and beyond.
She says: 'The trends for floral container planting is all about ecology. People are increasingly drawn to the joy of inviting butterflies and hummingbirds into their landscapes by cultivating perennials that attract these delightful creatures.
'Two of our favorites include the firecracker fern (Russelia equisetiformis), renowned for its stunning red tubular flowers that captivate hummingbirds, and the gregg's mistflower (Conoclinium greggii), whose beautiful lavender blooms serve as an irresistible attraction for butterflies.'
She continues: 'Opting for native perennials not only ensures gorgeous displays but also provides ecological benefits to your landscape. Witnessing life flourish in your surroundings is a rewarding experience, and container planting adds a vibrant splash of color to your planters. You'll be amazed at how wildlife flocks to your yard, bringing a sense of excitement and wonder.'
For style leaders and design lovers.
Ruth Doherty is a lifestyle journalist based in London. An experienced freelance digital writer and editor, she is known for covering everything from travel and interiors to fashion and beauty. She regularly contributes to Livingetc, Ideal Home and Homes & Gardens, as well as titles like Prima and Red. Outside of work, her biggest loves are endless cups of tea, almond croissants, shopping for clothes she doesn't need, and booking holidays she does.