We're calling it – the "open" bathroom trend might divide the crowd, but its pros far outweigh its drawbacks
This hotel-inspired ensuite bathroom trend looks amazing, but it's not going to prove popular with everyone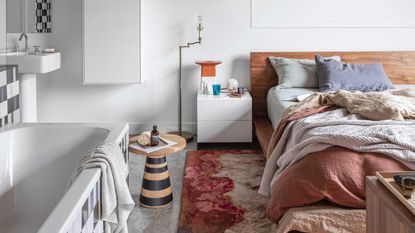 (Image credit: Ema Peter. Design: Falken Reynolds)
The Livingetc Newsletter
For style leaders and design lovers.
Thank you for signing up to LivingEtc. You will receive a verification email shortly.
There was a problem. Please refresh the page and try again.
Have you ever stayed in a hotel with an ensuite bathroom that is just 'open' onto the room? The first time it happened to me, I was a little taken aback, especially when I first walked into the room with my partner. Most of us are used to bathrooms being private spaces, after all - little retreats behind locked doors that offer somewhere secluded to relax and pamper.
But that's the thing about vacations, isn't it? The whole vacation is your retreat, so logic follows you might not need to lock yourself away for an hour to find peace. But while this design trend might feel like something that belongs in a hotel setting, it's an idea that designers are translating to modern bathrooms at home, too. And for good reason.
'One of the biggest benefits of an open concept bathroom is the increased natural light and improved ventilation,' Chad Falkenberg, co-founder of interior design studio Falken Reynolds, tells me. 'Without walls and doors blocking the way, sunlight can easily flow into the space, making it feel brighter and more refreshing with a large bedroom window. The open concept layout also makes the bedroom feel more expansive as it maximizes available square footage by eliminating the dividing walls and doors.'
But of course, for every person who loves the idea, there's going to be another who thinks it's totally impractical. It mixes wet and dry spaces, while also reducing the privacy of the bathroom.
With these drawbacks, could it really be the next big bathroom trend? Well, I say, yes. The designers creating these open-concept ensuites are proving these concerns can be resolved, while creating incredible bathroom spaces at the same time.
Hugh is livingetc.com's deputy editor, and an experienced interiors journalist. Here, he speaks to some of the world's most creative designers about schemes involving open concept bedroom suites.
How to design an "open" bathroom
As well as the functional benefits, it makes an ensuite part of a larger aspirational lifestyle. 'This type of bathroom is ideal for those who want to create a spa-like atmosphere in their bedroom, connecting rejuvenating rituals of bathing and sleep,' interior designer Chad Falkenberg explains. 'Since more natural light enters the space, there is an immediate connection to the outside and to "nature", even if the view is urban, it does create a sense of serenity and peace.'
For all its qualities, an open-concept ensuite makes for a much more involved design process. You'll not only need to consider how to mitigate against the major drawbacks of the idea, but you'll also need to make sure the bathroom looks good enough to have made the whole thing worthwhile.
'I think it's important to think about how you transition from one space to another, even if there are no walls separating the spaces,' suggests interior designer Greg Natale. 'There are certain areas that need to be concealed, so this is a key consideration at the planning stage. And, if you're going to put something on display, it must be beautiful to look at,' he adds.
An open bathroom may also allow you to be more creative with your bathroom layout, especially if you were dealing with a smaller space confined within four walls before, however, you're also losing a wall, something which has greater value than in almost any other room given the amount of plumbing you need to squeeze into a space.
In the right hands, however, the open ensuite bathroom can be a defining feature of a bedroom. Here are just a handful of examples of how brilliant this idea can be in practice.
1. Master the transition
The best examples of this bathroom trend don't simply drop a bathroom into the landscape of a bathroom, they're thoughtful in how the spaces transition into each other.
For Greg Natale, his client wanted a bedroom and ensuite that felt like a luxury hotel suite. 'We opened up the space not only to make it feel generous and expansive, but also to express a sense of fluidity that was in keeping with the graceful, flowing curves that define the project as a whole,' Greg explains. 'We were able to have one uninterrupted space while delineating different zones for the bedroom, ensuite, study, sitting area and walk-in robes by creating gentle shifts in materials that mirror the snaking lines of the coffered ceiling.'
The ensuite is configured so that's privacy where required, a toilet and shower tucked away behind discreet opaque and fluted glass doors. The centerpiece? 'A beautiful freestanding bathtub that floats gracefully in the center of the space,' Greg says.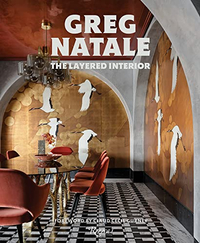 2. Make sure it looks good
In this hip loft apartment in a trendy Vancouver neighbourhood, design studio Falken Reynolds inherited a main bedroom with an open concept ensuite. It's something that made sense to retain when re-designing the apartment, as it allowed for the small bathroom layout to include both a shower and a bath, without feeling cramped.
However, what did need reconsidering was the aesthetics of the bathroom space to make it something that added to the interior design of the bedroom, not detract from it.
'We loved the concept because it makes soaking in a tub so much more relaxing when it's in a larger open space, that has great acoustics thanks to bedroom fabrics and furniture,' Chad explains. Yes, another benefit of the open concept bathroom is less of that tell-tale echo. 'The extra breathing space is pairs perfectly with the idea of an open loft so we completely agreed with the client when he wanted to rebuild with the existing layout.'
All the fixtures were removed and re-installed with proper waterproofing and ergonomics. 'We cleaned up the glass detailing so it rests in a slot cut into the quartz slab that tops the tiled wall,' Chad says. 'We also created a ledge at the back of the shower for bottles and worked with the tile setter for mitred corners and a super clean installation so the new, bold graphic pattern would be uninterrupted. We also added a lot of built in bathroom storage with white wall mounted cabinets that float off the floor - accentuating the expanse of space and adding a lot of extra storage.'
3. Hide what needs to be hidden
Image 1 of 2
If I had to venture a guess at the reason that the open bathroom trend is most decisive, it's a concern over a privacy. However, these modern ensuites are designed in such a way that privacy is afforded to the spaces that need it.
'For me this is similar to how a kitchen might function within a larger, open-plan space,' Greg explains, 'with messy kitchen prep areas concealed within a working scullery while the main space is given over to a beautiful island bench where people can gather.'
In many of these instances, the "kitchen island" is the bathtub, whether it's Greg's design or this ensuite for an attic bedroom suite in a stylish Seattle home. 'The sink and vanity area sits open as well with a closed-off shower and toilet room divided by a wall of custom steel and glass doors,' explains its designer Lisa Staton.
Chad Falkenberg agrees that you'll require elements of privacy, but what exactly you want to hide depends on the client. 'If we're designing for a couple, we always ask if they are on the same schedule, or if there are a lot of times when one is sleeping and the other may be getting ready to head out to work,' Chad says. 'If there needs to be acoustical and light separation from the shower and sink to the bedroom, we like to ensure there is a door between those parts of the ensuite and the bedroom.'
4. Consider optional privacy
For the best of both worlds, you could consider a design that allows for privacy when the user desires. It was part of the brief for this modern bedroom suite created by architects Searl Lamaster Howe in an apartment in Chicago.
Rather than a completely open ensuite, the designers used a glass room divider. 'The bold move of using a wall of glass between the bathroom and the bedroom was only possible with the inclusion of a number of details in a nod to practicality,' architect Greg Howe tells me. 'The shower and water closet were, for example, intentionally located on the side of the bathroom furthest from the bedroom and fully enclosed.;
However, it's not the only practical privacy feature. 'A gap between the ceiling hung mirrors and the backs of the bathroom vanities and the glass wall allows for a concealed motorized shade to drop down when full privacy is called for,' Greg explains.
For style leaders and design lovers.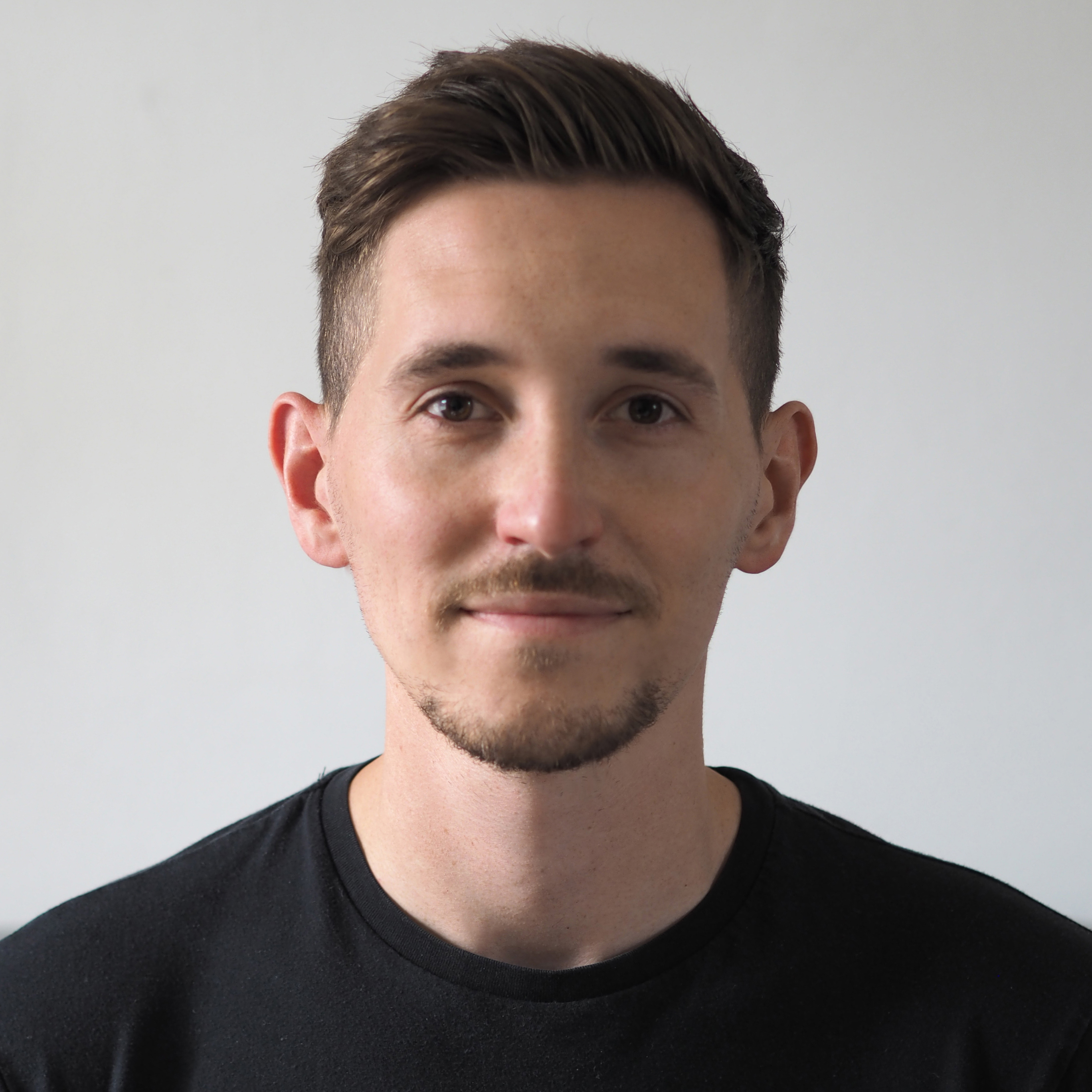 Hugh is the Deputy Editor of Livingetc.com. From working on a number of home, design and property publications and websites, including Grand Designs, ICON and specialist kitchen and bathroom magazines, Hugh has developed a passion for modern architecture, impactful interiors and green homes. Whether moonlighting as an interior decorator for private clients or renovating the Victorian terrace in Essex where he lives (DIYing as much of the work as possible), you'll find that Hugh has an overarching fondness for luxurious minimalism, abstract shapes and all things beige. He's just finished a kitchen and garden renovation, and has eyes set on a bathroom makeover for 2023.