How to make a small space look more expensive - 7 tricks designers use to instantly elevate a bijou room
Small space? No problem. These expert ideas will ensure your petite pad packs a serious style punch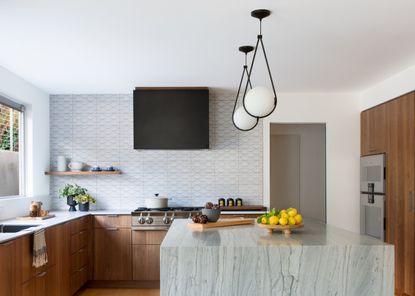 (Image credit: Banner Day Interiors)
The Livingetc Newsletter
For style leaders and design lovers.
Thank you for signing up to LivingEtc. You will receive a verification email shortly.
There was a problem. Please refresh the page and try again.
A small room does not have to be devoid of luxury. In fact, the simplest touches can make a small space look more expensive and just as upscale as their larger counterparts.
Simply by switching up the quality of the materials used in the space, or adding decorative details like paneling, you can up the sophistication factor in an instant.
We've tapped some top designers below to reveal their secrets when it comes to styling a small space to ensure it exudes just the right amount of verve.
How to make a small space look more expensive
There are a number of tricks designers use to make a small space look more expensive, and these include adding statement art to the room, ensuring that you use luxe materials furniture and fittings, keeping the space clutter-free, and showcasing pretty objects.
Keep scrolling to find out how to elevate your small space below.
1. Invest in oversized art
Just because the room is small, doesn't mean your art has to be. And a good quality piece works wonders for making a space feel more upscale.
'While you may need to be more careful with the size of your furniture in a small room, you don't need to worry about size when it comes to art,' says Kelly Hopter, principal designer at Kelly Hopter Interiors.
'Incorporating oversized artwork can really elevate a small space without impinging on valuable floor space - so don't be afraid to make a statement.'
2. Add decorative paneling
Thought wall paneling was just for large, grand spaces? Not so, says Kelly Hopter.
'Adding decorative paneling or molding can lend a sense of elegance and grandeur to smaller spaces,' she comments.
'Keep it the same color as the walls - it will add visual texture and interest without looking busy, allowing the room to look a little bigger.'
3. Show off objet on open shelving
Displaying ceramics, artwork, vases, plants and other pretty objet on open shelving gives the impression there's more space than there might be by highlighting the non-functional pieces.
These decorative finishing touches work together to create a sense of luxury in a small space, showing that the pretty can rub shoulders with the practical in when you're short on square footage.
'Even if your space isn't grand, you can make all the difference with thoughtful styling,' says Kelly.
'Open shelves, in particular, offer an opportunity to incorporate an artful display of books and objects, or dishes and ceramics in the kitchen.'
4. Keep it clutter-free
There's nothing that makes a room feel less luxurious than clutter; it's visually unappealing as well as creating chaotic feeling in the space.
In any small space, from your bedroom to your living room and entryway, aim to clear the clutter and you'll instantly create a more high-end ambiance.
Dan Mazzarini, Principal and Creative Director of BHDM Design and ARCHIVE by Dan Mazzarini, says: 'I personally dislike seeing coats out in a small entryway, and clutter tends to make a space feel much tighter.
'Try organizing and containing winter wear and bookbags with low-budget, off-the-shelf cabinet options. You can find great options at Target or Walmart and dress them up with your own hardware for an elevated look.'
5. Look at lighting
A statement light can lift any small space, and you don't need to plump for petite either - choose a sculptural, oversized light that can offer a trend-led aesthetic the same way it can in a larger space. It will add decadence and dimension to the room.
Layering your lighting also gives a sense of luxury, along with the ability to dim the lights for a relaxed ambiance.
'You can make your home look luxe on a budget by prioritizing utility in your spaces,' comments Dan Mazzarini.
'It's all about finding that sweet spot where functionality meets aesthetics – installing light dimmers works wonders. With a simple adjustment, you can create a warm mood or set the stage for a cozy movie night. Our suggestions: Lutron Credenza Plug-In Dimmer and soft white dimmable light bulbs. 2700k temperature is a universally safe option.'
6. Indulge in sumptuous, rich colors
Dark colors create a sense of decadence in small spaces, so don't be afraid to go to the dark side.
Rich, saturated shades will lend drama and an upscale aesthetic to a small living room, small bedroom or powder room.
'Darker colors work wonderfully to harness the character and depth of a space, creating intimacy, warmth and luxury,' says Ruth Motterhsead, Creative Director at Little Greene. 'For example, deep, intense browns such as Chocolate Color are perfect for creating calming spaces, enveloping an interior that will deliver an enticing, richly layered feeling of comfort and coziness.
'Painting the walls and woodwork in the same hue can create an effect that will stretch the look of your walls creating the illusion of more height, creating a feeling of indulgence.'
7. Use luxe materials
Whether it's a high-end wallpaper in a small powder room or indulgent linens in a bedroom, the quality of the materials and fabrics you use in a small space will greatly affect the final aesthetic.
Just because you have a small kitchen doesn't mean you can't choose marble for your kitchen countertop material, or small kitchen island.
A beautiful velvet sofa will always work to make a small living room look more expensive, while statement bathroom sink will instantly elevate a small bathroom.
As they say, the devil - or in this case the decadence - is in the detail.
For style leaders and design lovers.
Ruth Doherty is a lifestyle journalist based in London. An experienced freelance digital writer and editor, she is known for covering everything from travel and interiors to fashion and beauty. She regularly contributes to Livingetc, Ideal Home and Homes & Gardens, as well as titles like Prima and Red. Outside of work, her biggest loves are endless cups of tea, almond croissants, shopping for clothes she doesn't need, and booking holidays she does.