How do you make a small deck look bigger? 10 design ideas that stop your outdoor space feeling cramped
If you've only got a small deck to entertain outdoors, the right design decisions can help it feel a more spacious place to spend time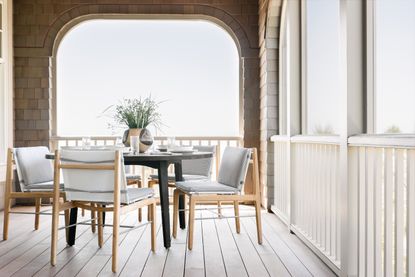 (Image credit: Cortney Bishop Design)
If you want to make a small deck look bigger, think out of the box. When deck space is at a premium, you don't need full gut work to make it more functional. All you need is an efficient design and smart styling to transform this cramped outdoor area into an inviting one. After all, with warmer weather slowly taking over, outdoor living is soon going to take center stage in our homes.
To cozy up this space and make your backyard deck more inviting, we spoke to top designers around the world to give us tips on how to boost this space.
10 ways to make a small deck look bigger
From investing in disappearing furniture, to choosing the right plants and seating layouts, there are plenty of clever design ideas you could try out.
1. Add a sectional to maximize space
Before you decide how to boost your backyard deck's dimensions, take a moment to consider how you'd like to use this space. For instance, if you like to host family and friends often, you'll want to maximize the deck area for seating and a grill. If you prefer to use this space to relax, you'd want to expand this space for more laid-back living. So, think of outdoor chaise lounges, swings, bistro chairs, daybeds, and more.
Choose pieces that can be customized to fit perfectly within the dimensions of this outdoor space, but provide seating and even lounging space to more than one person. In such a case, a sectional works perfectly. It allows more space in the center, for perhaps a small coffee table or space to walk around. Then, cozy it up with cushions.
2. Mix materials to create zones
Arranging your deck furniture into more than one conversation area can create a feeling of boosted space. Multiple outdoor seating areas give the illusion of more space, as one can transverse from one spot to the other, for different experiences. You could create one seating zone with a fireplace, and the other with just stools and chairs facing each other.
You could also add a picnic table and a long bench so more people can be included within this tiny area. 'When it comes to picking the right shape and type of furniture, I'd suggest ones in simple shapes and clean lines,' says Linda Hayslett, founder of LH.Designs.
3. Use simple furniture
'To make a small deck look bigger, keep your furniture streamlined and simple,' says Julia Mack, founder of Julia Mack Design. 'Purchase items that are compact. Look for minimal arm widths and more modern, linear looks. Select the smallest size furniture pieces possible, and stay away from excess details and heavy, clunky styles.'
Furniture that you can see through, made up of frames of rattan or powder-coated metal strips, for example, can help make the outdoor deck look light, open and airy, too. These pieces apart, from flexible furniture pieces like easily reconfigurable sofas, nesting side tables and ottomans that can double as coffee tables and sofa extensions, all work great for a small deck. Such pieces are a big outdoor furniture trend at the moment.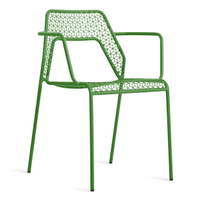 Bring in this stackable, lightweight, and eye-catching armchair that segues into both indoor and outdoor spaces effortlessly, and is available in a slew of colors.
4. Trick the eye with a rug
Adding a rug to an already small and compact space may feel counterintuitive, but this humble piece of decor can give the small deck a big boost by changing how you perceive the proportions of the space. The best way to do this? Use a large, oversized outdoor rug, not a small one. This will make your deck feel much bigger than it is.
Style apart, rugs also create an illusion of floor space. Lighter-toned rugs reflect more sunlight (or artificial light) than darker colors, making a space feel bigger. If you choose larger rug patterns for a smaller room (think long, vertical stripes), it can help make the area feel bigger. Plus, a rug in an outdoor living room can zone an area, so a small space within a small deck can make the overall dimensions feel boosted.
Look for outdoor rugs made of weather-and fade-resistant synthetic materials such as polyester and recycled plastic, which can be easily cleaned.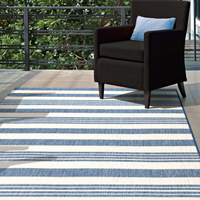 5. Choose a suspended chair
While some swing chairs may seem bulky, even if you have a small garden deck, the 'floating' nature of this outdoor furniture helps it feel as though it's not occupying as much space as floor-bound styles.
Hardwood, willow to bamboo, and rattan swings are resilient to the elements, and add an organic touch, merging well with the outdoors. Choose ones with deep seating, and add cushions to make it more comfortable. Daybed swings aside, you could also go for adirondack swings that are designed with wide armrests and contoured seating. The perfect size would be a customized ones, suited to the deck's dimensions.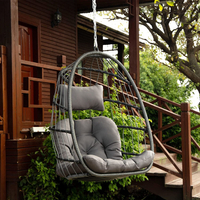 Choose this hammock chair made of aluminum, wrapped around with polyethylene rattan resin wicker. Firm, weather-proof and stylish, it'll make your deck the perfect lounging spot.
6. Introduce landscaping for a sense of depth
Adding flowers and foliage can be a great way to make a deck feel more like a garden – lush, large, and spacious. Plus, if your deck does lead up to a garden, it'll help merge the deck with the landscape, making it feel bigger. Consider adding tall plants, or even trees to give the deck a sense of height.
You could also elevate your plants if floor space is tight by using hanging baskets, window boxes, and over-the-railing planters.
'You can also think of adding vertical decor elements to the space,' says Julia. 'Look for open shelving that is weather-friendly. Tall open shelving units (anchored to a wall of your space is windy) will maximize places for potted plants and flowers, watering cans and pots, and any of your outdoor accessories.'
7. Blur the lines between indoor and outdoor spaces
If you have a deck built directly outside of a room, even a small one, reducing the divide between indoors and out can help that small deck feel much larger when you come to use it. The best idea? Make the transition from indoors to outdoors as seamless as possible, like two areas flowing together, making both spaces feel larger.
8. Install an outdoor kitchen for boosted functionality
The biggest boost you can give a tiny space is not just with increased visual dimensions but also in its use. Make this room a big, essential element in the house, and increase its value and even perceived dimensions. Make it an oft-visited and used space, and soon, you won't notice that doesn't feel tiny at all. One way to do so is to convert the deck into an outdoor kitchen or bar.
Bring in a long and narrow island that can hold a stove, a sink, and a built-in outdoor grill. Leave a little space for two bar stools. This will make the deck look elongated and thereby, bigger. Then focus on the best appliances, countertop materials, and layout. Make this the ultimate area to lounge, eat and relax in. If the deck extends into a garden, add some seating there so eating out can be easy and convenient.
While installing the kitchen, make sure it's close to the house so there's easy access to existing utility lines, and transportation of food and other materials to the outdoor cooking area is breezy.
9. Save space with built-in furniture
Built-in seating can be a significant space saver for small decks or small backyards as it anchors seating to a wall or a corner, leaving the center or the area around it for walking and adding decorative elements.
Along with a built-in seating, to make the area more loungey, you could even go in for a built-in coffee table, set in the middle.
10. Add a round outdoor dining
If you want space for outdoor dining on a small deck, consider furniture with rounded edges and curves, that can be easily placed in a corner or the center of the deck, which leave enough circulation space around it.
A great piece is a small, round dining table. This piece helps avoid bumping or crowding when the area is compact and there are many people around. These pieces have a smaller footprint than rectangular or square tables of the same size and are well-designed to squeeze more people around the table for additional seating.
Plus, there is a softness to rounded edges, that can create the perfect inviting, cozy, and warm vibe to an outdoor space. Complement this table with lightweight chairs with narrow legs that take up minimal space around the table. These can also be moved around indoors and outdoors for other uses.
The Livingetc newsletter is your shortcut to the now and the next in home design. Subscribe today to receive a stunning free 200-page book of the best homes from around the world.
Aditi Sharma Maheshwari is an architecture and design journalist with over 10 years of experience. She's worked at some of the leading media houses in India such as Elle Decor, Houzz and Architectural Digest (Condé Nast). Till recently, she was a freelance writer for publications such as Architectural Digest US, House Beautiful, Stir World, Beautiful Homes India among others. In her spare time, she volunteers at animal shelters and other rescue organizations.