How can I update my bathroom without replacing it? 10 tricks for a fresh feel
Update your bathroom without commiting to a major project with these 10 easy wins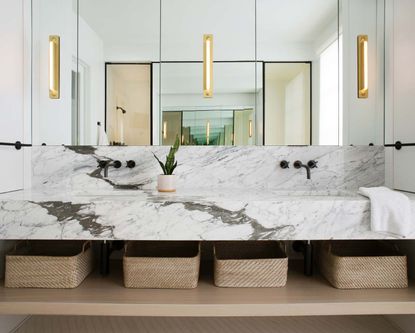 (Image credit: -Summer Thornton Design. Photo credit Josh Thornton)
A bathroom renovation can seem like a Herculean task, but there are ways to update a bathroom without a complete overhaul of the space. If you don't have the budget, time, or much interest in remodeling your space you can easily apply clever design ideas to make the space look smart, trendy and inviting.
From clever paint ideas, wallpapers, tiles, plants to even adding interesting storage pieces and lighting fixtures, you can easily give this room a facelift, as these 10 ideas for a modern bathroom go to prove.
Aditi is a homes writer and editor with several years of experience. Her articles, backed by expert insights, offer suggestions aimed at helping readers make the best home design choices. For this article, she spoke to top experts to understand ways to design a minimalist bathroom.
10 ways to update your bathroom without replacing it
1. Add statement lighting
If there's one decor piece you do indulge in this year, let it be a lighting fixture. Not only will it provide the kind of glow you seek, but it will also add oodles of style to the space. A bathroom chandelier perhaps, or a long, cascading pendant could do the job.
For other fixtures, consider replacing all the bulbs with LEDs, for a more flattering glow. It'll be bright but not glaring, and ideal for applying makeup. Add a pair of wall sconces – one on each side of the mirror.
'For a fresh update, consider changing the light fixture, switches, or light bulbs,' says New York interior designer Jarret Yoshida. 'A dim bathroom hides tons of cosmetic defects. Also, get a light bulb between 2700-3500 for your bathroom for flattering illumination. Nothing too bright white or it'll feel like you're in a hospital or corporate reception area. Finally, we all know what a great, statement light fixture can do to a space, so indulge in one.'
'I love to have sconces or lighting at face level, not above for great lighting,' says Jennifer Morris, founder of JMorris Design. 'Consider adding a light strip under a wall-mounted vanity, as it acts as the perfect night light. You can look at adding warmer or color light bulbs to see what feels right but make sure the kelvin range is similar within the room or the lights will feel funny when all are switched on.'
2. Re-paint the walls
Refreshing your bathroom paint can help you define the style of your space, and even be a reflection of your personality, likes, and tastes.
Consider making a statement with a bold wall color; perhaps think of interesting paint techniques to add further interest. This is a change that will improve the entire room affordably.
'Find a wall color to match with the interiors,' says Jarret. 'Most bathrooms have at most 2.5 walls of paintable surface and they're usually fairly small, so go for it. Just be sure to do two coats and use bathroom grade paint intended for moist conditions. We like doing high drama small bathrooms so often choose a dark green or dark grey.'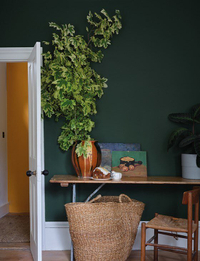 This deep tone is wonderful contemporary hue, suited to both indoor and outdoor walls. Strong but subdued, it makes a warm pair with deep reddish brown on woodwork.
3. Switch up the mirror
Mirrors are particularly important in the bathroom, as they need to be highly functional yet also in line with the overall decor and look of the space. 'Adding a striking new mirror, with an interesting frame for example is a great way to create something new and eye-catching, and will make your bathroom feel like a spa,' says Juliette Thomas, founder & director at Juliettes Interiors.
You want to choose one that helps you carry out your daily tasks well, yet makes a statement in the room. For a characterful bathroom mirror, consider antique or gold-framed mirrors, ones that are in ornate designs, or even ones that are in organic shapes.
4. Wallpaper a powder room
Bathroom wallpapers are a quick and simple way to add a punch to the room without the need for a heavy overhaul. With these, you can add drama, whimsy, or a sophisticated look to the room.
Largely, vinyl wallpapers are best for a humid bathroom environment, as these are water-resistant and can be easily wiped down. These rarely have mildew or mold problems. If you live in a rental, it's best to go with the peel-and-stick papers that are easy to install and take down. For low-traffic bathrooms like powder rooms, regular wallpaper can be used.
While wallpapers are a no-no in the shower area, you could install them once behind a clawfoot tub. Choose bold colors, large prints, and more to give this room a big personality.
5. Install artwork in the bathroom
Want to include unexpected design elements in your bathroom to give it a fresh look? Approach its design like you would a living room or bedroom. Paints, chandeliers, or interesting mirror designs aside, for a modern master bathroom, consider adding artwork too in this space.
'I love having art in the bathroom,' says Jennifer. 'Make sure the potential moisture won't destroy something priceless, so either run the fan when in the shower or explore art that is durable.'
This could also be a great way to bring in color to your otherwise neutral bathroom. Choose a painting in vivid colors, and allow it to be the hero of your room's design.
6. Update the storage
Increasing or streamlining your bathroom storage will not only change the look and vibe of the space, making it cleaner and clutter-free, but it will also make your time in this room feel more relaxed and breezy.
Consider custom drawers with interior outlets to store all your bathroom knick-knacks. Install wall cabinets or hang racks to keep toiletries. Stick-on shower caddies are particularly useful to keep shampoos, bath salts, creams, and more. Use the area under the bathroom shelf to keep baskets that can hold hand towels, washcloths, or hair-styling tools.
7. Change the bathroom accessories
'Get new towels and spend some money on them,' says Jarret. 'While you can stick with a great solid white, remember that there are great patterns; ones that are looped and flat, fringed, and the like. You use your towels daily so get some soft plush ones, all cotton with no artificial polyesters. In the summertime, nothing dries faster than a great thin Turkish towel. To donate your old towels to an animal shelter that always needs some for cleanups and washes of their furry wards.'
For your modern bathroom, bringing in trays, hooks and fresh bottles to hold your toiletries can go a long way in curbing the mess inside a bathroom, while also giving it a smart look.
8. Pick a more exciting shower curtain
Let's admit it – not everyone is a fan of shower curtains. Many prefer glass doors and partitions. But whether you're renting or just have inherited a bathroom with a shower curtain, switching a standard curtain for one that brings color or pattern to your space can make a big difference.
These are flexible decor pieces, so when you're tired of the look, they can be replaced with one in a different style.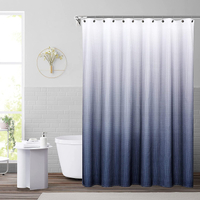 9. Thoroughly clean your grout
'Another way that people rarely think about is giving the bathroom a nice, thorough cleaning,' says Juliette. 'Cleaning the grout and removing any mold, are easy ways to make a big difference and instantly give your space a fresh new look.'
White grout especially requires frequent cleaning and upkeep. If you're up for a slightly higher budget change, then consider adding a new layer of dark-colored grout to your bathroom floor tiles or wall tiles. The best way to visualize how it will look is to get a live sample. This won't be free, but the peace of mind is worth every penny.
10. Bring in plants
The oxygen-boosting properties, texture, color, and look of plants are unmatched. These are, in fact, a welcome addition to any room in the house. Consider adding houseplants in bathrooms to give the space a healthy, fresh, and crisp vibe.
Of course, keeping houseplants in a humid, low-light condition is not always easy, which is why it's important to choose the right varieties for this space. Largely, peace lily, Boston fern, snake plant, kentia palm, golden pothos, and a string of nickles are recommended for this room.
Place these on the sink or move them near the window occasionally if it's looking a bit dull. If you're going in for Staghorn ferns and tillandsias, consider mounting them directly to a piece of wood, since their root systems do not need to be in a pot of soil.
The Livingetc newsletter is your shortcut to the now and the next in home design. Subscribe today to receive a stunning free 200-page book of the best homes from around the world.
Aditi Sharma Maheshwari is an architecture and design journalist with over 10 years of experience. She's worked at some of the leading media houses in India such as Elle Decor, Houzz and Architectural Digest (Condé Nast). Till recently, she was a freelance writer for publications such as Architectural Digest US, House Beautiful, Stir World, Beautiful Homes India among others. In her spare time, she volunteers at animal shelters and other rescue organizations.