10 reasons you should be decorating with terracotta right now – and they're all incredible rooms that use this color
A softer, warmer alternative to black, terracotta accents are the perfect decorating trick – this is how the designers use them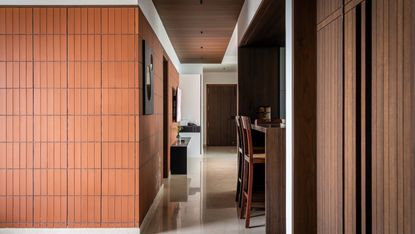 (Image credit: Yash R Jain. Design by House of Lines)
If you haven't already considered decorating with terracotta accents instead of go-to black or gold, then you're in the right place – this grounding color can be the key to anchoring a space and adding warmth to a cooler scheme.
You can treat terracotta as you would a 'simpler' shade like black – and in fact, the softer tones mean this shade is actually easier to work with in many ways. Plus, thanks to its earthy associations, you can treat it as something of a neutral, useful if you're averse to decorating with color. 'Shades range from the traditional burnt-orange to chalky pinks, making it something that can lean more neutral or something that adds a dramatic pop of color,' explains interior designer Emma Beryl. 'It's all about the application of the color and how you choose to incorporate it.'
So on that note, we rounded up our favorite ways to apply this accent shade to your interiors, whether you're feeling brave (accent wall, anyone?) or a little more reserved. Scroll on to find out how to use this color in your space.
How to decorate with terracotta accents
'A splash of terracotta adds warmth and depth to any space, providing a natural grounding,' says New York interior designer Emma Beryl. She recommends introducing the shade to walls or through select pieces of decor as a way to add color to an otherwise neutral scheme. 'I would bring in a terracotta accent when a room needs texture or color but the chosen scheme calls for something more rustic and old-world.'
'Incorporating terracotta into your scheme, with its earthy tones, is a great choice if you want to add warmth to a room,' adds Nicholas Kaiko of Sydney studio Kaiko Design. 'It's a great counterbalance to cooler shades. Terracotta, especially in its raw, unglazed form, has a rough texture that can add depth to a space. I love it as a floor material – brick floors are so underrated!'
For Ericka Violett, founder of Portland, Oregon studio Sill Design Co, it's terracotta's connection to nature, and its texture, that makes it a valuable accent. 'We find its connection to nature adds coziness to a space, making it feel inviting and comfortable,' she says. 'If we're looking to add natural warmth and texture, we'll prioritize terracotta clay in planters, sculptures, accents or even materials like tile. If we're looking to add some contrasting color to a predominantly cool color palette, we'll use it as a color in textiles and rugs.'
Read on for more ideas from interior designers about how to decorate with terracotta accents.
1. Use terracotta tiles to add unexpected depth and texture
Architect Anshuk Punmia of House of Lines used terracotta tiles as the thread that joins together the rooms in this Chennai home. In the earth tone bedroom, an unexpected splash of terracotta behind the headboard adds texture and color.
'Terracotta tiles, with their earthy tones, impart the feeling of warmth that is required in a home. It's very vernacular to the Indian subcontinent,' says Anshuk. 'Terracotta lines the walls to guard this home from the heat as other functional, vernacular elements complement it. The muddy red color of the terracotta makes the user feel deeply connected to nature – a feeling that is rather lost in today's concrete jungles.'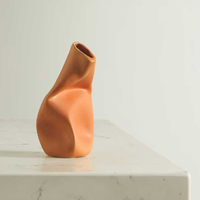 COMPLETEDWORKS tan vase, Net-a-Porter
For the perfect terracotta accent, we love this vase from artist Ekaterina Bazhenova Yamasaki, which brings a strong, sculptural presence to your home.
2. Be bold with terracotta paint for a cocooning space
For this living room scheme by Kaiko Design, walls and ceiling painted in two-tone terracotta helps to warm up the cooler shades in the sofa and rug – showing that grey can work as a color that complements terracotta.
'The material palette for this house all started with the client's love of red travertine and we built the materials story around this,' says Nicholas Kaiko. 'There are touch points of terracotta in all of the spaces as you move from the entry through the house, where you terminate in this lounge room, which is the largest and boldest expression of the color. The dado's textured paint acts as an anchor for the room, grounding the furniture – and it turned out to be a cute nod to the home's 90s build, when textured paint was all the rage. Everything old is new again!'
3. Bring terracotta in through a furniture accent piece
A textured terracotta velvet sofa stands out against a grey concrete wall in this space by Sarah Rosenhaus – and provides that warm lift to a cool scheme we've already mentioned. Emma Beryl is also a fan of adding terracotta accents through furniture – particularly upholstery, thanks to the layers your chosen material add to a scheme. 'Using a terracotta velvet I can achieve a mid-century modern vibe, while a terracotta linen can be used as a neutral alternative to a brown or grey in a more California-cool lived-in space,' she explains.
4. Terracotta wallpaper makes a statement accent wall
A step down from cocooning your space with all-round color, a terracotta accent wall – particularly when it's done with textured wallpaper, like this design by Living with Lolo – can create a great focal point. ''A terracotta accent wall or ceiling can create a dramatic and eye-catching effect in a room,' says Artem Kropovinsky, interior designer and founder of New York interior design studio Arsight. 'It can also define a zone or function in an open-plan space, or highlight a feature like a fireplace or a window.'
5. Choose terracotta bedding to liven up a bedroom
A terracotta duvet cover, throw, or even piping on a throw pillow can be an effective way of bringing the color into the bedroom without investing in paint or furniture.
And as this scheme by Gold Coast interior design studio Cedar + Suede shows, it can be a surprisingly effective addition to bedroom colors while still being easy to update. 'I like to use color in a saturated way, which I've achieved with the various shades of green,' explains founder Carlene Duffy. 'The autumnal colors of tobacco, tans, and terracotta provide anchors of subtle contrast without pulling focus.'
6. Bring in a smaller accent through pendant lighting
Clay and ceramic lamps are a growing lighting trend – so why not get ahead of the curve and invest in terracotta pendant lights to place over your dining table, above an island, or either side of your bed? For Sydney-based architect Kitty Lee, it was the obvious finishing touch for this dining space. 'In an otherwise neutral room of grey terrazzo floors, black metalwork and white cabinetry, the terracotta pendant lights add a touch of warmth and dimension to the space,' she says. 'The rich, earthy tone complements both the timber island bench and the warmth of the pink splashback.'
7. Make terracotta the focus of your kitchen units
Follow the lead of House of Lines and make terracotta the star of your kitchen color scheme – in this space, terracotta door fronts are paired with black countertops for the ultimate contrast. Or do the reverse and integrate terracotta into your work surface instead. 'We're just wrapping up a kitchen design with a terracotta colored counter,' says Ericka Violett. 'It's such a beautiful accent and used in this larger surface has quite an impact rounding out our palette of creams, brass and warm woods. It's definitely less of a bold impact compared to a strong color like black, but we love it for its understated nature.'
8. Or make a splash with a terracotta kitchen backsplash
A slightly more conservative approach is to use terracotta tiles in your kitchen backsplash – a classic addition that still feels a little more exciting than your average kitchen tile idea, as this space by Quality Cut and Minneapolis designer Emily Peuringer demonstrates. 'A beautiful way to incorporate terracotta is through tile,' says Emma Beryl. 'It's a nice alternative to the classic grey or beige stones used in kitchens or laundry rooms: it brings a lived in feel while staying somewhat neutral to the eye.'
9. Add a rug for a softer approach to terracotta
Considering terracotta comes from the ground, it seems only natural that the color lends itself perfectly to a rug. Go big and bold in a living room as an instant scheme-warmer, or opt for a more subtle approach – like this bathroom by interior designer Kate Marker. 'A splash of terracotta can instantly warm up a space, and it's a nice flooring or backsplash option,' she says. 'It can further the aesthetic of a house while remaining humble and timeless.'
10. Use smaller pops of color in a muted scheme
If you just want to experiment with a touch of terracotta here and there before committing to anything bigger, you're in luck: small accessories like cushions, vases and planters in terracotta shades are widely available now. In this bedroom by New York interior designer Joshua Smith, a single round throw pillow pops against the neutral bedding.
'Depending on the rest of your furniture and decor, terracotta can really pop,' says Emma Beryl. 'If your space uses a limited color palette of beiges, creams, and whites, a terracotta pillow or planter, or even an upholstered chair, can be a dramatic addition.'
Ellen is deputy editor of Livingetc magazine. She cut her teeth working for sister publication Real Homes, starting as features editor before becoming deputy editor. There, she enjoyed taking a peek inside beautiful homes and discovered a love for design and architecture that eventually led her here. She has also written for other titles including Homes & Gardens and Gardeningetc. While she gets ready to buy a house of her own, she takes inspiration from the works of some of her favourite architects and tastemakers. She has a particular passion for green design and enjoys shopping small, local and second-hand where she can.