Decorating with plates is the design trend that's come back – here are 10 surprisingly luxe looks to prove it
Decorating with plates is the design trend we didn't know we needed to come back. It creates personality-filled spaces, because your best crockery deserves to sit front and center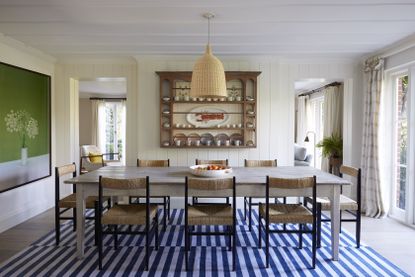 (Image credit: Paul Massey)
The Livingetc Newsletter
For style leaders and design lovers.
Thank you for signing up to LivingEtc. You will receive a verification email shortly.
There was a problem. Please refresh the page and try again.
Decorating with plates may at first sound a bit... stuffy. A fussy approach to wall decor favored by grandmothers the world over. But as the long-lasting grandmillennial trend has proven, there's a lot to be learned from grannies when it comes to style and interior design. Frills and fuss have been at the heart of so many interior design trends over the last few months, so it's hardly surprising we are seeing a surge in taking the best china out of the cupboards and onto the walls.
And we are here for this unexpected interior design trend. There are ways of doing it that can make it look really chic, modern even. And when done right it can add a ton of cool character and interesting texture to any style of space (not just kitchens and dining rooms). Plus, ceramics are far cheaper than an art collection but can be just of much of a focal point and fill a blank wall space with personality.
How to decorate with plates
We spoke we some of our favorite designers who are longstanding believers in decorating with plates, getting their advice on the best ways, and best spaces to experiment with your dishes.
1. Use ceramics to bring texture to a display
What we love about decorating with plates is that they are such an affordable way to add some color, pattern, and texture into your home. Far cheaper than starting an art collection, plates can be picked up at antique shops, thrift stores, or online marketplaces like eBay often for very little.
This quirky dining room space was designed by Avery Cox, a fellow advocate in ceramic decor. And her style just proves how paired with the right vivid colors and interesting shapes, a display of plates (even in something as trad as a Welsh dresser) needn't feel old-fashioned.
'We love to decorate with ceramics because it adds another dimension and opportunity for material, color, and pattern to every room. My advice is to group like pieces of 3 or more so that you are getting good visual impact. We like to hang them on a wall stacked, above a doorway, or in a diamond or circle formation above a buffet. For using them on flat surfaces, we love to use stands to prop them up if on shelves, or place on top of a stack of books as a place to drop keys, store matches, etc,' suggests Avery.
2. Hang plates somewhere unexpected
Plates as bathroom wall decor is something we are seeing a lot of. And it makes sense, right? Unlike prints, plates cope with the potentially damp and humid conditions of a bathroom. Plus, the unexpectedness of a plate in a bathroom adds a charming quirk that again feels decidedly modern, rather than twee.
Designer Elizabeth Hay often uses plates in her deliciously detail-rich spaces, using them to add even more pattern and tactility into rooms. 'Plates are a great decorative item to hang in a bathroom because they don't get damaged by steam rising up from a hot bath. I found these in an auction and bought them specifically to fit with the tiles,' explains Elizabeth.
3. Take a more modern rustic approach
Plates come in all shapes and sizes, and for a less... grannyish approach decorate with woven plates instead of traditional ceramic. You'll instantly add a boho edge that's always around in some form in interior design trends. Plus, they are great for adding real texture to more practical rooms that have a lot of clean lines and hard surfaces, like kitchens and dining rooms. They look fabulous as an alternative headboard idea too.
In this space, designer Laura Pankonien used woven baskets to soften the contemporary style. 'I love to hang plates on a wall in place of art in a kitchen or dining space. An eclectic mix of Spode china or the bold texture of woven baskets will bring new life to the space!' she explains. 'And in a bookshelf, we love to layer in an antique plate on a wooden stand, it adds a different texture to a wall full of books.'
4. Bring plates into a gallery wall
Gallery walls are always on trend, they just take different forms. We are definitely over the print-only approach, and more about bringing in more 3D pieces or bulkier frames that are going to add way more interest.
'The simple fact that plates are, generally, round makes them the perfect partner for frames prints and artwork. Gallery walls are very popular as a way to display a large and eclectic collection of art and plates can add a sense of freedom from all those straight lines,' says Simon Temprell, Interior Designer at Neptune.
'The most 'accidental' gallery walls are often very carefully considered, as there is an art to arranging art and accessories. Try covering a wall with lots of different plates in a monochromatic color palette. The different shapes, sizes, and decoration unified by the fact they are all in similar tones. Depending on the formality of your room, you could follow a more symmetrical pattern, especially if you have a vintage set.'
'And for a more contemporary approach you might consider arranging plates in color blocks or an ombre progression so that your colors go from dark to light. The most characterful plate displays are made up of mismatched pieces that were picked up at different times and tell of places you have visited, people you have known. There's always room for just one more!' adds Simon.
5. Fake the look with wallpaper
If a wall of plates is not a realistic option for your space (they can be high-maintenance in terms of dusting and cleaning and dominate in terms of what else you can add to a wall), consider recreating the look with wallpaper to add that interest and vintage-chic vibes.
'This client loves historic patterns, chinoiserie, porcelain blue willow plates, and everything navy and white! Her powder room is no exception. We used this absolutely fabulous Libertine for Schumacher wallpaper to really make a visual impact in this often-utilized hall bathroom. The client's husband had installed the wainscoting himself, so that was off limits, but we really went for it with the wallpaper and lacquered the ceiling navy. The result is classic elegance, and the walls and ceiling are always a conversation piece!' explains Jennifer Walter, founder of Folding Chair Design.
6. Give a traditional display a modern twist
Dresser shelves are the traditional way to display plates, however, that doesn't mean it can't work in a more contemporary setting. This was the home of designer Susie Atkinsonthe whole place is a lesson in mixing old and new, an hommage to her eclectic collections and the kitchen/dining room is the perfect example of this coming together of so many different styles.
The antique shelving gives a traditional feel, but the plates themselves are a real mix of styles, shapes and eras. And this same mix is going on throughout the room – the bold striped rug, rattan pendant, and clean lines of the dining chairs balance the antique pieces.
'We all seem to have a few inherited plates hidden in a drawer knocking around. We use them to bring color to a room as it saves on having to buy expensive art as they can be displayed in a decorative way. I either display them hung on a chimney breast, in an arc or pattern. Or otherwise on a plate stand. It makes a nice change from artwork. We sometimes frame plates in a Perspex box or simple painted frame to give them a more contemporary feel and a new lease of life,' explains designer Susie Atkinson.
7. Preserve your plates in Perspex
As Susie mentioned, displaying plates in Perspex does give a decidedly contemporary feel. It sounds a bit museum-esque until you see it in situ – the dining space of The Whitby Hotel, designed by Kit Kemp demonstrates how it can work.
'A way we would suggest you use the plates would be to create a plate feature wall. This can be done by hanging a group of plates on one wall to create a focal point in a room. The starting point could be the color palette, shape, style, or Century. At The Whitby Hotel, we created a collection of plates acquired on eBay – a great source – each displayed in a Perspex box. The Perspex box contains the shape in a balanced manner and makes the feature look contemporary,' explains Kit.
'When decorating with plates, it's important to consider their position on the wall as this will affect how they are viewed and how they interact with other elements in the room. For example, hanging plates at eye-level will naturally draw attention to them and make them much more of a focal point. In contrast, hanging plates higher on the wall will make them a less prominent part of the scheme, allowing other items to take center stage,' she adds.
8. Layer up patterns and prints
Much like bathrooms, plates can add unexpected decor to a bedroom too. Ceramics add some solidness to all those soft slubby textures, and again just a nice alternative to a gallery wall. And plates are great for layering patterns, as can be seen in this bedroom designed by Elizabeth Hay. Often a way to make traditional patterns feel modern is to just go all out with them, layering them up and playing with different sizes and scales
'These are pink luster ware,' explains Elizabeth. 'I always do the scheme with fabrics first and then at the end, I add in the decorative items. So the cushions were a part of the scheme and then I found the plates to go with them.'
9. Turn your bulkier serveware into a display
'The thoughtful process of displaying plates, serving dishes in a variety of shapes and sizes can be daunting. However, we love this process of mixing and matching. We gather all potential pieces on a table, and start to layer the dishes into a space, adding other accessories and textural pieces as needed. The result is satisfyingly organized and functional!' explains Jennifer Walter.
'This dining room is fully functional. The kitchen of the home does not provide ample space for the storage of serving dishes and seasonal place settings. We opted for open dark wood and leather shelving units from Four Hands for a handsome display of the overage items.'
10. Make a single plate standout
We've seen a lot of plates in groups, however, a stand-alone plate can make just as much of a statement. A large dish above a stove or on a chimney breast in a dining room, or as seen here a small quirky plate used to create an unusual focal point around a bedside table.
'This is a simple plate from Partnership Edition which I found to go with the blue bobbin bed and the contrast binding on the lampshade. Often a single plate can work just as well as a set,' explains Elizabeth Hay.
Our shopping editor picks her 3 best plates to buy now
$85
For style leaders and design lovers.
Hebe is the Digital Editor of Livingetc; she has a background in lifestyle and interior journalism and a passion for renovating small spaces. You'll usually find her attempting DIY, whether it's spray painting her whole kitchen, don't try that at home, or ever changing the wallpaper in her hallway. Livingetc has been such a huge inspiration and has influenced Hebe's style since she moved into her first rental and finally had a small amount of control over the decor and now loves being able to help others make decisions when decorating their own homes. Last year she moved from renting to owning her first teeny tiny Edwardian flat in London with her whippet Willow (who yes she chose to match her interiors...) and is already on the lookout for her next project.