10 budget bathroom updates that will refresh your space for 2023 that cost under $50 each
Looking for budget bathroom updates to turn a tired space into your home's retreat? Here's 15 ideas that are easy and affordable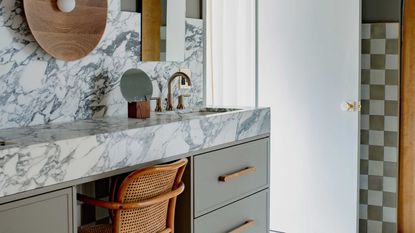 (Image credit: Sarah Sherman Samuel / Semihandmade)
One of my biggest goals for 2023 is a bathroom renovation but, in reality, my dream re-design is going to require some serious saving. That said, I don't love the idea of my year starting with a particularly sad, tired and dated bathroom, so I've been on the hunt for some budget bathroom updates to give mine a new lease of life.
It can sometimes feel like we're powerless to make changes to a modern bathroom without investing a big budget into it. It's a space that's defined by its hard, permanent finishes, compared to the easy-to-change soft furnishings of living rooms and bedrooms – but, with the right project, it is possible to change the feel of your bathroom, and make it into a peaceful retreat, rather than a space that you dread spending time in.
Here are 10 ways to completely change your bathroom's vibe on a budget, from clever ideas using paint to simple buys that will transform your space.
Hugh is Livingetc.com's deputy editor and an experienced homes and property writer. Looking for solutions to his own dated bathroom woes, he's pulled together top advice on how to change the feel of a bathroom, without spending loads.
10 budget bathroom updates for 2023
1. Paint the ceiling to match the walls
If you've got leftover paint from the last time you painted your bathroom, why not embrace the interior design trend for color drenching and paint your ceiling to match the walls? This clever paint idea has the effect of making a bathroom feel cozier and more enveloping, which is perfect when you're looking to relax in a warm bath when the weather outside takes a dip.
For an even cozier feel, why not repaint the walls and ceiling in a beautiful terracotta, as interior designers Jenna Choate-James and Mariana Ugarte of Interior Fox did for this small bathroom?
'We are so into warm bursts of terracottas and oranges right now as they are the perfect pairing to any neutral warm beige/whites palette,' the designers explain, 'and we love using paint to add architectural features as they highlight unloved corners or accentuates columns that might otherwise be forgotten Don't be afraid to go bold, it's just paint after all.'
2. Change the grout color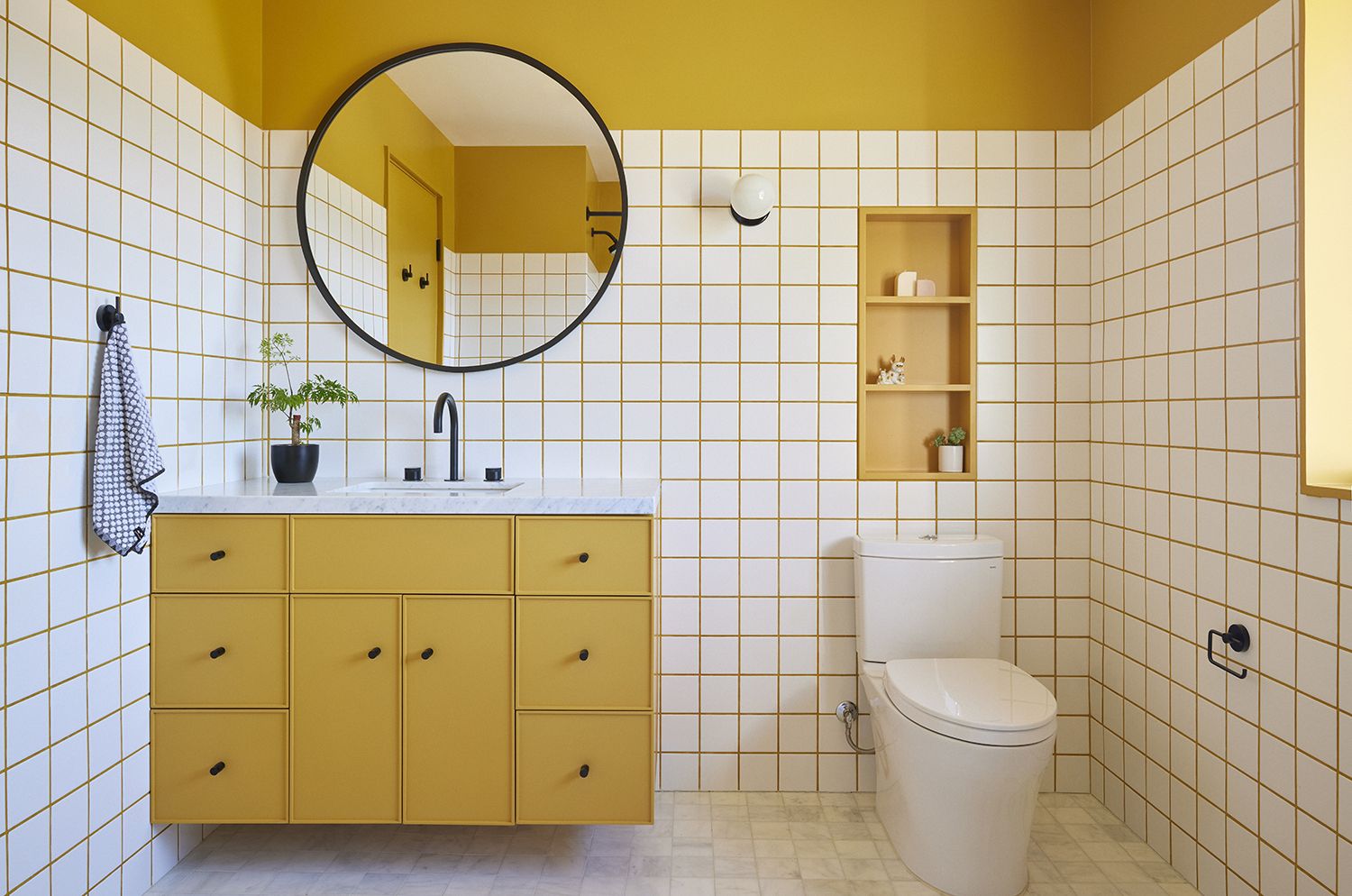 If you've inherited a simple, white-tiled bathroom, it's easy to feel like it's a space that's not representative of your interior style, whatever that might be. However, these spaces can be quickly transformed for the cost of a bag of colored grout and the right tile and grout color combination.
That may not, necessarily, have been the story of this bathroom created by Los Angeles-based And And And Studio, but strip this room of its color, and it's a fairly standard set up of white tiles and bathroom furniture. It's the magic of a little paint and a little grout color that brings the whole scheme together. 'If you're willing to play with it, matching grout color to a wall or cabinet color within the space can make different materials seem connected and harmonious,' Annie Ritz, principal designer of And And And Studio tells us.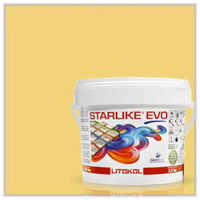 Starlike Evo Grout, Home Depot
Fancy recreating this bold bathroom yourself? You can find yellow grout at stores like Home Depot for around $70, while to create black, grey or other neutral grout lines you can use a grout pen from Amazon, which is much cheaper.
3. Switch out your bathroom's hardware
Hardware, from knobs or pulls on a bathroom vanity unit to hooks on a wall, can really make a difference in a bathroom feeling basic or considered. So, while investing your $50 budget into some new handles might not seem like the biggest change you could make to a room, they have the ability to shift the atmosphere in a big way.
'The catches and handles, although the last thing to put on, are just as important as everything else, if not more so,' says Helen Parker, creative director of deVOL, who produce several aged brass handles for kitchens and bathrooms. 'They can lift a simple cupboard and give an air of quality to the whole room, so make sure they are really well designed and really well made.'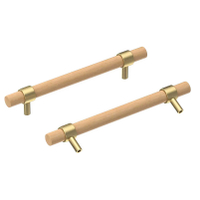 At almost $40 for a set of two, these handles aren't the cheapest around, but for your average two-drawer vanity unit, they'll make a huge impact.
4. Add art to your bathroom
It's easy to forget about the bathroom when choosing art for your home, but the right wall decor can really bring character to this space that it might otherwise lack.
'This is an easy and relatively inexpensive way to add some design flair to a bathroom,' echoes Megan Unger of Megan Robertson's Designs. Our advice? Don't fall into the trap of bathroom trend art cliches and choose a print or artwork that contributes color or texture to your space. 'Try to keep the art elevated and consistent with the rest of the artwork in your home,' Megan suggests.
5. Elevate your bathroom's accessories
It's easier than ever to replace those often-overlooked, small bathroom ideas on a budget. 'Elevate the everyday,' suggests Megan. 'For instance, a great looking wastebasket, a brushed metal towel ring, even the toilet roll holder can be easily upgraded for little money.'
Once upon a time, a cheap bathroom accessory looked just that, but for a shortcut to a more considered space without spending lots, look to matte black for bathroom accessories. These can feel like a step up from your standard chrome styles, while not demanding the same prices as the likes of good quality brass styles, for instance.
6. Refresh your bathroom towels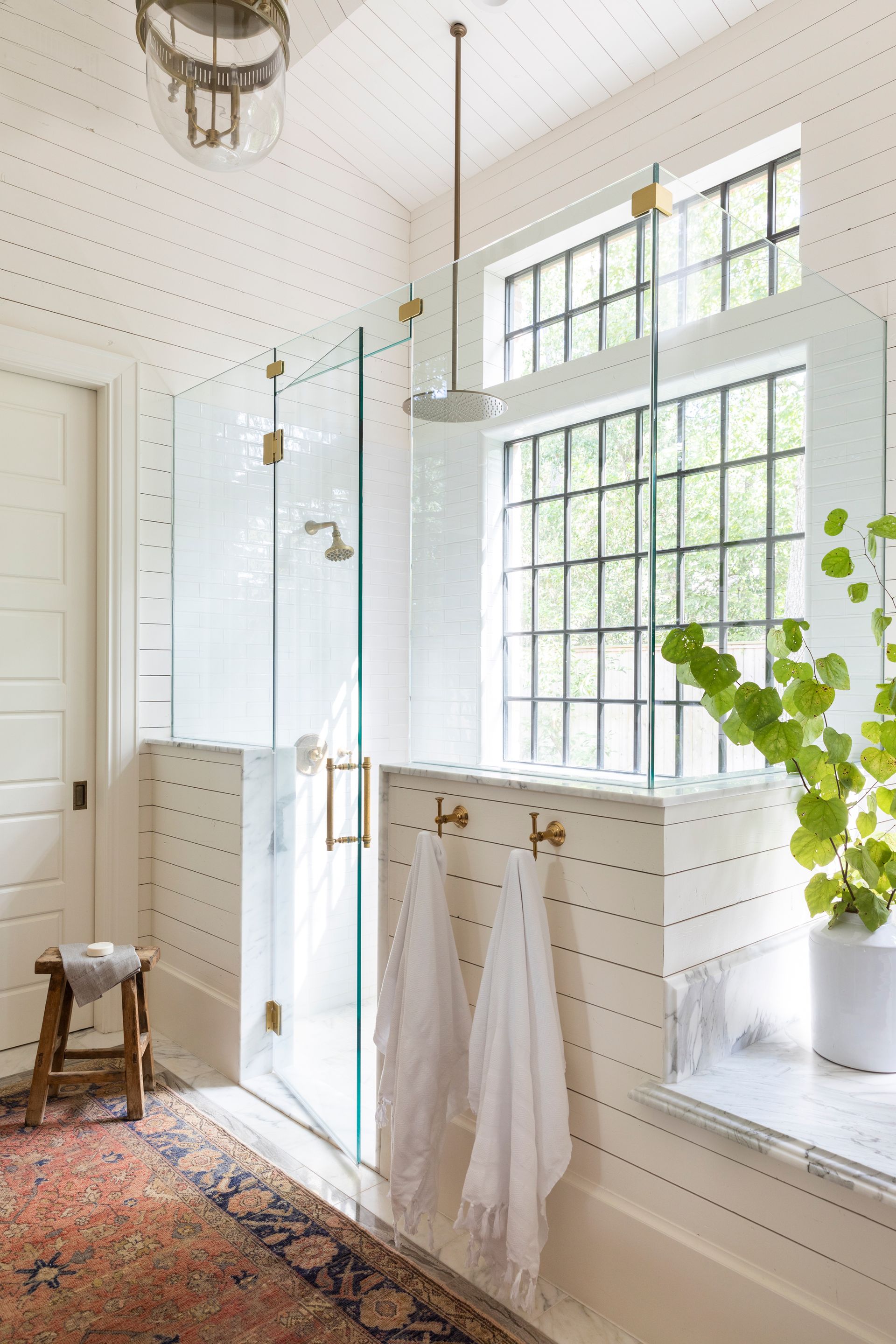 'Don't forget your bathroom linens,' says interior designer Natalie Meyer of CNC Design. While you might not think about your bathroom towels as part of your space's interior design, if you have them hanging up in your bathroom, they very much are.
That means that bath or hand towels that have seen better days instantly drag down your bathroom's overall aesthetic, while wild shades and patterns can easily lead your bathroom color scheme astray. There's no harm in considering towels that are less basic, too, especially when it comes to those on display or hung next to your basin. Consider towels with decorative trims to deliver that attention-to-detail that can really elevate a bathroom.
7. Consider new bathroom mats or runners
Changing your bathroom flooring in any meaningful way isn't really what you'd call a budget-friendly task. However, whether you want to disguise a bad floor or just introduce a little color or pattern into your space, there's another way to do so.
'Whether it's a mat or an area rug, these are both a simple way to layer in new colors and update your space,' says Natalie. In an adult bathroom, you can probably get away with a traditional rug as long as you avoid getting it too wet too regularly, but it's also possible to use outdoor rugs or styles made from modern textiles suited better to use in a bathroom.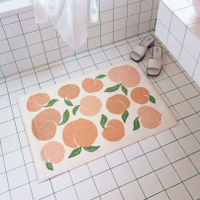 For modern, rug-like bath mats in cool, contemporary styles, take a look at these new launches from Ruggable.
8. Switch up your mirror
If your bathroom mirror situation is less than ideal, then this is the perfect time to reflect on a new purchase. While you might be tempted to use this space to introduce some extra character through an ornate frame, interior designer Megan Unger actually warns against this idea, especially when you're on a budget.
'Go for a simple large mirror where you can, instead of anything too ornate,' she suggests. 'Not only will you save money but you will deliver a sense of serenity and simplicity to the space.'
9. Reconsider your lighting
Bathroom lighting feels like a specialist project, but changing a shade is simple if it's an easy-fit style.
'A ceiling fixture is easy to find and you can get great looking ones that don't break the bank,' says Megan. 'Another idea is wall sconces, and these days you don't necessarily need an electrician to install one for you, that's how plug and play they have become!'
10. Introduce plants and flowers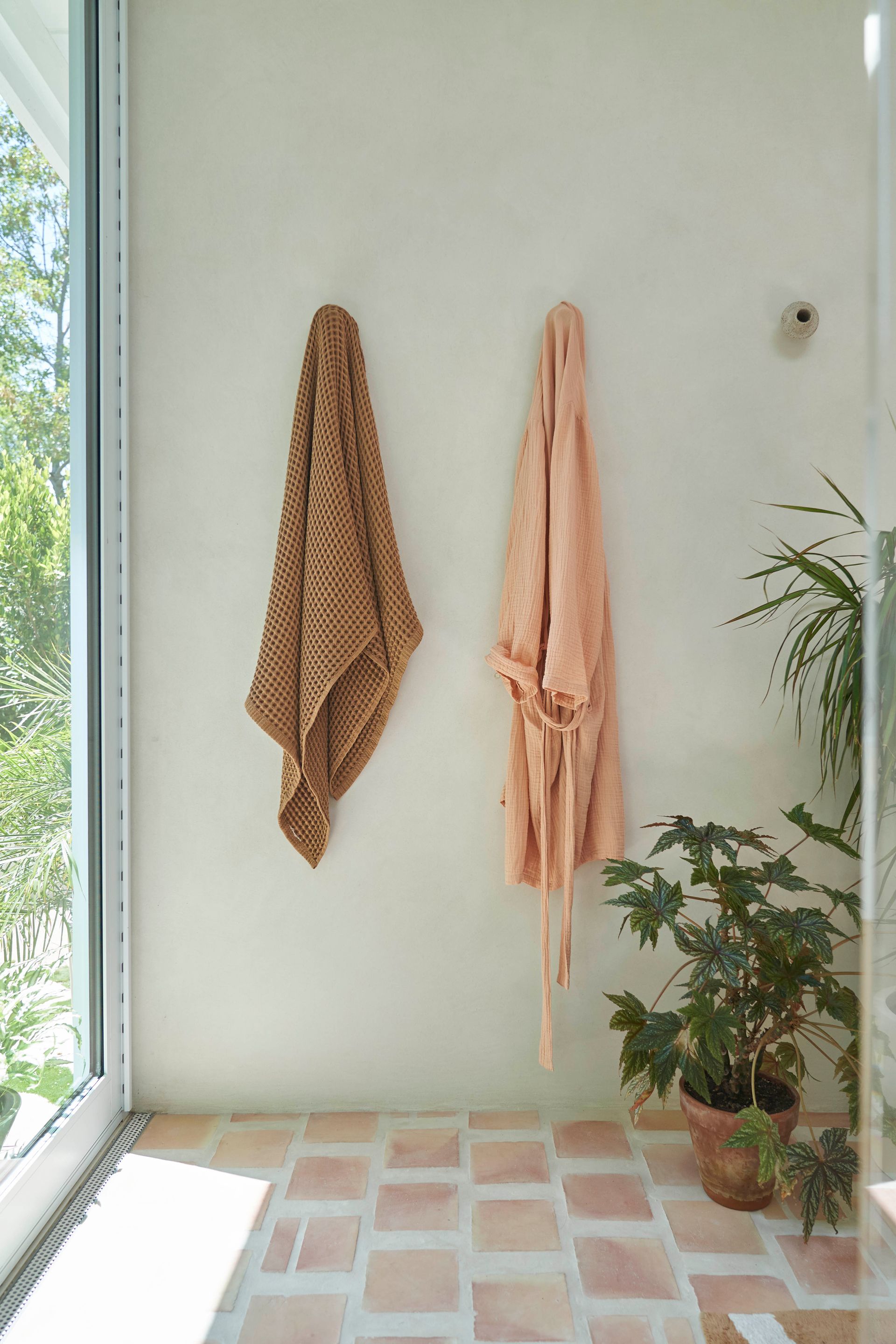 Keeping a bathroom simple is a great way to make this small space more usable, but simple doesn't have to mean a stark, minimalist bathroom. The best way to bring some warmth and character is by introducing plants or flowers, bringing a natural touch to the space that can also help it feel more relaxing.
A quick research will turn up the best houseplants for bathrooms, and you're not limited in your choices. Whether you want to opt for moisture-loving tropicals or something a little more traditional, there are plenty of budget-friendly ways to bring in plants. While indoor trees can make a real impact, they're not always affordable, so consider hanging plants for a bathroom to help introduce levels into your scheme.
The Livingetc newsletter is your shortcut to the now and the next in home design. Subscribe today to receive a stunning free 200-page book of the best homes from around the world.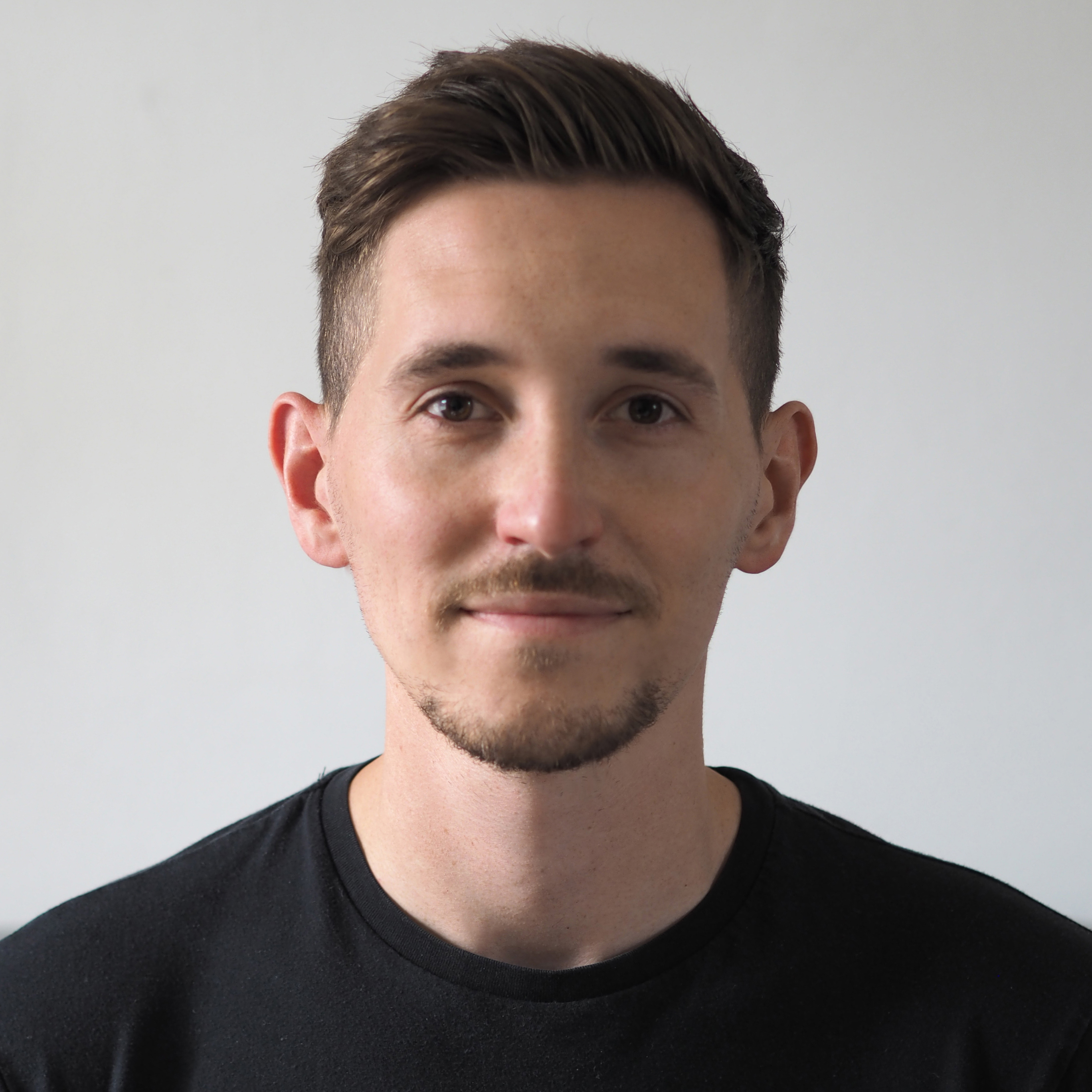 Hugh is the Editor of Livingetc.com. From working on a number of home, design and property publications and websites, including Grand Designs, ICON and specialist kitchen and bathroom magazines, Hugh has developed a passion for modern architecture, impactful interiors and green homes. Whether moonlighting as an interior decorator for private clients or renovating the Victorian terrace in Essex where he lives (DIYing as much of the work as possible), you'll find that Hugh has an overarching fondness for luxurious minimalism, abstract shapes and all things beige. He's just finished a kitchen and garden renovation, and has eyes set on a bathroom makeover for 2023.