10 ideas interior designers use to create calming bathrooms that feel like at-home spas
Turn your bathroom into a calming oasis with these simple steps from the designers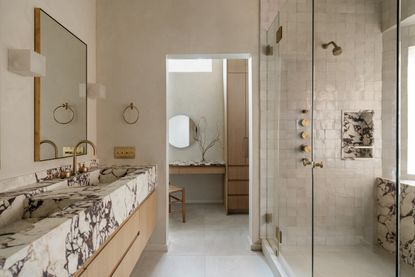 (Image credit: Madeline Harper. Design: Emily Lauren Interiors)
It's time to rethink the focus of our bathrooms. These rooms so often become cluttered zones where we hurridly go through the rigors of our morning routine, but there is so much more potential in these rooms. Shifting the focus of the bathroom, you can turn it into a calming retreat for a bit of restoration and self-care.
Clever design is the best way to turn your bathroom into your very own at-home spa. These changes needn't be as drastic as to warrant a total redesign and might be as simple as bringing in warming materials, reconsidering the color scheme or even a matter of popping a few plants on your windowsill. I've spoken to the designers to find out their favorite modern bathroom ideas for the ultimate calming retreat.
1. Incorporate natural design
Nature has the power to calm and soothe us, so embracing natural elements is a great way to create a calming ambiance. 'Incorporating biophilic elements in a bathroom can create a calming environment by connecting us to nature; that could be windows and skylights to the outdoors or the use of inviting natural materials like stone and wood,' says Ming Thompson of Atelier Cho Thompson. Foster a soothing vibe with natural bathroom materials like marble, natural gemstone, onyx or limestone (which makes for a great bathroom material alternative to marble if you're working on a smaller budget).
'Bathrooms should be calming, restorative spaces and one of the best ways to allow someone to relax and unwind is creating a connection to nature,' adds Karen Howes, founder of Taylor Howes. 'Natural and organic materials physically bring the outside in, creating a room that feels warm and cocooning, especially compared to traditional materials such as tiles, stones and chromes that can be clinical and cold.'

Taking your cues from nature could even be as simple as adding a few plants to your bathroom windowsill. Plants add a touch of greenery and are happy with the high moisture levels, warmth, and humidity of the bathroom. Airy, lacy asparagus fern loves the humidity of a bathroom as do cast iron plants and spider plants.
2. Enlist the help of zellige tiles in a soft color
The perfect bathroom wall tile can do so much for your bathroom, and zellige tiles have a shimmering quality that helps the space feel luxurious and spa-like. Don't go for any colors that are too vibrant and energetic in the bathroom - instead, think of pale but warm shades for your tiles. For an earthy and nature-inspired look, opting for shades of pale green will also create a relaxing vibe, and a pale, shimmery blue can draw associations to nature, sea and sky. Pale pink is also a great tone for a bathroom, bringing that soft feel to your bathroom walls.
I'm obsessed with these pretty pale pink zellige tiles used in this bathroom design by Atelier Ochre. They almost look like the inside of an oyster shell and have a subtle sheen that warms the room and brings even more light. Zellige is a glazed terracotta that does not need to be sealed either, and tiles are typically laid edge to edge with minimal grout lines.
3. Go dark and cocooning with micro cement
Alternatively, give your bathroom a monastic quality by going dark, moody and cocooning. I love the bathroom trend for dark brown paint, like this example in this Mexico City house, designed by Direccion. The paint has even more texture and depth because it is layered with micro cement.
'Since we had light wood floors and ceilings and a lot of light in the house, we choose a dark color scheme for the walls and micro cement in the bathroom,' says designer Mariana Morales, founder of Direccion. 'A lot of people misinterpret dark colors with moody states of being. I believe that darker colors create a perfect canvas to make a space feel cozy, nurturing, and serene when used in the right way.'
4. Introduce calming lighting
Bathroom lighting is the key to relaxation in every room in the home, and it's as important in the living room and bedroom as it is in the bathroom. Think about how you can create an ambient light for a more serene bathing experience by layering lighting.
'It's important to have multiple types of levels of lighting,' says Ming. 'Only having a single overhead downlight can make for harsh shadows. Adding in sconces or cove lighting on dimmers can create softer lighting conditions and variability for different times of day.'
'Lighting is important for creating particular moods,' adds Alexandra Coxon of My Habitat Design. 'For a bathroom which focuses on relaxation, consider the positioning of your lighting and some wall lights to create a dim, low light for the ultimate relaxation.'
Finally, candles are essential for a relaxing bathroom. The flickering light and subtly perfumed scent will help create a space where you can unwind at the end of the day.
5. Go seamless to reduce visual noise
Reduce seam lines by getting rid of grout lines, helping to further reduce visual clutter and create a minimalist bathroom feel. 'Seam lines were key to this relaxing bathroom and kept at a minimum to create a space that felt expansive and open,' says interior designer Sandra Flashman, who created this space.
'Large format tiles were softly book matched and installed floor to ceiling, so it felt fitting within the architecture. The seamless micro cement floor and shower allowed the different functionalities to co-exist naturally,' she adds.
An integrated and seamless custom-made trough-style sink is another option for going seamless, with the design flush against the wall stretching from wall to wall and giving the space that coveted spa feel. It also makes it streamlined so it is easy to clean, one less stress to worry about, and a great choice for busy family bathrooms.
6. Opt for sleek storage
The bathroom is a prime space for clutter as bathroom necessities like discarded shampoo bottles, makeup and cleaning sprays clog up the space. Removing all this clutter and enlisting the help of bathroom storage is one surefire way to get rid of the visual noise, helping you feel more relaxed.
'Go for a minimal but functional vanity area with hidden storage,' advises Alexandra. Built-in niches are also a great addition to your shower as they almost disappear into the wall. Look out for opportunities to build your cupboards into the recesses or alcoves, try recessed handles to offer a clean and sleek look, and hide those bathroom bits and pieces behind a mirrored cupboard.
7. Bring in warm accents
Don't forget the warm accents to stop the space from feeling to stark and cold. Wood is often considered not to be a material to use in the bathroom, but adding this material can give a Nordic home sauna feel and has a softness to it that works beautifully in this space.
I love the wood bathroom look with wooden panels across the ceiling, but on a smaller scale, your bathroom cabinets can be wood, or perhaps it's as simple as a hand-crafted wooden bath tidy. Just remember to go for solid timbers with a tight grain to avoid the material getting affected by moisture, and look at your ventilation to avoid moisture in the air.
Remember to seal your wood with a trusted sealant - this prevents your wood from discoloring over time, which can easily happen as a result of splashes. It also forms a protective barrier against wear and tear.
Brass is another warm accent that has an ethereal glow that can give that spa experience. 'In this primary bath, the polished brass fixtures act as gorgeous accent pieces in the midst of a calm, serene backdrop, and are the perfect blend of modernity and timelessness. The products are beautiful, and the clients were enamored with the end results,' says Linette Dai of interior design firm Linette Dai Designs, who designed this bathroom.
8. Focus on the tub
Turn the bathroom into a relaxing space by shifting the focus on the bathtub. A freestanding tub is the epitome of luxury and will promote the space as a room for relaxation. If you only have a small bathroom, don't get fooled into thinking that a bath might not be viable, because smaller baths can be as small as around 50 inches.
A compact slipper bath is an asymmetrical freestanding bath raised at one end so the bather can be immersed. A short roll-top or back-to-the-wall design is also good for smaller bathrooms. Don't forget to accessorize your bath - a side table decorated with a lavender candle and your favorite book or a bath tray that can be used for placing a glass of wine will encourage you to enjoy and relax into bathtime.
9. Go for curtains instead of blinds
Added furnishings and texture are a great way to soften a room and create a relaxing feeling. Bathroom curtains aren't always a great choice given the amount of moisture in the bathroom, but they can add privacy and softness that turn a functional space into a relaxing sanctuary. Make sure you pick machine-washable fabrics like cotton or polyester, and ensure proper ventilation. When done right, bathroom curtains can feel elegant and sophisticated.
This bathroom by San Francisco-based design studio, Homework uses elegant curtains to control the light, and help soften the window frame with a puddle of fabric on the floor. 'Linen drapery brings in the soft, cozy factor,' says husband and wife team at Homework, Susan and Ben Work. 'Aside from flowing beautifully, linen is anti-bacterial and dries fast, so it is a great choice for a bathroom.'
10. Try frosted windows
Obscure glass distorts the light as it filters through your bathroom window, and frosted glass is a modern window treatment that will give your room a relaxing spa bathroom feel. Frosted glass panes are either sandblasted or acid-etched using abrasives, and the result is a calming and ethereal glow in the room as light is evenly distributed and diffused. This also means no harsh glare from sunlight, and also ensures privacy, meaning you don't have to rely on curtains.
3 buys for a calming bathroom
The Livingetc newsletter is your shortcut to the now and the next in home design. Subscribe today to receive a stunning free 200-page book of the best homes from around the world.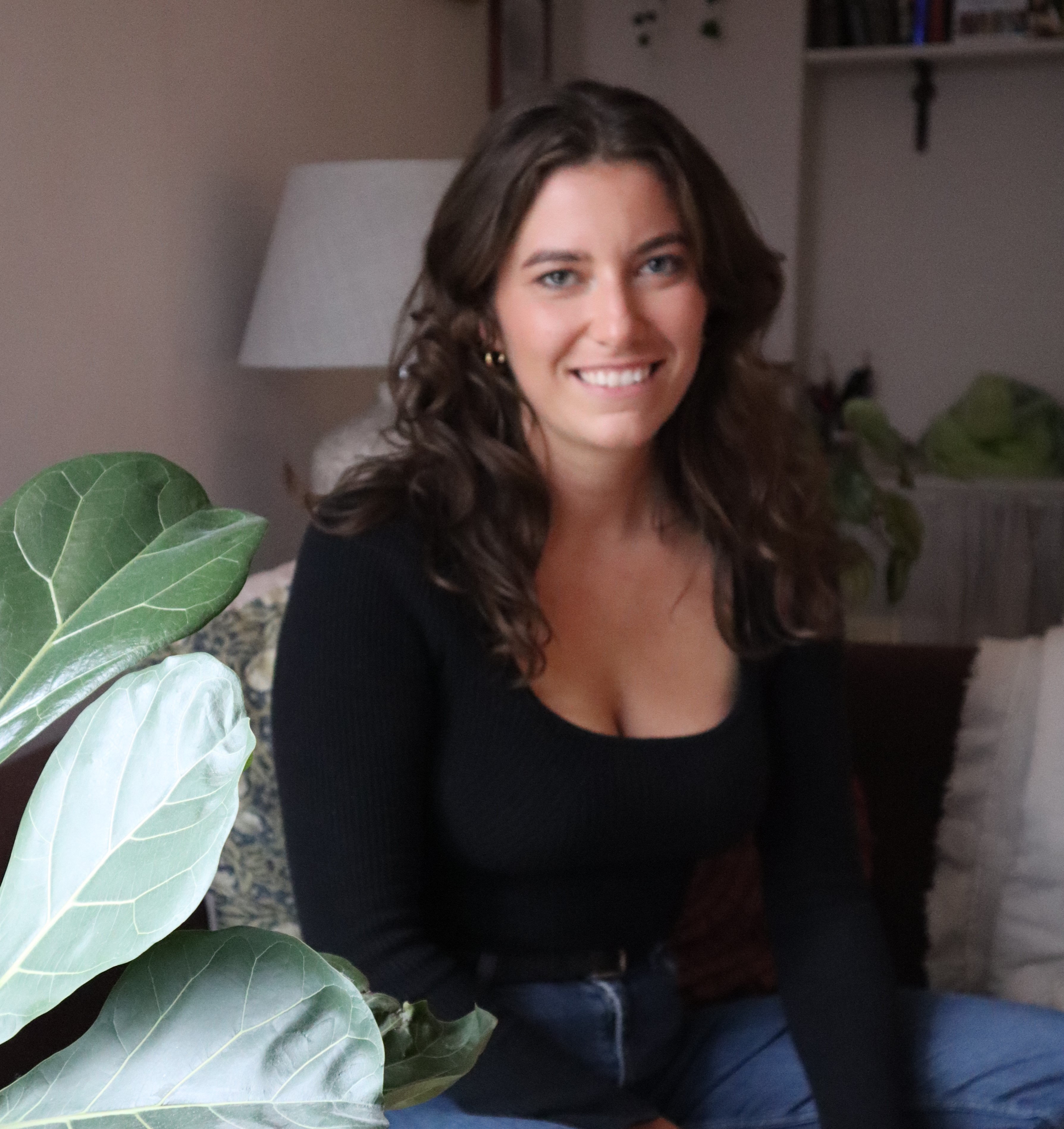 Livingetc content editor and design expert
Oonagh is a content editor at Livingetc.com and an expert at spotting the interior trends that are making waves in the design world. Writing a mix of everything and everything from home tours to news, long-form features to design idea pieces on the website, as well as frequently featured in the monthly print magazine, she's the go-to for design advice in the home. Previously, she worked on a London property title, producing long-read interiors features, style pages and conducting interviews with a range of famous faces from the UK interiors scene, from Kit Kemp to Robert Kime. In doing so, she has developed a keen interest in London's historical architecture and the city's distinct tastemakers paving the way in the world of interiors.