A new take on the natural bathroom trend is emerging, and it's about more than filling your space with plants
These natural bathroom ideas introduce organic warmth with earthy materials, finishes and techniques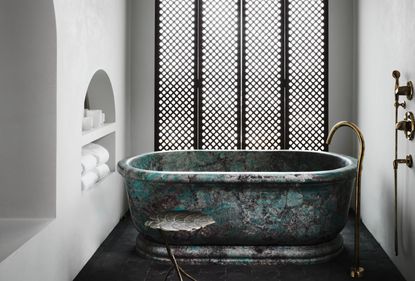 (Image credit: Douglas Friedman. Studio credit Nicole Hollis)
The Livingetc Newsletter
For style leaders and design lovers.
Thank you for signing up to LivingEtc. You will receive a verification email shortly.
There was a problem. Please refresh the page and try again.
When you think of natural bathroom ideas, chances are you'll visualize rooms filled with plants, natural light, soft tones and more. But the concept isn't limited to just that. There's a new trend for creating natural bathrooms inspired by earthy materials, sometimes even with a luxurious twist.
From natural stone to wood, there are plenty of materials (and different ways to use them) to make this space feel tranquil, relaxing, and deeply calming.
We spoke to some of our favorite designers to see how they'd approach a nature-inspired modern bathroom.
Aditi is an experienced homes writer and editor. She has written hundreds of articles for various international titles helping readers make the best home design choices, and spends her days interviewing interiors industry experts to bring the latest ideas to her readers. For this piece she spoke to the world's best designers to learn about different ways to design a natural bathroom.
10 natural bathroom ideas to help wash away stress
'When it comes to designing a natural bathroom, try to limit the number of materials, and, benefit from the existing material characteristics and their aesthetics,' say Maarten Vanbelle and Dries Vens, co-founders of Atelier Vensvanbelle. 'Also, try to 'shape' the daylight, so think about how the sun enters the bathroom, and how it will illuminate the space. Pay attention to the acoustics and think about how all five senses of the dweller can be engaged here. Good ventilation combined with soft aromas can help you relax. We believe a shower or a bath don't need to have high-tech features; they just need to be simple.'
There's a lot of beauty in clean lines, sleek features, and soft visuals. Use these to curate a space that encourages you to stay in longer, and spend 'me time' in total silence.
1. Embrace natural stone in a unique way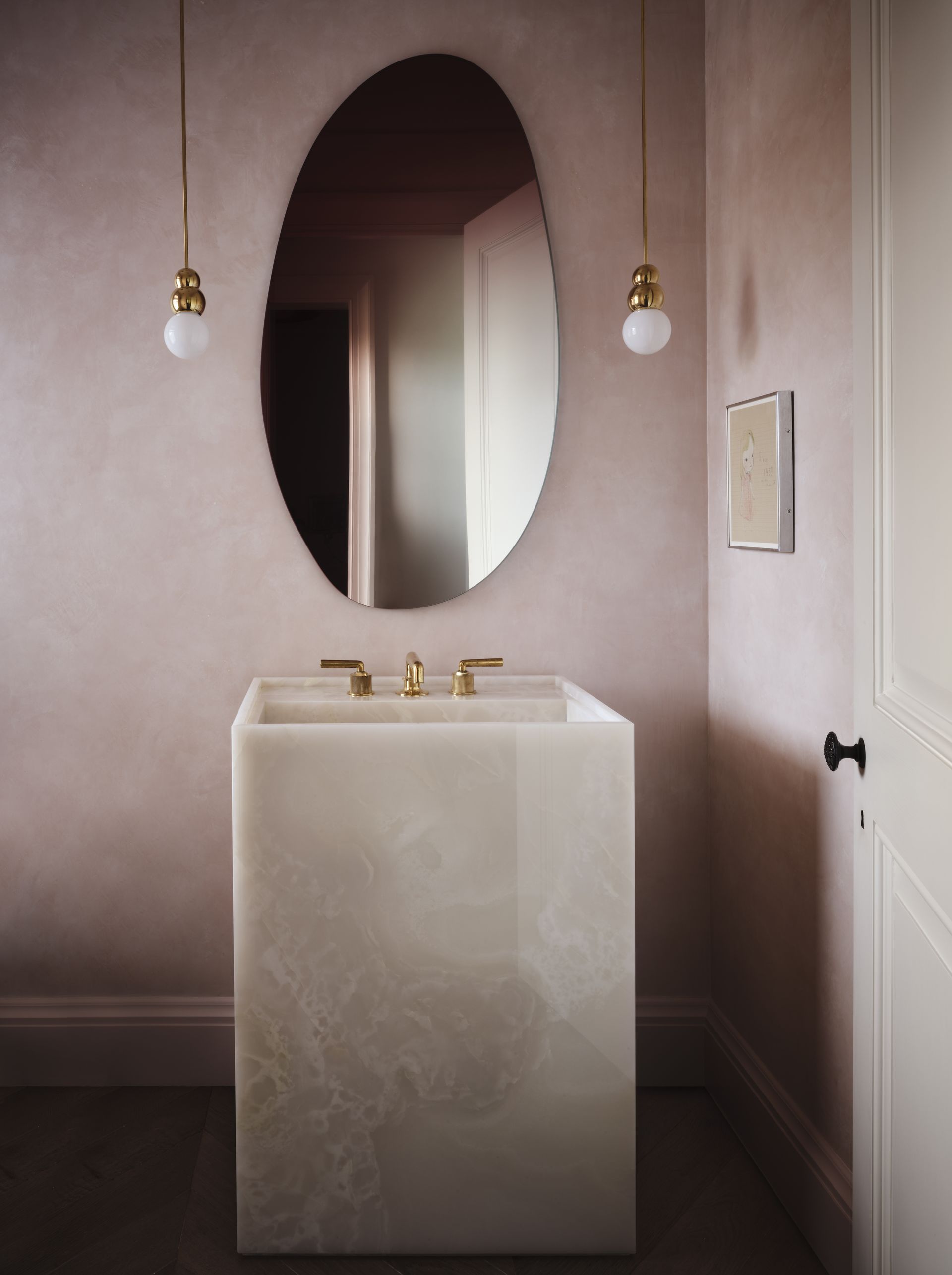 Marble and natural stone are usually the go-to options when it comes to designing a warm, organic space. But consider onyx as a marble alternative for a unique look that is timeless and highly sophisticated.
Onyx is a type of marble that also exhibits the same properties. The difference? While marble has natural, organic veining, onyx has typically straight, or slightly wavy lines. Onyx is fast becoming a much-loved stone because of the beautiful shades it is available in, like jade, mint, light pink, and warm tan, making any space feel richer, smarter, and more on-trend.
The material has an inherent natural allure, sometimes being a warmer option to marble which could seem a bit cold. A modern bathroom with this stone can look even more stylish when lit from behind.
In this bathroom by Nicole Hollis, the artisan plaster wall is finished in custom calamine Venetian plaster with mica flecks by Londubh Studio, while the sink is custom polished white onyx by Vaselli from Elementi SF.

This globe pendant light works well in many different interiors styles, adding a dainty touch to the bathroom decor. The adjustable cord allows you to customize the fixture's length to your lighting needs and desired look.
2. Clad walls in natural plasters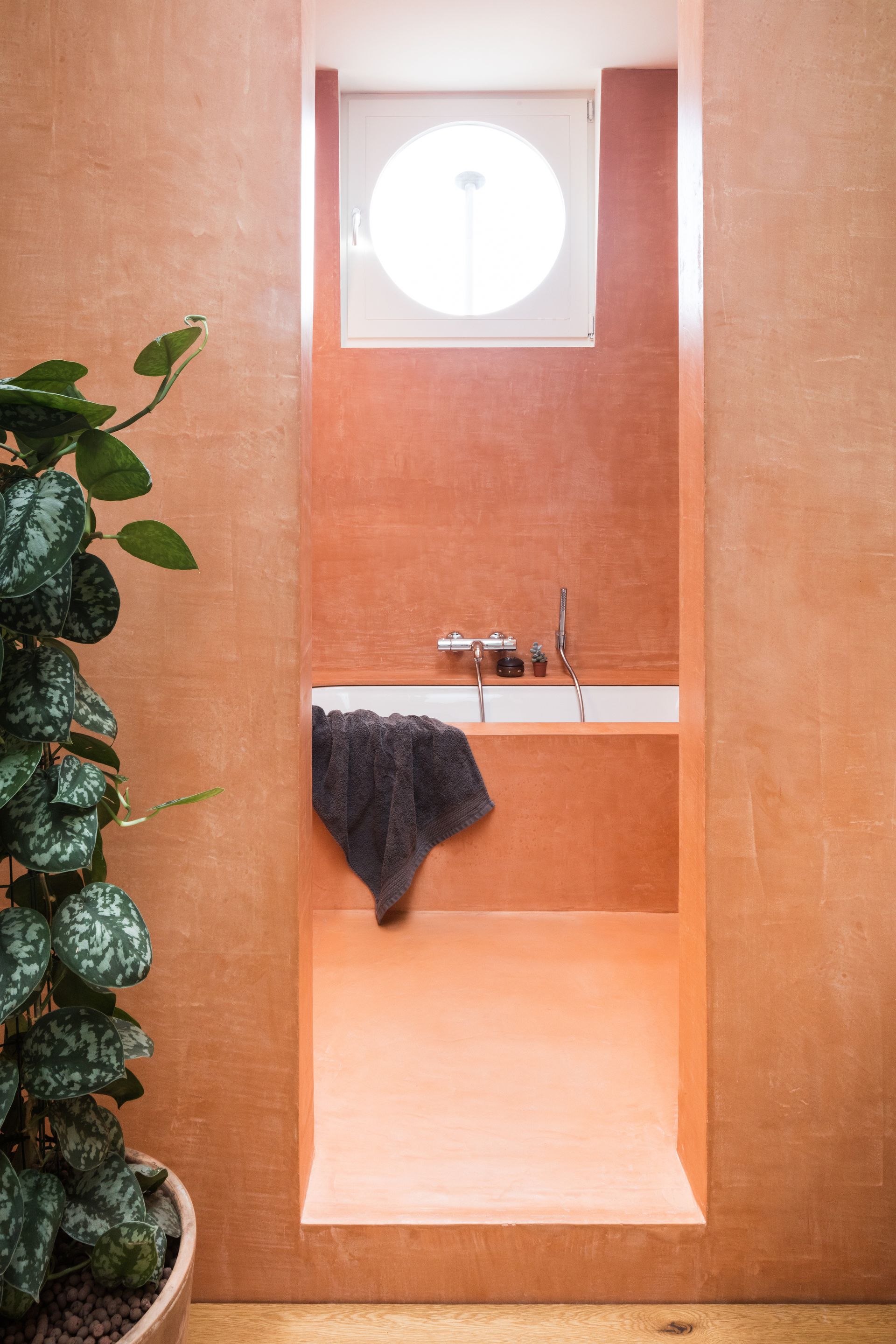 Several interesting, mixed materials can create earthy, textural beauty much like natural materials, plus have impermeable finish coating, making them long-lasting additions. If you're wondering how to remodel a bathroom that lasts decades, and still looks stylish, then consider using unique, hybrid materials.
'This bathroom is entirely covered with Mortex,' say Maarten and Dries. 'Mortex is a mineral micro-mortar, made with cement and lime. In terms of hardness, has a higher resistance to compression and abrasion, and the material resembles natural stone. Plus, you have the opportunity to add in natural colors or pigments for a fresh look, which we did in this case.'
3. Create drama with natural materials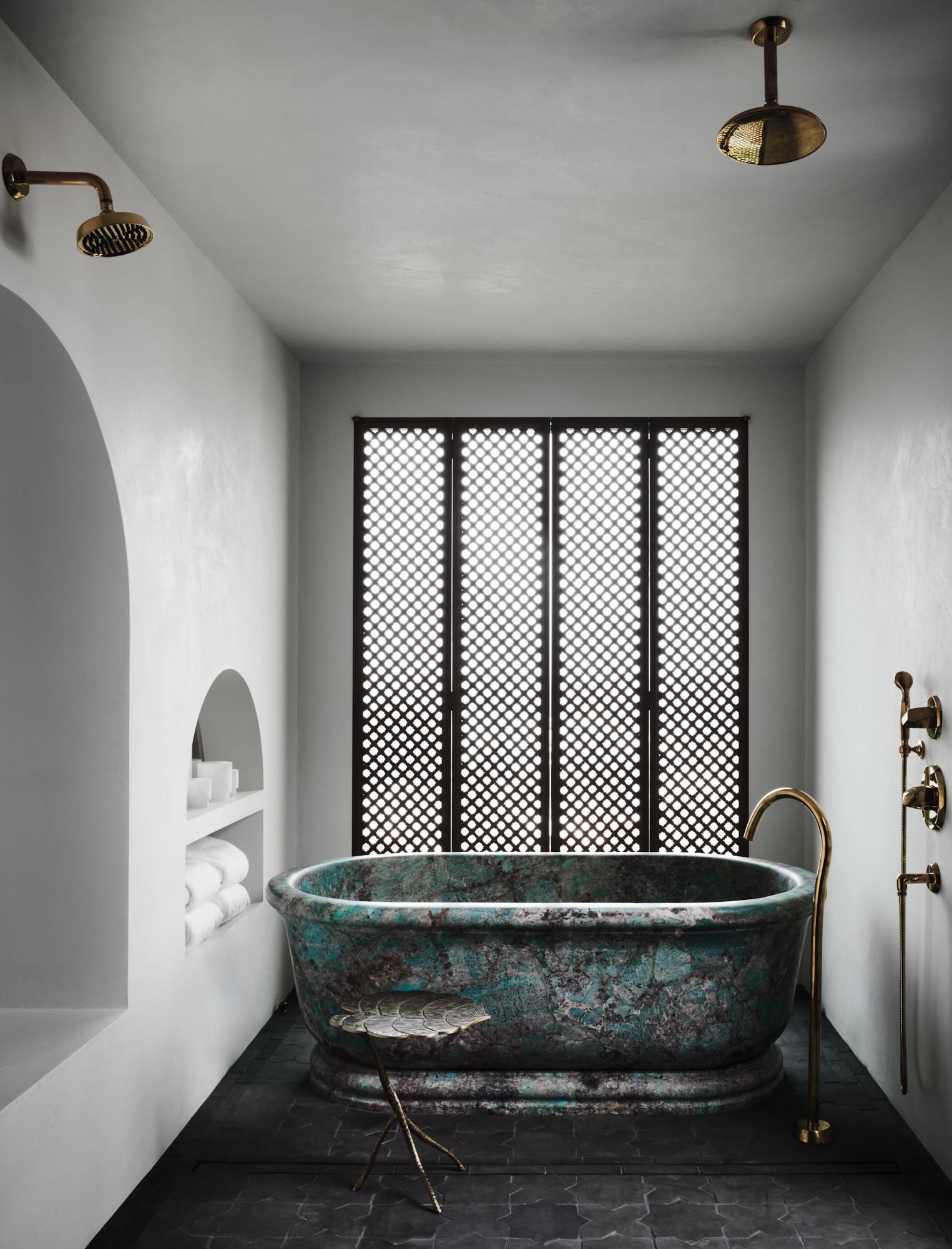 Natural materials aren't always simple and humble. Several stones and finishes comprise many different beautiful tones, textures, detailing, and more that can look luxurious and high-end, and change the vibe of a space completely. For your large, master bathroom, where space is ample, consider bringing in one stand-out element, encased within a room of warm tones.
'This is an Amazonite [a green tectosilicate mineral] block sourced from CoorItalia, that I carved for a free-standing tub to create instant drama,' says Nicole Hollis. 'For this steam shower enclosure, we chose Moroccan tadelakt plaster walls, niches, and ceilings for a classic aesthetic. For another layer of tranquility, the flooring was finished in terracotta star and cross tiles.'
4. Use a mix of organic materials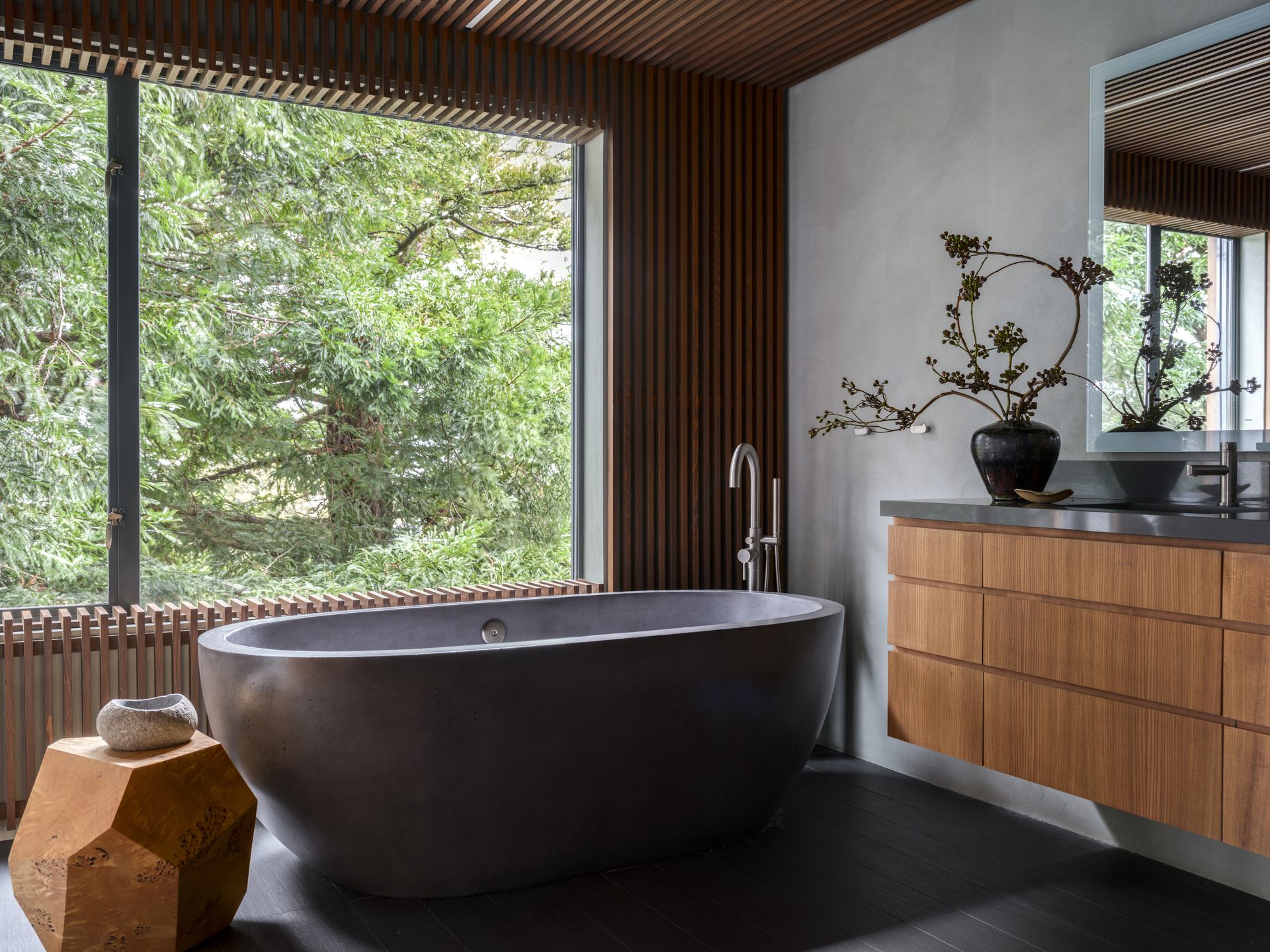 Many times spaces can have a variety of beautiful features, but no single one ever gets the chance to be celebrated because everything is competing. One trick to designing a luxurious bathroom that hosts inspiring ideas is choosing one material that will be a feature, with everything else playing a complementary role.
In this case, the natural, dark-toned tub evokes interest, while the rest of the palette adds layering to the scheme.
'This bathroom took inspiration from Japanese design that focuses on earth-driven minimalism,' says Noz Nozawa from Noz Design. 'We chose porcelain tiles for the floor and mixed them with the beauty of the concrete tub and the wood vanity. The bathroom also has clear views of the Cypress trees outside.'
5. Or take a minimalist approach with one natural material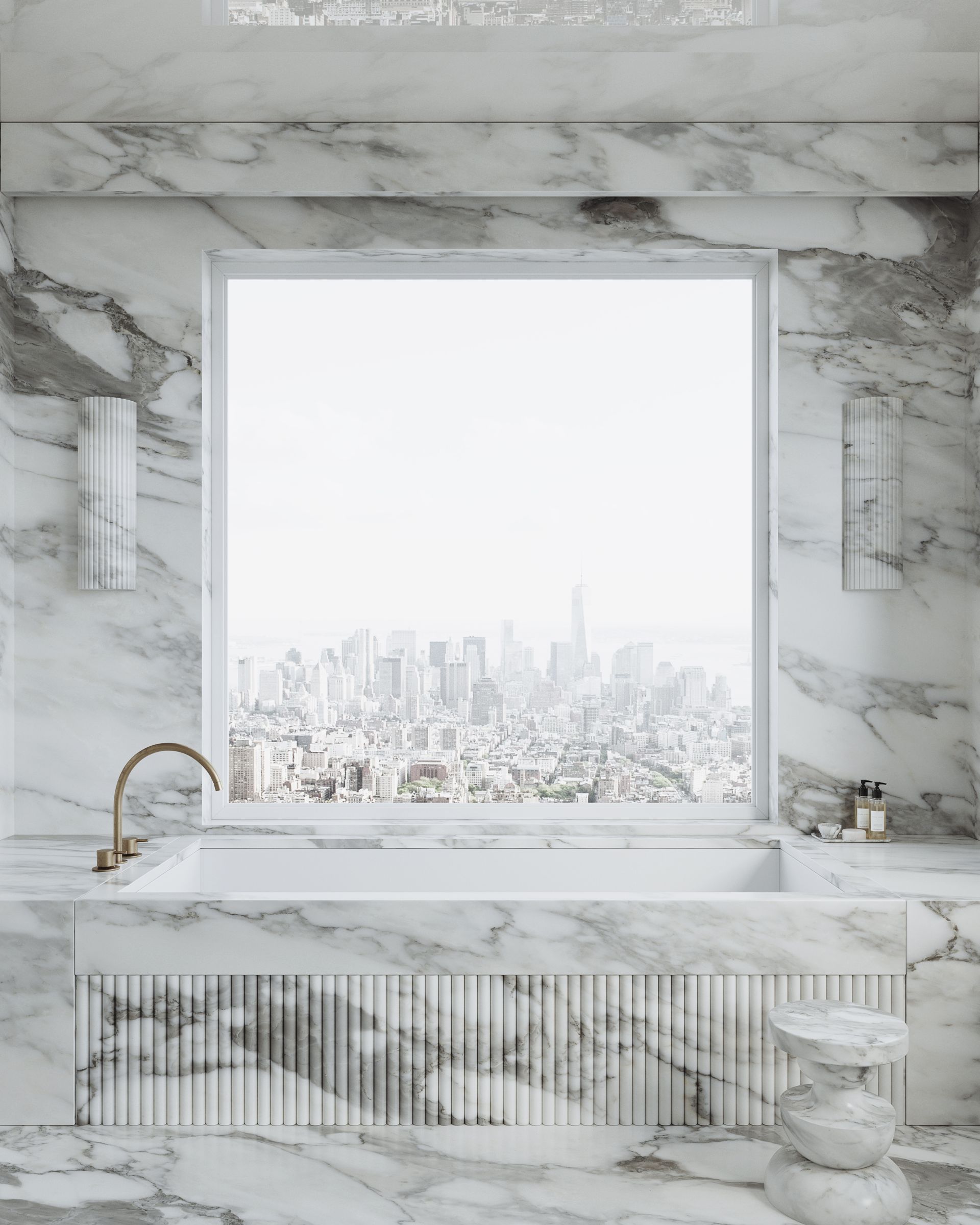 Marble bathrooms have been popular for centuries based on their inherent beauty. This is a durable, long-lasting, and strong material that doesn't break or look worn out for generations. While it requires sealing frequently, the stone always looks modern and classic.
If the allure of marble has you hooked, consider designing your bathroom in this single material, like in this project by Noa Santos. The benefit of using single-tone marble on the bathtub, walls, and flooring is that it will create a seamless, minimalistic, and clean look. In small bathrooms especially, using a softer tone of marble will ensure the room looks bright, airy, and larger than it is, at all times.
For more uninterrupted visuals, consider bringing in marble has that less veining. To add dimension and depth, add a fluting effect on the vanity of the bathtub. Metallic fixtures such as brass or gold look particularly luxe in a marble bathroom.
6. Consider recycled stone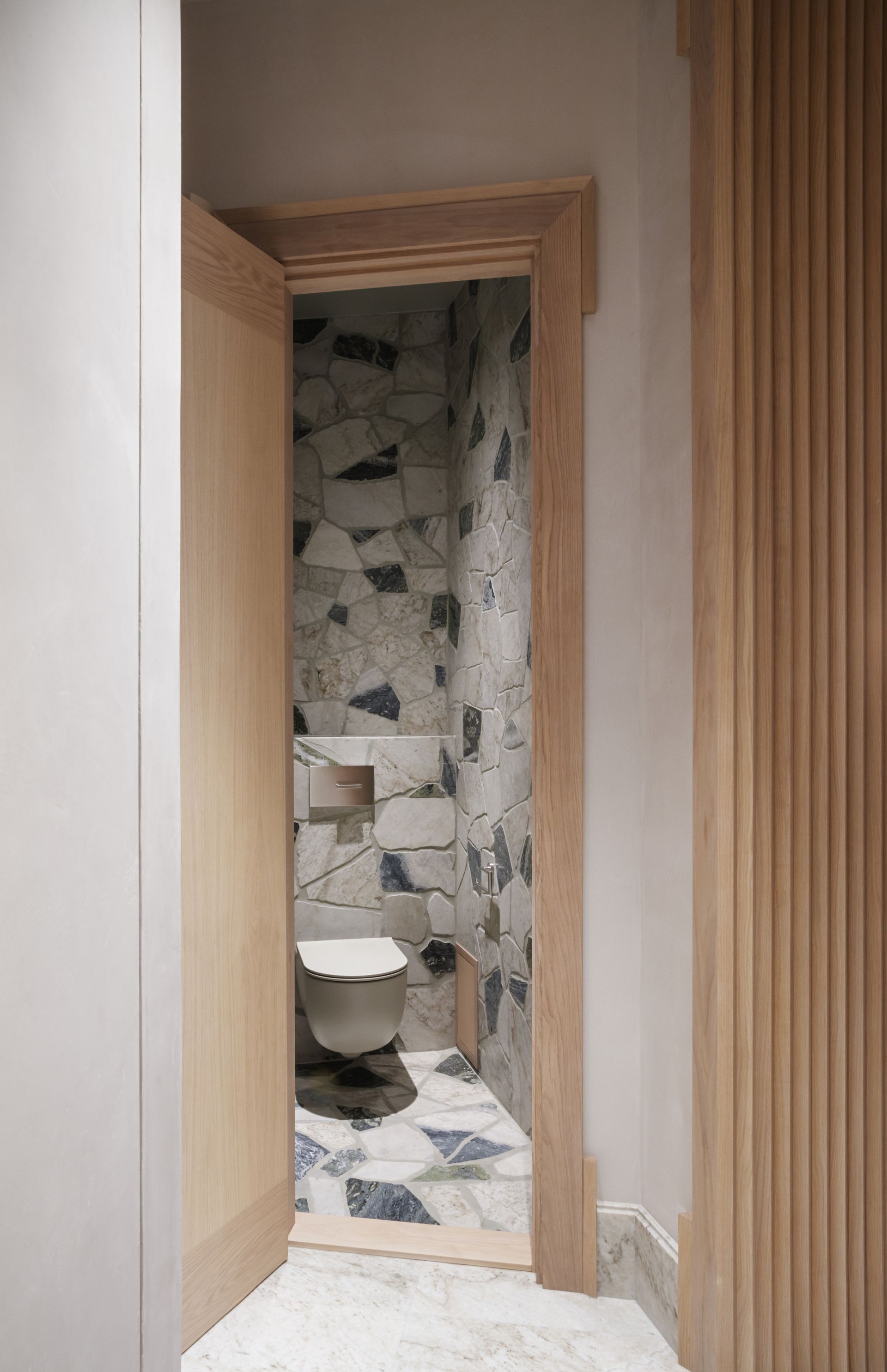 The beauty of a stone is that no two pieces are exactly alike, and nothing else adds the same organic warmth and texture to a bathroom quite like stone. Plus, the longevity and durability of this material are such that, if well maintained, it can last a lifetime.
A great eco-bathroom design idea is to create beauty from leftover or recycled materials. 'This bathroom in particular has its floor and walls made up of the residual materials from all stonework used throughout the residence,' says Jesper Mellgren, architect at Note Design Studio. 'Proportionally it is well represented by how much of each stone was used in different rooms. The dark stones with gradients from green to blue with different polishing's are from Brännlyckan marble.'
7. Set a relaxing tone with endless views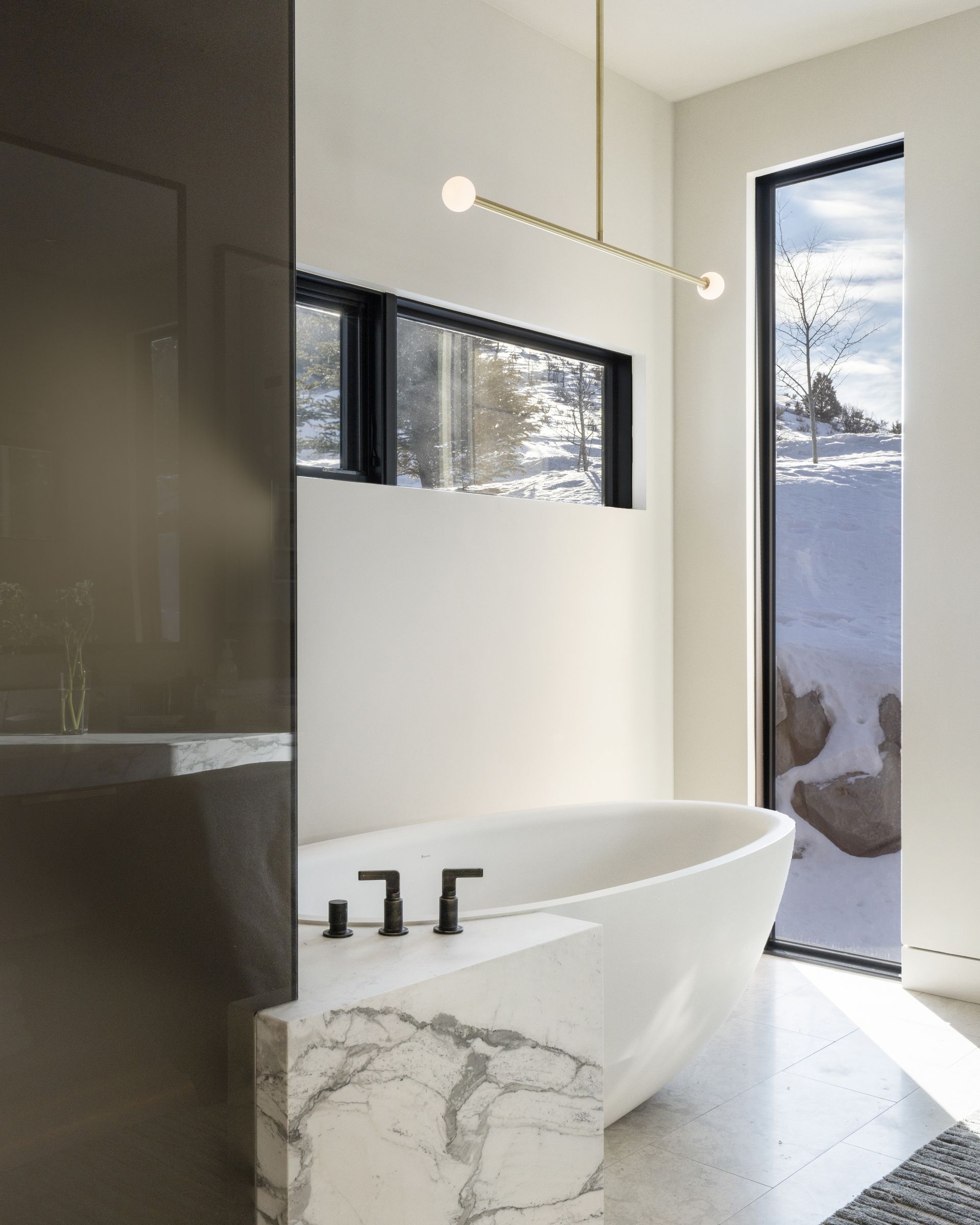 A natural bathroom is also an evocative space that opens up visuals and encourages daydreaming and deep relaxation. For a spa bathroom-like feel, apart from materials and tones, consider connecting the indoors with the outdoors via large windows.
'When designing primary bathrooms where all the space is availed and higher quality finishes are welcomed, I like to create emotion,' says Anne-Marie Barton, founder of AMB Design. 'This emotion comes from the connection my clients have to their spaces. By placing the free-standing tub with a large window to gaze out, there is a sense of spa and connection developed with the outdoors. Like artwork, the framed views are the most important focal point in this bathroom. My work is intended to reflect the outdoors with the quiet sanctuary that it truly is.'
'Adjacent to the tub is the water closet nestled and disguised in rich bronze glass,' says Anne-Marie. 'Rather than using drywall with its bulk and solidness, I felt glass would keep the light inside the space while maintaining a sense of privacy.'
8. Use live edge wood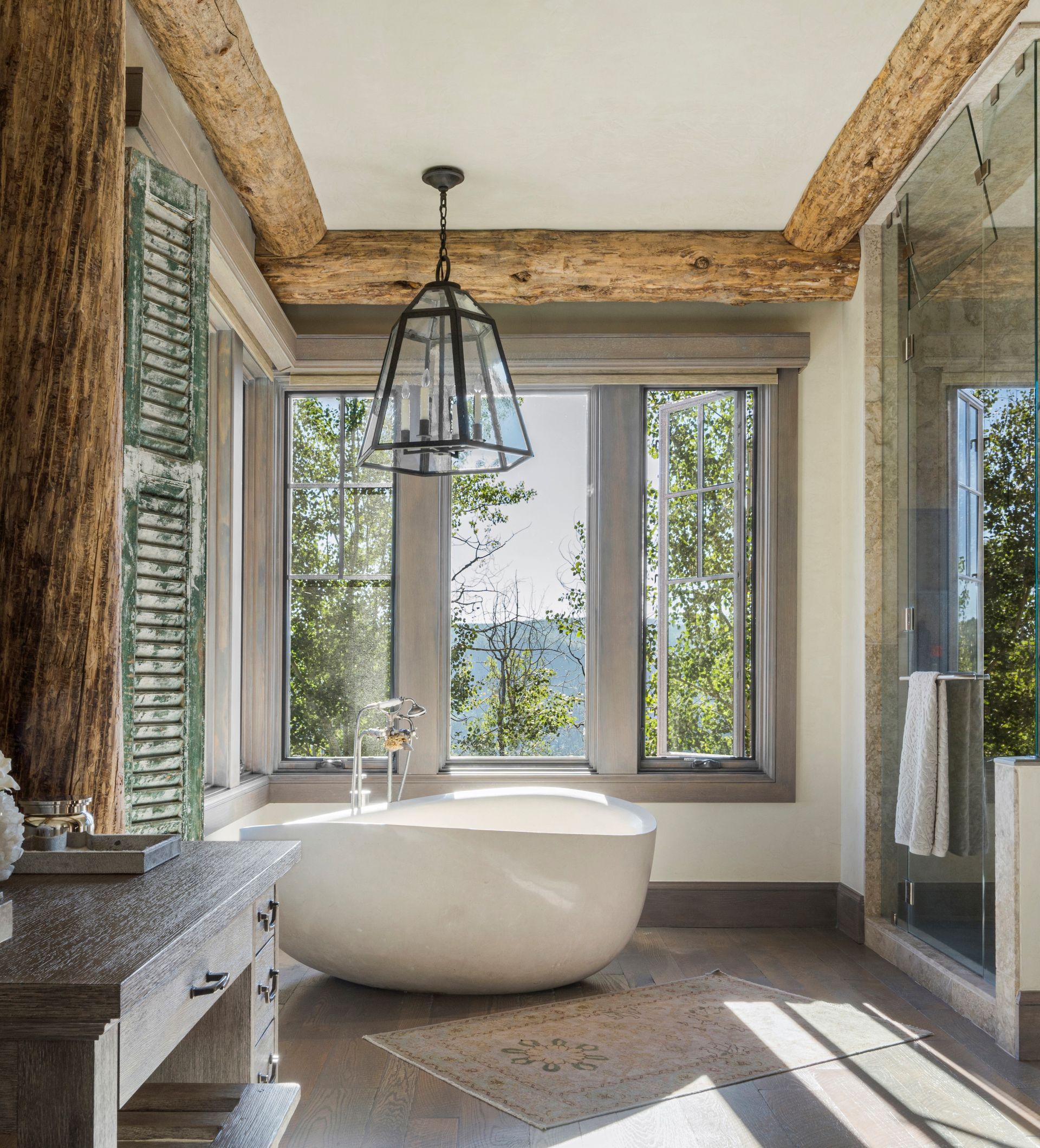 Live edge timber retains the curves of natural bark or trunk adds a raw, rustic charm to a space. This element fairs well in modern, industrial, eclectic, and coastal architecture, and when juxtaposed with sleek modern surfaces and fixtures, strikingly adds an interesting layer.
'We aimed to bring the woody nature of the 160-acre ranch into the bath,' says Anne-Marie. 'The entire home carries with it exposed timbers expressing the highly rugged architecture of this cabin. Balancing the refined details of the shower and bath faucet and the logs was a first for me. I love the juxtaposition of the materials that lead to a more intriguing space filled with the essentials yet answering to a true spa experience.'
If you're worried your bathroom may look too rustic, consider bringing in a fresh lick of bathroom paint, so the room looks refreshing and on-trend.
9. Add a warm, natural glow with material palettes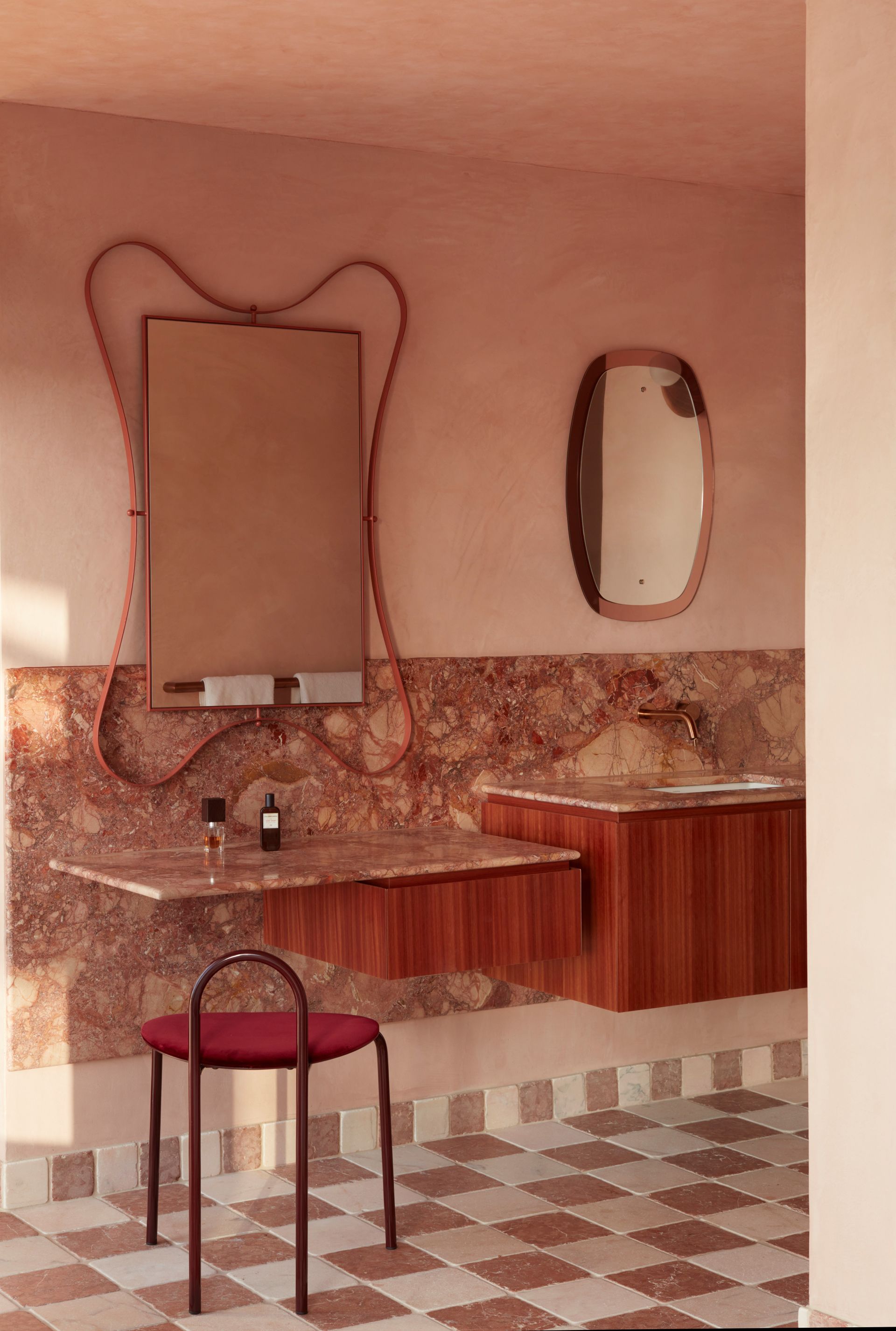 Bathroom color ideas aren't just limited to paints. Hues can be injected via materials too, bathed in natural pigments.
'It's all about grounding tones to natural shades and organic shapes and using natural elements – especially stone selections,' says Yasmine Saleh Ghoniem, founder of YSG Studio. 'We used checkered tumbled marble cobblestones which add a striking Mexican foundation given the entire house's vibe was inspired by rendered coastal resorts dotted along Mexico's remote shores.'
'Also, given the home is a beach house, we wanted to savor summer all year round by incorporating a warm, natural glow, hence the French washed walls ceiling plus honed Tiberio marble selections,' says Yasmine. 'The room is also reliant upon natural light sources which adds magic as it dances upon the wall surfaces throughout the day.'
10. Skylights can create an indoor outdoor feeling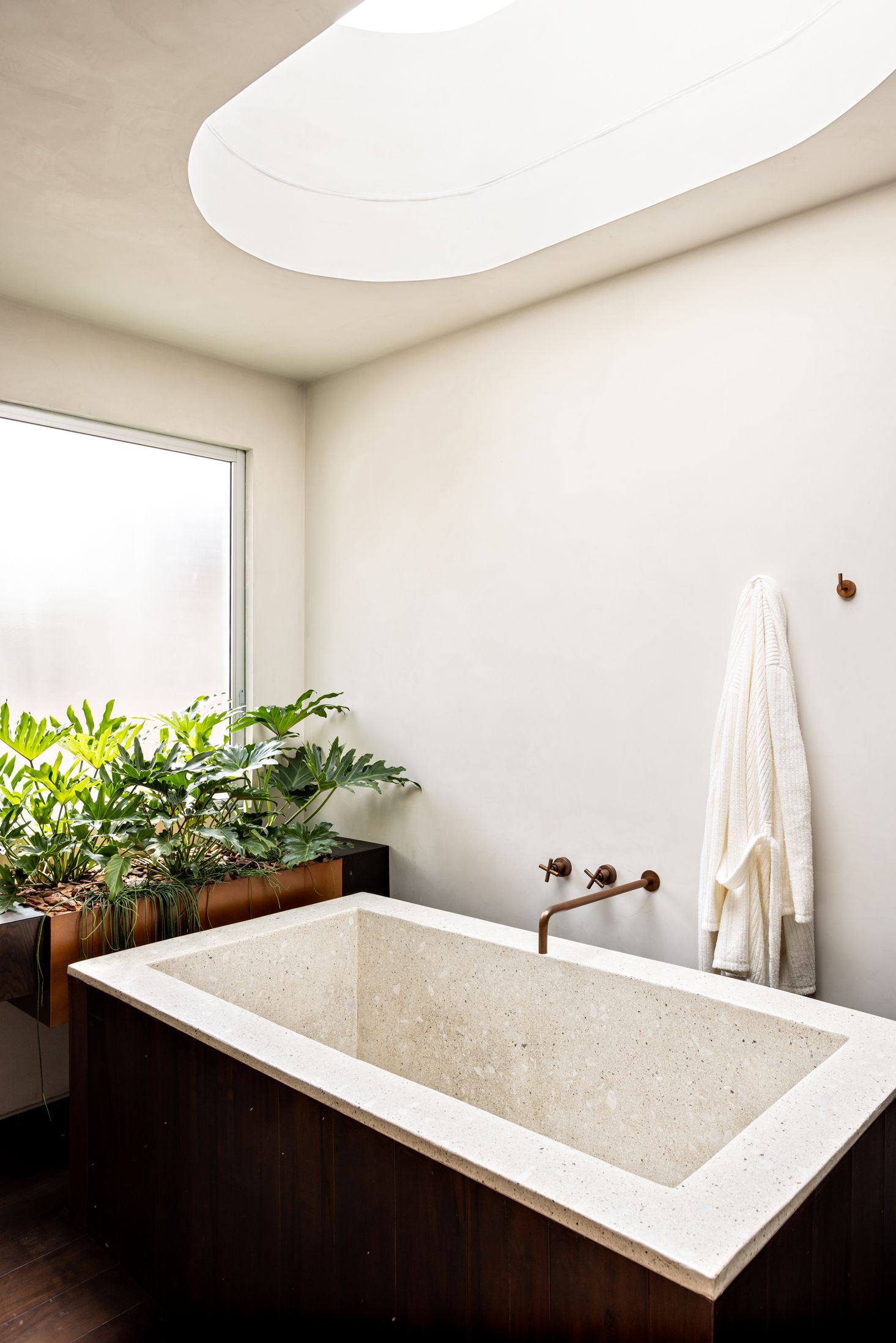 A great addition to a large or small bathroom layout is a skylight; the location of which can influence the quality of the space and shape one's experience of the room. It can lend drama to a space and accentuate the material of the wall itself, highlight objects placed in the room, or reflect the light to increase the ambiance of the space. This is also a good way to open a windowless bathroom.
A skylight right above the bathtub brings in natural light during the day and allows for a view of starry skies at night. It also helps in the layering of warm light in a room that otherwise may be illuminated by artificial fixtures.
For style leaders and design lovers.
Aditi Sharma Maheshwari is an architecture and design journalist with over 10 years of experience. She's worked at some of the leading media houses in India such as Elle Decor, Houzz and Architectural Digest (Condé Nast). Till recently, she was a freelance writer for publications such as Architectural Digest US, House Beautiful, Stir World, Beautiful Homes India among others. In her spare time, she volunteers at animal shelters and other rescue organizations.