What alternatives to marble are there? The 5 trending materials you should also consider for countertops and more
Marble may be a trending material for our homes, but by looking at these alternatives, you might just discover something unique and unexpected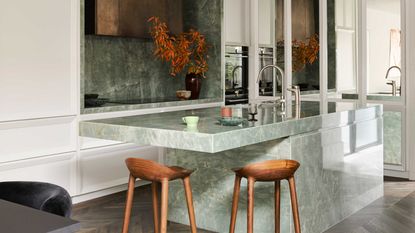 (Image credit: Anson Smart. Design: Smac Studio)
The Livingetc Newsletter
For style leaders and design lovers.
Thank you for signing up to LivingEtc. You will receive a verification email shortly.
There was a problem. Please refresh the page and try again.
First thing's first – I love marble. It's a material that I've included in my own home wherever the design (and my budget) allows. However, it wasn't until I started visiting stone yards that I begun to get a sense of the qualities that many marble alternatives out there have, too.
Some marble alternatives may be materials you're already familiar with, but that you're overlooking for the fact you think you already know what it has to offer. For me, for example, that was granite – a material I once associated with a type of kitchen countertop I was not overly enamored with. However, once I saw with my own eyes the variety in different types of granites, it's something I've substituted marble with in a few instances in my own home.
On the other hand, some marble alternatives might not be materials you know much about at all – that you don't even know to ask about. With that in mind, I spoke to the experts to get to know what materials can stand in place of marble, matching its glamor and drama as well as its practical qualities.
Luke is a freelance design writer and award-winning blogger, who specializes in luxury design. For this article, he looked into the alternative stones out there that match the qualities of marble, whether its for kitchens, furniture or just capturing the trend for modern marble home decor.
Onyx
Onyx is an interesting material to introduce into your home. It can capture the dramatic swirl of a good piece of marble, but also has a lightness to it. In my own home, I have a few onyx candle vessels that beautifully diffuse light through the material.
'It's so light and floaty,' agrees Yasmine Saleh Ghonie, director of YSG Studio, who used onyx to create a countertop, basin and wall detailing in this modern bathroom. 'On a spiritual level, the stone offers powerful vibrations of energy, protection and strength, Yasmine adds, 'something I'd want to tap into every morning when I'm showering.'
But, how does it stack up to marble in terms of its durability? 'Due to its porous and fragile physical qualities, onyx isn't necessarily the best option for surfaces that take a lot of wear and tear,' Yasmine says, 'so I'd skip using it for demanding applications like shower walls or your kitchen counter's where it's likely to stain easily.'
'We applied it in light, crisp layers within the master bathroom, avoiding floors or shower walls with the exception of a decorative strip,' she adds. 'So streamlined is the vanity ledge in this en-suite with its integrated shallow sinks that its swirling veins grant the illusion of levitation — it's my fave feature of the bathroom.'
Onyx is a material that's traditionally thought of as black, but comes in a beautiful variety of soft neutral hues and more invigorating colors, too.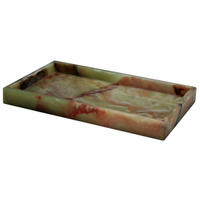 To bring just a touch of this stylish onyx look to your bathroom, consider this tray for your countertop.
Quartzite
Quartzite (not to be confused with quartz) is a natural stone that, like marble, can look like almost anything. It's a go-to for many designers for capturing the dramatic quality of marble, but the crystalline nature of quartzite means it often has a softer, more ethereal patterning than most types of marble.
As an alternative to marble, you'll also find that quartzite wins out when comparing toughness. 'Quartzite is an amazing material to use because it's combining the aesthetic qualities of marble with the functional quality and durability of granite,' explains architect Dieter Vander Velpen. 'It's a stone which is created by volcanic action so it's really strong, doesn't stain from citric acids and is very heat resistant, perfect for those who love to cook often and love natural stone.'
It can be found in a huge variety of colors with unique patterning. 'Some come from South America, some from Asia and this brings new veins and colors to the design world,' Dieter says.
Quartz
Quartz, on the other hand, is an engineered stone surface. It's designed to enhance the best qualities of natural stone to create a kitchen countertop material that's unparalleled in terms of durability. Quartz doesn't stain, it's resistant to scratches and chips, as well as water damage. It also has great anti-bacterial qualities, making it resistant to mold and bacteria.
Because it's engineered, you also won't have to struggle to source the right pattern, color or style, as you may with marble.
The only drawback? The designs you'll be able to find in quartz are limited to the designs any particular manufacturer has decided to make, rather than what nature has to offer. For some manufacturers, these ranges are more varied than others. Some will be limited to simple, popular designs, others have more variety, replicating many types of marble. For example, this kitchen is clad in a soft-grey-veined marble effect quartz from Cambria called Southport.
Granite
Granite is not an unexpected material to find in a kitchen – it's long been one of the most popular natural stone countertop materials, in fact. However, this is a double-edged sword. Granite surfaces have been such a common choice since the 1970s that many people have inherited dated granite countertops that don't set the best of impressions of this material for a modern kitchen.
However, granite comes in many, many forms, including many designs that look like marble. It even comes in interesting, creative colors, like in this kitchen designed by YSG Studio.
'We clad this kitchen island in mis-matched oversized Lapis blue granite tiles,' explains interior designer Yasmine Saleh Ghonie. The tile-like effect was created as the granite had to be cut from large slabs to resolve lift height restrictions for this high-level apartment that prevented the transport of larger pieces in the elevator.
Compared to marble, granite is much more durable, and largely won't chip or crack. It's far more resistant to staining, too.
Soapstone
If you're looking for a marble alternative to black kitchen countertops, soapstone is something to consider.
'Soapstone is a great countertop material for many reasons like heat-sensitivity,' says interior designer Leslie Murchie Cascino of Bonnie Wu Design. 'Its colors can range from deep greens to charcoals to blacks with some great movement across its face.' It's also non-porous, helping it resist staining and water damage.
If you're looking at soapstone for countertops, there are drawbacks, however. Soapstone develops a natural patina with use, but that can mean it wears unevenly without regular oiling, which won't be to everyone's taste. It's also difficult to source in larger slabs, meaning you may have to settle for joins in countertops.
In designer Athena Calderone of Eye Swoon's home, soapstone has been used to create this floating desk.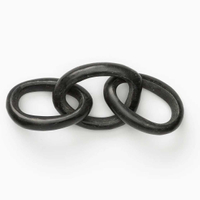 Get acquainted with soapstone as a material with this stylish bit of decor from McGee & Co.
For style leaders and design lovers.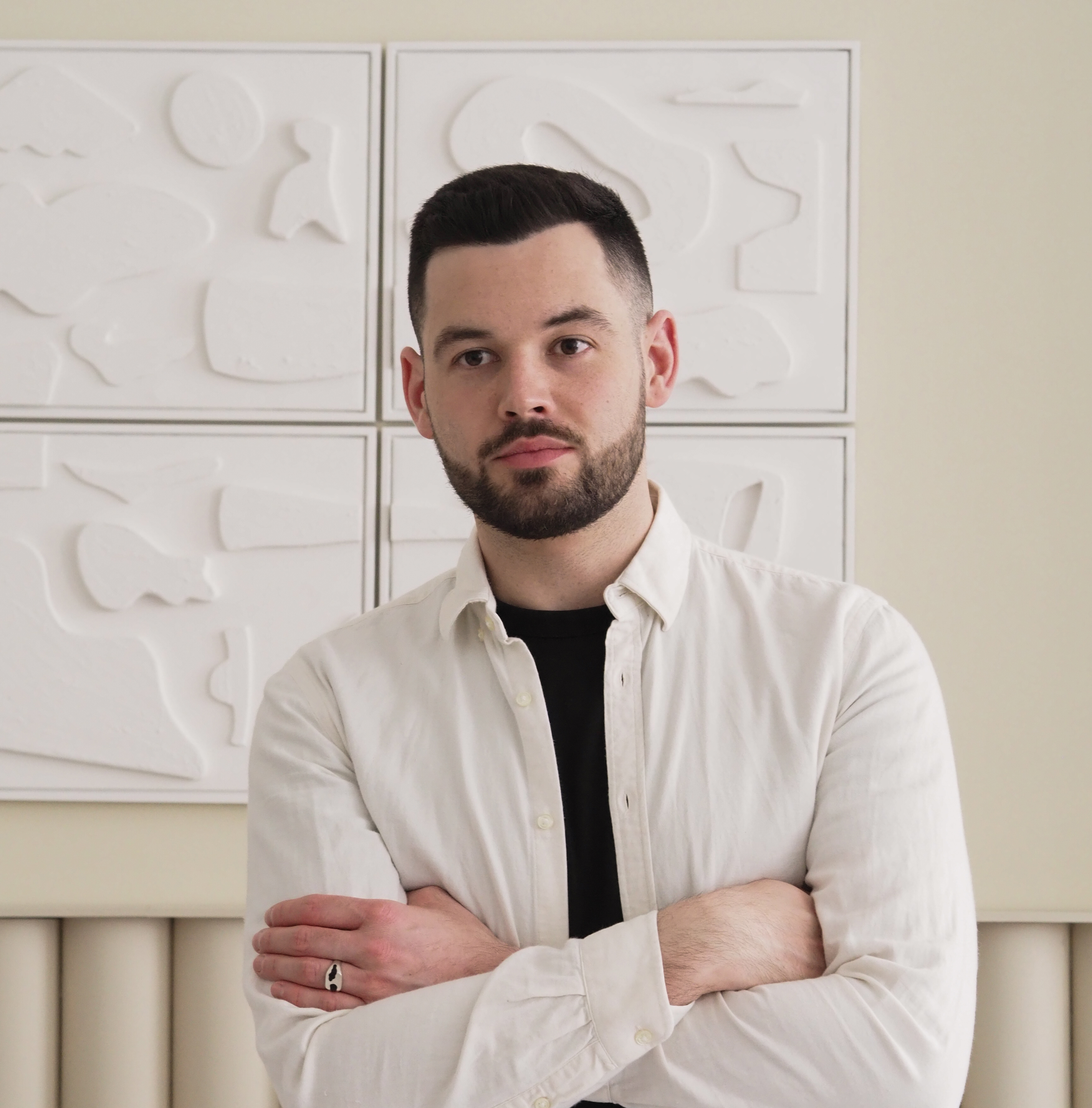 Luke Arthur Wells is a freelance design writer, award-winning interiors blogger and stylist, known for neutral, textural spaces with a luxury twist. He's worked with some of the UK's top design brands, counting the likes of Tom Dixon Studio as regular collaborators and his work has been featured in print and online in publications ranging from Domino Magazine to The Sunday Times. He's a hands-on type of interiors expert too, contributing practical renovation advice and DIY tutorials to a number of magazines, as well as to his own readers and followers via his blog and social media. He might currently be renovating a small Victorian house in England, but he dreams of light, spacious, neutral homes on the West Coast.