Forget Carrara – these incredible types of marble are what the world's best designers are using instead
Subtle marble furniture and surfaces aren't inspiring designers like they used to, so it's time to get acquainted with the bolder types of marble they're using instead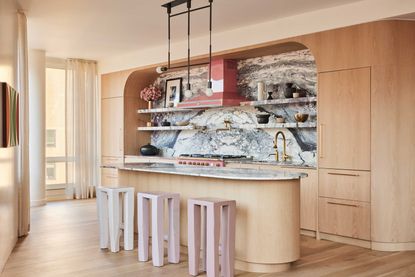 (Image credit: Nicole Franzen. Design: Le Whit)
Even the most timeless of materials can start to feel tired, but marble really is enduring. That might, in part, be down to the variety of types of marble there are to experiment with in design. As a natural material, not only are two pieces never the same, but it has a surprisingly diverse variety when it comes to color and veining.
Rather than marble falling out of style, there are interior design trends within marble as a material itself. In recent times, this trend was towards marbles with soft, subtle veining. White and pale grey Carrarra and Calacatta Gold slabs have long been seen used for beautiful kitchen countertops, bathroom basins, even coffee tables.
Yet, it's beginning to feel like appetites are changing when it comes to seeking out natural stone for interior design. And the new wave of marbles that interior designers are adoring tend to be those that make a statement.
Luke is a design writer and award-winning blogger, who specializes in luxury interiors. He asked some of his favorite contemporary designers for examples of types of marble that have inspired them creatively for their projects.
What types of marble are trending in interiors?
The types of marble we're seeing come through in interior design are much bolder with more defined veining than the varieties of Carrarra and Calacatta Gold that have been stalwarts for modern kitchens and bathrooms.
'I love to use generous sweeps of marble with bold, expressive swirls, deep tonal variations and dynamic veining that appears akin to a work of painterly abstraction,' surmises interior designer Greg Natale. 'Working with these rich and vibrant materials and mixing them in unexpected combinations delivers drama, originality and sumptuousness to a space – just like a great work of art. Stone conveys a beautiful sense of solidity, permanence and heft, which is tempered by the feeling of softness and warmth that comes from being a natural material,' Greg adds.
So, what types of marble are on their wishlist right now?
1. Arabascato
For those looking to take baby steps on from Carrarra and Calacatta marbles, Arabascato is a good choice for a calm feel. It's veining is slightly darker and more defined, allowing it to become more of a statement for your room, while retaining a softness that keeps a space feeling mellow.
It's the perfect partner in this muted mushroom and marble kitchen created by And Studio for this brownstone in Jersey City. 'Slabs of bold Arabascato Corchia marble top the deVOL cupboards throughout the whole room,' explains Helen Parker, creative director of deVOL. 'We do love this kitchen, its calming color palette and the way it makes you wish you could be right there, right now.'
2. Palladian
While it's another marble on the softer side of the spectrum, Palladian marble starts to introduce some more interesting undertones for a point of difference.
In this stylish kitchen by Smac Studio, Palladian marble has been used the the kitchen backsplash, countertops and shelving that wraps around the range hood. 'The Palladian marble was true love at first sight,' Shona McElroy, founder of Smac Studio, says. 'It has such depth character that I hadn't seen before. It's white yet it's not stark or common - while the pink, orange and bronze tones throughout the veins gave us plenty to pick up from with the surrounding materiality'
3. Rosa Portugués
Where marble meets color is where things start to get interesting, and natural stones with pink hues are becoming a bigger and bigger design trend right now. While types of marble like Rosa Portugués may have a soft, baby pink coloring, they tend to have dark black and grey veining that gives what could be a saccharine shade a more grown-up feel.
In this modern bathroom design by YSG Studio, pink marble feels sophisticated, and while it works brilliantly as part of this pared-back space, it brings a little more energy than a neutral stone to give it the wow-factor the brief demanded.
4. Viola
While Viola marble heads back in the direction of a monochromatic color scheme, it makes a big impact through contrast. With more clearly defined black and white shades, it's bolder and more striking than the likes of Arabascato, but that also means it can feel a little heavy-handed in the wrong setting.
Be warned that Calacatta Viola is a type of marble that's already on the edge of overexposure, according to some design professionals. For interior designer Joan Enger of New Jersey-based design studio J. Patryce, it was the trend she spotted most last year, and one outdated kitchen trend she'd be happy to leave in 2022. 'While I adore this stone, I think it became a copycat moment in design,' she says.
5. Rosso levanto
For a type of marble that lends a little drama, a rich burgundy marble like Rosso Levanto can transform the atmosphere of a space.
It's what Brooklyn-based design studio Le Whit specified for the bathroom vanity in this glamorous scheme. 'This particular marble helped us create a moody bathroom setting, in contrast to the airier and more colorful feel throughout the home's public spaces,' say Corey Kingston and Liza Curtiss, principles of Le Whit. 'The bathtub was a dark focal point of this scene, and this stone offset the cool tone to bring a bit of warmth while maintaining the dramatic saturation. The marble really supported the sense of intimacy that we wanted this primary bath to have.'
6. Monet
White-based marbles with warmer undertones are a definite micro-trend right now, especially as they lend themselves more widely to decorating with neutrals.
In this small bathroom, interior designer Shona of Smac Studio embraced a warm neutral marble called Monet for the striking, monolithic vanity. 'The Monet in the powder room is dramatic and unexpected,' Shona explains. 'Once again, the various tones throughout gives ample opportunity to play on with the surrounding space.'
Shona believes these more expressive marble trends are a particular good fit in spaces like this powder room. 'This type of stone can be overwhelming in a kitchen for some people, but it is such a glorious feature when it stands alone in a powder room,' she says.
7. Breccia capraia
Subtle undertones can make for a brilliant way to define a color scheme for a room.
For this Manhattan apartment kitchen, the undertones of this bold Breccia Capraia bring an extra level of cohesion to the pink accents in the room. 'The purple veining of this particular marble complemented the pink statement stove, which was one of our client's original selections for the home overall,' explain interior designers Corey Kingston and Liza Curtiss. 'Together, we went to the stoneyard in Brooklyn to pick out the exact slabs that we wanted, and we created four different matchbooks, which is almost like a map of how the marble slabs will be installed in relation to one another.'
8. Taj Mahal
Soft, tonal beiges continue to be a big trend in design, especially in richly textured spaces like this home in La Quinta, California, designed by AMB Design. While the choice of Tak Mahal marble for the kitchen island, countertops and backsplash might not create so bold a contrast as some of the kitchens included in this gallery, it delivers a textural quality that really enriches the overall design.
'The material in the kitchen was intended to contribute subtly to the space and to the zen atmosphere through subdued color,' explains Anne Marie Barton, founder of AMB Design. 'Taj Mahal marble is the answer as an undercurrent to the lighting and shelving in the kitchen,' she adds.
The Livingetc newsletter is your shortcut to the now and the next in home design. Subscribe today to receive a stunning free 200-page book of the best homes from around the world.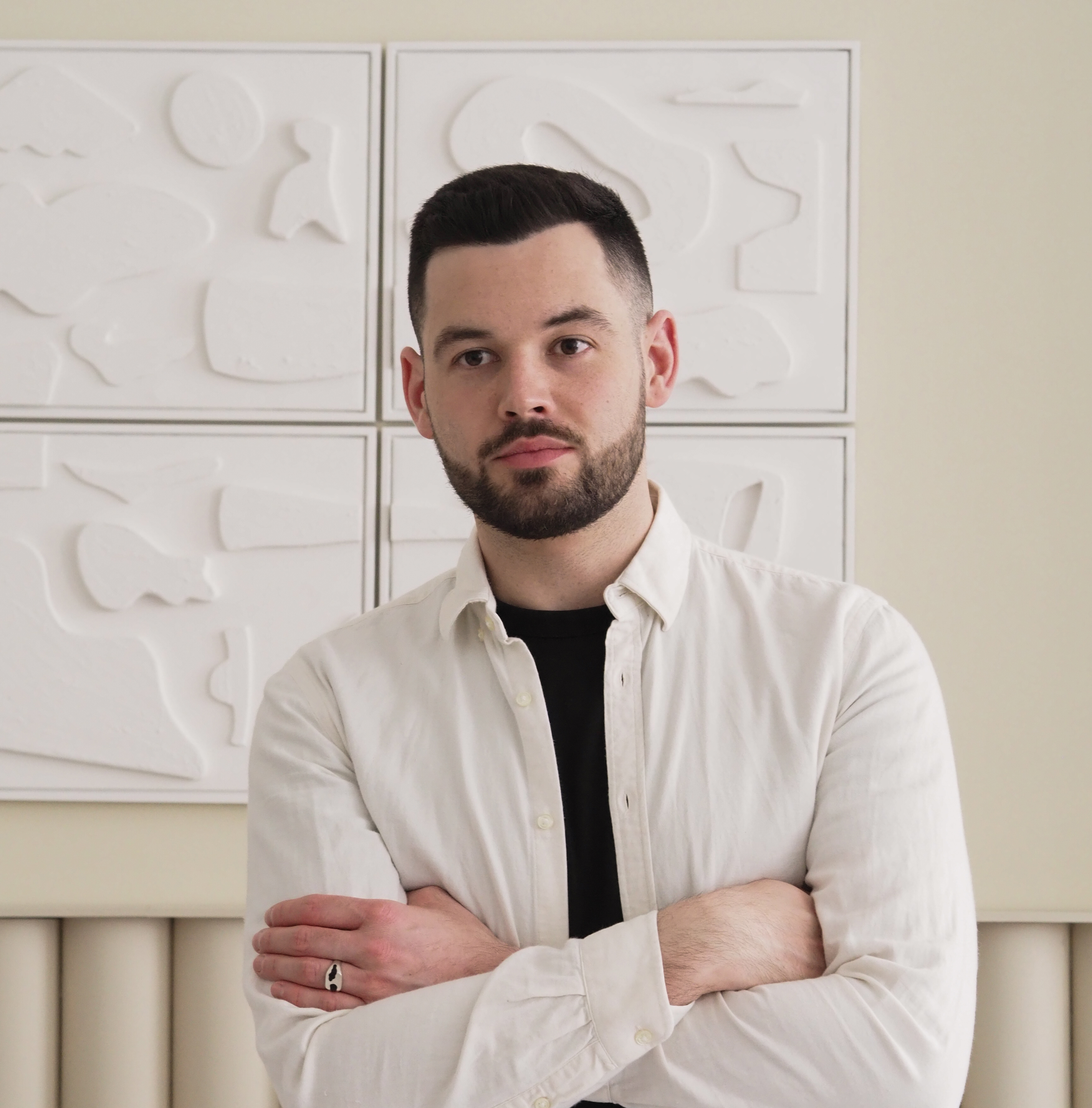 Luke Arthur Wells is a freelance design writer, award-winning interiors blogger and stylist, known for neutral, textural spaces with a luxury twist. He's worked with some of the UK's top design brands, counting the likes of Tom Dixon Studio as regular collaborators and his work has been featured in print and online in publications ranging from Domino Magazine to The Sunday Times. He's a hands-on type of interiors expert too, contributing practical renovation advice and DIY tutorials to a number of magazines, as well as to his own readers and followers via his blog and social media. He might currently be renovating a small Victorian house in England, but he dreams of light, spacious, neutral homes on the West Coast.