The Poppy Okotcha interview: learning how to garden, to plant successfully and find joy in the little things
Meet Poppy Okotcha, Livingetc's brand new gardening columnist, as she goes in conversation with our editor Pip McCormac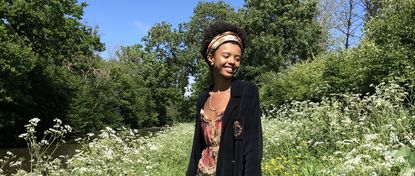 (Image credit: Poppy Okotcha)
Forget banana bread, the lockdown craze with any sticking power is definitely gardening. While the pandemic sweeped the world, thousands of people discovered or rediscovered the soothing and all encompassing balm of tending to plants, focussing on creating and caring for life in their own small corner of the world.
Last summer, I discovered Gardeners World, a weekly dose of calm gentility, hosted by Monty Don. As he ambles around his rambling garden, talking about jobs for the weekend and explaining how to make compost, the joy behind this absorbing past time became clear. In the first episode I saw, there was a segment on Poppy Okotcha, a horticulturalist living in a houseboat in London, growing tomatoes, herbs and flowers in containers on every inch of space. The way she spoke about gardening was so demystifying, so encouraging and so enticing that I knew I had to sign her up for Livingetc.
And so, from the April issue, out next week, Poppy joins us a regular columnist, talking us through what she's up to in her garden and giving plenty of modern garden ideas, with clear and simple instruction for what to do each month, whether you have a big outdoor space or just a windowsill in a flat. She has since moved from that houseboat to Devon, to a garden she's taming thoughtfully after it has been left untended for years. I've learned so much from her already - both small lessons, such as where to plant my wild garlic and big, like how to stop and appreciate the simpler things in life. I think you will too.
Poppy's first issue is out next week. Subscribe to Livingetc now and receive three issue for just £3, here.
Pip McCormac: I love how much you love gardening - it just shines out of the way you talk about it. What is it about gardening you love so much?
Poppy Okotcha: That's a big question! Hmm. You know, gardens are our teachers and in the process of gardening you grow yourself. For me, it teaches so much about the acceptance of imperfections and stepping away from a goal oriented way of life. Sometimes, plants die, but that's ok. They go on the compost heap and rot down and feed the next generation, and through that process gardening has helped to change my perspective and to understand the world in a different way. I was diagnosed with IBS a few years ago and was exploring how I could minimise stress, and gardening really offered that - it was addressing my mind set. I was modelling and travelling a lot and was expecting my body to perform constantly as if it was always summer. Engaging with gardens I was starting to understand seasonality, and treating a space with respect. There is a necessity for rest and winter time, it's when the garden recharges ready to bloom. Our bodies have the same needs.
PM: Why was gardening the de-stress activity you turned to though?
PO: Growing up, my mum was really into growing food and we always had plants around us. When I was 12 we relocated from South Africa to the UK and part of the healing we did from that shift was to make a garden together as a family, digging a pond, being delighted by the frogs turning up. I got so much from it that when I modelling was becoming too fast paced I reverted back to what I knew.
PM: What really comes across in your columns and Instagram content is your appreciation of the smaller, simpler things. I loved one of your insta stories pointing to a window in your roof saying 'this is where I watch the stars' and I had such an image of you clasping a steaming mug of some herbal infusion from your garden, looking at the night sky and smiling. In a pandemic, finding joy this way is a really valuable skill to have. Does this come naturally to you?
PO: My mum taught me actually, she was always encouraging me to notice the natural world. We were foraging before foraging was a thing - we just called it going out to get stuff - and the ability to slow down and tune in to the smaller things, the most unglamorous things, comes from her. To find miracle and joy in a puddle or a seed germinating,. I mean, you hold it in your hand and it seems like it's not alive but it is. Gardening, it slows us down, in a world where we're always scrolling, scrolling fast.
PM: You seem to know so much about gardening, have you had any formal training?
PO: I studied with the RHS for a year at Regent's Park, and worked with community gardens in London, which was so hands on and gave me a real practical understanding.
PM: So, going back to the houseboat, your old home, where you were introduced to me via Gardeners World. You made it look so....romantic, clambering around on it in your floaty dress, smelling your herbs in the sunshine. What was it really like?
PO: Equal parts amazing and difficult! Now I'm not on it, I think it was all amazing. As a grower it was a challenge to be only using containers but now I'm grateful as it was a more controlled way of learning how to do things. You put your compost in the container, you know exactly what you've used, you see what worksd and what doesn't. On a boat, you're in touch with the seasons, you really notice everything, which can be good when it's beautiful, less so when it's not. And houseboats are way less convenient - you have to fill your water tank, empty out your toilets, generate your electricity. It's fab - we did that by solar panels - but it's limited.
PM: What would be your advice for container gardening?
PO: Get as a big a container as you possibly can, as it provides more space for root establishment. It also means you can give them a better anchorage aginst strong winds, and give them enough water.
PM: Is there one easy rule for container growing, or does it depend on the plant?
PO: When you're choosing plants, think "right plant, right place" like a mantra. Plants have been brought in from nature, and have a set of skills that you want to play to, a natural environment where they'll work best. Some, from a forest floor, don't want direct sunlight and might like humidity, others want loads of sun and not much water. A little research goes a long way.
PM: Tell me about your new place? I'm really enjoying watching you tend to it via your Instagram.
Last summer we moved to Devon, and bought the house because of its 150 square meter garden. It feels huge to me, and as it hasn't been tended to for about 4 years it's absolutely wild and spectacular. I'm not sure how I'd do better than it currently is actually, it's currently an explosion of ornamental plants that have gone out of control. Part of my design process is to observe, see what the insects and sun do and design accordingly. I'm trying to stay true to way nature wants it to be, allowing pockets of it to stay wild or to give over to the rewilding process.
PM: How do you decide which bits to leave wild?
PO: Partly based on which bits will give me the best yield, as I want to do a vegetable garden and need a spot for that which gives me full sun, is fairy sheltered and not too far from the house so I can tend it easily. The other bits can be left to wild.
PM: I've just moved house myself and learning so much about gardening - I've planted wild garlic bulbs under the apple tree as per your suggestion! [Poppy suggested this as not only do they like the shade of the tree, the garlic flowers at the same time as the apple blossom, encouraging bees to visit and pollinate the tree]. One piece of advice I keep hearing is to do nothing the first year, to sit back and watch and learn about the garden you've inherited. But it's so hard, there is so much I think I definitely want to grow, I'm so impatient to get on with it all.
PO: You do have to reign your excitement back a bit, but when you relax into the experience of watching a garden... it's back to that theory of radical gratitude, and really noticing the space and being grateful for what it does. I saw the garden as a blank canvas, and having been here eight months the way i interact with it now is very sensitive to what it needs. You develop a relationship with the land if you're patient, and it becomes a collaboration. Gardening can be quite frustrating, unless you feel the land is on your side.
PM: Are any of your garden design ideas based around aesthetics?
PO: Yes, but it's not led by them. A garden needs to be functional, fairly low maintenance, and provide you with what you want, be that herbs or food or pollinated plants or cut flowers. Aesthetics are important but they're not the only thing, and I love a plant that has beauty and function. Take echinacea, with its glorious flowers. It's fairly low maintenance, a perennial that you only need to cut back once a year. Its flowers are beautiful for cutting and its roots make wonderful herbal remedies.
PM: What else are you focusing on this year?
PO: Peas, broad beans and runner beans. I want to grow lots of them, because my diet is plant based and I want to see how much protein I can create myself. Plus they're really beautiful, you can get bright purple pods and colored flowers.
PM: What equipment do you think everyone should have?
PO: You don't need much actually. A dibbler you can use to pod seeds into the soil, though a finger works as well. A trowel - though a spoon, or hand can do that, too. Forks are really useful for turning compost. I don't do much digging at all, and am a big believer in the no dig method, so spades aren't that useful. In a garden, a wheelbarrow is a must.
PM: Is there one thing you wish everyone knew about gardneing?
PO: One thing? Oh, wow. Erm, ok. One thing....I wish everyone knew about the potential gardening has to not only be good for the environment, but for the community, too. It has the power to bring people together, and that, for me, is the most beautiful thing.
Poppy's gardening column, full of advice for what to do each month, begins in the April issue of Livingetc, out next week. To subscribe and get three issues for £3, click here.
Follow Poppy Okotcha on Instagram here.
The Livingetc newsletter is your shortcut to the now and the next in home design. Subscribe today to receive a stunning free 200-page book of the best homes from around the world.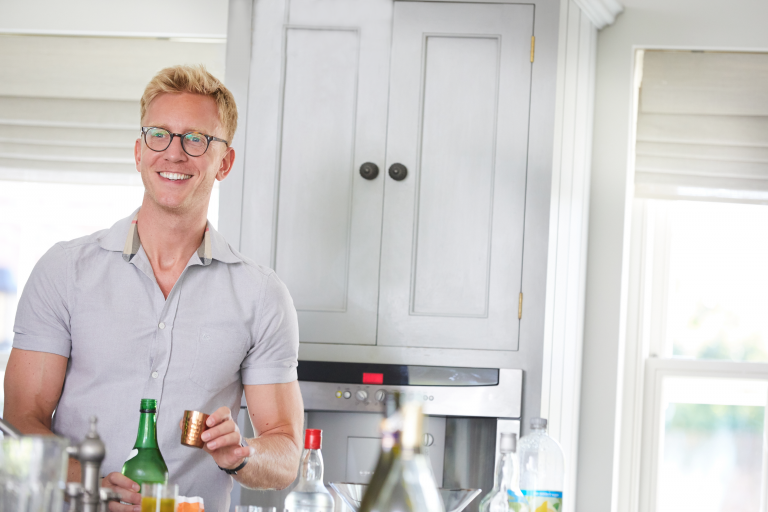 The editor of Livingetc, Pip Rich (formerly Pip McCormac) is a lifestyle journalist of almost 20 years experience working for some of the UK's biggest titles. As well as holding staff positions at Sunday Times Style, Red and Grazia he has written for the Guardian, The Telegraph, The Times and ES Magazine. The host of Livingetc's podcast Home Truths, Pip has also published three books - his most recent, A New Leaf, was released in December 2021 and is about the homes of architects who have filled their spaces with houseplants. He has recently moved out of London - and a home that ELLE Decoration called one of the ten best small spaces in the world - to start a new renovation project in Somerset.