Inside Eva Chen's Connecticut cottage that's a multigenerational home packed with color and character
Instagram's head of fashion has bought and renovated a country abode to fit her growing family, skilfully designed by Hendricks Churchill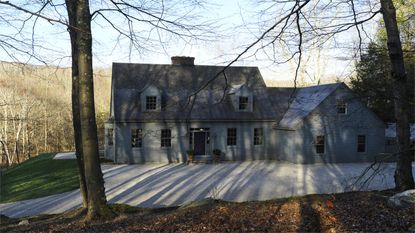 (Image credit: Chris Mottalini)
Effortlessly glamorous with three gorgeous kids, Eva Chen is the head of fashion at Instagram and a children's book author. After she visited the Troutbeck in Amenia, New York she fell in love with the area. When Eva found her Connecticut cottage her agent recommended Hendricks Churchill and the relationship with Heide and Rafe blossomed over the social media app.
Well versed in historical renovations, Rafe Churchill led the transformation of the home which entailed opening up the first floor, expanding the living room and overhauling the kitchen while integrating key features such as a Plain English work table and a Bertazzoni range.
Heide Hendricks thoughtfully selected each piece of furniture to create a comfortable and eclectic home for the family, who welcomed its third child, River, in May. As an author and lover of books, various reading nooks were incorporated throughout the home, from the window seat in the living room to the B&B Italia Camaleonda sofa in the upstairs guest room. An eat-in kitchen and a dining room dressed in Antoinette Poisson wallpaper provide the family with flexibility away from Eva's Manhattan residence.
Designer Heide talks to us about briefs, design decisions, and how the family use their modern home...
Sunlight streams through this open-plan living room with several different seating nooks.
How did you get involved with the project?
'Eva Chen visited the Troutbeck in Amenia, New York, and fell in love with the area,' says Heide. 'When she found this home, her real estate agent recommended Hendricks Churchill and my relationship with her blossomed over Instagram.'
What was your brief?
'Eva is a born-and-raised New Yorker who fell in love with the quiet and landscape while visiting Upstate. Her husband, Tom Bannister, is a native of England and this area very much feels like the English countryside,' Heide says.
'After settling on a contemporary Cape Cod house with nearly ten acres of land, we were tasked with unlocking the potential of the home for Eva's growing family who welcomed their third child, River, in May 2021,' she adds. 'The house was built in the 1980s and had good bones, but was not quite ready for daily family living.'
Traditional floral wallpaper wraps around this beautiful dining room, conjuring up images of times gone by. Black furniture and modern dining room lighting ties in with the black frames of the windows. Modern and traditional ideas merge confidently in this space.
What was your answer to the client's brief?
'The house went through a renovation which opened up the living room and kitchen, and converted the garage into a guest bedroom and additional play area,' explains Heide. 'Eva, also an author of children's books, requested lots of reading nooks. We arranged furniture in cozy vignettes throughout the larger living spaces to provide these intimate places to curl up and read a book.'
'Used to living in a New York City apartment, a main priority given the space within the home was creating sight-lines,' she adds. 'Eva and her husband can be standing in one room with the ability to keep an eye on the kids in the next.'
A soft blue-gray tone on the woodwork lifts the staircase out of the ordinary. Staircase decorating ideas can be hard to come up with, but a lick of paint goes a long way.
Why did you choose certain materials?
'We pulled stylish yet sturdy pieces for the home,' explains Heide. 'Matching Eva's aesthetic and fashion background was important for the design while being mindful of the durability needed for young children.'
Now here's a classic kitchen that feels totally current. Rustic farmhouse kitchen ideas are gaining in popularity even for the most modern interiors lovers - the colors and materials all contribute to making a heritage look feel contemporary.
What clever design ideas where need to renovate the property ?
'Converting the attached garage gave the home so many possibilities. This became a guest room, frequently used by Eva's parents,' explains Heide. 'Above, is a playroom that doubles as an additional guest room providing the extended family with lots of flexibility. A key to making a new house feel like an old house is to enlarge openings between rooms rather than eliminating the passageways altogether.'
What inspired you and where does your inspiration come from?
'I get a lot of my color palette inspiration from paintings by Renaissance masters and I stay current by admiring the work of other designers,' says Heide.
'Eva unsurprisingly found a lot of inspiration through Instagram. We would text each other photos and knowing she was drawn to our pared-back style, we made this home feel like it had really been settled in for quite some time,' she says.
'Unlike some of our other projects, Eva brought her relationships with multiple vendors to the table and was able to introduce us to their designs,' says Heide. 'We were inspired to blend more contemporary pieces within the eclectic interiors than we typically do.'
How did you work with the client?
'We were constantly texting each other photos and spent plenty of time talking through decisions of art and antiques,' she says. 'The project developed just before the world changed, so while we started out with in-person meetings and design presentations, we eventually shifted to lots of Zoom and screen sharing. Our most exciting work happened around midnight over DM.'
What do you love most about this project?
'The house has a pared-down color palette of tonal shades of blues, grays, and violets. This allows the mix of modern and contemporary art to really pop. There is nothing like art to make a home feel more personal and vibrant,' says Heide.
'The way the house had been previously landscaped makes it feel like a European cottage,' she says. 'We played up this charm and were inspired by the setting overlooking a man-made pond.'
A classic pedestal basin sits next to a sleek modern shower and both look completely at home. Whether you're after modern bathroom ideas or something more traditional, this proves you can have both!
How do the family spend their time in the house?
'We love the home for many reasons, but mainly because it is a multigenerational home,' she says. 'The family spends their time reading, writing, and gardening and this was a fun assignment to fulfill. Frequenting the home on weekends. Eva's parents visit and stay regularly making it a really special place for their extended family to come together.'
A cool kid's bedroom idea that'll last for years to come. A kid's room doesn't have to be childish after all...
The Livingetc newsletter is your shortcut to the now and the next in home design. Subscribe today to receive a stunning free 200-page book of the best homes from around the world.
As the Houses Editor on Livingetc, Rachel has been obsessed with property ever since she was a kid. With a diploma in interior design and more than a decade working on interior magazines under her belt, she feels very at home sourcing the best contemporary houses the world has to offer for Livingetc. It's not just the day job either, she admits she's spent a scary amount of her own time researching schemes for her own renovations - scrolling Instagram, stalking Rightmove and Modern House, flicking through magazines and snooping in other peoples' windows - so she really does live and breathe houses on a daily, if not hourly, basis. Before Livingetc, Rachel had a stint finding homes for Ikea Family magazine where she was lucky enough to gallivant around the world on shoots meeting and interviewing interesting people, all with a very keen eye for blending high-end design with everyday items from Ikea. It inspired her to not be afraid of mixing new and old, expensive and affordable, vintage and modern and so Rachel's current Victorian terrace in north London is very much an updated, contemporary take on a period property; think open-plan modern kitchen with concrete floors, feature fireplaces and her grandmother's paintings on the walls. Rachel is currently crushing on reeded glass, large gingham prints, squishy curved furniture; like Buchanan Studio's Studio chair, and vintage wall sconces; she especially adores Retrouvius for sourcing antique finds and feels inspired by Lonika Chande, Beata Heuman and Matilda Goad and already can't wait to start planning her next home, wherever that might be.