The best L-shaped sofas to nestle into this winter
The best L-shaped sofas are comfortable, sociable and just what we need right now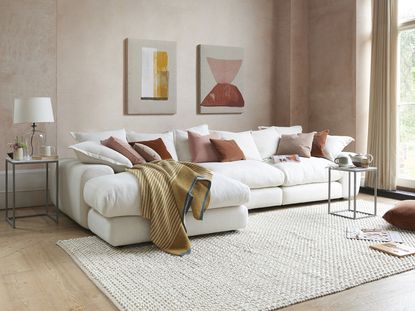 (Image credit: Loaf)
Comfy, casual and conducive to socialising, the best L-shaped sofas are the ideal antidote to an anxious, disconnected year.
Just like the best sofa bed, L-shaped sofas can be bulky in size, yet these laid-back yet luxurious loungers are well-suited to small living rooms, allowing you to make use of dead corners and offer more seating in a tighter space.
Sabina Miller, head of buying at Heal's, reckons they fit perfectly into the continuing trend for open plan living.
"Opting for an L-shaped sofa can be a really simple way to define two areas, such as the living and dining room, without creating a significant physical barrier," she says.
"For homes where space is at a premium, designs that maximise every inch of the room are a priority. Thanks to advances in manufacturing, sofas can now be built with a much slimmer design, creating extra room for a deeper, comfier sit. The compact corner chaise is also becoming more popular, offering extra space to stretch out after a long day."
In terms of style, modern country is the go-to look. Think contemporary twists on classic design. Traditional shapes in plush velvets and bold colours.
Go oversized and slouchy to play into the 'cocooning' trend this winter ("The more squish the better," says Loaf founder Charlie Marshall) or get playful with fluting and curves, a la the chic Portobello from Heal's. Consider a modular sofa, such as those by Swyft, if you have narrow doorways or like freshening up your layout on the regular.
Bouclé fabric is on the rise, its homely, knobbly texture balancing well with plainer minimalist and mid-century furniture. Colour-wise, look to softer, understated shades like blush pink, sage green and warming terracotta for a natural, grounding effect.
Overall, the aim is to create a relaxed, informal ambiance in your living room. Have fun, sit back and breathe.
Cubos Modular Sofa, Sofology
Building your own sofa using modular sections offers greater versatility. Each comfy cube is available with under-seat storage and there's a huge range of mix and match shades to browse. Prices vary but this 3 Seater/Corner/1 Seater sofa in the stunning Velvet Seaspray costs £2,199.
Wodge Modular Corner Sofa, Loaf
Look to Loaf for seat cushions that are deeper than average, making them extra inviting to curl up on. The modular Wodge is available as a chaise (pictured, from £2,245) or a bigger corner sofa, in an overwhelming 143 fabrics.
Matera Large Corner Sofa, Heal's
The clean lines, metal legs and slender arms of this large L-shaped lounger, from £5,499, give it an elegant, modern silhouette that maximises seating. Memory foam cushioning offers optimum comfort and support. Choose from leather, wool and velvet upholstery - this cosy Nobilis Velvet Rust is our favourite.
Norfield Corner Chaise Sofa, Made to Last
This sustainably-made sofa, from £1,980, is hand-built in Wiltshire and available in 58 fabrics. It exudes Nordic design sentiment with its clean lines and light oak feet. It can comfortably seat four people for a suitably 'hygge' night in.
Barbican Corner Sofa, John Lewis & Partners
Three sections easily slot together to create this retro-inspired 5-seater sofa, from £2,549, with tufting and a curved silhouette. Choose from 64 fabrics, including this durable weave in Fleckerl Plaster Pink, a muted tone fit for a trendy earthy palette.
Portobello Corner Sofa, Heal's
With its flirty fluid shape and slim aluminium legs, this compact corner chaise will inject a fun focal point into any neutral scheme. Choose left or right facing in one of 60 fabrics, including this Brushed Cotton Cadet, from £2,249.
Bergen 4-Seater Chaise Sofa, dwell
This sumptuous sofa, currently £1,249, has feature piping, stitch detailing, tapered legs and bolster cushions for added comfort. This bold Forest Green velvet livens up its look, bringing it bang up to date.
Albie Corner Chaise Sofa, Next
This soft marl petrol blue sofa, £899, combines a contemporary low-back and minimalist legs with traditional tufting. It offers a chaise for lounging at one end (choose left or right), which looks less imposing than a fully-backed sofa. Warm grey is the only other colour option.
Fenner 4-Seater Corner Sofa, Habitat
Jump on trend with this punchy velvet orange sofa with a deep seat and thin frame. It offer luxury at a low price, now £2,000 in the sale, and blends classic details like tufting with bold colour and sharp lines.
Model 03 Corner Sofa, Swyft
New online furniture brand Swyft offers flat-packed sofas delivered to your door in just 24 hours - a welcome change from the usual 8-12-week wait and handy for taking up stairs. This model, £3,060, can be made into any size or shape of 'L' you desire. Simply clip the sections together, like grown-up Lego!