11 home office organizers you need for a neat workspace
Make use of these undoubtedly handy home office organizers for an easy (work) life — and for a neat and tidy desk!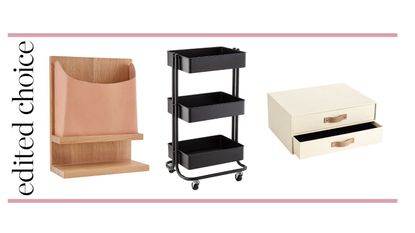 (Image credit: Future)
Home office organizers play an integral part in your home office decor, mostly for keeping your items where they are supposed to be, but also for ensuring your home office looks aesthetically pleasing.
Whether you are redesigning your home office and searching for some inspiration, or perhaps you are just searching for home office ideas to help streamline your stuff — and keep this space better organized? We can offer our expertise so that your home office always looks as practical as it is stylish.
From home office desktop organizers to special drawer organizers, electronic organizers plus more, there's plenty to browse in this shopping edit. Whether you've enough floor space to suit your needs or the place in which you work from home is a tad teeny, there's something for everyone. Here, home office organziers aren't just handy but they are stylish, too.
---
The best practical yet pretty home office organizers for your home
1. A complete home office organizer that's super versatile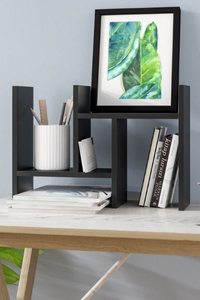 (opens in new tab)
Rebrilliant Roland Free Style Double H Display Rack: View at Wayfair (opens in new tab)
With 5 shelves in total for storing anything from your extensive pen collection to important books and even a photo frame of your favorite people, this home office organizer makes for a neat and tidy desk (opens in new tab). Compact and practical, it's lightweight too and it comes in white, black, or a natural wood tone. Use it for holding anything from your plants to your cup of coffee, to keep these objects in check — and to keep them away from your keyboard.
2. A home office desktop organizer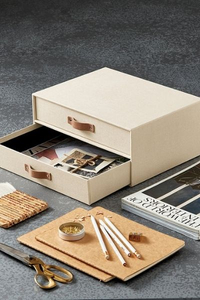 (opens in new tab)
Elisa 2-Drawer File: View at Ballard Designs (opens in new tab)
This pretty desktop organizer features two drawers, one for hiding paperwork and the other for holding stationary. With lux leather handles, it has been wrapped in canvas-like paper that's beige in color so as to blend in seamlessly with your home office decor. Place a plant or candle on top and you're all set.
3. Use this stylish home office wall organizer to save on floor space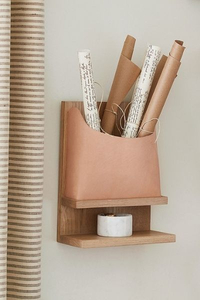 (opens in new tab)
Niko Wall File: View at Ballard Designs (opens in new tab)
This handy wall organizer ought to save floor space in your office, whilst offering space to hold anything from keys to important documents, your Livingetc magazines, your mail plus much more. Its Scandi-style oak frame proves to be nice and sturdy, whilst its thick buff leather pouch boasts a scoop shape for easy access. Practicality meets pristine...
4. Some organizers for your drawers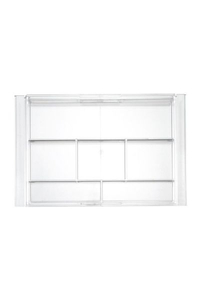 (opens in new tab)
Expanding Acrylic Drawer Organizer: View at The Container Store (opens in new tab)
This impressively versatile drawer organizer is expandable and translucent, so as to maximise on space but steer clear of your home office decor. It's handy for separating everything from your pens to your paperclips and your all-important staplers. To keep them in check and out of sight.
5. See these handy organizer bins that are complete with handles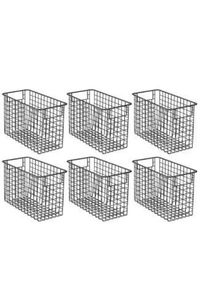 (opens in new tab)
mDesign Metal Storage Basket Bin: View at Target (opens in new tab)
These baskets come in a pack of six, and they make an easy job of separating paperwork by category, in style. Each one is made of sturdy black metal and with a handle, they are easy to reach for. Style them underneath furniture, atop furniture or on a shelf. Or, you can obviously hide them away inside a storage cupboard.
6. Buy an organizer rolling cart to maximise storage space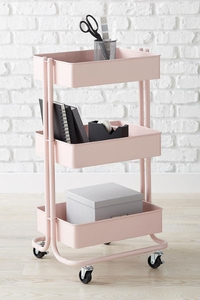 (opens in new tab)
Blush 3-Tier Rolling Cart: View at The Container Store (opens in new tab)
This storage cart is pretty versatile, and although you might think that these are commonly used in kitchens, they can really be used anywhere. Like in a home office for holding and carting around stationary, paperwork plus more. It's on wheels so that you can take it from one desk to another and store it wherever you like, plus it has three shelves for separating your things. It comes in a huge range of colorways from blush pink to black, teal and grey.
7. A handy electronics organizer to keep your wires away from eyes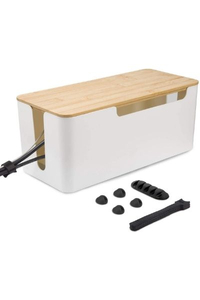 (opens in new tab)
Doinboo Cable Box Organizer: View at Amazon (opens in new tab)
Organize your cables, plugs and more with help from this organizer from Amazon. It's perfect for sitting behind your monitor, to help you keep organized and to prevent your cables from tangling. Oh, and at the same time this will stop them from ruining your home office aesthetic. With a bamboo lid, it even comes with clips and ties plus more for anyone who has a serious amount of cables to keep in check. Otherwise, it's anti-dust for little maintenance, and it has a hole on its side for easy access to plug sockets.
8. An organizer planner for a home office wall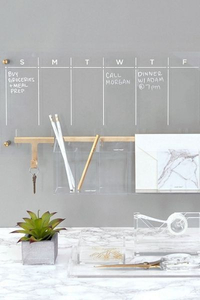 (opens in new tab)
Acrylic Weekly Wall Calendar Bundle: View at Ballard Designs (opens in new tab)
Organize your week with help from this wall calendar from Ballard Designs. You'll need to fit it to a wall in your home office, but rest assured once it's up you'll never look back. Write on the acrylic with the pens included, to help you remember important meetings, things that you need to do plus more. It also doubles as some handy storage with a built-in holder for pens and mail, plus a key holder to keep everything that you need in one place. Brass accents add a luxe effect, and we say to fit it on a colorful wall for the best effect.
9. A stylish file holder that makes separating your paperwork a breeze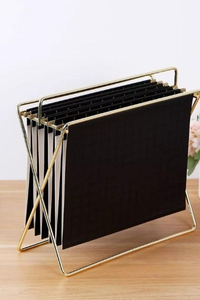 (opens in new tab)
Project62 Hanging File Holder: View at Target (opens in new tab)
This modern file holder is convenient and stylish, thanks to its gold and black design — and its minimalist look. It has 6 separators, each of which can hold 3 full file holders. Place it on the floor beside your desk or on a storage shelf to save on floor space. It looks like it should be triple its price tag.
10. A complete home office collection for pens, clips and cards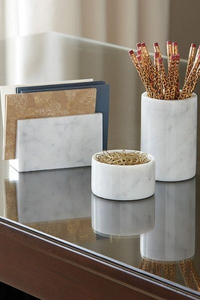 (opens in new tab)
Marble Office Collection: View at Ballard Designs (opens in new tab)
Made from solid marble for duability and style, this collection is perfect for displaying on your desk, to hold your most-used items such as pens, clips and business cards. They're each unique in their toning and veining, and they are quite heavy due to their nature. Buy once and you'll use this home office storage forever.
11. This monitor stand that doubles as a desk organizer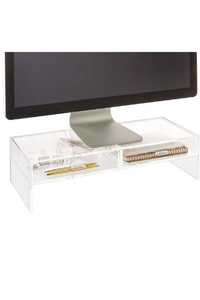 (opens in new tab)
Deluxe Monitor Stand With Drawer: View at The Container Store (opens in new tab)
Use this stand to sit your desktop atop so that it stands higher, for a more comfortable setup. It can also hold pads and pens to make your desk look tidy whilst not in use. It's translcent and made from thick acrylic with a 20-pound weight capacity. Simple yet compeltely neccesary to any home office setup.
---
Browse more home office organizers...
Search more home office organizers, from drawer storage to organizer bins, below at our favorite stores.