What type of firepit is best? From ease of installation to how much they cost, here's what you need to know
Wondering what type of firepit is best and most suited to your backyard? We tackle this 'burning' question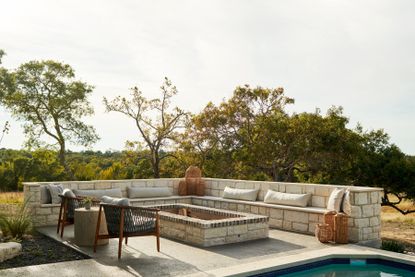 (Image credit: Lauren Taylor. Studio credit LH Designs)
It's easy see the appeal of a firepit for your backyard, but when it comes to buying one, you'll soon find that it's not as simple as it first seems. There is a dizzying array of types of firepit, using different fuels, that you'll need to choose between - but which one is right for you?
If you've been thinking of adding a firepit to your backyard, then here are a few tips to keep in mind. Find out all about safety, fuel, and design options to choose the right one for your space.
What type of firepit is best?
When it comes to choosing your firepit, there are several fuel you'll need to pick between. The most common are wood, ethanol, gas, and propane. While choosing the right one depends on your outdoor area size and the frequency of use, so answering which is best is pretty subjective.
Ethanol, for example, could be thought of as the best as these are easy to light, have a clean-burn, and their flame height and heat output is easy to manage and control, but they also don't deliver that big roaring fire you might want, plus you can't toast your marshmallows over it.
Each type of firepit has its pros and cons - this is what you need to know.
1. Wood burning
This type of firepit comes closest to a campfire-style bonfire. Encased within stone, metal, brick, or cinder blocks, the wood crackles and burns, spreading warmth around.
These firepits are the easy to install, as the fuel, in this case wood, is simply added into the pit itself. They have the most variety in styles to choose from too, and they're a great way to add to the look of your big or small backyard. Easy to move around, a wood-burning firepit can be placed anywhere outdoors, and its location can be constantly changed as well. The biggest advantage of this firepit is that, unlike other designs, a wood-burning one allows you to cook over its fire, making it perfect for s'mores.
A few things to keep in mind before installing a wood fire, however, are that these do contribute to air pollution, and their use is banned or restricted in some areas. Due to the sparks flying out of the wood, it can become a hazard, especially if you have children and pets in the house. Plus, cleaning this firepit can be quite tedious, as you need to scoop out lots of ash, and regular use could result in discoloration of the structure.
Also, it's harder to regulate the fire in a wood-burning firepit. While it may be easy to increase the fire using wooden logs, it's hard to decrease the size of the flames once you've added them in.
2. Natural gas
Natural gas fire pits require a permanent connection to a natural gas line, and this ensures that the firepit can last as long as your party does. This fire pit is easy to maintain and for this reason, is a common choice among homeowners.
These types of fire pits add value and aesthetic touch, especially to minimalistic backyards and decks. They can last for decades and are durable and robust. Plus, there is no mess to clean up.
Lighting the fire in a gas fire pit is as easy as flipping a switch, which means you can use it as often as you want. Gas fire pits can often be installed where wood fire pits cannot, such as on decks.
'This firepit was custom designed when we renovated this project,' Joshua Smith, principal designer and founder of Joshua Smith Inc, tells us of this gas firepit design. 'We used a gas firepit and used a gas line to this spot so there was no fussing with wood and overwhelming smoke.'
3. Ethanol
Ethanol firepits are a clever alternative to traditional fuels, as they offer several benefits when compared to wood and gas. The fuel has a clean burn and is safe to use in any type of household. The fire produced is a nice, vibrant orange, with a low odor, and a long burning flame.
This is also a more sustainable option, as it is a renewable energy source created from plant by-products. It doesn't emit smoke or any harmful toxins and is easy to install in a backyard, garden, or a modern small patio. Plus, it is affordable and portable.
4. Propane
A propane fire pit is portable, versatile, and can be placed anywhere outdoors; be it on the backyard deck, close to the pool, or on the terrace, without having to be connected to mainline gas.
The propane firepit has an ignition switch, which makes it easy to regulate the flames. To extinguish the fire, you simply need to stop the propane supply. However, this firepit requires a propane tank, which needs to regularly be checked for leaks. Unlike a wood-burning firepit, a propane one doesn't generate large quantities of ash.
However, these can turn out to be a little expensive due to tank refills. You can use either faux wood or glass or rock pebbles for this type of firepit.
What to consider when buying a firepit
There's nothing like having a firepit outdoors in your home, where you can cozy up and spend time with loved ones. But before you add one to your backyard entertaining space essentials, do check your city building codes and local authorities for regulations about outdoor firepit placement or, restrictions for burning wood. If you're renting, run it past your landlord.
Firepits are available in several designs, styles, and shapes but you need to find one that fits in with the overall landscape style. Most models commonly range from 24 to 30 inches in diameter, while built-in units can range from 36 to 58 inches across. If you have a small outdoor area, it's probably best to have a small, portable design that can also be moved around.
Before installing one, consider the seating around it. Ensure the seating is about 5 to 7 feet around all edges of a fire pit for chairs and movement through the area. If you're going in for built-in seating, ensure the distance between the back wall of the seating area and the fire is somewhere between 40 and 48 inches.
Another thing to keep in mind though is how you're building, designing, or placing the firepit outdoors and the materials you're using. 'Be sure to consider what material you place under your fire pit,' says Lauren Lerner, principal, and founder of Living with Lolo. 'We love to build fire pits on top of travertine pavers, as these don't retain heat and are cool to the touch.'
Choose your fuel
Smokeless ethanol firepit, Amazon
Choose this portable firepit that produces low smoke and less ash. It is hassle-free and easy to clean.
Outdoor woodburning firepit, Amazon
This fire pit is made of a thick steel frame, with Oil rubbed bronzed finish, is long-lasting, durable, and can be moved around.
The Livingetc newsletter is your shortcut to the now and the next in home design. Subscribe today to receive a stunning free 200-page book of the best homes from around the world.
Aditi Sharma Maheshwari is an architecture and design journalist with over 10 years of experience. She's worked at some of the leading media houses in India such as Elle Decor, Houzz and Architectural Digest (Condé Nast). Till recently, she was a freelance writer for publications such as Architectural Digest US, House Beautiful, Stir World, Beautiful Homes India among others. In her spare time, she volunteers at animal shelters and other rescue organizations.