How to overhaul your hallway - the Easter DIY project you can easily do this weekend
Bring your hallway up to date with this interiors expert's ideas for quick refreshes you can do in a weekend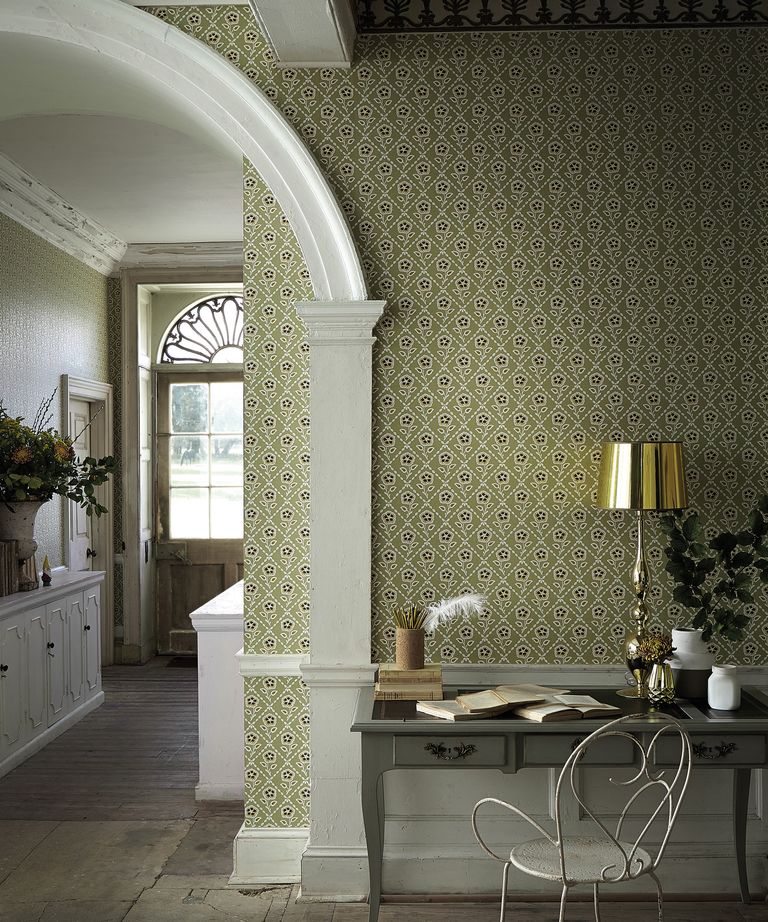 (Image credit: Little Greene)
Hallways are often forgotten spaces, but they shouldn't be overlooked and offer up plenty of potential for sprucing up and adding elements of design detail. The original 'through space' of a home, make sure your hallway ideas turn this into the destination space it should and can be - maximise its potential with a few easy-to-achieve design tips! We gleaned some interiors expertise for a hallway refresh from Interior Designer Petra Arko, founder of interior design practice Bergman and Mar.
Space saving shelving is a practical and pretty addition
'If your hallway is tight in space then we would suggest using a wall mounted shelf to save space, it's a great way of introducing a focal point to a hallway. Not only does it allow you to display a nice brass or ceramic bowl (handy for house keys and accoutrement) but it can also be an area to place a vase and bring in a fresh bunch of flowers. Instant design points for making the space welcoming!' Petra says.
However, if using a shelf affixed to the wall, space is key in this high traffic area. 'My top tip would be to try and find a shelf that has rounded corners so that if anyone does happen to brush passed too closely, it's not an issue. Also, just make sure it's thoroughly secured to the wall. Some hallways can be busy spaces, particularly family homes, so making sure it's petite but robust, is a must!' says Petra.
Add glamour with an elegant credenza or sideboard
Not everyone has the room, but if you do, add the ultimate wow-factor piece to a hallway in the form of a chic credenza or sideboard. It's hassle free as it involves a single item of furniture.
Petra explains, 'an elegant sideboard or credenza can instantly transform a hallway into a stylish space. You can use the surface top to display an edited selection of design accessories; a large statement vase with fresh flowers, a table lamp or a for photo frames. Whether traditional or contemporary in style, using a well-designed piece of furniture like this in a hallway can create a great first impression of your home,' says Petra.
Make a design feature out of useful wall hooks
Looking for a quick-fix design solution for your hallway? An effective way to raise the aesthetic of a hallway is to combine the practicality of coat hooks into a proper wall display.
A great weekend DIY task, Petra explains, 'Create a design feature out of coat hooks, and make a hallway feel altogether more contemporary, with some modern designer wall hooks. These are so chic they could even be an artwork display! Hooks and hardware often get overlooked as a practical necessity for our homes. Whilst they can be the most useful of additions to a hallway, they can also be a design feature! Choose a hook design that's interesting and unusual, and hang them at different levels - an especially handy design trick if you have children of different ages and heights.' says Petra.
Rory Alastair Robertson has a long-standing history working across the interiors industry. Raised in Morningside, Edinburgh, Rory grew up surrounded by classically grand Scottish Georgian and Victorian architecture.
His first appreciation for interior decoration sparked when his mother hired scaffolding and decorated their three-storey Victorian staircase in Farrow & Ball Picture Gallery Red, by herself. She then painstakingly gold leafed the drawing room - by hand - over a base coat of Sudbury Yellow. This was the era of Jocasta Innes and Kenneth Turner, when paint techniques and maximalist style were the decorating raison d'être.
With this inherited gene of creativity, Rory went on to study Interior Architecture at the University of Edinburgh, and later, Theatre Set Design and Architectural Illustration at The Rhode Island School of Design on America's East Coast.
Rory's foray with the editorial world started a decade ago at Livingetc magazine, a title which he regularly contributes to today. Specialising with a deep-seated appreciation for historical homes and interiors, Rory often travels far and wide to be inspired by unique properties with a fascinating history.
If he's not uncovering an unusual National Trust property in the UK, then he's seeking out a Neo-Classical clifftop villa in Capri or a Palazzo in Florence.
Based in London's Shoreditch, working as a Senior Interiors Editor and Consultant, Rory's portfolio of work is a creative melting pot of residential and commercial interior design projects and a plethora of editorial writing work. Rory is also Guest Interiors Lecturer at the prestigious KLC School of Interior Design in Chelsea, London. His most cosseted possession is a ramshackle Citroen Deux Chevaux, which he has reupholstered in Pierre Frey yellow and turquoise silk fabric.
Discover more at roryrobertson.co.uk and @rory_stylist.