How to safely store and organize holiday decor - expert tips for stress-free seasonal packing
Learn how to store your holiday decor efficiently and you'll make unpacking it next year a simpler and easier process...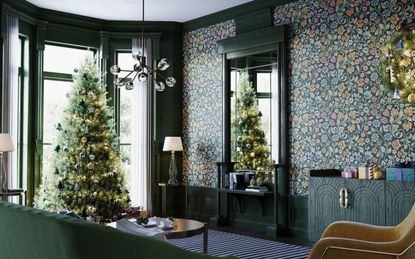 (Image credit: Bobbi Beck)
The Livingetc Newsletter
For style leaders and design lovers.
Thank you for signing up to LivingEtc. You will receive a verification email shortly.
There was a problem. Please refresh the page and try again.
Taking the seasonal decorations down is always a little bit sad, but it doesn't have to be stressful too. By learning how to safely store and organize holiday decor you can make the process simpler - and easier to unpack when Christmas comes around again next year.
As with any time you want to declutter a room it starts with investing in the right containers. Then making sure everything is properly labeled, packing similar decorations together, and procuring protective storage for your Christmas tree, you'll ensure your decorations sit healthily and happily out of season.
We've tapped a host of organizing experts to share their top tips on storing holiday decor below and, yes, the mystery of how to keep your Christmas lights untangled is finally revealed...
How to safely store and organize holiday decor
1. Have a pre-packing purge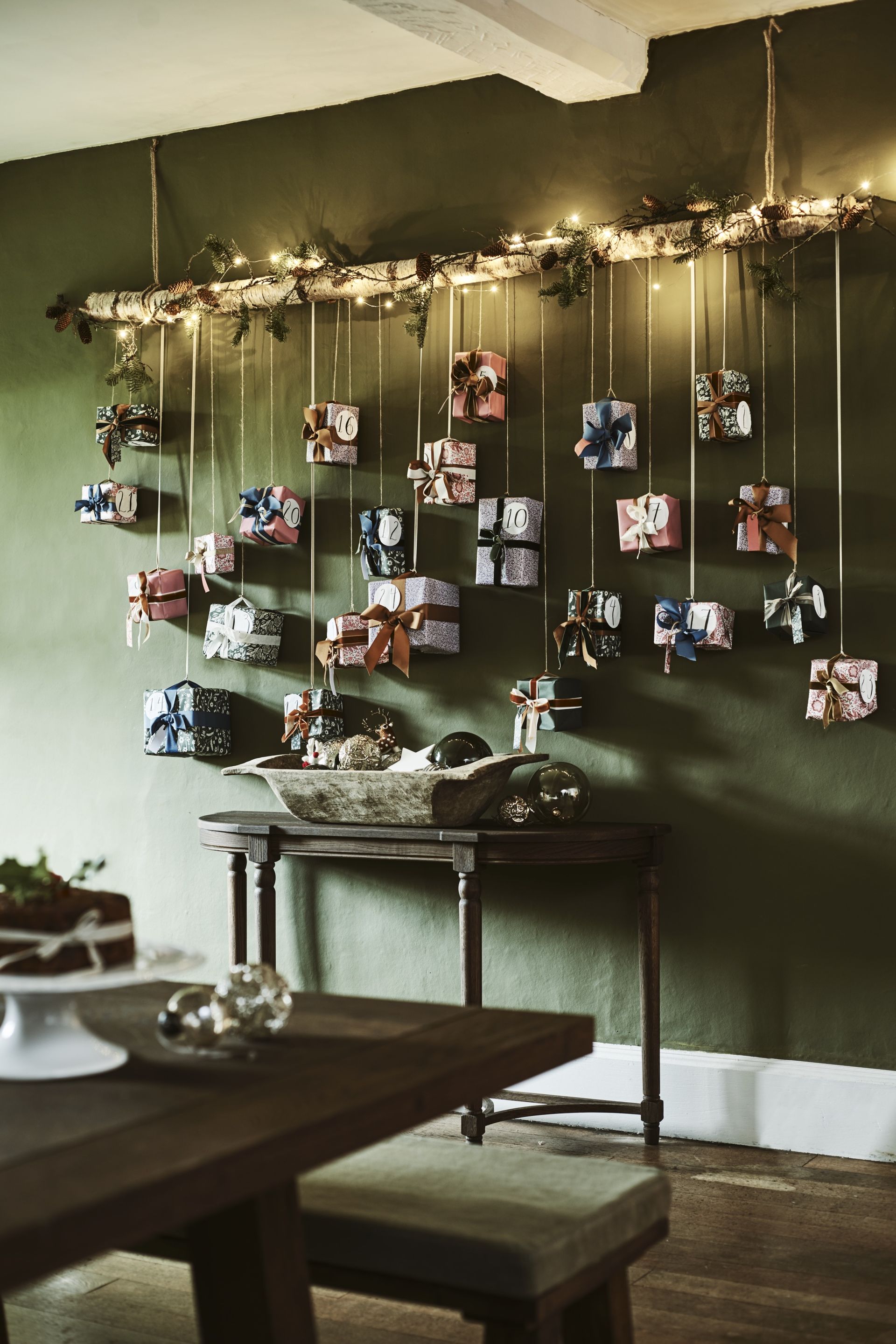 When the time for taking all the Christmas decorations down rolls around, so does the opportunity to organize and streamline your collection before it goes away for another year.
'Before you pack away any decorations, take a minute to edit them and think about what you want to keep,' advises Laura Price, of The Home Organisation.
'Are there any that have broken, or got left in the box when you put the rest up? Or do you have too many of one particular type? Put these ones to one side for donation or recycling where you can, or throw them away if that's not an option.'
Michelle Urban, of The Organized House, also suggests a clearout, adding: 'Remember to purge even if your energy is low and you dread taking down your holiday decor - it will make next year's holiday decorating more efficient and enjoyable.
'You'll want to get rid of the items that are broken, that you do not like, that are no longer meaningful and that you longer use. I always recommend keeping the holiday items that genuinely represent what the holidays mean to you.'
2. Invest in high-quality, stackable storage bins
'When helping families with their holiday decor organizing, my first recommendation is to invest in high-quality storage bins,' says Michelle Urban. 'If you're storing your holiday decor items in garages, attics, or basements, you'll want to choose a high-density polyethylene container. This way, you don't have to worry about the plastic cracking and your holiday heirlooms getting damaged by moisture or pests.
'And, to maximize your vertical space, buy modular bins so that you can stack them on top of one another.'
Decorations come in all shapes and sizes, so looking to create uniform, stackable storage options and minimize the precious space they take up from one year to the next.
'If you can, use boxes from the same range so they stack together, and see-through is ideal for ease of use,' says Laura Price. 'Ultimately though, any box or bag will do as long as they're sturdy enough to give your decorations the protection they need and keep them dust-free.'
Sue Spencer, of A Life More Organised and a Professional Organiser and KonMari Consultant trained by Marie Kondo, says plastic boxes are good for Christmas decor storage. She explains: 'It's really worth investing in some good quality plastic storage boxes for your Christmas decorations rather than using cardboard boxes. Many people have sentimental decorations that they use year after year so you really want to protect them from the elements (if storing in the loft or garage) or from any water/pet or pest damage.
'Plastic boxes are more robust and easier to stack so they also make best use of space when looking to store your Christmas decorations for 11 months of the year.'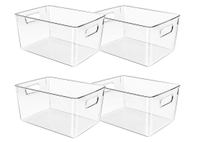 Clear plastic storage boxes, Amazon
These storage boxes are perfect - being open ended it doesn't matter if, say, a bauble sits slightly higher than the top as there's no lid to close. Plus they're easy to slide around onto shelves.
3. Store similar items together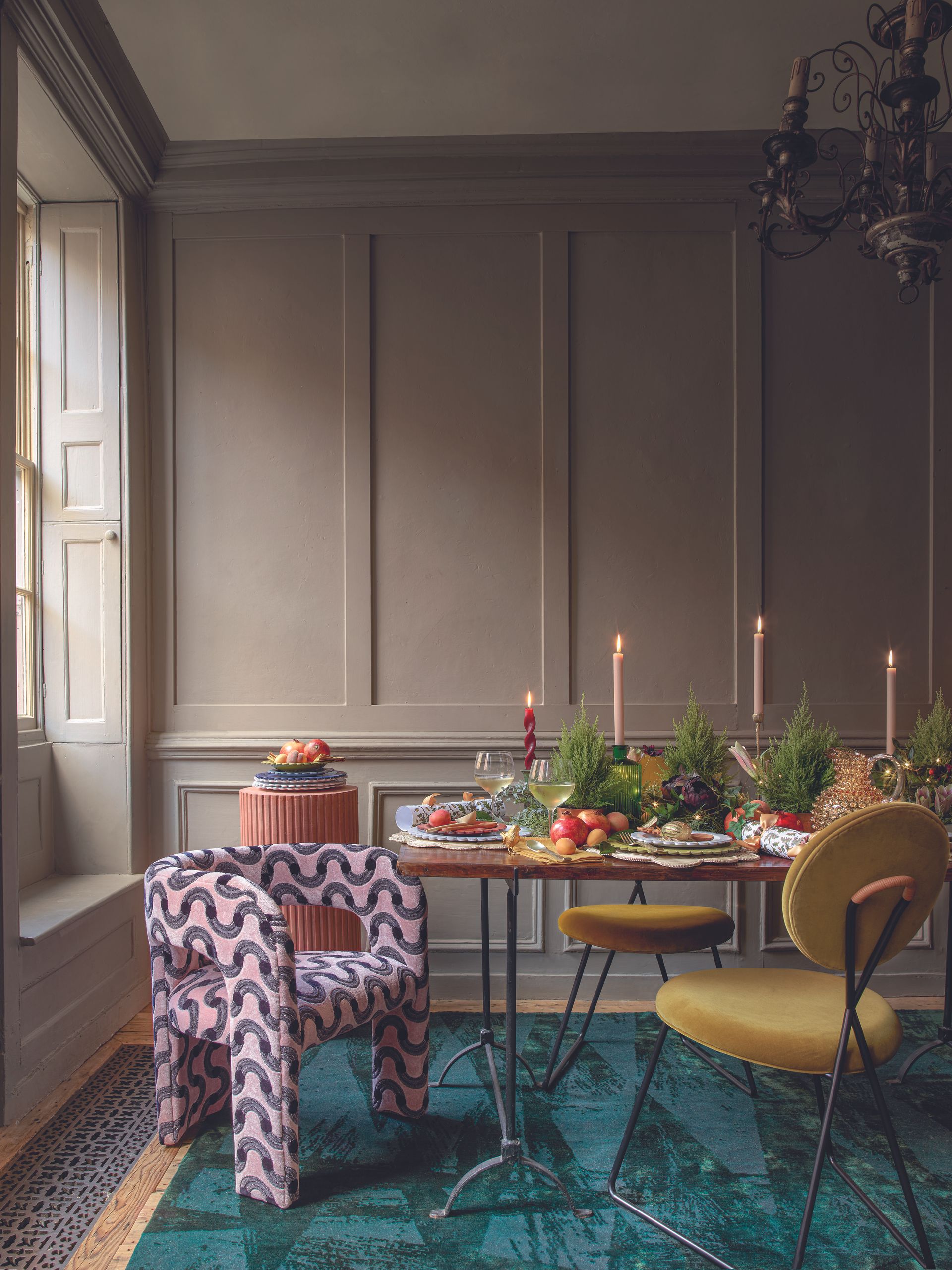 When storing holiday decor items, it's best to store like with like - so put all similar things together in one bin.
Michelle Urban says: 'This may mean you have a few more storage bins; however, it will be easier to access things like outdoor lights or the mantel garland because you will only have to search through some of the boxes and bins to find what you are looking for.'
And Sue Spencer says you can take this idea even further, adding: 'Always store similar objects in boxes together, but you could also choose to do one of the following:
'Store by color scheme. Or store by the room the decorations usually go in, eg: hallway, living room, etc. (handy if you decorate several rooms in the same way every year).
'Store by when you need the items – you may have an early Christmas box (for things that are needed from 1 December (eg. advent calendars, candles, spare Christmas cards and wrapping paper). Some main Christmas boxes (for tree decorations and other ornaments) and a Christmas Eve box with things you need specifically for Christmas Eve (this avoids the kids coming across their Santa sacks as they help decorate the tree).'
4. Don't forget to label your boxes
'Labeling is a critical holiday decor organizing detail,' says Michelle. 'You'll want to label each container according to what is inside - even if it's a clear bin, you still need a visual cue.'
And, she says, when it comes to labeling, it's all in the details.
'Try to be as detailed as possible when labeling, so instead of labeling the container 'GARLAND', you would want your label to read, '5ft green and red garland'; or instead of 'LIGHTS', you'll want 'Outdoor C7 white lights, 16 feet.'
5. Give fragile tree ornaments extra protection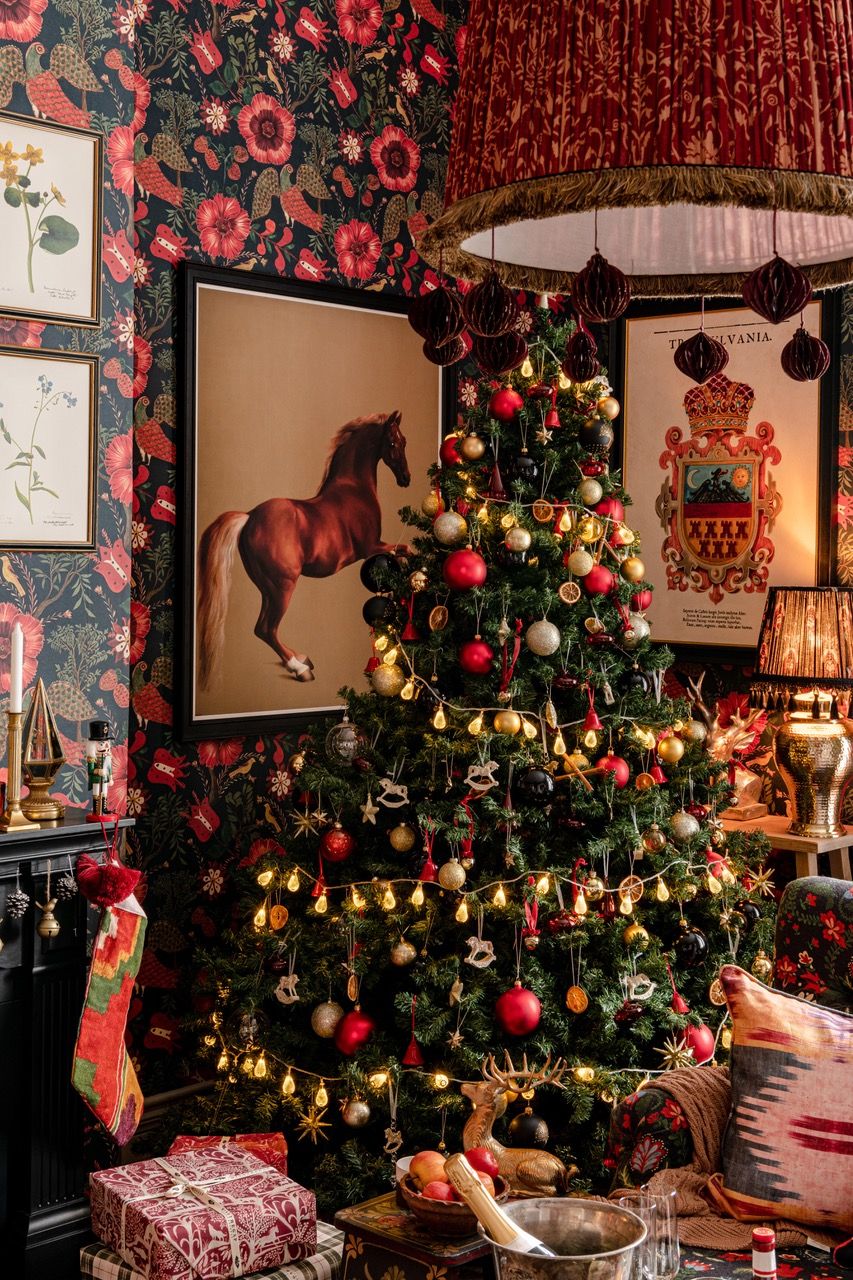 Delicate Christmas tree decorations need extra protection, so invest in storage with individual compartments to keep them separated.
'Cardboard inserts work especially well at absorbing the shock of any knocks and bumps, but if you can't find any, use a little crumpled newspaper or tissue paper,' suggests Laura Price. 'Egg boxes are a great option for small ornaments and can be stacked inside a larger box for extra protection.
'Store them by type, in a way that makes sense to you - wooden ornaments in one box, glass in another, color-themed baubles in a third.
'The aim is simply to make it easy to find what you need next year, so use the way you decorate your home (by color, by room, by material etc) as your basis for organization.'
Sue Spencer agrees that egg cartons are a good idea, and says you can also buy Christmas bauble storage boxes.
She says: 'If you decide to use large plastic boxes I recommend wrapping the smaller items in bubble wrap or popping them in small boxes to stop them knocking about and getting damaged.
'You can buy special Christmas bauble boxes with divided containers, or you can make your own using egg cartons.'
6. Wrap Christmas lights around cardboard
Is there anything more frustrating than spending half a day trying to untangle all of your Christmas lights? Prevent this from being a problem next year by winding your lights around pieces of thick cardboard to keep the strings from tangling.
Laura Price says: 'Just make a notch on one edge to hold the final light in place and help you to find where to unwind from next year.
'Pop each set in a zip bag and file them together in a large box. Label the card or the bag with the length of the string so you don't have to guess next year. Even better, make a note of where you hang each string so you can just grab the right one when you need it. Winding around cardboard is a great option for tinsel, too.'
Charlotte Sitton, of @organisedbycharlotte, suggests: 'Keep the cardboard tube you get from gift paper and wrap your Christmas lights around it so they don't get tangled in storage.'
And Sue Spencer advises: 'Stop Christmas lights from becoming tangled by winding them around either a square of cardboard or an empty wrapping paper roll – this way you can unwind them from storage and pop them straight on to the tree next year.'
7. Store wreaths flat to maintain shape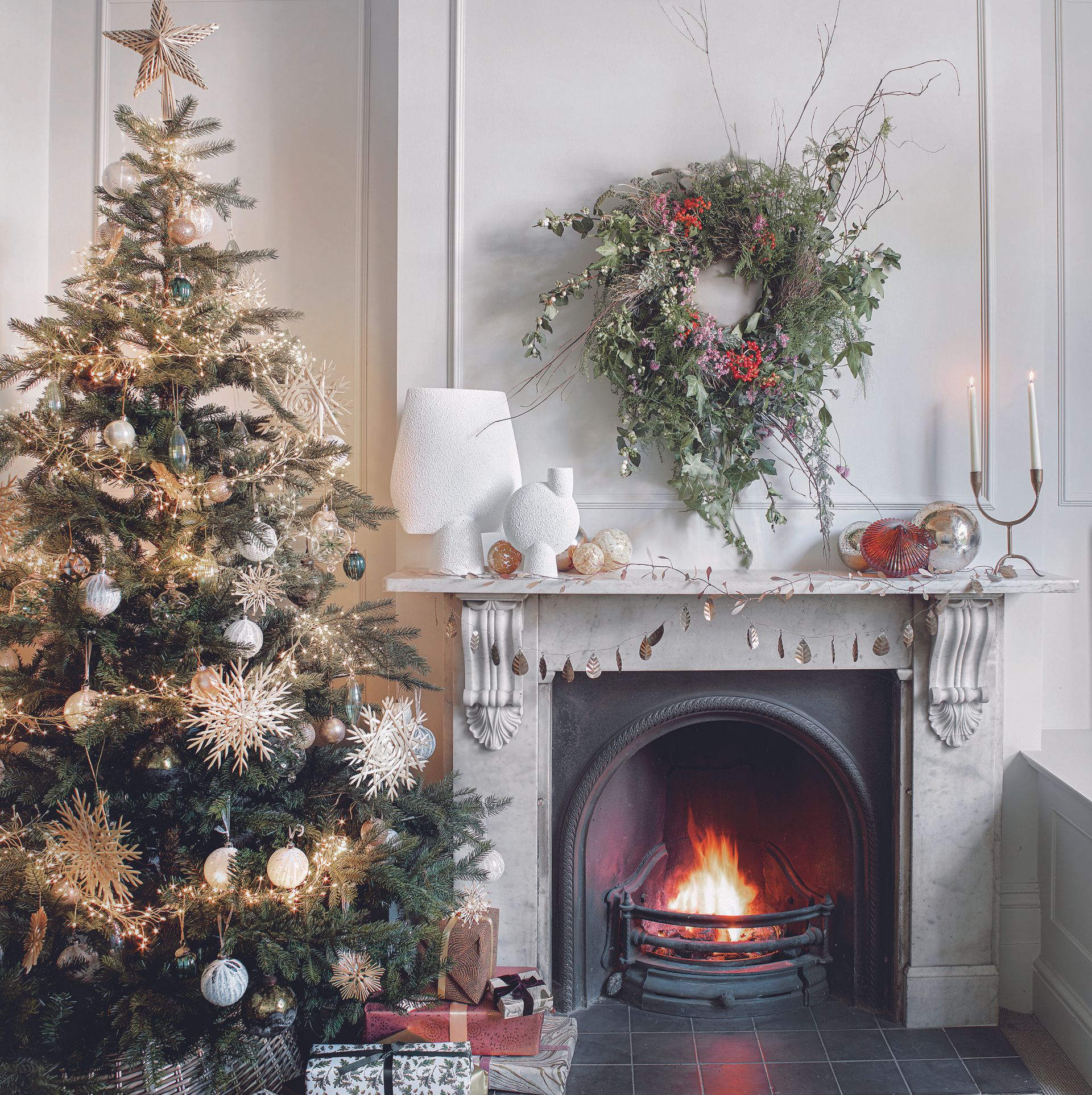 'I like to store Christmas wreaths flat in storage bags or a shallow box, depending on the size of the wreath and its fragility,' says Laura Price.
'If they're not too delicate you can store one or two together, just separated by a layer of tissue paper or newspaper.
'Again, I'm looking to optimize the storage space available by stacking the wreaths. Clearly label the boxes, or take a picture and stick it to the outside of the box so you can easily find the ones you want when you're ready to decorate for the season.'
NEAT Method co-founder Ashley Murphy agrees storing your wreath flat is a good idea for protection.
She says: 'Store wreaths in bags to keep dust at bay and lay flat on a shelf. If space is tight consider a structured wreath bin for upright storage.'
8. Store gift wrap to reuse next year
Inevitably, there's always Christmas gift wrap and ribbon leftover, but rather than throw it away, store it in a gift wrap bag so you can reuse it - economical as well as eco-friendly.
'If you have lots of leftover wrapping paper, use a gift wrap storage bag like this one to keep all of the holiday labels, ribbons, bags and papers together and out of the way until next year. Store them with your decorations and save yourself the trouble of rifling through Santa wrapping paper every time you want to wrap a birthday gift!'
9. Invest in a Christmas tree bag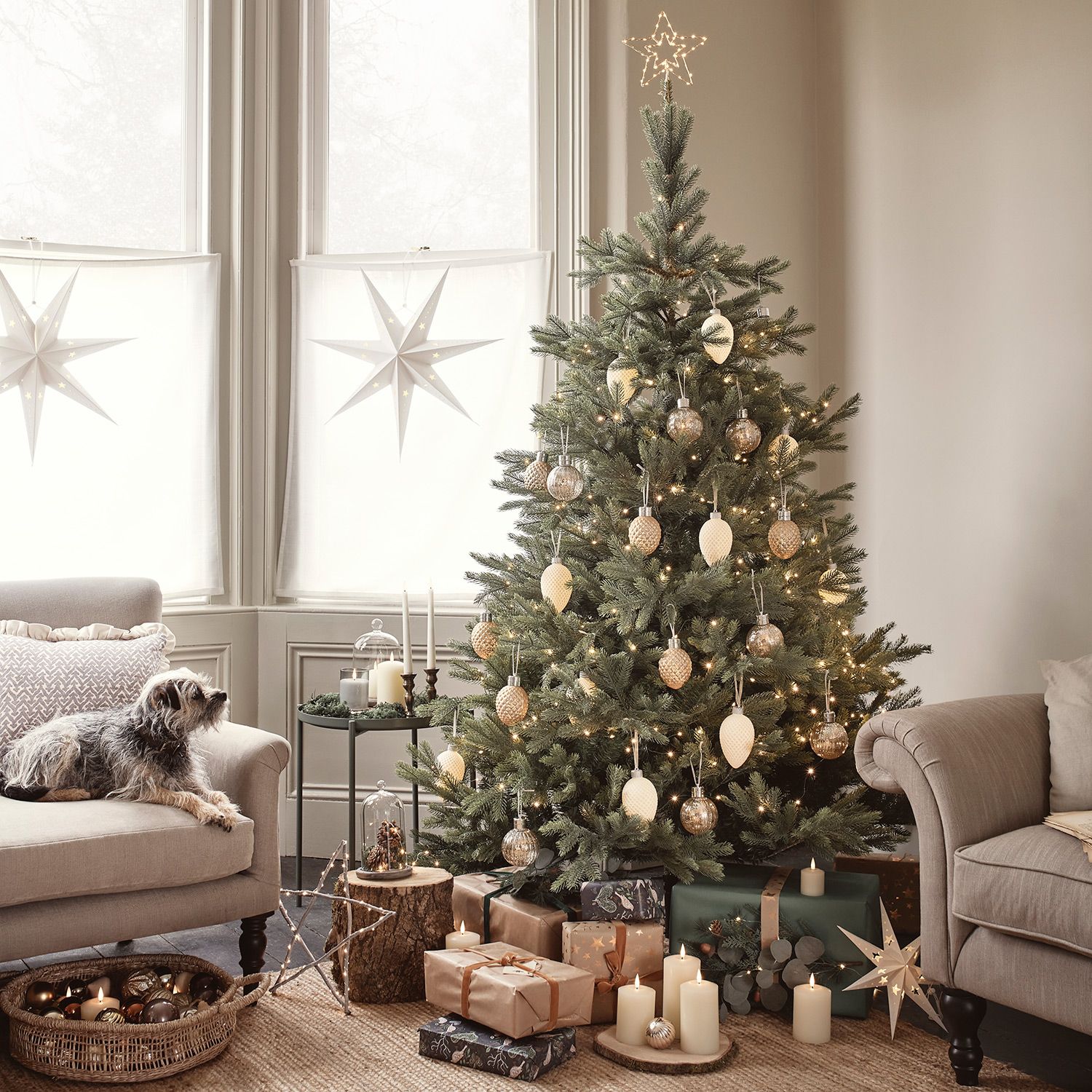 'If you have an artificial tree, throw away the cardboard box that it came in and invest in a tree storage bag,' says Laura Price.
'These will protect your tree from the elements and dust, and take up less space than a bulky box.'
Sue Spencer agrees, adding: 'After a couple of years most people find that the gaffer tape is no longer holding together the original box the Christmas tree came in. You can buy Christmas tree bags that offer a better storage solution and better protection for your Christmas tree.
'Just make sure you keep all bits that come with the tree so you know the right order to put together the tree in future.'
For style leaders and design lovers.
Ruth Doherty is a lifestyle journalist based in London. An experienced freelance digital writer and editor, she is known for covering everything from travel and interiors to fashion and beauty. She regularly contributes to Livingetc, Ideal Home and Homes & Gardens, as well as titles like Prima and Red. Outside of work, her biggest loves are endless cups of tea, almond croissants, shopping for clothes she doesn't need, and booking holidays she does.