Freestanding vs built-in kitchen appliances - designers on the pros, cons and choosing what's right for you
Which kitchen appliances work best as freestanding or built-in? Design experts decide on how to choose what's best for your home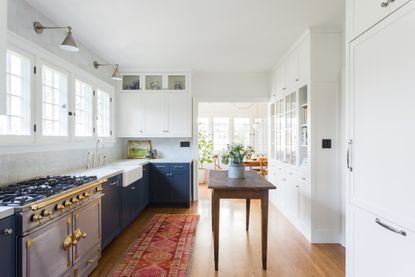 (Image credit: Amy Sklar Design/Amy Bartlam)
The Livingetc Newsletter
For style leaders and design lovers.
Thank you for signing up to LivingEtc. You will receive a verification email shortly.
There was a problem. Please refresh the page and try again.
Facing the freestanding vs built-in appliances debate will be part of any kitchen design concept, whether you're remodeling an exisiting kitchen or starting a new project.
In fact, both have their benefits and both have their places within a modern kitchen. Choosing between freestanding or built-in appliances will be influenced by your style and the look you're going for - both options affect the finished aesthetic in their own way.
The short answer is that ultra modern kitchens will benefit from the streamlined look of all built-in appliances, while most other spaces will suit a mix of both.
'Freestanding appliances are slipped into place after cabinetry is installed, sitting independent of the surrounding cabinetry, and featuring their own individual finish, typically stainless or powder coat,' says interior designer Emilie Munroe of Studio Munroe.
John McDonald, founder of Semihandmade and BOXI by Semihandmade, adds: 'Freestanding appliances are what you see if you visit a showroom, they have finished sides and can be placed anywhere in the kitchen. Built-in appliances are integrated into the surrounding cabinetry, so they typically fit flush with the cabinets and counters.'
Built-ins can be attached to the cupboard door so they are not visible, and fit seamlessly in with the rest of the kitchen.
Emilie comments: 'Built-in dishwashers and refrigerators arrive without door panels and instead have casework panels installed so they look seamlessly integrated into adjacent casework.
'Built-in ovens will not have casework panel fronts, but will be trimmed flush into the casework. Range tops are built into the countertops.'
Freestanding vs built-in appliances: What you need to know
The pros of freestanding appliances
'Freestanding appliances tend to be more affordable than built-ins,' says John McDonald. This means they're a good option for anyone keeping a close eye on budget. They also offer more versatility in terms of product choice and in terms of ranges, brands and styles.
Freestanding appliances can be placed anywhere there is enough space, and can also be relocated if you move house at a later date. John explains: 'Because freestanding appliances don't require paneling, they're more versatile in terms of placement and easier to relocate if you buy a new home or undergo a design renovation.'
They offer an opportunity to add personality to your kitchen in design terms, whether it's a pop of color of displaying a particularly cool product, like a range oven. And they can offer a balance between budget and aesthetic. For example, you can 'partially house' a freestanding appliance yet make it look curated, like the fridge in the image by Semihandmade (above), which sits within the same kitchen paneling but is not hidden by the same cabinetry at the front.
The cons of freestanding appliances
Freestanding appliances will be visible in contrast to your kitchen cabinets so, if you're looking for a seamless finish, they may not be the right choice for you. However, this is also a pro for some, as you may want to use a particular appliance as a feature highlight, like a Smeg fridge for example.
The pros of built-in appliances
'Built-ins have a custom look that can be really nice in the right space,' says John. And Emilie says: 'Built-in appliances are visually quiet, creating a blank canvas. This is a great option for clients who prioritize tidiness and prefer a modern, sleek aesthetic.'
Built-in appliances are a good small kitchen idea. 'Combined with appliance garages (cabinets that house countertop appliances like coffee makers, blenders and toasters) and bifold doors, built-in appliances can virtually hide all functional aspects of the kitchen, with only the sink and faucet being the giveaway,' says Emilie. 'This can be an asset in smaller living environments, as it eases visual cutter and provides an expansive feel.' As well as looking streamlined, integrated appliances sit flush with the cupboards so are a great space-saving option.
The cons of built-in appliances
Built-in appliances tend to be more expensive as they are usually more difficult to install and repair. There tends to be less choice in terms of product brands and styles.
Of course, you cannot take built-in appliances with you if you relocate. And if you are thinking about remodelling a kitchen rather than starting afresh then you'll need to work around integrated appliances.
What appliances can be built-in?
Your oven, hob, microwave, dishwasher and fridge can all be integrated appliances. There are also a number of accessories that can be built-in, including wine fridges, chopping boards and coffee bars.
'Don't forget the appliance garage to house your countertop appliances as this will maintain the clean and integrated look achieved by installing built-in appliances,' says Emilie Munroe.
Is there a type of kitchen that better suits built-in appliances?
Built-in appliances work particularly well in a modern kitchen with a clean-lined, fuss-free aesthetic.
Integrated appliances can be hidden behind the cabinetry style seen across the rest of the kitchen, maintaining a streamlined look. Even when you don't hide them behind cabinetry, built-in appliances, like integrating a stainless steel microwave into the higher cupboards, can be a sleek, space-saving finish that sits flush to the wall.
However, you can still use integrated appliances in a traditional-style kitchen. Emilie says: 'The cabinet door style will drive the aesthetics of the look of a built-in appliance. Smooth slab front doors will read the most modern, with detailed shaker kitchen doors trending traditional.'
Built-in appliances are also a great option for small kitchens, sitting flush with the cabinets and only taking up space where a cupboard would have been. The kitchen design by Living With Lolo above shows how an integrated oven and microwave create a modern and streamlined look in a small kitchen layout.
Are there some appliances that suit built-in better than freestanding?
'We recommend built-in for refrigerators and dishwashers,' says Emilie. 'Don't forget to purchase a corresponding appliance handle, in a style to match the adjacent cabinet hardware.'
Dishwashers are very commonly integrated as they are not usually an attractive appliance, and can look more appealing hidden behind cabinetry.
Microwaves are also often look good integrated into the wall cabinet space, as above.
Do most kitchens benefit from a combination of freestanding and built-in appliances?
Yes, most kitchens will definitely benefit from a combination of freestanding and built-in appliances for a perfect blend of form and function.
Studio Munroe's Emilie Munroe says: 'We prefer a combination of freestanding and built-in appliances to create a streamlined kitchen with pops of personality.'
If you want your dishwasher to be integrated but don't want it to look exactly the same as the cabinetry, this is also a nice design option, says Emilie.
She says: 'Typically, we will install cabinet faces on the refrigerator and dishwasher but specify a feature range in mixed metals or a standout powder coat. Too many cabinet faces in a kitchen and it starts to feel like a closet.
'Our goal is to maintain elegance while also acknowledging the functionality of the room.'
Freestanding vs built-in appliances: What to consider
After looking at the pros and cons of freestanding vs built-in appliances, there are a number of factors you will need to consider.
Two of the most important considerations are budget and aesthetics. If a completely modern OR clutter-free aesthetic is top of your priority list, going for all integrated appliances is a good idea (as above), but remember that this will likely eat into a large chunk of the budget.
If you're someone that likes to redesign the kitchen layout on a regular basis, or will want to take some of your appliances with you when you next move house, then freestanding is a good option.
Space is also a factor to consider. If you're working with a small kitchen, built-in appliances are a good space-saving option where budget allows. In the kitchen by Lindye Galloway above, the oven and microwave have both been integrated into the kitchen island and wall cabinet.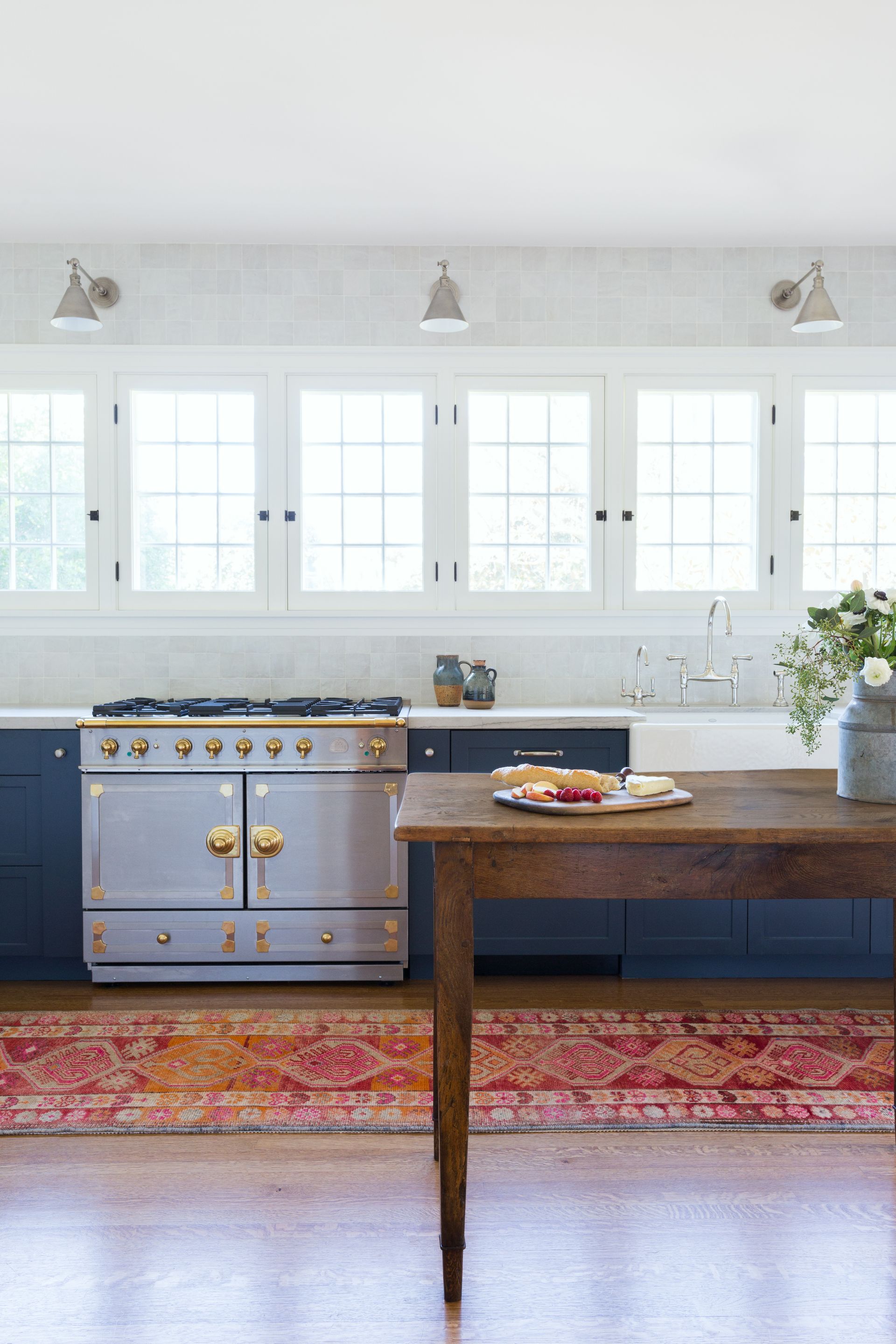 Remember that a mixture of both integrated and freestanding appliances will usually offer the best balance for your budget and aesthetic. A freestanding appliance is a good opportunity to add color or personality to the space (as seen above in the stunning kitchen by Amy Sklar Design), whether it's a statement range cooker or that retro Smeg fridge you've always hankered after.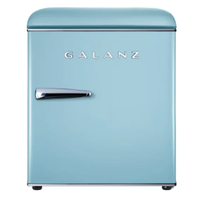 For style leaders and design lovers.
Ruth Doherty is a lifestyle journalist based in London. An experienced freelance digital writer and editor, she is known for covering everything from travel and interiors to fashion and beauty. She regularly contributes to Livingetc, Ideal Home and Homes & Gardens, as well as titles like Prima and Red. Outside of work, her biggest loves are endless cups of tea, almond croissants, shopping for clothes she doesn't need, and booking holidays she does.