Best New York design hotels – where to stay for an interiors fix
From Manhattan to Williamsburg and out to the East Hamptons, we explore the best New York design hotels for a stylish stay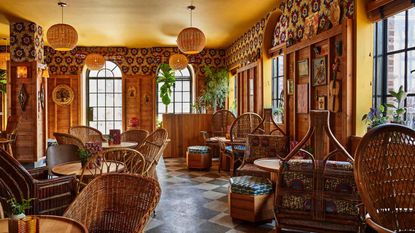 (Image credit: Freehand Hotel)
They don't call it 'the city that never sleeps' for nothing. As our round-up of the best New York design hotels showcases, even a craving for chic interiors can be satisfied 24 hours a day in The Big Apple.
These design icons have everything the modern interior design aficionado could ask for. Whether that's riotous rooftop bars and considered communal spaces, or stylish suites delivering laidback luxe or full-on flamboyance. In-house artists and jaw-dropping architecture only add to the design melting pot that is this year's New York hotel scene.
Of course, our hallowed hotels come with the expected round-the-clock services, super-fast Wi-Fi and tempting in-house eateries. But it's the unexpected and quirky that makes them so special in our book.
Best New York design hotels
1. Hoxton, Williamsburg
Best for exploring Brooklyn from a happening hotspot
Specifications
Rooms from: $159 for a Cosy room
Address: 97 Wythe Ave, Brooklyn, NY 11249
Reasons to buy
+
Hipster-luxe lodgings in so-cool-it-hurts Williamsburg
+
Those skyline views of NYC
+
A stone's throw from Brooklyn Flea
Reasons to avoid
-
You're a Big Yellow Taxi ride from Manhattan
The urban lifestyle maestros at Hoxton, the group behind millennial-magnet hotels in London, Paris, and Amsterdam, have opened their first property across the pond..
Occupying a covetable spot in the ever-popular neighbourhood of Williamsburg, the design-led hotel has already become Brooklyn's hottest hangout for New Yorkers in the know.
The first thing guests will experience is the cavernous Ennismore-designed lobby; like a chic Brooklyn friend's warehouse apartment, the space is a great spot to meet friends, grab lunch, or whip out your laptop for some oh-so-modern remote working.
Bedrooms come in two tiers, Cosy or Roomy, and deliver unbelievably comfortable beds, stylish mid-century modern furniture and small but beautifully formed bathrooms.
Hotel restaurant Klein's all-day dining menu offers updated American classics and fashionable contemporary cuisine – think acai bowls and fried chicken sandwiches.
Up on the roof, the seasonally opening Summerly bar is one of the buzziest venues in town, where guests can munch on lobster rolls while taking in the cinematic views.
---
2. Freehand, New York
Best for a shop-til-you-drop spree
Specifications
Rooms from: $199 for a double
Address: 23 Lexington Avenue, New York, NY 10010
Reasons to buy
+
An affordable option in Manhattan
+
24-hour gym, front desk and security
+
Great restaurant options and a rooftop bar
Ah, hotels in New York. If I want something inexpensive, surely I must prepare for useless locations, soulless chain decor or, at the furthest end of the spectrum, cockroach-infested bathrooms?
But what's this? Has a hero for the cash-conscious city breaker emerged?
Freehand, styled by design studio Roman and Williams, is a bona fide budget New York design hotel offering uber-cool interiors, five buzzing food outlets and a Lexington Avenue location that can barely be beaten.
Most helpful of all are the variable room categories that can accommodate whatever motley crew you've managed to get out there with you.
Just the two? Take a cosy corner king. Think three's a crowd? Not here, with rooms specially configured to accommodate the resident gooseberry in your life. Got the whole squad? No problem, take a bunk room that comfortably sleeps four.
Now it's just finding a reasonable flight..
---
3. The NoMad, New York
Best for hipsters keen to soak up one of NYC's coolest districts.
Specifications
Rooms from: $313
Address: 1170 Broadway and 28th Street, New York
Reasons to buy
+
Parisian-style chic with Broadway buzz
Reasons to avoid
-
Currently closed for renovations
This turn-of-the-century Beaux Arts building in the Flatiron District has been restored to its original grandeur with interiors by French designer Jacques Garcia.
In a great location close to Madison Square Park and the Meatpacking District, the NoMad's opulent elegance is peppered with funky bohemian touches – such as tapestry-covered furniture, faded Persian rugs, a 200-year-old marble fireplace and an antique staircase.
The 168 understated rooms feature king-size beds, original artwork, reclaimed maple flooring and custom-made furniture, including leather armchairs and vintage mahogany writing desks.
Some also have freestanding clawfoot bathtubs – as well as eye-opening views over Broadway and Flatiron.
With the highlights of the Big Apple right on the doorstep, there's a private rooftop which is perfect for aperitifs, and the NoMad's sleek dining room is overseen by chef Daniel Humm of acclaimed restaurant Eleven Madison Park.
His sophisticated dishes include suckling pig and quail with foie gras, while the menu in the leather-seated main bar has simpler options.
Don't miss cocktails in the swanky Elephant Bar, either, as it's home to an award-winning mixologist and you may even catch a resident magic show as you sip your Manhattan.
---
4. Public, New York
Best for culture vultures who can't live without a USB port
Specifications
Rooms from: $195
Address: 215 Chrystie Street, New York NY 10002
Reasons to buy
+
An architectural A-lister pushing the limits of hip design
+
High-tech, high-spec bedrooms
+
Exclusive clientele
Reasons to avoid
-
Not such a treat for technophobes
As design pedigree goes, this place is hard to beat.
Conceived by Ian Schrager (co-founder of the Studio 54 nightclub and erstwhile hotelier/developer), designed by Herzog & de Meuron (the architectural practice behind London's Tate Modern extension), with interiors overseen by Brit John Pawson (who previously drew up plans for the minimalist look of Schrager's own New York apartment), Public is the Lower East Side's latest spot to see and be seen in.
Housed in a gleaming new skyscraper, with 367 guest rooms and a restaurant, luncheonette-cum-grocery, bars, a gym, landscaped gardens, communal workspaces and dedicated art gallery/exhibition area/dancefloor ('like Brooklyn's Academy of Music, only better', says Schrager), the concept takes online convenience to its ultimate conclusion.
There's no check-in desk or room service; both are accessed via your own device.
The bedrooms are sparse, but not Spartan, with barely-there furniture, floor-to-ceiling windows, plus 10, yes, count 'em, 10 USB ports and an Apple TV on which guests can watch Netflix.
Celebrated New York chef Jean-Georges Vongerichten oversees the ground-floor Public Kitchen, while the rooftop bar is proving to be the most popular new night-time haunt in the city.
Be warned, though – the doormen are as ruthless as those at Studio 54. Public's guests (each is given a wristband) are the only ones guaranteed access.
---
5. The Peninsula, NYC
Best for latter-day Carrie Bradshaws on a spree
Specifications
Rooms from: $867
Address: 700 Fifth Avenue at 55th Street, New York
Reasons to buy
+
The ultimate luxe landmark in Manhattan
+
Fifth Avenue shopping on your doorstep
+
Classy, classic suites
Reasons to avoid
-
Luxury comes with a price tag
This establishment has a lot to live up to. For one, it's The Peninsula: a byword for luxury. Two, it's at 700 Fifth Avenue, in the heart of Manhattan's shopping heaven and close to Central Park.
But, boy, does it deliver. From the lobby onwards, this place exudes old-school glamour.
Upstairs, suites have been treated to a classic-meets-modern update by NYC supremo Bill Rooney. Soft greys, taupe and gold bring out the beauty of the Art Nouveau architecture and marble floors.
Art in the suites includes a mural by Brooklyn's Michael Davis, hand-painted floral murals by Hong Kong's David Qian and headboards by Londoner Helen Amy Murray.
Livingetc loved a post-shopping relax in the marble bath, watching Hollywood reruns on the built-in screen.
Bergdorf Goodman, Tiffany & Co and Barneys are nearby and the spa has a special ESPA treatment for jet lag, so you can hit the shops running...
---
6. The Williamsburg, Brooklyn
Best for joining the in-crowd at Brooklyn's hippest new hangout
Specifications
Rooms from: $204
Address: 96 Wythe Ave, Brooklyn, NY 11249
Reasons to buy
+
Industrial chic taken to new heights of luxury
+
Tuk-tuk rides to the Subway
+
Oh hey there, rooftop pool...
Fans of industrial-style interiors listen up – this new hotel in bustling Brooklyn neighbourhood Williamsburg will be right up your street (the corner of Wythe Ave and North 10th Street to be exact).
With eight floors and 150 rooms, all encased in brick, glass and weathered steel, The Williamsburg Hotel has been designed by London-based Michaelis Boyd to draw inspiration from the neighbourhood's industrial heritage.
Inside, the brick walls, distressed-wood floors and steel-framed glazing hit the industrial nail on the head, with the double-height ceilings giving the spaces an eclectic, NY-loft-style vibe.
Hotel life revolves around nightlife and entertainment, with a host of bars, eateries and entertaining spaces on offer, including the soon-to-be-opened Watertower bar – a tribute to the district's historic wooden water-tower factory.
The Watertower offers sweeping views of Manhattan and Brooklyn, even higher than those from the hotel's super-stylish rooftop pool, bar and café.
Those city views also come framed by 10ft floor-to-ceiling windows in all of the hotel's rooms, many of which also have their own balcony.
With furniture designed by Michaelis Boyd and leather-supremo Bill Amberg, the schemes feature bespoke upholstery, brass and marble bathroom fittings from Waterworks and textured details at every turn.
Oh, and when you head out into the city, or just need a lift to the subway, make sure you do it in style in the hotel's chauffeured pink and white tuk-tuk...
---
7. The Beekman, New York
Best for anyone who loves old-fashioned service
Specifications
Rooms from: $255 for a double
Address: 123 Nassau Street New York, NY 10038
Reasons to buy
+
Downtown's architectural icon gets a five-star revamp
+
Impeccable service
+
Two fine-dining restaurants
Reasons to avoid
-
Lower Manhattan location won't suit everyone
If you adore being welcomed by an eager-to-please bellhop after a day of shopping and sightseeing, The Beekman is the place for you.
Once known as 'that abandoned building', the Gothic-style former business premise has seen its fortune revived in spectacular fashion with the renovation restoring many of its original 1883 features, including the grand skylight and the amazing atrium.
Now, the 287 rooms include 45 suites and two 'Turret' duplexes that open out on to the roof. Inside, the décor ranges from leather-clad walls in the public areas to marble-topped bureaux in the guest rooms.
The dining experience is suitably awesome, courtesy of two heavenly restaurants headed by chef Tom Colicchio (Gramercy Tavern).
And if you fancy checking out the newest shops in this up-and-coming 'hood, the concierge is, of course, an encyclopaedic local guide. It's all part of the sterling service...
---
8. 11 Howard, SoHo, New York
Best for art lovers and design aficionados with an ethical conscience
Specifications
Rooms from : $315 for a double
Address: 11 Howard Street New York City 10013
Reasons to buy
+
A former post office re-imagined as a luxe Scandi showcase
+
A percentage of the room rate goes to charity
+
Impressive tablet-powered room service
Reasons to avoid
-
If you want space, book a higher category room
Opened in 2016, 11 Howard is another mega-project from property tycoon Aby Rosen – the Seagram Building features among his huge portfolio.
Here, however, he's taken an alternative tack – the hotel's concept is based on 'conscious hospitality', with a percentage of its room rates given to the Global Poverty Project.
Still, no expense has been spared when it comes to the show-stopping interior.
Thanks to the expertise of Space Copenhagen's Signe Bindslev Henriksen and Peter Bundgaard Rützou, the 221 rooms, lobby, bar and library boast a cool, Scandi aesthetic.
Think bleached-oak floors, antique-mirror glass and plumped-up furniture from brands such as Gubi and &Tradition.
And since Mr Rosen is one of the world's leading art collectors, the walls of the hotel – and even its exterior – boast some jaw-dropping paintings.
Oh, and you won't believe how funky the room service is – just tap on the tablet left in each room for seasonal, chef-driven selections 24/7.
---
9. The Maidstone, East Hampton
Best for families with active children and canines in tow
Specifications
Rooms from: £318 for a double
Address: 207 Main Street, East Hampton, NY 11937
Reasons to buy
+
A homely yet chic boutique hotel with a Scandi twist
+
Close to the beach
The Maidstone is everything we imagine a Hamptons hotel to be and then some.
This joint not only looks great, but is a kid-friendly (the miniature furniture classics were a major plus for our design conscious troop, as was the yummy kids' menu), dog-loving delight.
Get this: Butch was able to enjoy dishes from the Woof Menu with us in the dining zone before going off for a beauty treatment!
In a nod to the owners' Swedish heritage, the 19 rooms and cottages are decked out with a 'Scandinavian Cozy' vibe.
Food in the aptly named Living Room restaurant, a stylishly snug affair, is wherever possible organic, seasonal, locally sourced and always delicious, with a few choice Swedish dishes such as Västerbotten pie on offer.
The natural world has a big role here – The Maidstone is dedicated to recycling and uses eco-friendly linen, paint and energy. After your yoga session, take a walk around the herb garden for an olfactory hit you'll never forget.
And be sure to borrow a Swedish-made Kronan bike and peddle off to Main Beach, one of the area's most awesome stretches of sand.
---
10. Edition Hotels, Times Square
Best for soaking in Times Square and city views
Specifications
Rooms From: £253
Address: 701 7th Ave, New York, NY 10036
Reasons to buy
+
Floor-to-ceiling windows in the suites
+
Six unique dining experiences developed by a Michelin-starred
+
Cabaret and performance
Reasons to avoid
-
The busy Times Square location is not for the faint hearted!
Times Square... maybe somewhere you've previously avoided rather than gravitated towards on a trip to NYC, but now there's a good reason to go. The first chic luxury hotel to grace the neighbourhood, the Times Square Edition features 452 guest rooms, a state-of-the-art fitness center, performance venue and six unique dining experiences developed by Michelin-starred Chef John Fraser.
The restaurants led by chef, John Fraser, take their influence from classical French, Asian, and Latin fare. Choose fine dining in 701 West or for a more casual affair there's the Terrace Restaurant and Outdoor Gardens, where house-made pastas and a selection of the best steaks and chops are among the offerings.
In the rooms and suites it's all soothing and serene, with white washed oak herringbone floors, ivory leather upholstery and huge sprawling beds. Corner suites feature sofas, deep soaking tubs, and furnished balconies, offering unparalleled views of Times Square and the midtown skyline.
The jewel in the hotel's crown The Paradise Club is an inventive, chaotic, high production spectacle perfectly suited for Times Square. With a touch of magic by Brooklyn's House of Yes, the space features a signature dinner theater experience with a multi-sensory, feast which mirrors the playful elements of performances, allowing for an all-consuming experience.
---
11. The Moxy East Village
Best for a rock and roll vibe
Specifications
Rooms from: £154
Address: 112 E 11th St, New York, NY 10003
Reasons to buy
+
Easy walk to Union Square
+
Fun for families
+
Instagrammable mirrored elevators
Located in the heart of Manhattan's most bohemian neighbourhoods, each floor of the the Moxy draws inspiration from a different era in East Village history with clear nods to rock and roll, street art other countercultures for which the neighbourhood is known.
Its 286 design-driven bedrooms, co-working spaces, tech-savvy amenities and cultural programming reflect the richly diverse fabric of the area and four new eating and drinking concepts by TAO Group include a lobby bar and café, rooftop bar, subterranean lounge and French-Mediterranean restaurant.