10 Ways Covid-19 is shaping design trends
Believe it or not, the pandemic is influencing design trends. Here's how...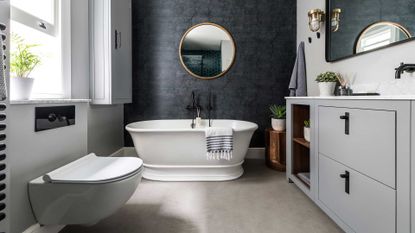 (Image credit: Day True)
Believe it or not, the pandemic is influencing interior design trends.
Perhaps it's not that surprising – given how we are having to adapt and drastically change the way we live and work - that the coronavirus is already shaping how we decorate our homes, too.
A house isn't just a place to live any more – it's your office, your gym, yoga studio, and more – and people are looking to create homes that reflects this.
So, what does this mean for the future of interior design? Here's how the design of our homes could change across the coming years as a reaction to the health crisis and the need for more adaptable, flexible spaces.
See Also: Interior Design Trends – the biggest interior trends for 2021
EARTHY COLOURS
Natasha Bradley, new paint brand, Lick's colour and interiors expert says: 'Since lockdown, I've been working from an earthier pallet, carefully curating multi-functional spaces that suit my clients' needs to cater to both work and play.'
'The pandemic has impacted many interior trends, shifting away from open plan spaces and encouraging people to create purposefully designed 'hubs' that can offer the privacy and focus needed for work / schooling with breakout areas that provide much needed separation and relaxation. Colours which easily transcend mindsets, like beiges and greiges, are perfect for tying these spaces into one another, enabling you to still achieve an open feel, while creating designated spaces to get the whole family from morning to evening.'
See Dulux Colour of the Year 2021
HOME SPAS
Bathrooms have long been a space to escape to after a tough day but that desire is becoming greater. Hayley Robson, Creative Director, Day True, says 'We will now start see the importance of home spas to allow us to fully relax and de-stress. Adding a steam function to a shower area, or removing the shower all together and opting for a large luxurious bath can provide different ways to relax with water.'
'The main bathroom, sometimes redundant with the introduction of more en-suites, may transform into a home gym-cum-spa space to fully maximise every square inch. Our health, wellbeing and especially mental health are all elements that our homes should provide a remedy for.'
HYGIENE IN DESIGN
TOTO, the Japanese bathroom manufacturer is seeing increased demand in Europe during the pandemic for its contemporary toilets and WASHLET™ shower loos. Gaining popularity in UK homes, the smart sanitaryware is also used in some hospitals for its self-cleaning ability and hygienic design and technology, which can prevent germs spreading.
CREATIVE STORAGE
We'll be seeing a more creative approach to increasing storage at home from now on. Millier's creative directors Alexandra Nord and Helen Westlake explain: "With young children, although a dedicated playroom might sound ideal, in reality toys regularly migrate from room to room. Our clients are realising this and taking the opportunity to consider storage and joinery very carefully within their interiors. Low level storage units in multiple rooms – ottoman style furniture, sideboards and cabinets – means games and toys can be quickly tidied away at the end of the day without creating extra work for tired parents."
See Also: Stylish Kids' Storage Ideas and Cool Kitchen Storage Ideas
In the kitchen, maximising cupboard space from floor to ceiling will be a key trend, as will other creative storage solutions like under bench storage and hallway storage.
HOME OFFICES
"Undoubtedly, one longer-term consequences of COVID-19 will be the fact that more people will be working from home even after the lockdown is lifted," says Ryan Prince, CEO and Founder of UNCLE. "The negative stigma of working from home has officially been lifted and although we're not writing off the office by any stretch, we do see much more of a mixed approach to working going forward. This will make our shared spaces more relevant than they've ever been before. I can see a world where people now have their work colleagues and their 'home-working' colleagues. It may create an entirely new social network, literally on their front door."
Research from U.S. online interior design service, Modsy, has shown how, in just two months, working from home has already had a major impact on our decor and design schemes.
Read Also: Stylish Study Ideas & Dreamy Home Offices
Limited private space to work was the #1 frustration from Modsy customers with their existing, often makeshift home office setup. So creating a private, formal workspace is more important than ever before. Analysing its own data, Modsy found that requests for home office design had jumped by 40% compared to April of last year.
In a nutshell? Home offices are here to stay. As life goes back to normal many jobs will likely begin to enable remote employment. Modsy already had 60% of its workforce as permanent remote workers, prior to the guidelines. The permanency of remote jobs means people will design their home work spaces differently. As a result, we'll see more dedicated and private home work spaces, as opposed to makeshift desk setups. This may mean people move to larger homes in more remote areas to garner more space, or they dedicate guest rooms as permanent home offices.
Multi-functional spaces will also be the key to home layouts. We'll start to see the incorporation of desks and workspaces into bedrooms and living rooms as part of the norm, because even those who continue to work in an office will likely have more flexibility to engage in remote work. Creating multiple workspaces throughout the home means that two people can work from home at the same time without bothering each other.
Multi-functional spaces that work well were key, with Americans transforming kid's rooms and master bedrooms with desk areas, in order to have multiple study areas, so more than one person can work at a time.
See Also: Kids desk ideas
STYLISH DESK CHAIRS
From now on, Stylish desk chairs will reign. As more and more people introduce home offices into their decor, expectations for stylish and ergonomic desk chairs will be on the rise. If you're introducing a desk into your living room, you don't want your chair to look like it came out of a corporate office. We'll see manufacturers catering to home office buyers looking for chairs that will fit in with their aesthetics and give users the comfort they need.
In the last 30 days, new chairs were the most commonly purchased piece of home office furniture - proof that a comfortable seat is key. A style that puts form on par with function, it's no surprise that mid-century modern was Modsy's #1 requested style for home office designs. After all, who hasn't coveted a Mad Men style home office?
KITCHEN RE-DESIGN
Kitchens will become the absolute heart of the home, more than ever before. We have been facing a 'full house' every evening of the week and really have to make the most of our living and dining spaces, especially the kitchen. "Open kitchens will be the heart of the home again, and the room used most frequently, so the importance of layout and large windows will be key, not only for natural light but for natural ventilation and view," explain Millier's creative directors. "We are already seeing more demand for larger kitchen islands with integrated seating, as well as integrated banquette seating and desk areas within kitchens. These spaces now need to be multi-functional for eating, entertaining, kids' homework or zoom calls."
Space for armchairs or an additional sofa in the kitchen will also be important. Throughout the home, large, comfortable sofas and armchairs will take precedence over smaller, daintier pieces as they need to accommodate more family members at one time.
Antimicrobial surfaces/ coatings to kitchen worktops that are easy to clean are in high demand. There are certain materials that are inherently antibacterial such as stainless steel and copper. Stainless steel fridge interiors may become more popular for this reason. With innovative air filtration / antimicrobial systems already on the refrigeration market.
"Clients are also now considering the external influences on their kitchen; there will be an increased demand for automation and fewer door pulls", Millier's creative directors add. "The emphasis will be on touch-free handle-less technology, such as Gaggenau's Vario 400 series opening assist system to their fridge and freezers. The ice makers and water dispensers are all on sensors as well, minimising touch points".
"Families with new hobbies may also want to incorporate more functions into the kitchen – a baking station for children or a juice bar for smoothie making for example", says Elicyon's founder and director Charu Gandhi.
KITCHEN PANTRIES
'With families cooking more together, I suspect kitchens as the heart of the home will become even more central" agrees Elicyon's Charu Gandhi. The storage of food, dry goods, and space for the fridge and freezer may all take priority and mean our kitchens become bigger, taking up more space within our homes. This could mean a bigger focus around pantry design.
See Also: Dreamy Kitchen Pantry Ideas
AT-HOME GYMS
'A private exercise space has always been an important consideration in many of the homes we design, but lockdown has certainly placed more emphasis on specific features within a home gym over others. For example, virtual training sessions have soared during this time, which means a good screen (which can be hidden away) is essential and excellent speakers are even more important for online personal training sessions, classes such as Peloton, and exercising with friends online,' Millier's creative directors revealed.
"We are currently designing a basement gym for one of our clients who has amended the brief to have more access to fresh air and natural light. An entire side wall of the room is glazed and can be completely opened up into a light well with a green wall, a water feature and ample fresh air. It is a great way to make a basement gym space feel light, healthy and connected with nature and the outside world which is essential as we are now spending most of our time at home."
HALLWAYS
"The change in the way we design our homes could start from the very entrance, which we expect to take on a different, much more important form as parcels and groceries that are delivered all need to be handled differently," explains Elicyon's Charu Gandhi.
Will we all want an area where we can store goods on delivery, that can then be safely taken to a utility room or space to be disinfected? Where possible, many of us will want dual entrances into our homes even more so now than before. A secondary entrance or boot room that leads directly into a utility space will become coveted real estate.
The Livingetc newsletter is your shortcut to the now and the next in home design. Subscribe today to receive a stunning free 200-page book of the best homes from around the world.
Jacky Parker is a London-based freelance journalist and content creator, specialising in interiors, travel and food. From buying guides and real home case studies to shopping and news pages, she produces a wide range of features for national magazines and SEO content for websites
A long-time contributor to Livingetc, as a member of the team, she regularly reports on the latest trends, speaking to experts and discovering the latest tips. Jacky has also written for other publications such as Homes and Gardens, Ideal Home, Red, Grand Designs, Sunday Times Style and AD, Country Homes and Interiors and ELLE Decoration.