Winter outdoor space ideas: how to make the most of your garden
Winter outdoor spaces can be transformed into the cosiest place to spend the colder months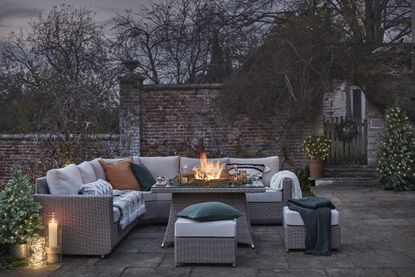 (Image credit: Moda )
Outdoor spaces have often been pretty much ignored over winter in the past - even BBC Two's cult show Gardeners World takes a hiatus until springtime. But making the most of outdoor living has never been more important - or more popular.
Sales of fire pits are reportedly up 300% - good luck trying to find one, although there are some left here (opens in new tab). While outdoor heaters and the like have skyrocketed since life got locked down.
Now is the time to embrace the colder weather by turning your garden, patio or balcony into the cosiest place to be.
From outdoor kitchen ideas to the best chairs to cosy-up on, here are some inspirational ideas to make your backyard work hard.
Hanging festoon lights can make your outside area shine, says Jennifer Morgan, Interiors Editor at John Lewis (opens in new tab). Jennifer also recommends using lighting to highlight areas of your garden, such as potted plants or climbers, La Di Da (opens in new tab) has some good options.
Curate outdoor space as if it is another room of your house. "Just as your sofa is the star of your living space, give an outdoor one the same status in your garden," Jennifer adds.
"Think about where you position the sofa – the obvious place is against one or two walls, but have you thought about using it to create a lounging zone in the middle? Dress your garden sofa with colourful cushions to add a colour boost."
We've all done far too much washing up recently. Give yourself the night off (or week off) with home-cooked pizza under the stars. Independent British brand DeliVita (opens in new tab) makes stylish, hand-made wood-fired ovens - and they're perfect not just for cooking pizza but for everything from toad in the hole to tandoori chicken.
Light and portable, the DeliVita oven can sit on any sturdy table, meaning the chef can be right at the heart of the fun. Plus, bonus points: it's a serious winter warmer. Check out these other outdoor kitchen ideas.
Want to feel transported to your own private members' club when stepping into your garden? Firepit tables from Bramblecrest (opens in new tab) are ideal for cosy cocktail-and-gossip huddles. The tables come with an attachable griddle plate so you can rustle up some treats. Feeling the chill? Simply remove the ceramic insert, add the glass fire shield, light the gas and you'll be toasty in no time. Plus, you'll save on the Uber home.
This cosy movie night oasis can be recreated even if you're working to a tight budget. Instead of a built-in TV you can use a portable projector (opens in new tab) and screen (or even just hang up a white sheet) to watch a favourite film. Check out Trex (opens in new tab) for a great range of lights to magically transform your outdoor living area, and go to town with cushions and throws - The Stripes (opens in new tab)Company has some great, cheerful options.
The warm glow of the rectangle griddle from Moda Furnishings (opens in new tab) makes a gorgeous, alluring and fun centrepiece for al fresco feasting. Everyone can join in with the cooking, making for a sociable night out without leaving the comfort of your own home.
Check out these modern outdoor furniture ideas for gardens and backyards.
Emma Ledger is not only an esteemed lifestyle journalist but is also an illustrator. Her words appear in publications such as Livingetc, The Independent, The Mirror, The Sun and Fabulous magazine, while her drawings have made it onto maps and cards. She is also a mentor at Centrepoint.