How to store outdoor cushions - the secret that will keep your backyard seating looking its best
If you protect your outdoor cushions you'll give them a longer life and keep your backyard looking luxe - it just takes a tiny bit of extra care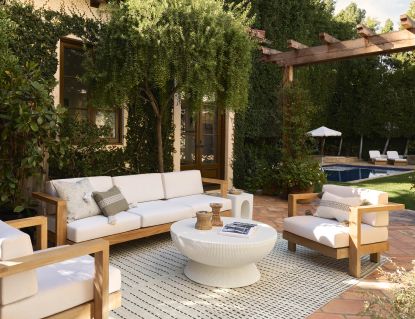 (Image credit: Lulu & Georgia)
The Livingetc Newsletter
For style leaders and design lovers.
Thank you for signing up to LivingEtc. You will receive a verification email shortly.
There was a problem. Please refresh the page and try again.
The very purpose of outdoor pillows is to make your backyard look luxe. To give it a sense that, at any moment, you could lie back and lounge for as long as you like. And by mastering how to store them, you can maintain an elevated aesthetic with ease.
Once you've brought your chic outdoor living room ideas to life, it can be really disappointing to have to replace products too quickly.
Of course, outdoor products are exposed to the elements so it's natural that this will show over time, but you can keep your soft furnishings looking fresher for longer with some good storage techniques.
Whether it's cushions on an outdoor dining bench or the cushions on your favorite sun lounger, good storage ideas will help keep your modern outdoor furniture looking shipshape.
How to store outdoor pillows so they look fresher for longer
Even products that are weather-resistant will need storing to achieve optimum longevity from your investment. Not sure how to go about it? These expert tips will show you the way...
1. Use a stylish storage basket
Keep a handy storage basket outside to easily transfer your cushions when it's time to head indoors.
Invest in a basket with wheels for extra-handy manoeuvrability; a chic metal or wicker basket will look stylish sitting next to your indoor sofa, or can easily be put away in a shed at night.
Sam Hood, co-founder of Amara, says: 'A garden chair isn't complete without a pillow especially when relaxing and entertaining, comfort is key for both you and your guests. Outdoor pillows are water-resistant but I would always recommend taking them inside, or even into a shed, overnight. This will keep them cleaner and prevent dampness which can reduce the life of the fabric.'
She adds: 'I use baskets that are of a similar size to fit pillows snuggly into, so reducing space they take up. Tip – I find laundry baskets work well for this.' This laundry basket is particularly lightweight and easy to move around.
2. Make the most of built-in storage
If the thought of putting your pillows away every night is a little overwhelming, make it really easy by investing in furniture with built-in storage.
This could be a storage bench, or even ottoman lounge seating or sun loungers.
'Although most outdoor fabrics are designed to withstand inclement weather conditions, it's still best to store these items away at night, or use covers to protect seating from damp and mildew,' says Alinta Lim, Senior Design at King Living.
An easy solution to store smaller items and fabric accessories it to select outdoor seating with built-in storage.
3. Keep a pillow storage chest outside
Cut out the need for ferrying your pillows indoors and out every day by investing in a waterproof outdoor storage box.
If you're simply looking for a place to store small outdoor accessories, you don't have to spend a fortune on a shed. You can choose from affordable options, like IKEA's Tostero, or this sturdy resin storage box from Wayfair.
Rain clouds starting to hover? You can zip out and pop your outdoor pillows away before the heavens open.
4. Opt for multifunctional furniture
If you prefer your storage options to be hidden in plain sight, why not try a storage box that works double duty as an outdoor coffee table?
A lined wicker basket with a lid is the idea storage solution to keep your pillows fresh and protected at night or during short rainy spells.
5. Invest in an outdoor cupboard or storage shed
A shed doesn't have to take up a huge amount of space; a small storage shed is a practical piece of outdoor furniture to have to store all your bits and pieces - including your outdoor pillows.
But, if you're all about the aesthetics, why not try using a pretty indoor dresser as an outdoor storage cupboard?
You'll need to give it a layer of protective oil or wax, but it's a great solution for anyone looking for outdoor storage that will also work to enhance the feel and look of the outdoor living room vibe.
How do you store outdoor cushions?
'Whilst the summer is a time many of us look forward to in the calendar year, rainy spells can often wreak havoc on outdoor furniture and make garden upkeep feel like too much of a chore,' says Wayfair's Resident Style Advisor, Dee Fontenot.
'However, you can beat any bad forecast and keep your outdoor set-up looking spruced all through the warmer months with some simple but effective tips for storing your outdoor pillows.'
'Always store outdoor pillows in a cool, dry place, such as a garage or ventilated shed, or invest in a dedicated storage chest. These chests are specifically designed to store cushions and can help keep them organized and protected, avoiding direct sunlight or damp areas. Store pillows in a standing position as stacking can cause them to flatten or lose their shape over time. Remove any dirt or debris and tackle stains before storing your pillows. Make sure the pillows are completely dry before putting them away as leaving them damp can lead to damaging mold. When storing pillows for a longer period, such as during a holiday, it's a good idea to check on them when you return. This way, you can ensure they are still in good condition and address any issues that may have arisen, such as mildew growth.'
For style leaders and design lovers.
Ruth Doherty is a lifestyle journalist based in London. An experienced freelance digital writer and editor, she is known for covering everything from travel and interiors to fashion and beauty. She regularly contributes to Livingetc, Ideal Home and Homes & Gardens, as well as titles like Prima and Red. Outside of work, her biggest loves are endless cups of tea, almond croissants, shopping for clothes she doesn't need, and booking holidays she does.