This contemporary Texas home has award-winning architectural provenance
Explore this modern Texas house with daring design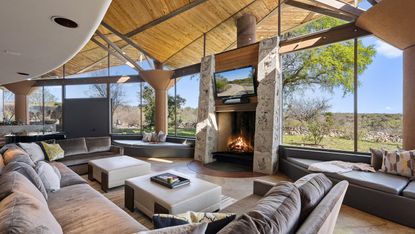 (Image credit: ©Jp Morales)
This modern house is the epitome of architecture that is in harmony with its surrounding landscape. The Retreat at Lick Creek Lodge may be only 26 miles outside of Austin, Texas, but its atmosphere is of a secluded getaway at one with the wilderness. It's no wonder that the free spirit of this place has attracted so many musicians over the years – Billy Joe Shaver, The Flatlanders, Kinky Friedman, Pat Green, Graham Reynolds and others have performed here for audiences of 250 plus on its grounds.
The modern home was designed by John Covert Watson, who was once mentored by Frank Lloyd Wright. A magnificent structure of wood, steel, and glass, it looks both sharply contemporary and warmly at ease in the Hill Country landscape. The design demonstrates how to bring the outdoors in in a unique way, taking its cues from nature while accommodating a seamlessly luxurious lifestyle.
The entrance makes the announcement of a luxurious yet down-to-earth interior design. The two-tier main space is designed for taking in the glorious surrounding landscape, with the imposing central fireplace grounding the otherwise airy space.
The bedrooms also invite you to engage with the environment, opening up onto private patios. The rounded shapes echoed throughout the house evoke a marine theme, despite the fact that the estate is landlocked.
The main foyer is designed to maximize natural light, featuring a skylight ceiling. The open-plan layout enhances the transparent feeling of the space, and the airiness is complemented by grounding quality of the white oak and maple kitchen cabinets.
An exquisitely crafted Ipe wood walkway leads you to a waterfall that pours into a private grotto with a negative edge pool that is offset by a limestone cliff. The outdoor design is finished off with a glamorous wrapping deck design. A spectacular 'wild' swimming spot that rivals any luxury hotel in comfort.
The cantilevered balcony with custom built-in seating provides a visual overlook to the main living room below, making it perfect for concerts and readings.
The Retreat at Lick Creek Lodgeis on sale for $17,500,000 by Kuper Sotheby's International Realty.
Anna is a professional writer with many years' experience. She has special interests in architecture, photography, and high-end interior design. Her work has appeared in Homes & Gardens, Gardeningetc, and many other publications.