Oxford Street: a futuristic look at the capital's famous thoroughfare
Oxford Street through artist Camille Walala's eyes: pedestrianised, plant filled and people focused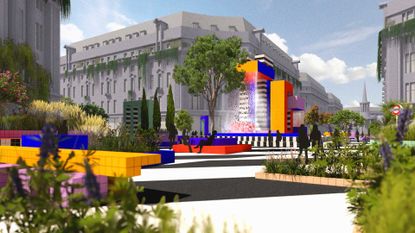 (Image credit: Camille Walala / Omni Visual )
During the early days of lockdown, cycling along Oxford Street and the other empty streets of the capital, French-born artist, Camille Walala and creative producer Julia Jomaa, noticed how in the absence of traffic and bustle, London had become an extraordinarily peaceful place.
The two of them started to wonder whether the city of the future might look similar and set about re-imaging Oxford Street.
Now, eight months later, Camille has unveiled the results of this speculation: a series of images depicting Oxford Street as it has never been seen before. Pedestrianised, exploding with colour and full of imaginative street furniture designed to be interacted with in multiple ways, Camille's Oxford Street is a place of joy, surprise and asymmetry – an antidote to the flatness and homogeneity that can sometimes characterise the standard high street.
Full of colourful, bold architectural structures and 3D surfaces, the images present a vision of an urban thoroughfare that exists for more than practical purposes, inviting numerous forms of interaction. It's a place for gathering and meeting, resting and rambling – evoking the multiple community functions of the agora, or public square, in ancient Greece.
Walala imagines the space as somewhere the natural and the human-made can coexist and complement each other, weaving water and verdant plant life into her speculative streetscape
This new Oxford Street is unpredictable and eccentric, full of unexpected nooks and hidden crannies, dotted with architectural islands where 3D shapes and 2D surfaces intersect.
A freely available AR app allows viewers to experience the images from their smartphones. The buildings and streets of Oxford Street are shown in a three dimensional view, with a scaling option allowing people to see the series in different sizes through their screen set against the backdrop of their own home.
As a project conceived and delivered in lockdown, the Oxford Street series comes at a time when mental health is also an important strand in the national discussion.
With many people suffering, struggling and under pressure, Camille argues that now is the time to think seriously about how we want to live in future, and to discuss how our urban environments can contribute to – or detract from – our own happiness.
Camille Walala has used art to make interventions in the urban environment ever since she created the now-iconic full-facade mural of Old Street's 'Dream Come True' building in 2015 – the defining moment in her career as an artist.
Driven by the belief that eruptions of colour and pattern can elevate people's emotions and boost mood, she has been engaged in a series of high- profile public-space projects in recent years.
These have included using street furniture and planters to transform South Molton Street into an outdoor 'Walala Lounge' – the success of which helped shape her thinking for this project – and in August this year, the Walala Parade in East London, a grassroots community- improvement project supported by the Mayor's office that saw her transform the façades of a parade of shops on High Road Leyton.
See these stunning images of London during lockdown
Jacky Parker is a London-based freelance journalist and content creator, specialising in interiors, travel and food. From buying guides and real home case studies to shopping and news pages, she produces a wide range of features for national magazines and SEO content for websites
A long-time contributor to Livingetc, as a member of the team, she regularly reports on the latest trends, speaking to experts and discovering the latest tips. Jacky has also written for other publications such as Homes and Gardens, Ideal Home, Red, Grand Designs, Sunday Times Style and AD, Country Homes and Interiors and ELLE Decoration.