First look - Dinesen's new furniture collection
Luxe wood flooring company Dinesen is taking over the furniture world, too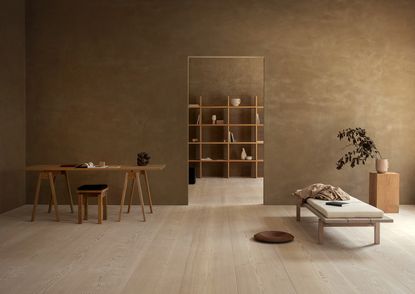 (Image credit: PR)
Many of the homes we feature in Livingetc have Dinesen floors. Made from Douglas fir, it's the go-to brand for luxe, high-end flooring, its seemingly join-free planks stretching calmly on forever.
But Dinesen isn't content with simply making stylish, sustainable floors, and is making its first foray into furniture.
The collection consists of a daybed (above, right), dining table (above, left), bench, stool and a stand to hold planks.
See also Modern furniture ideas – from age-old classics to the latest furniture trends
The collection is characterised by understated design - it's simply beautiful pieces of wood joined together harmoniously and in a considered way.
Dinesen are also selling a collection of objets, including small planks, scented oil DD-2 and bricks, which can be used as cutting or serving boards.
See the whole collection here
Shining a spotlight on the now and the next in home design and decor, Livingetc is the UK's best selling high end and contemporary home design magazine. As a brand, Livingetc showcases the world's very best homes, breaks and makes the trends, and has access to leading international designers for insight and ideas. It was first published in 1998, and is currently edited by Pip Rich.