Small bathroom flooring ideas – the best choices to make your space feel bigger
These clever small bathroom flooring ideas prove that compact spaces can be just as pretty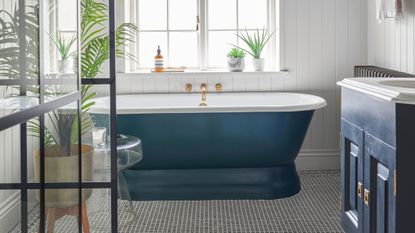 (Image credit: James Merrell)
The Livingetc Newsletter
For style leaders and design lovers.
Thank you for signing up to LivingEtc. You will receive a verification email shortly.
There was a problem. Please refresh the page and try again.
Short on bathroom square footage? The best small bathroom flooring ideas can help you create a relaxing haven without compromising on style or space.
Yes, large mirrors and wall-hung fittings have earned their rightful place in the design rule books for making any room look bigger. But there's much to be said about getting your flooring right too. Lucy Tunstall, Creative Director at Harvey Maria, explains 'when you're updating or creating a smaller bathroom, investing in key elements like the flooring adds a premium feel and enables you to create a cozy and relaxing retreat to match your interior style.'
And despite what you might have heard, you needn't worry about shying away from color, or Insta-worthy tiles in small spaces. As Tunstall says, 'you can be quite bold with colors in a small space because you can offset this with a more neutral scheme on your walls and fixtures.' Although if muted shades are more your kind of vibe, you're in luck. 'We predict that monochrome will be trending again in 2022,' Tunstall adds. 'Dark blues and earthy grey tones also work really well in smaller spaces and add a luxe feel. We are also seeing pale woods and herringbone patterns looking really great in bathrooms.'
We can't all be blessed with big bathrooms. And once armed with some innovative small bathroom flooring ideas, it means we don't have to be. Here's how to make your small bathroom mighty with some insider tips and tricks to help you make the most of your small – but beautiful – space.
The best small bathroom flooring ideas of 2022
1. Say yes to patterned tiles
We love a patterned tile as much – if not more – than the next person. And if there's one good thing to take away this 2022, it's that small spaces can hold their own when it comes to patterned flooring.
'Regardless of the size of your bathroom a patterned tile on the floor or wall will always create a clean, crisp and stunning statement,' Chris Gulson-Brooke, founder of Maitland & Poate tells us. 'Larger patterns combined with plain tiles will help expand the space in a smaller bathroom. Simply blend tile tones with wall colors for an open spacious and uncluttered feel.'
You heard it here first: bijou spaces can be bold so be brave in your small bathroom color ideas.
2. Throw some shapes
Think outside the (tile) box. Why not say 'yes' to tiles that come in all different shapes and sizes, rather than just your standard square or rectangle design?
'Contemporary formats such as hexagon mosaics or herringbone designs are perfect for creating visual interest and a sense of texture even if space is limited,' Fired Earth's Creative Director, Colin Roby-Welford says.
Different shaped bathroom floor tiles can only ever add to the impact in a small bathroom. Plus there's a seemingly never-ending array of different shaped designs to choose from. And, as Roby-Welford notes, with less floor to cover, tiles that might be a little beyond budget in a larger scheme will be relatively more affordable.
3. Seeing double
The ultimate lesson in how to make your small bathroom look bigger? Proceed to extend your floor tiles and use them as wall tiles too.
As Roby-Welford says, 'using the same tiles across walls and floors is a great way to 'open up' a small bathroom, instantly creating the illusion of more space as the eye is drawn around the room.'
And, as we just touched on, this tip will work just as well with block colors as it would with patterned options. But, like most things, this flooring trick comes with a caveat. If you're planning to use a pattern throughout a small bathroom, always think about scale. Roby-Welford explains 'large, bold patterns can overwhelm a compact space whereas a smaller motif can look really effective flowing seamlessly from walls to floors.'
4. Mix and match
If you've got two tiles you like, and they work together tonally, why not use them both? Roby-Welford continues 'The floor is just as important as the walls when it comes to creating a fabulous impression, and bathroom floors – even small ones – have endless decorative potential.
'Just because a bathroom is small, there's certainly no need to compromise on style. Geometric designs and star motifs that can be configured in numerous ways to create stunning modern floors in the smallest bathrooms.' What are you waiting for?
5. Get the gloss
It's a well-documented fact that mirrors can help open up any room and make your space look instantly bigger. And the same goes for bathroom mirror ideas. But instead of using a mirror, opt for a reflective floor surface.
Louisa Swannell, Head of Creative Design at Walls and Floors says 'going for a glossy tile can create the illusion of more space too, as they reflect light around the room. This creates the illusion of more space as it makes the corners of the room look less obstructive.'
Plus, when done right, glossy floors are the epitome of luxury.
6. Luxe out on luxury
Speaking of luxury bathrooms, who said a small bathroom couldn't be just as luxurious as a bigger space?
Jason Cherrington, Director at Lapicida says, 'designed to replicate all the characterful imperfections of genuine antique stone, Antique Marble Macchia Vecchia is a really unique design that brings a touch of luxury and glamour to bathrooms big or small.'
Make your flooring the piece de resistance in your small space by investing in good quality materials that will last the test of time.
7. Add some warmth
Just as the interior design trends for 2022 stated, earthy rich colors are here to stay.
And this trend can be incorporated in every room of your home including in your small bathroom via the flooring. Louisa Morgan, Creative Director at Mandarin Stone says 'the Hendrix Red has been used to create a feeling of warmth and style. The rich tones and subtle terrazzo design of this large-format porcelain style creates character and subtle retro vibes to the space.'
You won't need much of this design to make a lasting statement – which is why rich colors like this lend themselves brilliantly to small spaces. We're ripping up the rule books.
8. Big is sometimes better
In terms of making your bathroom floor look spacious, it's important to think about the scale of your flooring materials. Although small tiles can look fabulous, sometimes they can look a bit intense. This is why, if you're looking to level up your small bathroom space and create an expansive feel, bigger is better.
Morgan says 'Terrazzo Nouveau Mono Matt Porcelain in large 120x60cm size have been used on the floor and wall of this small bathroom to make it feel larger. The simple, terrazzo design gives a fresh, modern feel.'
Plus, with minimal grout lines, it's hard to tell where one tile ends and another begins, creating a streamlined look. You can't go wrong.
What's the best flooring for small bathrooms?
Whether you opt for ceramic tiles, cork flooring, laminate, or restore your old wooden floorboards, the best flooring for small bathrooms are options that come in large formats.
As Louisa Swannell, Head of Creative Design at Walls and Floors confirms 'Large-format floor tiles are great for small spaces as they have a seamless effect.'
While if making your bathroom look even bigger is on the top of your agenda, placing tiles in a herringbone format can help to create this effect.
Swannell explains 'Laying floor tiles in a herringbone format can have a space-enhancing effect, as this layout tricks the eye and makes the room appear longer.
In terms of flooring type, Lucy Tunstall, Creative Director at Harvey Maria believes luxury vinyl tiles are an incredibly practical flooring choice for small bathrooms.
'Waterproof and slip-resistant, they are also easy to clean and care for, meaning you can enjoy a pristine bathroom and spend less time fretting over maintaining your new floor.'
What colors work best for small bathroom flooring?
Small bathrooms can still make a big impact. And more often than not, they can take on color and texture while oozing luxury. The key is to decide what vibe you want for your small space.
As Swannell, explains 'Lighter colors work best for smaller bathrooms as they make a room feel bigger and brighter, and they also reflect light more than darker colours. However, adding a pop of a darker tone can also work to add some dimension and depth to the space.'
Sometimes being bold pays off. And you can create a lot of drama in not a lot of space with patterned tiles in a bright hue or by throwing some paint at the walls. The latter of course is easier to switch up should your interior style change. While if a clean aestehic is more your look, streamlined and minimalist styles never fail in a small bathroom space. Especially if you add a slice of interest to this classic trend with LED bathroom lighting and beautiful finishes.
What patterns work best for small bathroom flooring?
Busy and cluttered patterns on your floor can make your space feel even smaller. So make every square foot count by making your flooring work with the space you have.
Tunstall, says 'Large geometric patterns create a sense of space which lets you enjoy a strong interior style for even the most petite bathrooms. Laying diamond motifs draws the eye line across the room making it feel longer. Chequerboard flooring will continue to be a big trend throughout 2022, but a slightly smaller check will work better in a more bijou bathroom.'
However, that's not to say if you have fallen head over heels with a busy pattern that you can't still use it. Why not create a splashback instead? The key takeaway to keep is mind is that: by creating some excitement in your small bathroom as you see fit, it will be a space you'll love coming back to.
For style leaders and design lovers.
Becks is a freelance lifestyle writer who works across a number of Future's titles. This includes Real Homes, Top Ten Reviews, Tom's Guide, TechRadar and more. She started her career in print journalism at a local newspaper more than 8 years ago and has since then worked across digital and social media for food, fashion and fitness titles, along with home interior magazines. Her own interior style? She's big on creating mindful spaces in every corner of her home. If it doesn't spark joy or happiness, it has no place here. When she's not writing, she's reading and when she's not reading, she's writing.