Panelled ceiling ideas aren't just for trad styles – here's how to make them work with modern or minimalist decor
From the ornate and traditional to the sleek and modern, the new trend for panelled ceilings can enhance minimalist, maximalist and every space that's in between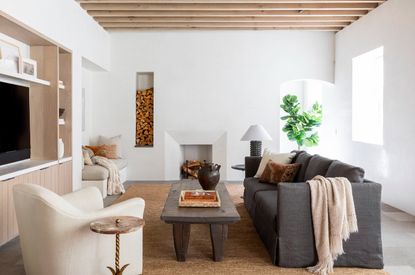 (Image credit: Julie Soefer)
The Livingetc Newsletter
For style leaders and design lovers.
Thank you for signing up to LivingEtc. You will receive a verification email shortly.
There was a problem. Please refresh the page and try again.
Once reserved for period houses with towering ceilings and the most ornate of architecture, paneled ceilings can now be found sitting just as comfortably in modern, new-build properties. No matter what the style, be it old-school grandeur or on-trend rustic bohemium a paneled ceiling adds that unexpected drama. It's why we love to see anything out of the ordinary with a ceiling, they are such underused spaces when they can add so much impact to the design of a room.
So whether you have inherited a classic panelled living room ceiling and want to give it a contemporary upgrade, or looking for ways to add texture and character to a modern home, we have plenty of designer-approved ideas to get you inspired.
10 panelled ceiling ideas to suit every style
1. Up the drama with a mirror panelled ceiling
Think paneled ceiling and think wood right? But, my gosh, if you have a space that can handle it, a mirror-panelled ceiling is as glamorous as interior design gets. While mirrors are of course used to reflect more light around the space, we think when using them on this scale, pair with a deep, luxurious wall color.
White walls would be too clinical, too bright, and you'd instantly notice the contrasting ceiling – with a darker color, you have to be within the room to fully be aware of the mirrored panels – far more exciting.
2. Give any era of home a touch of character
Paneling has long been associated with more period homes, however, a decorative ceiling can add interest and drama to any style of home. 'Just because a ceiling is paneled, doesn't mean the entire home subscribes to a certain aesthetic,' explains designer Marie Flanigan. 'Paneling is just a way to add character and charm to a space while displaying craftsmanship.'
'This project was a very European-inspired home. The goal of the coffered ceiling was to make this new build feel like it had been relocated from the French countryside, which requires additional details like skilled craftsmanship. The goal in this living room was to draw the eye up and really have visitors take in the entire room, floor to ceiling.'
Coffered ceilings are a very traditional architectural detail, made up of a series of grids with sunken panels, they date back to Roman buildings. And yet, here one is looking very at home in a new-build. Because it's such a simple layout, it's a very adaptable design that looks gorgeous when contrasted with really fluid modern shapes and styles as can be seen here.
3. Update a traditional ceiling with bold colors
'This was my personal residence and after looking at so many homes during the buying process, this home stuck out to me for many reasons, but as a lover of all things old, the original ceiling in this 1920's dining room, had me at hello.' explains designer and co-founder of Toledo Geller Virginia Toledo.
'When the decorating process began, I knew I wanted to celebrate the ceiling and quickly knew that I wanted to paint it in a bright contrasting color and drew the cobalt blue from the floral drapery fabric.'
'My advice for modernizing a traditional ceiling is to use unexpected and bold color combinations. Here we used a cobalt blue on the beams and trim and the palest lavender within the coffers. in the room, we used a daring mix of furniture styles – the dining table was French country, the buffet 70's retro and classic klismos chair in a bright white and canary yellow combination. The mixing of furniture from different time periods eliminates the time stamp on a traditional room,' adds Virginia.
4. Create a rustic effect with white washed panels
Leanne Ford's rustic interiors are a lesson in combining modern style with a country, farmhouse aesthetic. Likewise, her spaces are often proof of just how interesting an all-white palette can be. In this indoor/outdoor dining room, whitewashed everything makes the space so beautifully light, and airy, seamlessly connected with the greenery surrounding it.
However, with a limited color palette, you have to ensure to inject plenty of organic texture and interesting shapes to give the room depth. The paneled ceiling and the exposed brick walls are working together in this space to do just that.
'Because I love to work with a neutral color palette in my spaces I focus on adding layers of texture, soul, and nature instead of color!' explains Leanne. 'Adding wood to a ceiling is an easy win when you are trying to do this. Bringing any wood element inside immediately warms the space up and makes it feel more lived in. In most cases, I end up painting it white along with the walls so that it doesn't become the main focal point of the room but rather becomes a textural part of the entire vision. Think big picture!'

5. Add unexpected texture with wooden slats
All the texture and interest that paneled ceilings bring make them perfect for giving practical spaces like kitchens and bathrooms and a more lived-in feel. Making bathrooms less bathroomy and kitchens less kitchen-y. As can be seen with this bathroom, it's the perfect area to add that warmth in a more subtle way, making these practical spaces still feel fit for purpose but with a softness around the edges.
As Marie Flanigan says, 'A paneled ceiling can add texture, depth, intrigue, character, and color to a space. I like to think of the ceiling as a fifth wall that is part of the design and not an afterthought.'
'This historical 1900s farmhouse located in Brenham, Texas, was fully restored and updated to meet modern standards of beauty and comfort while honoring its architectural heritage. The natural wood on the panelled ceiling was an important architectural component to keeping the original integrity of the home.'
'When you have an older home, embrace the design and architectural elements that make it unique. I love how this bathroom feels authentic to the house though the elements are new! The shiplap, wood ceilings, clawfoot tub, and moldings work together to create a clean and storied aesthetic.'
6. Use darker woods to add depth
Wooden panelling can make a statement too, as well as adding to all those cozy, rustic, farmhouse vibes. A darker, cooler-toned wood gives an edgier feel to this classic addition and there's something slightly more formal about deeper woods.
In this otherwise very soft, neutral living room designed by Leanne Ford, the dark wood ceiling adds a depth and drama to the room – grounding all those pale hues and contrasting those laid-back shapes to create a more balanced look that feels more contemporary than country.
7. Plan your lighting
Whatever vibe of paneled ceiling you go for, plan the lighting in early. As you'll see with the majority of these spaces the go-to lighting tends to be a pendant. It means the paneling goes uninterrupted and you won't create strange shadows if you add lights to recessed panels. However, in a practical space that needs plenty of downlights a single statement pendant might not be the best option.
Subtle spotlights make for a good choice, or if you have a coffered ceiling you could look into cove lighting. Done right and not to access they can work to highlight the ceiling and provide plenty of light.
'I think that lighting coves also get a bad wrap when it comes to paneled ceilings and yes, they can go bad very quickly, but lighting onto the paneling is so important. A great way to highlight the paneling (if you can't resolve the lighting) is to paint it gloss/ lacquer or even wallpaper inside the panels,' explains Nicholas Kaiko, founder of Kaiko Designs. 'Doing a paneled ceiling can add a phenomenal amount of glamour to a space. We always try to do something unexpected up there, be that paint, wallpaper or even just some simple plaster strapping and bosses.'
8. Keep it simple
There so much going on in this glorious green living room by Marie Flanigan, the paneled ceiling had to be kept relativity simple. The aim was to add texture and charm but not distract focus from the statement wall treatments. 'The paneled ceiling of the Royal Point sitting room created intimacy and added craftmanship detail to the space. The homeowners' house was a newer build and this sitting rooms added a bit of old-world charm to this sitting room.' explains Marie Flanigan.
By continuing the color up onto the ceiling, the paneling almost merges into the walls rather than being a standalone feature of the space. The simple design adds the touch of character and coziness desired in this new build home but doesn't dominate the space.
9. Match the walls for a cocooning space
Color drenching is a massive interior design trend this year. But taking one color across all your surfaces does risk looking a bit flat. However, as this room proves, it's a great way to upgrade a paneled or decorative ceiling, giving it a modern twist.
Taking one color across the ceiling (and walls) prevents paneling from becoming too... fussy. It turns it from a traditional feature to something more impactful. Plus, you get the benefit of color drenching making a small room look bigger, so if you are trying to tackle paneling in a smaller space this could be a good approach.
'Ceiling paneling and architrave is a really great way to add visual interest and detail. It's actually a really simple undertaking but it can enhance a whole interior scheme adding depth and character,' says Tom Rutt of TR Studios. 'It will also make a room feel more intimate regardless of the ceiling height, whether it is vaulted or flat. If you're painting your ceiling, the choice of color can also have a huge impact. Don't be scared to use a color with real depth such a sage green or maroon. Beautiful natural oak timber would also create a rich and textural stand-out look.'
10. Freshen up ornate original paneling
Victorian ceiling tiles, once considered fussy and only suited to traditional styles, are making a comeback in a really modern, fresh way. High ceilings, simple furnishings, and beautifully ornate original moldings is a dreamy combination. The best way to approach such an ornate design is a crisp white paint – not only will this help to hide any imperfections but give a more modern edge.
'This paneling was an original decorative victorian feature that the client was keen to incorporate into the new kitchen design, explains Jennifer Hamilton, Director of The Vawdrey House. 'The kitchen had been moved into what was originally the grand reception room in this Victorian villa. The panelling was restored and a further two new panels were made in order to make the proportions work in the new open-plan space. This beautiful feature remains a gorgeous decorative feature while serving as a reminder of the history of the building.'
Can you DIY ceiling panelling?
As with any bigger DIY job, it comes down to if you feel confident in your skills. You can DIY ceiling panelling with the right tools, planning, and patience. Treat it like DIY wall panelling – using planed timber, ready-to-go MDF wood panelling, or tongue-in-groove panels. However, we will say this is not a quick project, nor one to tackle alone. And be aware of the weight of what you are using. Don't attach anything too heavy to your ceiling yourself, stick with lightweight materials like vinyl and PVC.
For style leaders and design lovers.
Hebe is the Digital Editor of Livingetc; she has a background in lifestyle and interior journalism and a passion for renovating small spaces. You'll usually find her attempting DIY, whether it's spray painting her whole kitchen, don't try that at home, or ever changing the wallpaper in her hallway. Livingetc has been such a huge inspiration and has influenced Hebe's style since she moved into her first rental and finally had a small amount of control over the decor and now loves being able to help others make decisions when decorating their own homes. Last year she moved from renting to owning her first teeny tiny Edwardian flat in London with her whippet Willow (who yes she chose to match her interiors...) and is already on the lookout for her next project.