'So gentle on the eyes!' 9 minimaluxe kitchens that prove this new design trend will be elevating homes for years
Minimaluxe kitchens blend together the simplicity of minimalism with the warmth of a modern rustic style, creating a look that feels wonderful - and luxe - to live in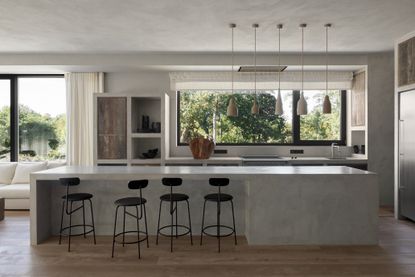 (Image credit: Colombe)
Minimalism is never going out of style. It's been around in some form or another for decades and is loved by designers the world over. However, what tends to happen with such longstanding trends, is every now and then they shift slightly, a 'new' version of the trend starts to come forward, and right now that newer take on minimalism is minimaluxe.
So what's minimaluxe? Well, it takes all the aspects of minimalist style we all know and love – the simplicity, the lack of clutter – and blends it with a warmer, softer vibe. With minimaluxe style the lines are curvier, the textures deeper and the coolers mellower. We spoke with designers about how to bring this new approach into a modern kitchen, designing a space that feels pared back and contemporary but also has that warmth that minimaluxe style is all about.
1. Incorporate warm brass accents
You'll notice a theme here, the key to minimaluxe kitchens is softness, and warmth, and texture. In straight-up minimalist kitchens, the vibe is usually quite stark – clean lines, cooler colors, and minimal decor. This new take on the style is far more... lived-in, more homely.
This kitchen designed by Tala Fustok Studio takes some of those classic minimalist principles and adds a more welcoming feel using warm woods, brass accents, and curved silhouettes.
'We opened up the kitchen by introducing double arched doors, which naturally added more depth to the somewhat smaller space within the London pied-a-terre,' explains the studio's founder Tala Fustok. 'I wanted to ensure we maintained the relaxed setting even within this more practical area. The timber cabinetry and brass elements help with this whilst bringing a contrast to avoid any notion of clinical. The Ochre bar stools and Pinch pendant sit perfectly within the space that is peppered with M.A.H. paintings and a black sculpture which add character to the backdrop.'
'I think the introduction of certain shades and materials such as timber and brass can really shake up a minimalist kitchen to bring that desired homeliness. Championing nature with indoor plants can also bring a serenity to a minimalist kitchen,' she adds.
2. Mix materials to add depth and texture
Natural materials – woods, stone, marble – all bring that depth and texture that's synonymous with this style. You can still create a very simple and sleek space but the mix of textures adds the interest. You'll see a lot of minimaluxe kitchens that bring together the warm, grained texture of wood with the cool colors and flowing pattern of marble, as seen in this space designed by Decus. It's a beautiful combination that really embodies the blend of sophisticated minimalism and that more soft and rustic style.
'With any form of minimalism, even though the goal is to approach each space with a "less is more" mentality, the pieces that you do incorporate should add texture and depth to the space. There is a difference between bare and minimalism. A bare room has less pieces, but without richness and depth. A minimalist room has less pieces, but with this richness and depth through the use of texture, rich palettes, and different types of material,' explains designer Victoria Holly.
'So for example, in a kitchen, incorporate a honed and striking marble kitchen countertop, or a textured glossy clay backsplash tile. Or hand-made ceramic pendant lights above an island. All of these details add warmth without cluttering the kitchen. I prefer warmer tones or mixing cooler and warmer tones. For example, you can do a textured ceramic tile in cool grey tones but mix it with warmer oak ceiling beams.'
3. Balance simplicity and a rustic style with wooden cabinetry
Wooden kitchen cabinetry is a classic choice, and it leans into both the sleek and rustic sides of this style. In this kitchen designed by Wittmann Estes, it's used in its most pared-back, natural, and unfinished form and the results are a kitchen that feels both very modern and minimal but filled with character. And note how the same wood is taken over the backsplash to create a beautiful, almost uninterrupted span of wood allowing the pattern of the grain to become a real feature.
'We sought to dissolve the barriers between the inside and out, between forest, garden, and structure,' explains Matt Wittman Principal of Wittman Estes. 'Interior surfaces are rendered in wood materials – local fir for the floors, pine on the walls and ceiling, and cedar on the outdoor decks. A 10' tall multi-slide fir door opens onto the west deck, where the kitchen counter extends to become a wood-fired barbeque.'
'We use a lot of natural materials like wood, steel, and concrete that express themselves through their inherent qualities and textures. The grain and figuring of pine wood wall paneling offer a warmth and connection to the forest through a memory of its source as a tree. Fir flooring has a softer and warmer feeling on the feet, and the warm yellow and orange tones of the fir offer a visual warmth. Our interior design focuses on the sensory qualities of materials, the tactile feeling on your feet and hands, and the visual softness of nature's textures, tones, and hues.'
4. Go soft and subtle with the lighting fixtures
Kitchen lighting can be just as important as finishes and colors when it comes to creating that natural, minimaluxe look. You want the lighting to have the same warming effects as the design and decor – pools of soft, diffused, yellow-toned light that give the space an all-over glow.
'Lighting in general can completely transform any space. In terms of ambiance, keep away from heavy, bright and harsh lighting. Opt for soft, warm lighting & use wall or remote dimmers to control all lights in the space. There should be multiple sources of light ie; recessed ceiling lights, under cabinet lights, pendants or decorative lights, track or task lighting & never forget the power of natural light!' advises Bianca Betancourt, kitchen design lead at FORM Kitchens.
In this kitchen by TR Studios, there are so many light sources, both statement and subtle. The multiple spotlights are ideal for lighting the whole room when needed, and the stunning kitchen island lighting allows for a softer more ambient lighting. 'Our client loved life in the Hamptons when they resided in New York and that sense of tranquillity was something we were keen to bring into their new West London townhouse through the color and material palette,' says founder Tom Rutt. 'You can use lighting to help a pared-back kitchen look and feel warmer. Marble and touches of satin brass effortlessly add a softness and evoke a feel of understated luxury and these materials can easily be introduced through lighting.'
5. Get the amount of negative space right
Ditching the wall cabinets is such a kitchen trend right now, and it's a simple way to create a more minimalist feel as you are reducing that visual bulk. Instead, take inspiration from this kitchen design by Heju that replaces cabinets with a single sleek shelf which really opens up the room and allows for plenty of that negative space you want with this style.
'To give a minimalist kitchen a rustic, luxurious feel, it's important to strike a balance between negative space and warmth,' suggests Urbanology founder Ginger Curtis. 'Floating shelves can be used to create a minimalist look, but it's important to not overfill them with decor items. The right layers of warmth and color balance can be achieved by incorporating warm color tones, mixing metals, and layering different textures.'
6. Take a minimalist approach to classic style
The beautiful warm-toned, dramatically veined marble is really commanding the attention here. Balanced with the simple cabinetry and color scheme the space remains minimalistic but with touches of the traditional – the herringbone flooring, the pendant lighting, the slightly farmhouse-esque stools. The whole vibe is giving minimalism with a traditional twist, and it's that twist that makes this kitchen feel less clinical and more cozy.
'This kitchen is housed in a large turn-of-the-century Victorian house. The proportions of these homes are always so fun to deal with but present challenges that need to be thoughtfully considered. In this project, we wanted to ensure the scale was balanced and the space felt intimate, and not overwhelming,' explains founder of Nune, Sheeena Murphy.
'The kitchen sits in the center of the main floor and we created a more human scale by limiting the height of kitchen cabinets and allowing the upper part of the walls to breathe. The introduction of architectural curves evokes a sense of invitation and the very visual stone on the worktops and backsplash draws you in. The blend of more traditional oak herringbone flooring, handmade counter stools by Edward Collinson, and classic Devol lighting are balanced with simple, modern cabinet design and a dynamic marble, and the idea was that this mix of elements would evoke a feeling of being in a modern farmhouse kitchen, but in the middle of a bustling city outside.'
7. Keep the color palette warm and neutral
Minimalist spaces often stick with neutrals, but that's not to say the lack of bold color means lack of interest. The interest comes with a tonal scheme and plenty of texture. Now with classic minimalist style, colors tend to be taken from the cooler side of the color wheel – clean whites, greys, silvers – but with minimaluxe living rooms, kitchens and spaces it's all about those warm, natural, earthy tones.
'Selecting finishes and colors that are muted, neutral, and soft to the touch is the way to go with this soft minimalist style,' explains Bianca Betancourt. 'Eliminating the overuse of multiple heavy colors and patterns will help soften the overall space. But this doesn't mean the room has to be boring and plain.'
Choose kitchen colors with pink or brown undertones – think beiges, creams, terracotta, and plaster tones – and layer them up for a lovely tonal effect. Then let the textures and finishes play their part. We love how in this kitchen the color scheme is really simple but at every point, a new texture has been added and that mix of wood, marble, concrete, and plaster adds all the interest a kitchen needs.
8. Curate your clutter
One thing all takes on minimalism have in common is lack of clutter, or better said lack of purposeful, sophisticated clutter. Minimaluxe is definitely more about creating rooms with character, so there's going to be more on show than in a classically minimalist kitchen, but still everything feels curated for the space. If it doesn't add something beautiful, it's not visible.
'Organization and styling also play a significant role on the overall feeling of your kitchen. Eliminate clutter on your countertops, keep the number of appliances out in the open to a minimum, maintain the interiors of your kitchen cabinets, and perhaps take the time to reorganize the interiors every few months,' suggests Bianca Betancourt. 'Accessories and display items should positively impact the space and be gentle on the eyes. This is an opportunity to bring in more color, texture, organic shapes, and materials. Maintaining an organized, simplistic, and subtly designed space will influence relaxation, reduce stress, and will create an overall well-functioning space.'
This kitchen by Studio Zung gets it right. The decor adds more interesting textures and unexpected shapes and any crockery on show fits the minimaluxe aesthetic. Not a kettle or a toaster in sight.
'Interior architectural details were specified throughout the entire residence from the Dinesen flooring to the book-matched marble in the kitchen, wooden cabinetry, and color and material specifications for both the interior and exterior. Warmth, breadth, and simplicity are the key pillars that imbue this space. Each material holds an energetic quality to it. One does not have to be an architect or designer to feel it,' says Tommy Zung, Principal of Studio Zung.
9. Create subtle texture with plaster (over everything)
One of the defining qualities of minimaluxe kitchens is that they don't feel like kitchens. The traditional components you'd expect to find in kitchen – the stoves, the fridge, even the sink are often hidden, or subtly blended into the rest of the design. And you often won't find tile either. And this design by Colombe portrays that non-kitcheny kitchen perfectly. A durable plaster is taken not just onto the walls but every surface in the kitchen, which is really reducing the 'seams' of the space.
The studio's founder Marta Chrapka says that 'if I have the opportunity to do so, the best finish for a kitchen is mineral plaster, which beautifully absorbs the paint pigment and gently reflects the softened light. It's thanks to this finish the interior of this whole home still remains minimalist, but not raw and uncozy.'
'To warm up minimalist kitchens like this one, it is a good idea to add wood, just naturally oiled or in a light finish. I also really like glass fronts in cabinets, or contrasting interiors. Handles also play a big role – wooden or unvarnished brass will give a simple kitchen a warmer atmosphere.'
The Livingetc newsletter is your shortcut to the now and the next in home design. Subscribe today to receive a stunning free 200-page book of the best homes from around the world.
Hebe is the Digital Editor of Livingetc; she has a background in lifestyle and interior journalism and a passion for renovating small spaces. You'll usually find her attempting DIY, whether it's spray painting her whole kitchen, don't try that at home, or ever changing the wallpaper in her hallway. Livingetc has been such a huge inspiration and has influenced Hebe's style since she moved into her first rental and finally had a small amount of control over the decor and now loves being able to help others make decisions when decorating their own homes. Last year she moved from renting to owning her first teeny tiny Edwardian flat in London with her whippet Willow (who yes she chose to match her interiors...) and is already on the lookout for her next project.