How do you store clothes when there's no room for a closet? Experts on how to make an on-show wardrobe look good
Storing your clothes outside of a closet doesn't have to look messy and unorganized — here's how to make it work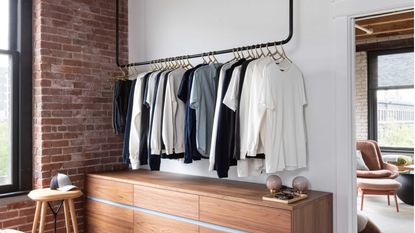 (Image credit: Photographer: Ema Peter. Design: Falken Reynolds)
While closets are, without a doubt, the most traditional way to house your garments, there's a number of other creative methods you could use to help hang up your clothes if incorporating a classic closet isn't an option.
As is the case when it comes to any storage set-up, closet organization is key. But when you're storing your clothes outside of your closet, it's also pretty important to give some thought and consideration to how you'll arrange your clothes on your storage solution of choice. For example, will you be hanging them in height order? Or will they be color coordinated?
'Sometimes, there is not enough space in a room to have a closet,' Tania Estevez, founder of the The White Interior Design Studio explains. 'It could also be that you prefer a more affordable solution to store your clothes. In any case, if storage is needed for your bedroom, there are solutions to solve this situation.'
From rails to hanging options and under-the-bed storage to baskets, we asked experts for their space-saving solutions along with some practical advice on how to keep your clothes looking neat, tidy and pleasing to the eye. Here's how to store clothes without a closet…
1. Hang up a wall-mounted clothes rack
If a dressing room, walk-in closet or freestanding wardrobe is out of the question, why not try hanging your clothes on a wall-mounted bar in your bedroom? It's a decorative and functional solution that designers at The White Interior Design Studio have used to help clients store all their hangable items.
Estevez explains, 'Think about this solution as a decorative element: the bar could be in brass and the hangings could be leather strips to make this look more luxurious.'
You could even take this design one step further and add a cabinet at the bottom, to help make way for more storage and decorate your walls too.
'The cabinet works also as a shelf, that you can style with beautiful items, keeping items that you don't want outside inside this cupboard,' Estevez adds.
2. Use a clothes rail
If you prefer to reserve your walls for pictures, shelves and other bedroom wall decor, you could always make use of some floor space and place a clothing rail in a corner, alcove, or as shown in this example, in the middle of a room to help zone your space.
If this idea is for you, just remember to give some thought and consideration to how you hang your clothes. After all, they'll be on display for all to see so you'll want to help keep them looking neat and tidy.
According to designers there are a number of ways to achieve this.
'You can arrange your clothes per color and organize items from dark to light for example,' Estevez says. But as Kelley Lentini, co-founder of House of Nomad tells us, 'It's not just about color grouping. It's also important to group them by hanging length: keeping dresses or longer coats grouped together and your tops separately. Don't forget about keeping the hangers pleasing to the eye too!'
While Sheena Murphy, founder of small design studio nune, which has locations in New York and London, recommends adding a beautiful piece of fabric as a curtain to hide things away.
'The curtain idea is absolutely an opportunity to create something beautiful,' Murphy says. 'Be it a simple remnant piece of linen in a pretty tone that compliments the room, or a piece of statement fabric to create a feature out of your storage nooks — whatever floats your boat!'.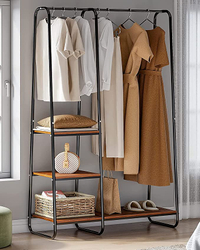 Just because you have a clothes rail on display doesn't mean it shouldn't be an aesthetic choice. This one from Amazon costs less than $70 and feels stylishly purposeful.
3. Make use of baskets
While dresses, jeans and bags can all look great on show, there may be a few items, like underwear or socks, which you won't want to see.
'Baskets make great replacements for drawers,' LA-based interior designer Breegan Jane says. Especially decorative ones that match the style of your room. They give you the opportunity to enhance the overall look and feel of your space.
'Try incorporating baskets with pops of color that compliment the rest of your furnishings, or baskets made of woven or rattan material for a more organic, natural vibe.'
What can you use instead of a wardrobe?
'The minimalist trend of using clothing racks isn't just a way to spend less and be thoughtful about what you buy, it's also a way to save space,' interior designer Noorein Kapoor tells us. 'Makeshift closets are a great idea to make your clothes and shoes part of décor. If you prefer not to look at your clothes all the time, divide a room with curtains to hide hanging rods or clothing racks. Use unique hangers and fun coloured storage bins to make it interesting.'
But along with clothing rails and open shelves which you could cover with a curtain, as seen in this design by boutique interior design studio Avenue, you could also try storing a large proportion of your clothes under the bed. Especially if you tend to switch your wardrobe with the changing seasons.
'You can use under-the-bed storage containers to store the clothes,' Kapoor adds. 'Pick up some storage baskets and use those for storing off-season clothing such as sweaters in the summer and bathing suits and coverups in the winter.'
The Livingetc newsletter is your shortcut to the now and the next in home design. Subscribe today to receive a stunning free 200-page book of the best homes from around the world.
Becks is a freelance lifestyle writer who works across a number of Future's titles. This includes Real Homes, Top Ten Reviews, Tom's Guide, TechRadar and more. She started her career in print journalism at a local newspaper more than 8 years ago and has since then worked across digital and social media for food, fashion and fitness titles, along with home interior magazines. Her own interior style? She's big on creating mindful spaces in every corner of her home. If it doesn't spark joy or happiness, it has no place here. When she's not writing, she's reading and when she's not reading, she's writing.