How to make your bedroom look more luxe – 6 tips for designing the ultimate space of your dreams
6 ways designers use to make bedrooms look more luxe that are a lot easier (and less expensive) than you think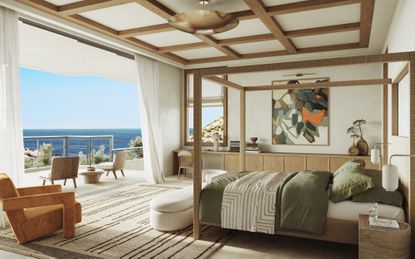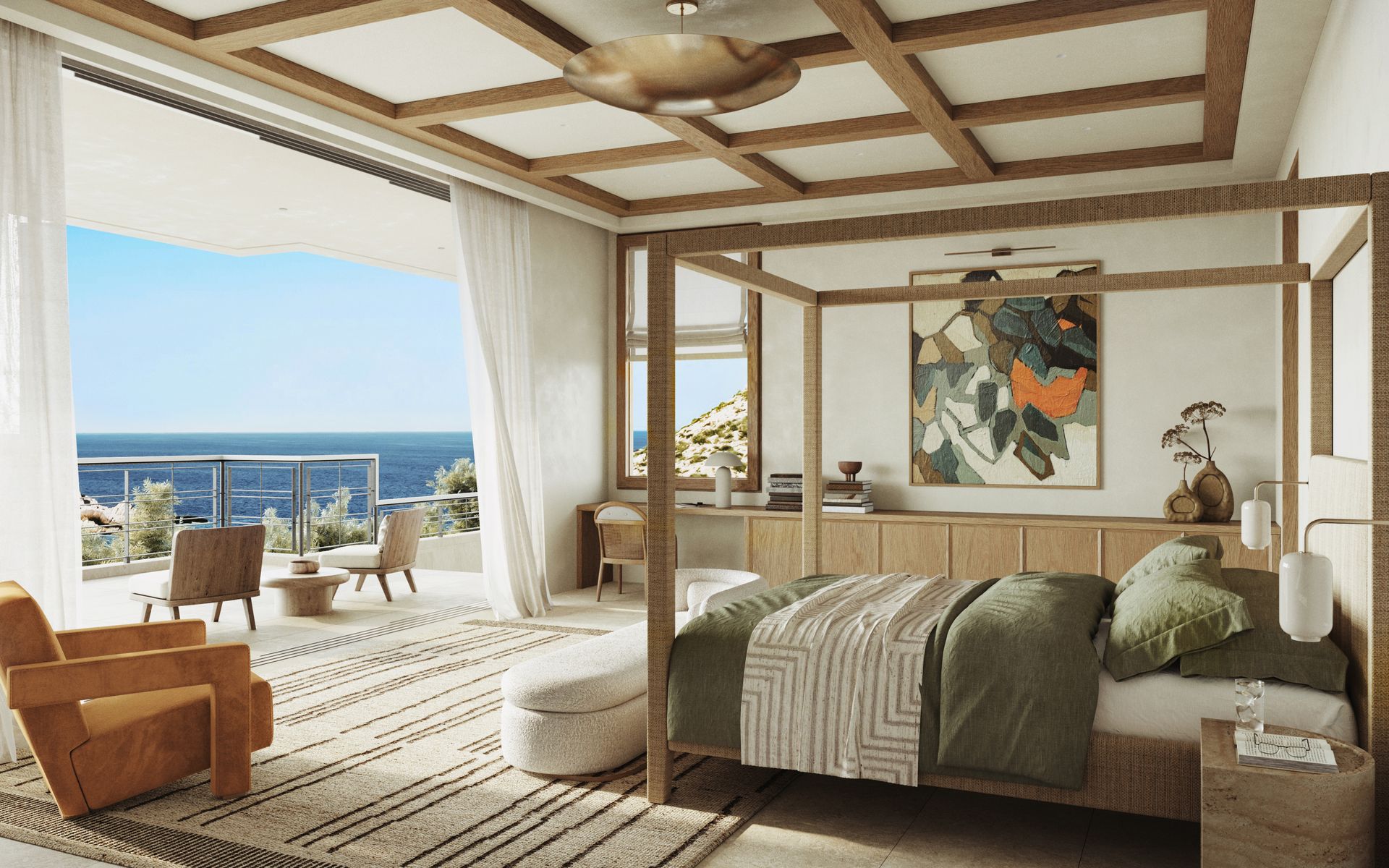 (Image credit: Noa Santos)
The Livingetc Newsletter
For style leaders and design lovers.
Thank you for signing up to LivingEtc. You will receive a verification email shortly.
There was a problem. Please refresh the page and try again.
Always wanted a hotel or a resort-style vibe in your bedroom? The good news is, it's not that difficult to convert yours into a plush space that spells pure luxury. You don't need to completely redecorate. All you need is to bring in a few new decor elements or tweak the existing space.
We spoke to top designers in the world to help us out with fresh ideas and smart tricks. So sit back and learn. These expert-approved styling tricks will show you how to design the bedroom of your dreams.
1. Panel the walls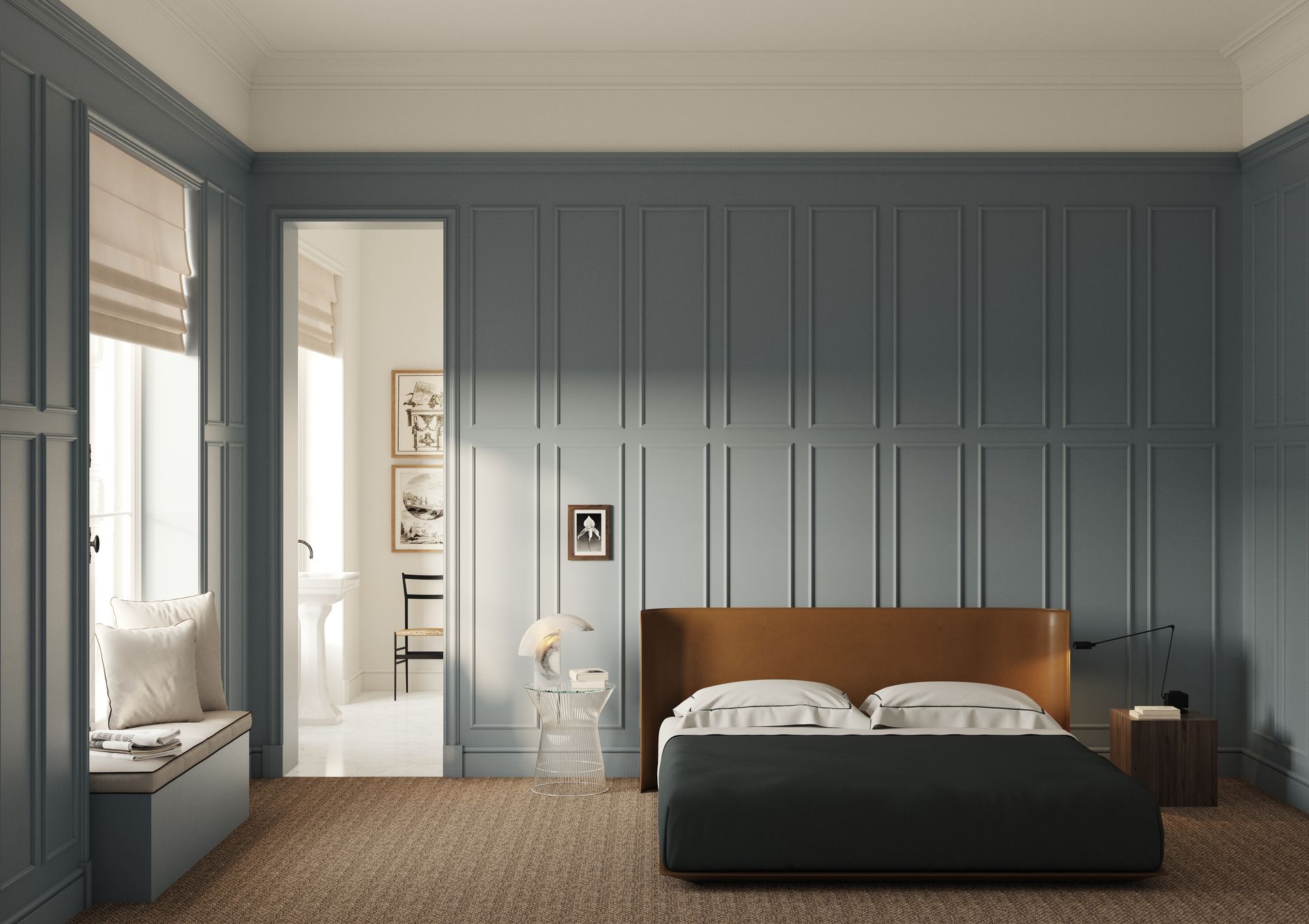 Some of the best modern bedroom designs are all about adding texture and depth to the space. Paneled walls can instantly inject more substance and stylish character. While this interior detail may have traditional roots, there are several modern ways to use it to your advantage. Whether it is painted or wallpapered panels, these add a sense of luxe.
Another great way to modernize paneling is to turn it 90 degrees on the horizontal. Use this feature to boost the height of your room, and to give it a 3D effect.
'In this typically Parisian apartment, the long panels made from fine moldings accentuate the height of the room whilst enhancing its architectural lines,' says Gert Noël, founder of Noël & Marquet.
2. Color drench the room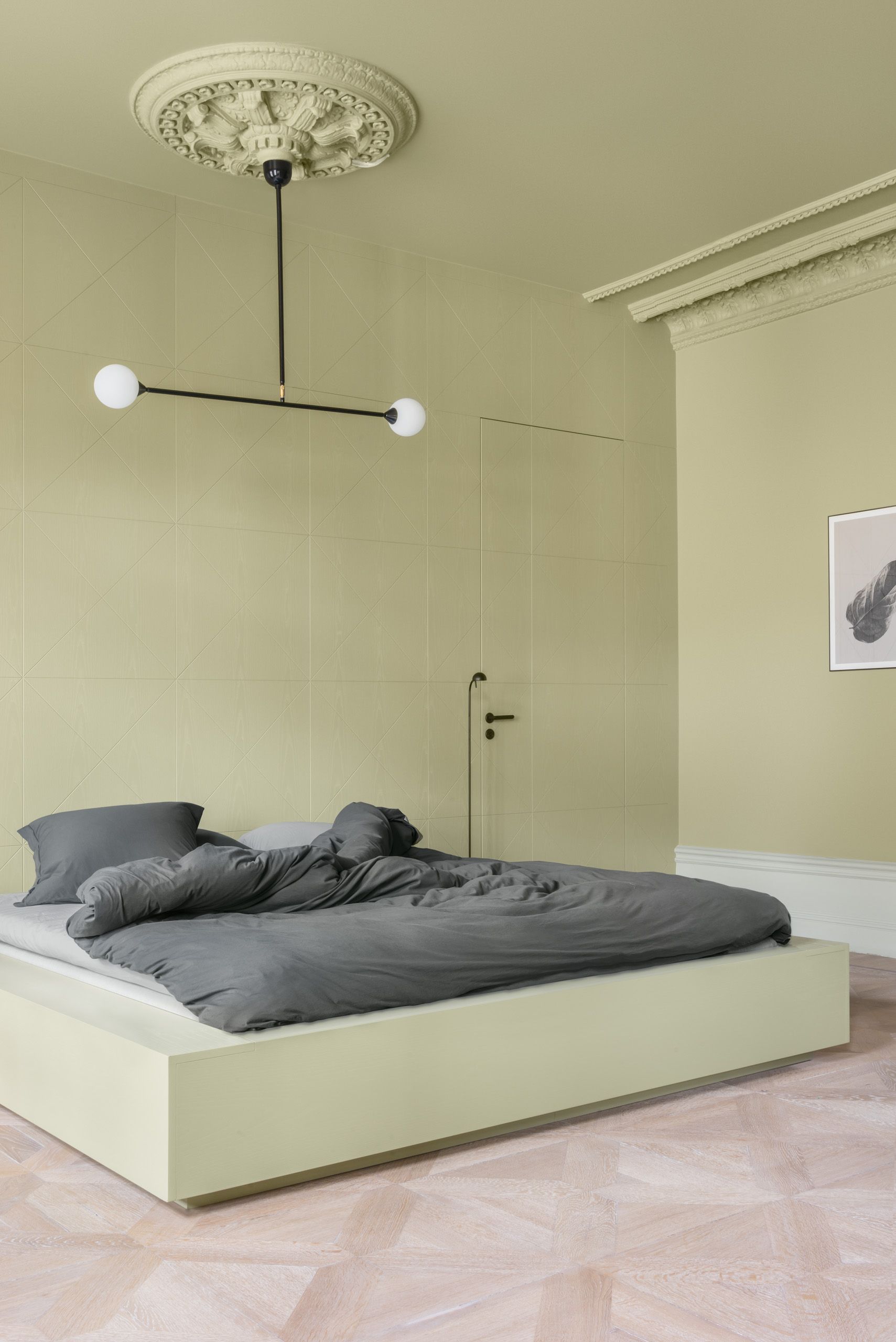 Painting the ceiling and walls the same color can give the room a calming and luxe feeling, as if you're floating in the pool (blue) or are in a lush forest (green). Consider colors that are visually pleasing and do not make the space feel too dark or closed in. Tones such as sage green, sky blue, soft pink, and light grey are great options.
'We aimed to not disturb the original features of the apartment as much as possible,' says Elly Lok Tung Chan of Note (Design Studio). 'A color palette based upon the original finishes, decorative ceilings, and carpentry and an original pattern from a floor were chosen. The result is a harmonious but rich color experience – inspired by the original splendor – and a new home for the family.'
'I think almost every color can be luxurious in a lighter tone,' says Shona McElroy, founder of Smac Studio. 'I always encourage clients to go tonal in the bedroom, as it should feel cohesive and calm. So if we have a green bedroom, for example, our headboard will be a pattern or variation of green, as well as our walls and ceilings, our rugs, or cushions.'
'Limewash paint is even more luxurious as it adds depth and character,' say Jen and Mar of interior design company Interior Fox. Consider this fresh and soft green tone reminiscent of the outdoors, and drench your room in it.
3. Install an eye-catching chandelier - or two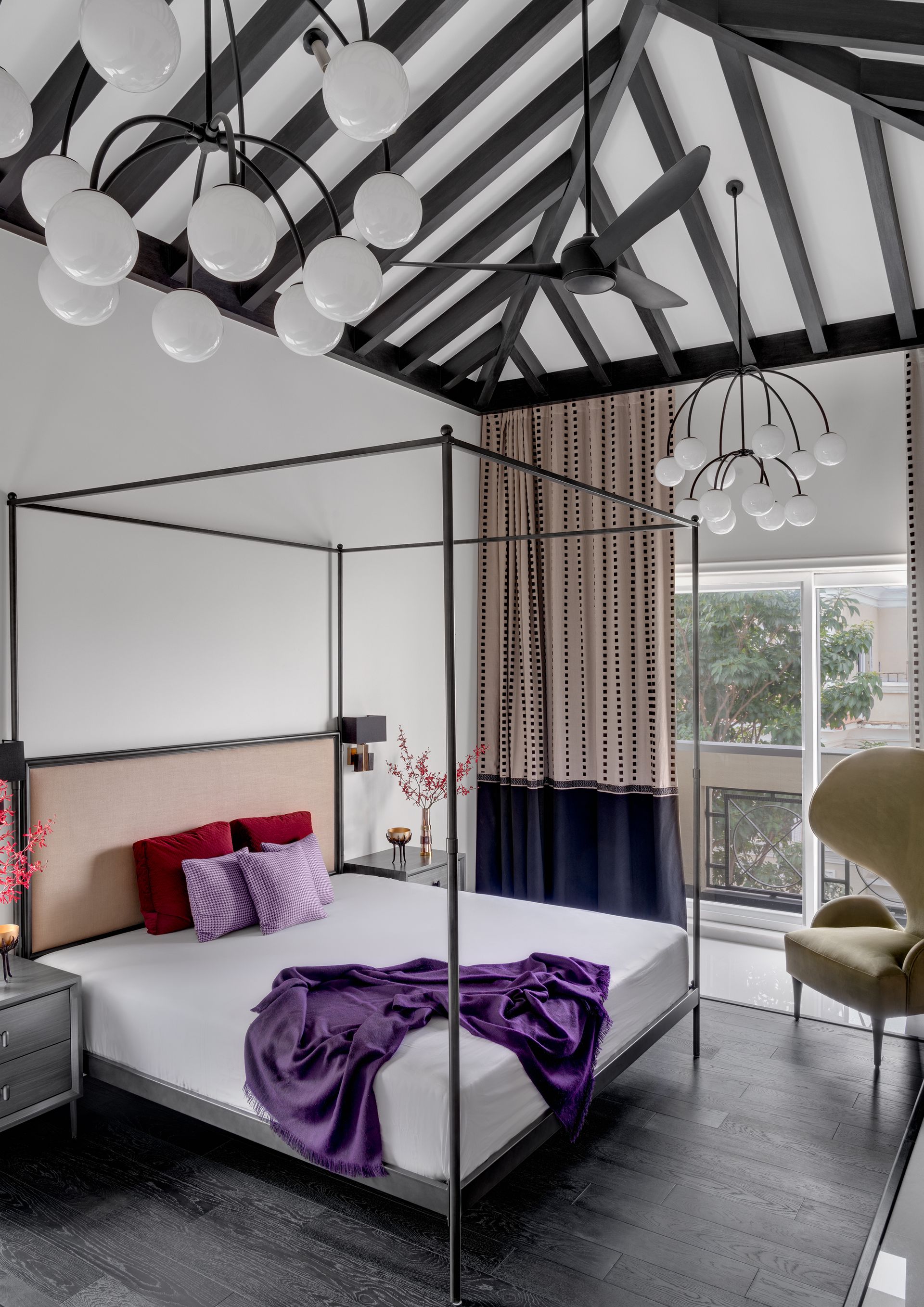 Nothing says luxury better than a bedroom chandelier. The scale of the piece and the illumination it throws can truly transform a room from staid to spectacular.
'This is the Umbrella Chandelier product, specially customized for this master bedroom,' says Arjun Rathi, founder of Arjun Rathi Design. 'The chandeliers, inspired by Umbrella frames, are minimal and modern in aesthetic; with metal frames and hand-blown glass globes and designed with dimmable LED lighting such that they can serve functionally as well ambient lighting. The versatility of the design allows it to be scaled up, and made in several materials.'
Chandeliers apart, 'wall-mounted lights on either side of the bed, even if they are plug-in, can give a space a high-end look,' say Jen and Mar. 'Getting the lighting off the bedside tables and onto the walls will look more luxe and give you more surface space.'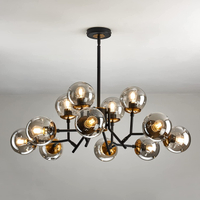 Choose this ceiling light with 12 bulbs to give your bedroom a grand look, and to swath it in a warm glow.
4. Design an architectural ceiling molding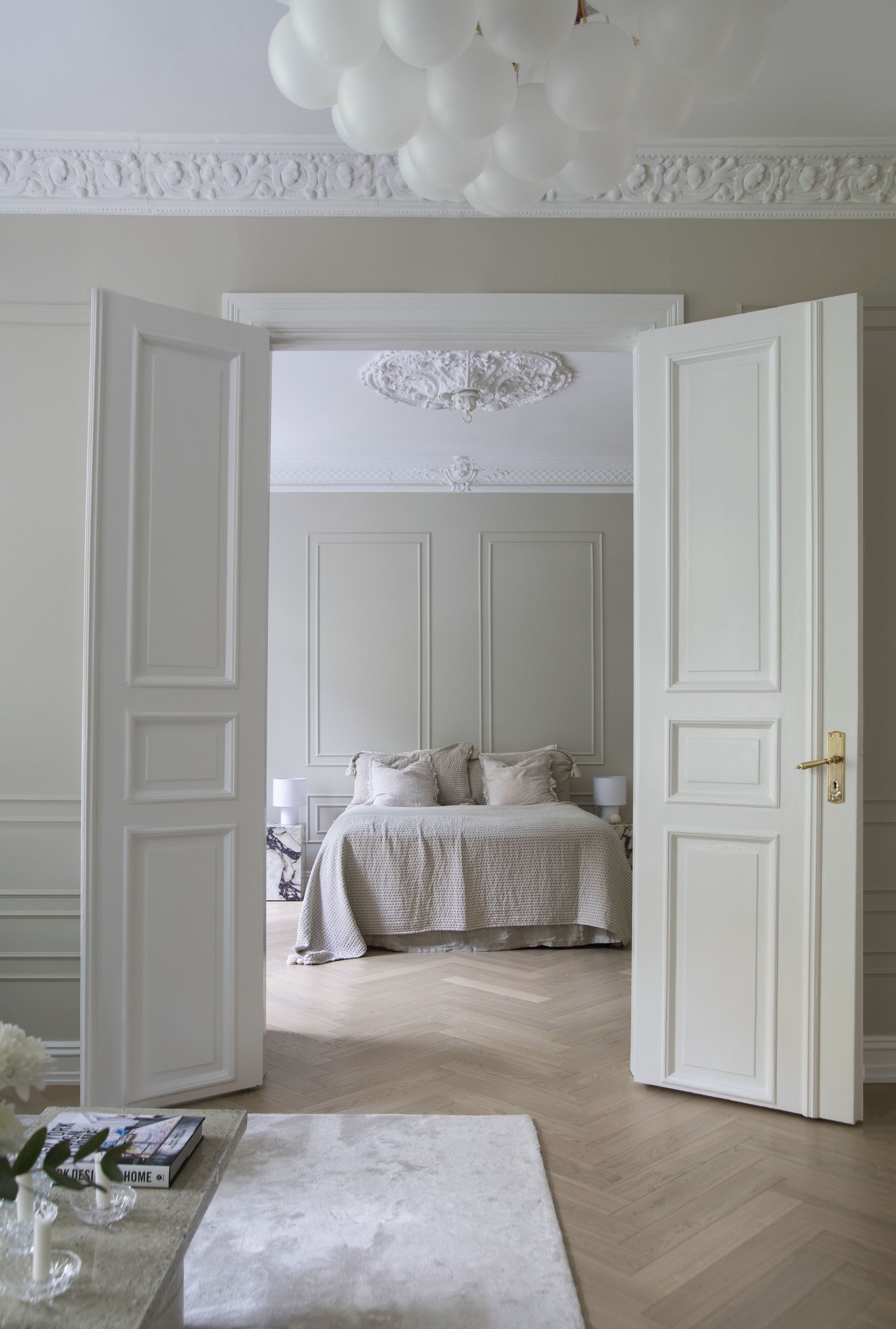 Older, vintage homes are usually equipped with great crown moldings that give the space a regal feeling. But if you live in a modern building that does not have any decorative architectural elements then you could always opt to get one designed for your space.
Crown molding will give your master bedroom an antiquated character, charm, and detailing like no other element. The texture will add depth and character. Want to inject another layer of design? Pair the ceiling with a gold leaf wallpaper or one that has a more Victorian feel. Colors such as purple, maroon, and emerald green will go well with a jewel-tone palette for a high-end look.
5. Create a lounging space in the bedroom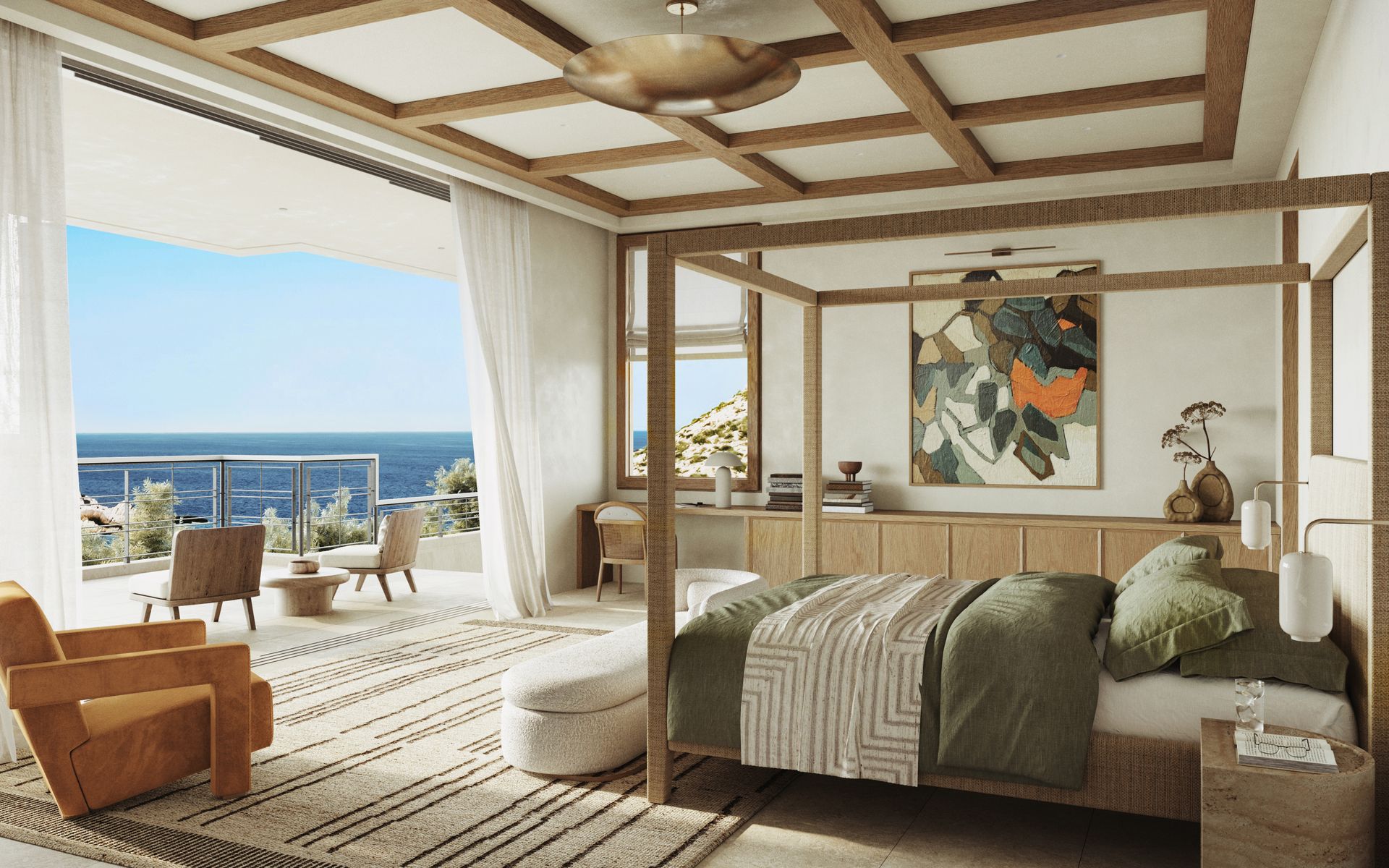 Among the many things we all love about hotel or resort bedrooms is the wonderful lounging space available in the room. This is a great bedroom idea for couples as they can share a morning tea, snack, or a glass of wine in the comfortable confines of their room. This is also a great spot for an intimate conversation with a friend. If you have the luxury of space, set up two sofas and a coffee table diagonal to the bed. And in a smaller space, even two chairs can work well.
'Opt for beautiful furniture pieces that are functional rather than just stylish,' says Lindye Galloway, founder, and chief creative officer at Lindye Galloway Studio + Shop. 'In smaller rooms, a small bench at the foot of your bed can offer extra seating when there isn't room for an extra armchair seating area.'
6. Boost the dimensions with a large, vintage mirror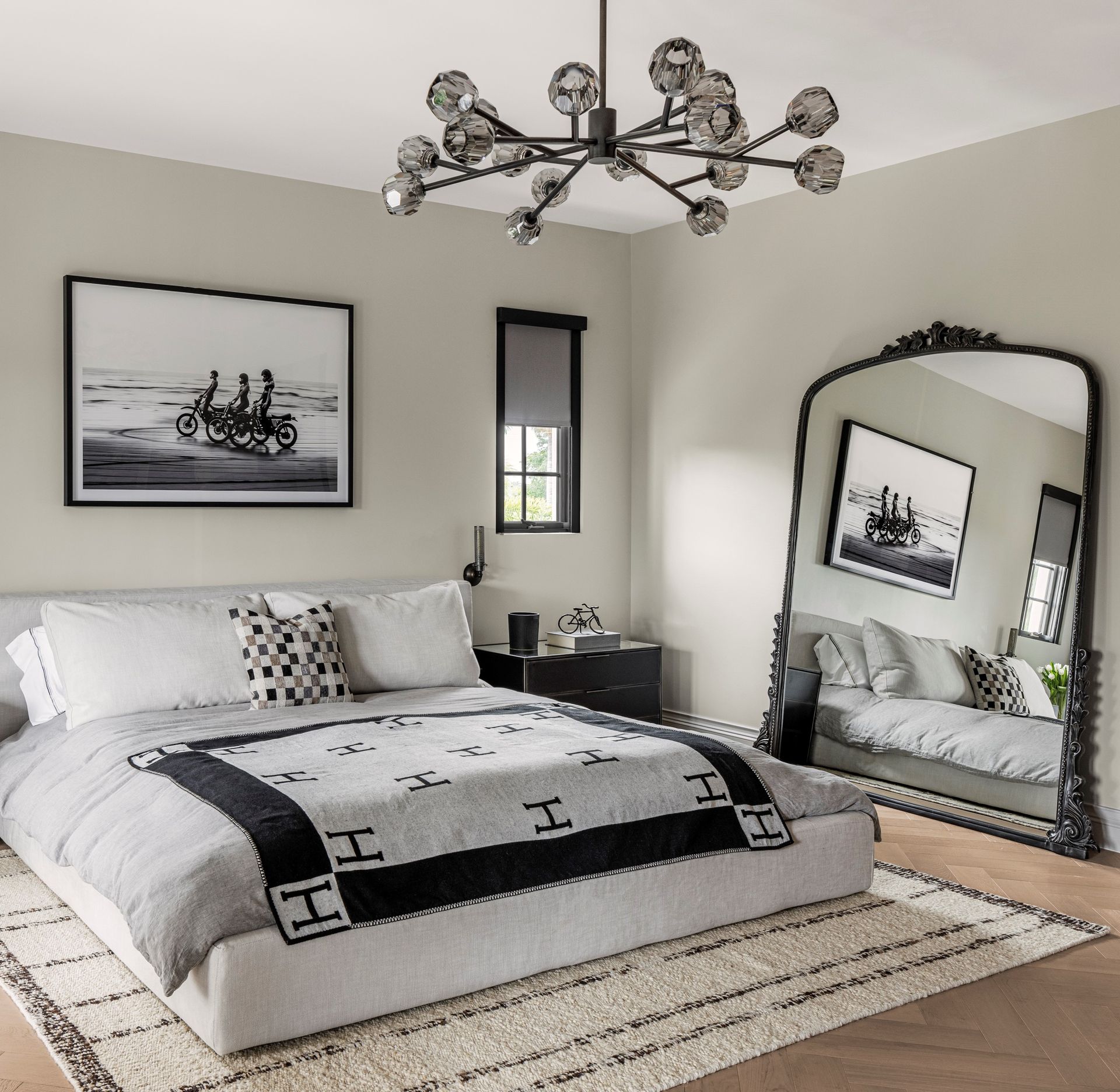 Mirrors are not only a great way to dress up a wall but floor-installed, oversized pieces in beautiful, carved frames can also influence the look and vibe of a room. Bedroom mirrors boost light in the space and can create the illusion of a bigger room.
To give your room an elevated look, consider a vintage-style mirror. Paint it a more modern color such as black or blue, so that it goes well with your contemporary aesthetic yet stands out in the room.
'This mirror was intentionally selected to incorporate the mixture of contemporary and vintage furnishings, which is what the overarching narrative of this project portrays,' says Miami-based designer, Brittany Farinas, founder of House of One. 'For the color palette, we chose a minimalistic and monochromatic tone, with layered shades of earthy tones such as grey, brown, and black. As a result, the room feels very grounded and calming, which is exactly what we were looking to achieve.'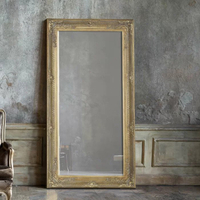 Bring in this antique full-length mirror with a gold finish to add an elegant touch to your bedroom room. The wood frame has decorative molding, with plain mirror glass.
For style leaders and design lovers.
Aditi Sharma Maheshwari is an architecture and design journalist with over 10 years of experience. She's worked at some of the leading media houses in India such as Elle Decor, Houzz and Architectural Digest (Condé Nast). Till recently, she was a freelance writer for publications such as Architectural Digest US, House Beautiful, Stir World, Beautiful Homes India among others. In her spare time, she volunteers at animal shelters and other rescue organizations.