How can I make my deck more inviting? 10 tricks designers use that will make indoor outdoor living feel effortless
Make your deck more inviting, cozy and enjoyable with these clever ideas for seating, planting, lighting and more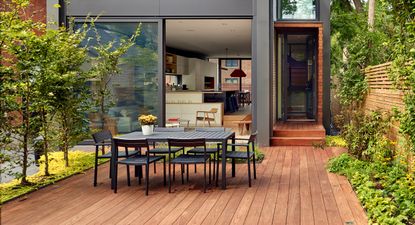 (Image credit: Dubbeldam Architecture + Design. Photo credit Shai Gil)
The Livingetc Newsletter
For style leaders and design lovers.
Thank you for signing up to LivingEtc. You will receive a verification email shortly.
There was a problem. Please refresh the page and try again.
Want to make your deck more inviting? It's all about including the right seating, furnishings, and lighting to ensure your outdoor space lives up to its full potential. After all, this is a space where you entertain, socialize, cook, and even spend some quality quiet time all by yourself.
But making your backyard inviting is a difficult quality to define - so how can you create the sort of outdoor space that just beckons you outside? We spoke to exterior designers to understand how to upgrade this area's style, function, and comfort. Take a look at these backyard deck ideas for inspiration.
1. Create a cozy outdoor seating
Cozy up the outdoors with interesting decking furniture – include sofas, recliners or chairs, and even effective lighting and cooking equipment to improve overall flow. Envision this space as a second living room. If you have a smaller deck, consider built-in seating to maximize the space.
This patio, created by Robert Sweet, founder of the ras-a studio, uses a seating arrangement that makes entertaining outside just as comfortable as indoors.
2. Add a swing
Inject a fun and lively vibe to your backyard deck with a swing. A flexible and easy-to-install furniture piece, it adds a wonderful design touch and oodles of comfort to the outdoors.
One thing to keep in mind is to make sure your porch or pergola is strong enough to support a swing. Consider using a stud finder to look for ceiling joists in a porch, for example, to which you can anchor the swing.
'The obvious concern when designing an outdoor swing, is to make sure the structure above is strong enough to support it,' says Andrew Mann, founder of Andrew Mann Architecture. 'Beyond that, the practical goal is to provide enough space in front and behind to allow movement. But the key thing is to orient the swing towards something lovely to look at, be that a faraway view of hills or water, or the intimate confines of a small, lovely garden. It's a great place to while away the hours.'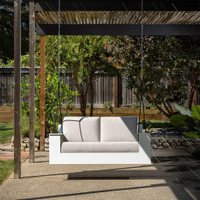 Consider this all-weather swing designed with durable Sunbrella fabric and a recycled plastic frame, ideal for warming up the porch or deck.
3. Make it feel like it's surrounded by nature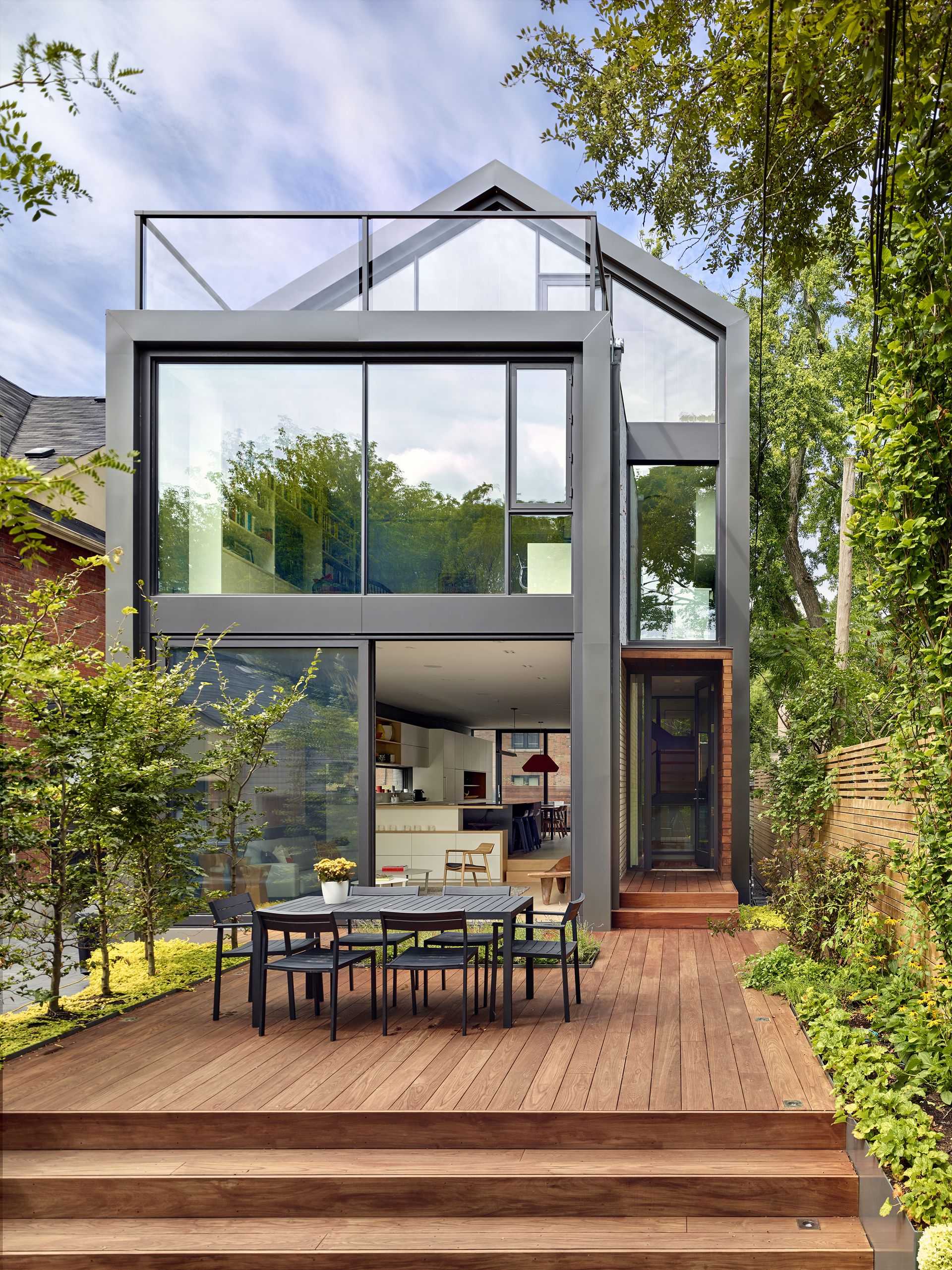 Even in an urban garden when you've got small garden decking, it's possible to make this area feel like an escape into nature, whether that's by planting trees and hedges, or just adding a few more potted plants into the mix
That was exactly the goal for this modern backyard 'Our clients used to spend their weekends at a country home, next to a small stream and surrounded by trees,' says Heather Dubbledam, founder of Dubbledam Architecture + Design. 'They wanted to emulate this bucolic experience in their urban home.' By planting trees and flower beds that sit flush to the deck, they've brought a natural touch to the space that makes it feel like it could be in a rural setting.
'You could also consider large planter pots when filling a space with greenery and earthy elements,' says Bea Pernia, founder of Bea Interior Design.
4. Create multiple spaces to congregate in your backyard
When you have a sloped, long, or expansive outdoor area, splitting up the deck into multiple hangout zones can make the best use of the space. Along with a pool deck, add different types of lounging opportunities, with a formal dining table, more laid-back seating, and one that is next to the water.
You could also add an outdoor kitchen to the exteriors so socializing of all kinds can be easily conducted outside.
5. Add lounge chairs to the deck
'By adding a sectional or outdoor chaise lounges along with a coffee table you will always be encouraged to sit outside,' says Bea. 'To add to the ambiance, install LED lights for the perfect, most inviting deck.'
A big outdoor furniture trend is to choose seaters that can be used indoors and outdoors. So pick chaises, sofas, or stools that can be moved around in and outside the home. Furniture made in natural materials like teak, stone, or concrete can stand the test of time and last a long time.
6. Design sunken seating into a deck
If your deck is already designed in layers, make the most of the unusual layout to create cozy seating systems. Well suited to modern and contemporary homes, a deck like the one shown here makes for a striking addition; like a private, intimate spot for friends and family.
The curving, sunken deck that steps down to seating provides a secure feeling and a bit of a windbreak. 'The change in elevation in the deck is managed by an elaborated sequence of stone steps and wide platforms, dispensing the need for handrails and enhancing the feeling of openness,' says Michael Amantea, founder of Amantea Architects. 'A buffer of high planting inserted between levels provides a degree of containment and separation. From the lounge deck, a limestone bridge leads to the landscape's focal point – a 55 square-foot pavilion set behind the pool and tucked into the back corner of the property.'
7. Create a space with wow factor
Create an inviting, stylish, and eye-catching outdoor dining by raising it above the level of the deck, and enhancing it with high-end materials and elements. By separating it from the rest of the exteriors, you can give the seating a special identity and privacy. It also makes this area stand out in the exteriors – like the focal point of the home.
'Designed by Mutation Lab, this structure stands in a reflective pool of its own,' says Huzefa Ranrangwala, founder of MuseLab. 'The table is in amazonite, custom designed by us and built on site. A bespoke deep red canopy lighting made in reflective metal sheets helps bounce light from a single source. The floor is kadappa with brass inlay.'
8. Create a covered deck for all weathers
Consider a screened-in porch deck for a cocooning feel while safeguarding the space from rain, hail, snow, and storms. A glass enclosure could work perfectly well as it doesn't hinder sightlines and makes the space feel one with the outdoors. A roof with a skylight is a great way to give the deck a conservatory feel.
A roof built in glass aside, you could also consider retractable roofs so they can be opened and closed off to the elements as per your need and mood.
9. Pepper the space with casual seaters
Make your outdoor seating the most comfortable, sink-in space where you can practically spend an entire day in. For that, the most essential is to choose seaters that have a casual, laid-back vibe. Low, close-to-ground pieces made in fabric or acrylic can do the job.
Choose indoor-outdoor fabrics (the best invention since furniture markers) and invest in cushions and pillows in fade-resistant and mildew-resistant fabrics. Create intimate seating arrangements, and provide tables and adequate lighting.
10. Cozy up the set up with a fireplace
There's nothing cozier than sitting with close family and friends, sharing intimate conversations around an outdoor fireplace. The easiest way to warm up the outdoors quite literally is with a fireplace.
Even with simple architecture, an outdoor fireplace can be customized and accented with the choice of surround and mantel materials. Plus there's a wide range to choose from – electric fireplaces that are portable, wood stoves, to even sleek gas-powered fire tables to add a snug vibe.
For style leaders and design lovers.
Aditi Sharma Maheshwari is an architecture and design journalist with over 10 years of experience. She's worked at some of the leading media houses in India such as Elle Decor, Houzz and Architectural Digest (Condé Nast). Till recently, she was a freelance writer for publications such as Architectural Digest US, House Beautiful, Stir World, Beautiful Homes India among others. In her spare time, she volunteers at animal shelters and other rescue organizations.