How to design the perfect kids' homework area - 6 steps to creating space that's cool for school(work)
Experts reveal the art of blending style and substance for a stylish and inviting homework station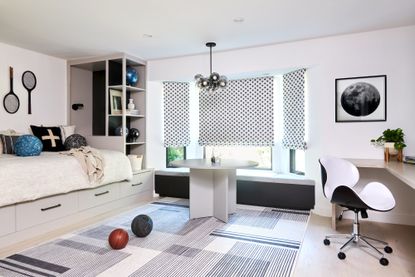 (Image credit: LH. Designs/Lauren Taylor)
The Livingetc Newsletter
For style leaders and design lovers.
Thank you for signing up to LivingEtc. You will receive a verification email shortly.
There was a problem. Please refresh the page and try again.
When thinking about how to design the perfect kids' homework area, it's important to marry the practical with the pretty to make doing homework as seamless as possible and that little bit more appealing.
But what are the things to think about when creating the perfect space for a kids' room to work in?
'Some things to take into consideration is what type of work your kid will be doing in the area, says Linda Hayslett, Principal, LH.Designs. 'If they have large artwork they have to do or a lot of mathematics and will be looking down a lot, this can help determine things such as the size of the desk needed, lighting needed, and more.
'If you don't have a lot of room for a good work area, make sure that lighting is dimmable and adjustable and that they have a good surface area to concentrate on.'
Linda continues: 'If you're unable to get a big desk, then the position in a room will be important. Facing a wall, may not be the best thing, unless right next to a window. You don't want your child to feel like they are being punished when going to do homework. If facing a wall is the only area you have, then make it a fun spot with cool wall storage, fun lighting, and interesting artwork for motivation.'
How to design the perfect kids' homework area for a balanced blend of form and function
'Form and function should go hand in hand for a kids' homework area,' says Linda Hayslett. 'Function is always important, but if the form isn't interesting or conducive to how a kid's habits are then it won't matter if the function is doing its job.
'Making sure that you incorporate interests of the child's hobbies, and understanding what type of work they are doing at school can help determine how much organization is needed,' she continues. 'Knowing what they are involved in with their homework can help determine if you need a large desk for a specific class or if you need a lot of baskets or storage bins for supplies. Once you figure that all out, planning out the homework station gets easier.'
See more expert tips on how to design the perfect kids' homework area below:
1. Pick a position
Whether you choose to make the most of an awkward alcove in a small bedroom, go for a built-in bespoke space, set up a whole separate room, use an empty corner, or add a desk to as part of your living room or kitchen will be determined by your child's needs and home's layout and size.
'Consider how your child learns,' suggests Ginger Curtis, President of Dallas-based Urbanology Designs. 'Do they work better in a community setting like the kitchen, or do they need a quiet place to retreat like their bedroom?
'I have one daughter that prefers to retreat to the quiet of her room and another who wants to have easy access to her dad or I for questions/feedback. This will help you determine the best area of the home to set up their homework nook.'
Kristen Pena, of K Interiors, agrees a separate space as well as a nook in a familial area can be beneficial.
She says: 'We like to provide kids a dedicated area in their room to do homework, but often we also provide another more public space in the home if we have the luxury. Sometimes kids want to be around the family, or parents want to oversee or aid in the kid's homework so having a couple of options is nice.'
It doesn't need to take over your whole floorplan, though. 'A nook in a public space or a desk in the family room is good to have,' Kristen adds. 'In-bedroom workstations are lovely because we can build in storage and places to stash things to keep their rooms tidy, too.'
2. Use the vertical space
Empty wall space is wasted wall space when it comes to designing the perfect kids' homework area.
Whether you use it for floating shelves, cabinets, or for a cool piece of art, make sure you use the vertical space, and think upwards.
Ginger Curtis says: 'Make the most of your wall space by incorporating tall bookshelves, wall-mounted cabinets or floating shelves.
'This helps free up valuable floor space, particularly for small bedroom layouts, while providing ample storage for books, decor items, or school supplies.'
Linda Hayslett, Principal, LH.Designs, says pin boards are a great option for kids to display personal items.
She comments: 'Using walls is a great way to use up space as then a child can see their options quickly and easier. I think kids should have wall panels or cork boards to put things up on at their desk area.
'Kids are naturally collectors of items, so having a place to easily display achievements or just fun pics of friends and family for motivation during homework sessions is always nice to have.'
3. Think carefully about furniture
Future-proof your kids' homework area by investing in furniture that will stand the test of time and grow with your child and their needs.
'When looking for a desk, be careful to not purchase something too small they will quickly outgrow,' advises Urbanology Design's Ginger Curtis.
'Look for something that they can grow into and opt for a chair with adjustable height instead. Avoid MDF as the main surface as this will not stand up to wear and tear over the years, like something made from solid wood or metal.'
For Linda Hayslett, of LH.Designs, a comfy chair is key. She comments: 'One essential for a kid's desk area is a nice comfortable chair that they can sit up properly in. This helps with when they have long hours of studying to do, but the chair also needs to have other options of comfortability as we also know many kids these days play games for hours on their computers. So, their chairs need to also have a relaxed setting.'
4. Remember that storage is key
Bedroom storage is always important, but baskets, drawers, trays, organizers and pots are all essential for a perfectly functioning kids' homework station.
'Storage is always important for any kid's homework area,' says Linda Hayslett. 'Having baskets designated for specific supplies or a small floating shelf to easily organize small items such as pencils, erasers, paper clips and more, are great solutions for a kid's desk area.'
Also, she says: 'Kids are always messy, so having trays, baskets, and vessels where you can store items can keep their space feel more productive when they need and the parents a little less stressed that the kid's aren't procrastinating and are actually doing their homework.'
Kristen Pena suggests making the most of the under-desk space, saying: 'Under a desk is a no-brainer for drawers. Baskets, trays, drawers, whatever system works for the kiddo is the best fit. And we often carve out a portion of the closet for the printer and extra necessary supplies.'
And Urbanology Designs' Ginger Curtis adds.'Drawers are really important for a kids' homework area. They need to be able to quickly store items that might overwhelm their workspace.'
5. Layer the lighting
The perfect kids' homework area would ideally be positioned next to a window to offer an abundance of natural light and alleviate eye strain.
If the bedroom layout or room design doesn't lend itself to this, then consider layering the lighting to offer a choice of levels for different tasks.
'Consider adjustable lighting options to create different moods, such as task lighting for focused work or dimmable ambient lighting for relaxation,' suggests Ginger Curtis.
LH. Designs' Linda Hayslett says: 'Lighting is important for a kid's homework area as they can have work that is tedious or things that are simple and fun. Making sure that there is dimmable task lighting, yet natural lighting for different activities is important.
'Nighttime lighting will be different than day, so having options for the kids is key. An arm swing light or adjustable light are always an easy solution for the kid's desk.'
And K Interiors' Kristen Pena agrees it's important to offer good nighttime lighting for those up-late homework marathons. 'Natural lighting is always preferred,' she says. 'It just makes you feel better but, in homework areas, let's be honest, we need ample task lighting for the late-night homework!'
6. Don't forget the decor
'Make a homework area seem more appealing by styling it with cute accessories that hold supplies,' says Linda Hayslett. 'Also, adding some plants or fun artwork can really help kids when they need a push through some of those tough school lessons. Even fun pushpins for their cork board just give that little extra oomph in making homework seem less annoying and more interesting.'
And Kristen Pena says opt for greenery and art to make the space more inviting, adding: 'Books, plants, and baskets are always easy to keep a study space looking neat. Layer some framed art and lean it against the wall to fill extra space.'
For style leaders and design lovers.
Ruth Doherty is a lifestyle journalist based in London. An experienced freelance digital writer and editor, she is known for covering everything from travel and interiors to fashion and beauty. She regularly contributes to Livingetc, Ideal Home and Homes & Gardens, as well as titles like Prima and Red. Outside of work, her biggest loves are endless cups of tea, almond croissants, shopping for clothes she doesn't need, and booking holidays she does.