How to design an affordable kitchen that looks luxe - 7 ways experts go upscale on a budget
Designers reveal their top tips on how to get a luxe look without breaking the bank, the small touches that can go a long way to making kitchens look more expensive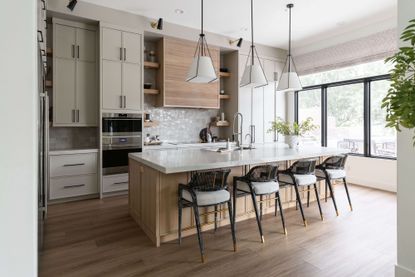 (Image credit: Living with Lolo/Life Created)
It's true: kitchen remodels can be hugely expensive. However, there are a number of tricks you can employ to help you design an affordable kitchen that looks luxe without having to stretch the budget.
From making sure to elevate the aesthetic with carefully curated hardware to ensuring you have a layered lighting scheme in place, there's a host of designer tips for a modern kitchen that will help to create a luxe look without breaking the bank.
How to design an affordable kitchen that looks luxe
When it comes to designing an affordable kitchen that looks luxe, clever tricks like open shelving, thoughtful material choices and a good lighting scheme will all help to elevate the overall look.
We've tapped a host of designers below to help you get started with creating an upscale aesthetic that won't put you on bad terms with the bank manager...
1. Make sure you have a good lighting plan
Lighting is key to creating a space that works on different levels to serve all the functions a contemporary kitchen needs to do in a modern home, from cooking to socializing and entertaining.
'In a modern kitchen, a good lighting plan is absolutely essential, probably more than any other room,' says Mindy O'Connor, Principal Architect and Founder of Philadelphia-based Melinda Kelson O'Connor Architecture & Interiors.
'For us, this involves a layered approach that will create a well-lit but also responsive atmosphere for different times of day and uses. I like to establish a perimeter of recessed lighting to illuminate work counters and high-traffic areas.
'Decorative fixtures with more central kitchen island lighting or main space lighting add both a striking visual element and additional general light. Decorative scones are perfect to highlight walls or above windows and provide low-level atmospheric lighting and another pretty feature.
'Lastly, in-cabinet lighting will accent glass cabinets, while under-cabinet lighting will brighten dark corners under the cabinetry.'
Mindy adds: 'Most importantly, create separate switching and dimmer capabilities for each lighting type so that the volume and depth of lighting can be adjusted to respond to cooking or entertaining needs.
'Altogether this makes for the most flexible plan that will rely on natural light whenever possible but also fully adapt to lack of lighting and establish varying moods or light levels depending on the functions and habits in the house.'
2. Choose statement lighting over a kitchen island
One particular style of lighting that really elevates a kitchen is kitchen island pendant lighting. Investing is two or three statement pendants will offer a luxe look that doesn't cost a bomb.
'We love adorning the kitchen island with two to three pendants that infuse a harmonious vibe into the space,' says Living with Lolo's Lauren Lerner. 'We carefully select ones that add captivating texture, enhancing the area's charm and allure.
'A quick rule of thumb is that you want there to be about 20-30" between the fixtures and there should be about 12-15" from the end of the pendant to the end of the countertop.'
And Ginger Curtis, CEO and Founder of Dallas-based Urbanology Designs, agrees they can really lift a space, adding: 'Update your tired kitchen pendants to bring new life and new love to your kitchen. Swapping out outdated lighting for something updated is one of the most impactful and relatively simple ways to add that wow effect.'
3. Include open shelving to elevate the space
'Open shelving can make your kitchen feel more expansive and spacious,' says Victoria Holly, Principal and Founder of LA-based Victoria Holly Interiors.
'They provide an opportunity to showcase your favorite collected items, beautiful dishes and glassware, and functional items like spices. It's beautiful but also functional.
'With open shelving, everything is within easy reach and this convenience can be a time-saver, especially when you're cooking. I love being able to see everything I need when cooking or entertaining. And for the things I don't want to see: I put those in my lower cabinets or in the pantry.'
Victoria also points out that open shelving allows you to update your display items and give your kitchen an easy refresh whenever you feel it needs it.
She continues: 'Open shelving also allows you to change the look of your kitchen easily. By simply swapping out decor items you can easily change the style of your kitchen, especially if you have a neutral space.
'Use glass containers for storing things such as spices or pasta - this way you can see what you have but it also looks cohesive.'
4. Go dark for a luxury aesthetic
Choosing dark kitchen cabinet color ideas in the design phase will help to create a luxe look even if the base is from a budget-friendly range.
'Darker colors such as black, deep green, and navy help make your home look more expensive,' says Blythe Interiors' Jennifer Verruto. 'They add richness and intention to the space, especially if art pieces and scale are used properly to break it up.
'I like to use these colors on lower cabinets or islands to anchor a kitchen. The space can still feel light and airy by contrasting the dark paint colors with bright whites and mixed metals, mirrors, and larger scale artwork.'
And, if you're not designing a kitchen from scratch, you can always update your existing kitchen cabinets with a fresh lick of paint.
Urbanology Designs' Ginger Curtis says: 'If you're struggling with outdated kitchen cabinets, one of the best ways to update the space is to have those tired cabinets painted.
'The massive impact, value, and transformation of newly painted kitchen cabinets can not be underestimated. You will find yourself walking into your 'new' kitchen with a grin on your face every time.'
And, if you don't have the budget to call in the professionals, you can learn how to paint kitchen cabinets yourself for an affordable weekend DIY project.
6. Don't forget about the details
A trick designers often use to create an affordable luxe kitchen is to install mid-range kitchen cabinets but finish them with upscale hardware to lift the overall aesthetic.
'Builder grade or no hardware is a clear sign of an outdated kitchen,' says Jennifer Verruto, Founder and CEO of Blythe Interiors.
'The solution? First, if you have no hardware, definitely add it! We love a statement pull (instead of knobs). Pulls create length and drama, and make sure to choose a finish that contrasts with your cabinet color. Upgrading your hardware will make a big difference - think black or gold for a more modern punch.'
7. Think about materials
It's true that natural kitchen countertop materials like marble can really elevate a kitchen, but they also cost a pretty penny.
With new innovations in design, you can achieve the luxe look on a tighter budget by opting for a marble-effect quartz, which, as a bonus, is also one of the most low maintenance kitchen countertop materials.
'Technology has made it so that quartz can now be made to look very similar to that of natural stone or marble,' says Taniya Nayak of Taniya Nayak Design.
'It's a great alternative to granite or marble and can often be more affordable.'
Affordable home decor to help your kitchen look more luxe
The Livingetc newsletter is your shortcut to the now and the next in home design. Subscribe today to receive a stunning free 200-page book of the best homes from around the world.
Ruth Doherty is a lifestyle journalist based in London. An experienced freelance digital writer and editor, she is known for covering everything from travel and interiors to fashion and beauty. She regularly contributes to Livingetc, Ideal Home and Homes & Gardens, as well as titles like Prima and Red. Outside of work, her biggest loves are endless cups of tea, almond croissants, shopping for clothes she doesn't need, and booking holidays she does.