10 flowerbed trends for 2023 - design-forward planting for backyards, balconies and lawns
Yes, even flowerbed trends exist and the most design-forward backyards are using them to create beautiful borders and good-looking landscapes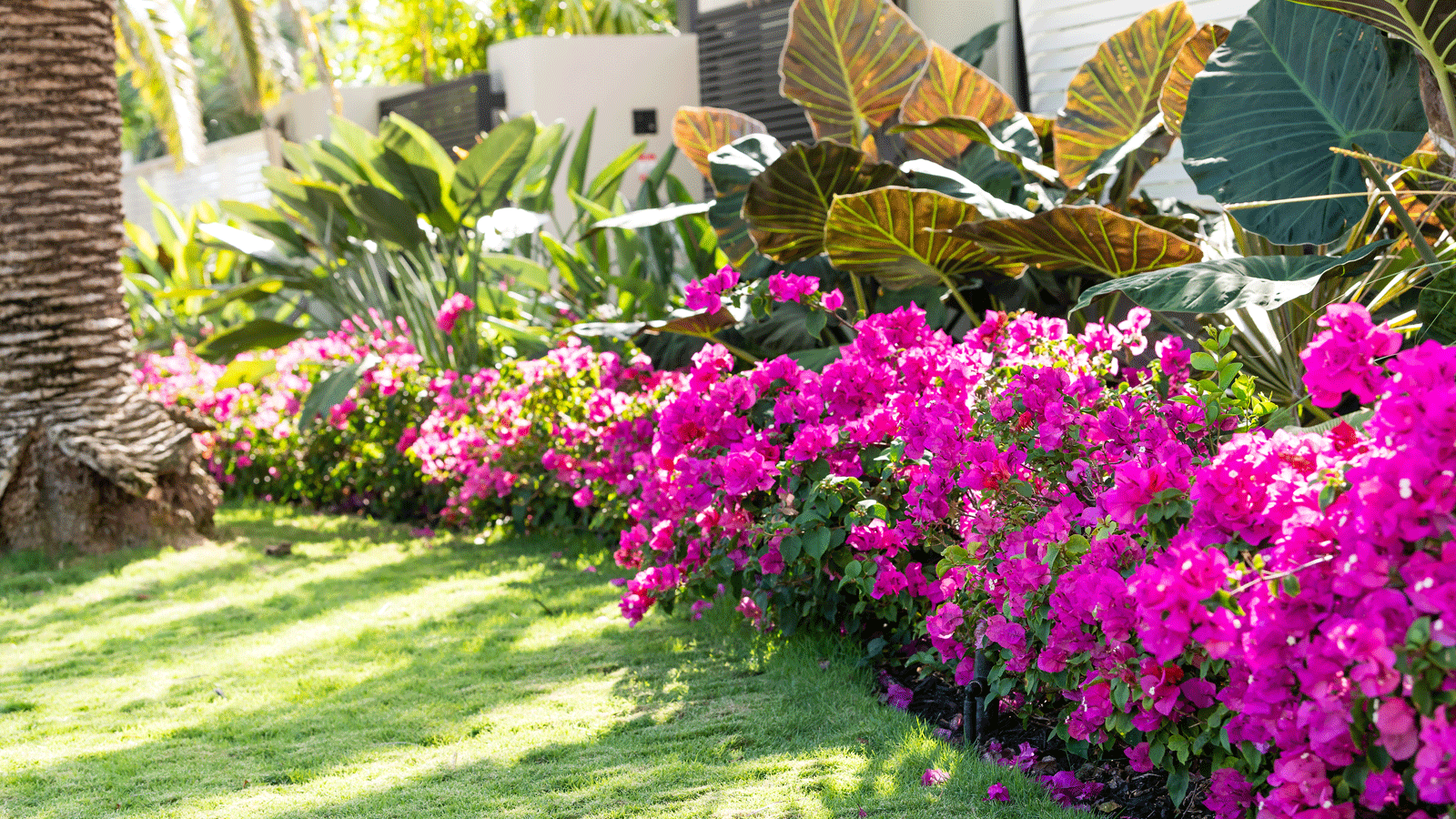 (Image credit: Ablokhin/Getty Images)
The Livingetc Newsletter
For style leaders and design lovers.
Thank you for signing up to LivingEtc. You will receive a verification email shortly.
There was a problem. Please refresh the page and try again.
Whether you like formal designs in regular blocks or a more relaxed planting style the latest flowerbed trends are sure to fire up your ideas. If you're looking for info on how to make dramatic color combinations work or want to know which flowers are on the hotlist this season then help and inspiration is here.
Deciding what to put in your flowerbeds is a very individual thing and will certainly bring out your creative flair but it can feel a little overwhelming with so much out there to pick from. Get your choice of flowers right and establish a rough idea of the style of flowerbed you're aiming for (fiery color combinations, natural and native, drought resistant, and so on) and it's easy from there on in.
When space is tight in an urban garden your flowerbeds always have to work twice as hard. So here are the 10 flowerbed garden trends that we think are a standout this season. Have a browse to help you bring together your own backyard.
10 flowerbed trends for 2023
1. Baroque colors
Sumptuous velvety shades of rich red, dark emerald green, majestic purple and gold can be combined in the flowerbed to conjure up a vibrant planting scheme that brings to mind paintings from the Baroque period. Think of the colors of those old Dutch still lifes with their laden platters of fruit, scattered petals from overblown blooms, and artfully rumpled folds of fabric, and you will be on the right track.
These are the colors I love to use in my own backyard so it's easy for me to tap into this current flowerbed trend. My favorite rose is the rich red 'Tuscany Superb' with its many petalled flowers and gold coronet of stamens. I like to mix it up with dark and inky purple spikes of Salvia nemorosa 'Caradonna' to add vertical definition, all against a background of plenty of deep green foliage.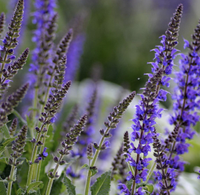 2. Vintage folklore
For the 2022 Autumn/Winter collection, the Flower Council of Holland - which is influential around the world - chose 'Vintage Folklore' as one of its themes. With influences from the 70s, including rustic folklore, handicraft, and fine flower patterns, there's lots to love about this trend.
This throwback aesthetic is something we've seen in interior design trends and translates to a vibrant patchwork design for the flowerbed, balcony or terrace, accessorised with recycled or vintage finds. Among the flowers identified as fitting particularly well with this trend are delphiniums and tulips. Aim for a colorful palette of old-fashioned blooms with bright shades and pastels next to darker colors. It's a look where things don't quite seem to match but fit so well.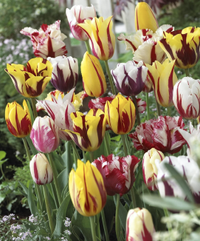 3. Muted meadow
The key to this look is a relaxed and hazy planting style, and colors that would look at home in a wildflower meadow. Think flowers as they appear in nature. This immediately suggests a palette of muted hues in shades that work with one another, with one or two occasional contrasting highlights.
This could translate as a pale wash of dusky pinks and mauves, with a dark red spiky accent here and there. Alternatively try pale lemon and soft blue pastels punctuated by the occasional flash of a jewel bright.
Quietly gathering pace in recent years, wildflowers are a unanimous trend for 2023. The emphasis is on locally grown wild and native flowers such as poppies, ox-eye daisies, cornflowers, and buttercups. As summer turns to fall, add interesting dried seed pods to the mix. Including wildflowers as part of your flowerbed trends also invites pollinators to hover in your yard so it's a win-win.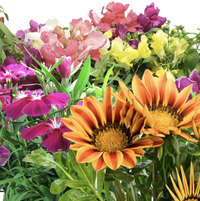 Meadow seed pod kit, Aerogarden
This seed pod kit includes a mix of nine meadow flowers, giving you the blowsy, pastel, here-by-accident blend of a wild field that this look requires.
4. Dahlias of all shapes and sizes
If you want to fill a flowerbed with big showy blooms opt for dahlias, which have been trending for a few years now but just keep getting more and more popular. 'Few other flowers are as productive, rewarding you with armloads of blooms from midsummer through the first autumn frost,' says Floret Flower's Erin Benzakein. 'In Washington, we're able to harvest dahlias from the garden for nearly three full months of the year.'
Dahlias come in a dazzling array of forms. Some are perfectly symmetrical, with tightly spaced petals, while others have a loose, lush look. Even if you have a small backyard you can still fit in quite a few of these hardworking plants.
'I've seen gardeners who took advantage of unused spaces and built raised planter boxes in the strip between the sidewalk and the street, and in narrow planters tucked up against the garage in an alley,' says Erin. There are so many places you can sneak in a few dahlia plants if you get creative with space.
5. Color blocking
This year brings some exciting modern trends in flowerbeds for small urban gardens, roof terraces, and courtyards. 'One of the hottest trends for 2023 is color blocking flowerbeds and planters,' says landscape designer Tom Monson. 'This involves using bold and bright colors to create a stunning effect.'
Color blocking is simply using several different plants of one color or complementary shades to create an eye-catching look. For example, pink and yellow is a standout color combo right now, so Tom suggests pairing sunny yellow marigolds with bright pink geraniums planted in alternating blocks for a joyfully exuberant look.
Alternatively keep it simple and stick with one color block such as pink (you really can't beat hot pink bougainvillea), or explore all the possibilities on the pink spectrum by mixing up shades of coral, magenta, fuchsia and blush in a mix and match scheme for a more tonal look.
Interestingly, a color block can also be created with thick green grass and flowers. A great way to add lush grass is with overseeding. What is overseeding? This is a dig-free method of sowing new seeds over an existing lawn, to make it lush and more vibrant.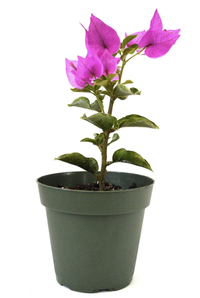 Potted bougainvillea plant, Amazon
A tricky plant to grow from seed it's far easier to buy bougainvillea ready-started. It'll grow indoors or out, in its pot on a balcony or in a border.
6. Sustainable planting
With droughts and energy and water shortages worldwide, eco-friendly, sustainable gardens are a near-constant trend these days. 'Planting small, sustainable rooftop or courtyard gardens that are low maintenance and don't use too much water is very attractive both visually and for your wallet, and can help save the environment,' says Aaron Green of Essential Home & Garden.
Generally, plants with gray or silver foliage, like lavender and santolina, are drought-resistant and suite dry gardens. Also, plants from hot areas require less water to maintain. Another trick to conserving water is to grow the plants close together so they shade the soil, preventing water loss.
Native plants like perennial varieties of black eyed Susan are good for creating a massed effect like this, and are also attractive to pollinators.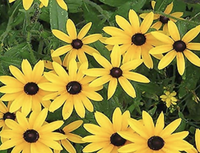 7. Successional planting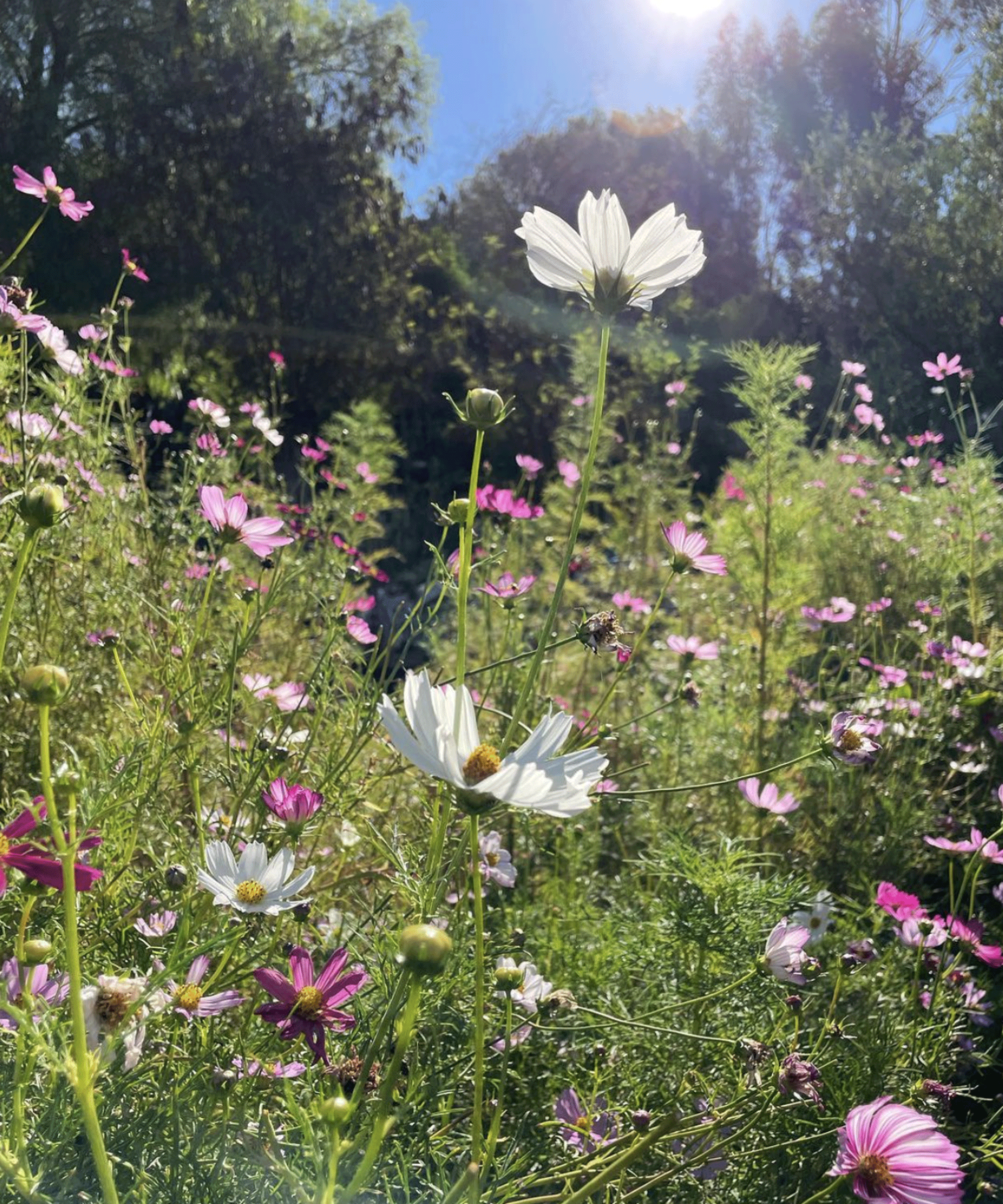 Flowerbeds are a year-round phenomena, not just for summer, and the idea of successional planting is becoming quite a trend now as we want our backyards to work harder. Pasadena-based Anouck Bertin grows and sells exquisite flowers via her business drive_by_flora, and I love following her inspirational Instagram feed through the seasons.
It's a constant parade of floral eye candy. In spring Anouck might be talking about growing poppies, peonies and ranunculus, while in summer the focus switches to hollyhocks, foxgloves, dahlias and cosmos. Meanwhile come fall she might be celebrating chrysanthemums, China asters and Mexican marigolds.
As a great starting point for your planning, Anouck encourages us all to think seasonally to create year round interest in our flowerbeds.
8. Textured foliage
Varieties of plants with different textures and shapes can be used to create a unique look, and it's always important to remember foliage in your flowerbed scheme.
'If your goal is to have a full, fresh-looking flowerbed for most of the gardening year, consider each plant's presence,' says plant expert Jenny Rose Carey, former professor in Horticulture and Landscape Architecture at Temple University, Philadelphia. 'This is a combination of the plant's form, overall dimensions, leaf size, texture, color and shape. Foliage is vital in a flowerbed. Plants with great foliage are always an asset, and they provide a backdrop that enhances the flowers.'
Plant texture is a combination of both tactile and visual cues, like this lovely agave. Always think about using a variety of leaves when you're tapping into flowerbed trends to get that full effect as well as adding an interesting dimension to your plant planning.
9. Flamboyant flowers
If you love the idea of vivid flowerbeds filled with red, orange or yellow flowers, and even better if they're all grouped together, the trend for hot colors is for you. This is about adding bold shades to flowerbeds to create a dazzling effect. Restrained it isn't, so move right along if you have more of an affinity with pastels.
Choose vibrant blooms that will pop and fizz like fireworks. Both the Color Marketing Group ('Mirada Alegre', a medium chroma orange), and the Pantone Color Institute (Tangelo, a tangy enriched orange) are flagging up orange to make a big splash this year, so it could be the summer of flowerbeds filled with calendulas, nasturtium, helenium, red hot pokers and (of course) dahlias.
10. Support acts
Every well-designed flowerbed needs a backdrop of planting to enhance the main event. Use them to add height and fullness to your design. Think of plants like yarrow and salvias to fill the middle of flowerbeds, and hardy geraniums to weave and sprawl in and out.
If you want to add height at the back of a flowerbed make Joe-Pye weed your go-to filler. With its dusky pink, purple or white flowers it will spread out beautifully, while attracting a myriad of bees and butterflies along the way. There's also a Baby Joe that's perfect for flowerbeds in smaller yards.
For style leaders and design lovers.
Lifestyle journalist Sarah Wilson has been writing about gardens since 2015. She's written for Gardeningetc.com, Livingetc, Homes & Gardens, Easy Gardens and Modern Gardens magazines. Her first job on glossy magazines was at Elle, during which time a visit to the legendary La Colombe d'Or in St-Paul-de-Vence led to an interest in all things gardening. Later as lifestyle editor at Country Homes & Interiors magazine the real pull was the run of captivating country gardens that were featured. Having studied introductory garden and landscape design as well as a course in floristry she is currently putting the skills learned to good use in her own garden where the dream is establishing a cutting garden.