11 cozy corner ideas for every room in the house that make for the perfect spot to curl up in
With the right ideas, every nook of your home can be turned into a cozy corner to hunker down in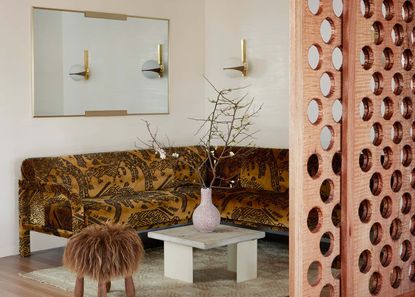 (Image credit: Rafael de Cárdenas. Photo credit Pernille Loof)
Small nooks, niches and awkward corners in a room sometimes present a design challenge, but turning them into cozy, self-contained spaces can be a great way to make them work. Whether you want a cozy corner to perch with a coffee, read a book, or work in, there are plenty of ways to make these spaces work.
And, of course, every room has corners, so there are opportunities to include these cocooning spaces in bedrooms, the dining room, the kitchen, or the living room. Here are some of our favorite ideas.
Aditi is an experienced homes writer and editor. She has written hundreds of articles for various international titles helping readers make the best home design choices, and spends her days interviewing interiors industry experts to bring the latest ideas to her readers. For this piece she spoke to the world's best designers to learn ways to decorate and make the most of corners.
11 cozy corner ideas
1. Turn a corner into an indoor/outdoor space
Some nooks are tucked away in back corners, while others are situated with a view outside. In this project, architects Timmins + Whyte designed this glass addition to create the perfect corner to relax in, overlooking the backyard. 'We introduced a semi-outdoor space, along with a large glass window sliced from ceiling to floor, all drawing light deeper into the home,' says Sally Timmins, founder of Timmins + Whyte. 'A small seating nook was created to help enjoy the views while being warm inside.'
It's the perfect spot to appreciate the view outdoors and all the natural light this space has, even when it's cold outside.
2. Create a seating area in your bedroom
Bedrooms, though inherently relaxing can be made cushier and inviting with the right bedroom seating ideas. Consider a pair of chairs, a small couch, a chaise lounge, or a daybed, to fill your bedroom corner. You could make use of awkward alcoves with built-in seats or even add one under a window.
It's all part of the process of turning a bedroom into a cozy haven, like this bedroom designed by Californian interior designer Anne Marie Barton of AMB Design.
'Consider adding soft fabrics like a cushion or place a rug down below, and change the layout of the furniture to further reinforce the place making it look cushy,' suggests Sally from Timmin + Whyte.
3. Use L-shaped seating in a corner
When it comes to living room furniture ideas, if there's one shape that serves a lot of purposes, it is the L-shaped sofa or sectional. These extra-long pieces of furniture can be placed along a wall, offering plenty of seating space and ample circulation area in the middle.
These sofas are versatile, can be used in a living room corner for seating several people at once, or even ideal for stretching out, during a lazy afternoon.
Adding a room divider is a great way to make this area more intimate and cozy, as in this space created by interior designer Rafael de Cárdenas. From curtains, hanging plants, and wooden panels, to fabric screens, glass partitions, wooden slats, and more, there are plenty of ways to create a simple but effective partition.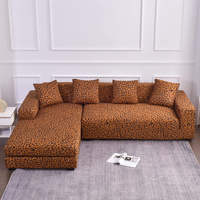 Sectional couch slipcovers from Amazon
Upholster your L shaped furniture piece with this anti-scratch slipcover that will also transform an old, worn out couch into one full of character. The slipcover is machine-washable.
4. Add seating in the corner of a kitchen
Corner banquette seating is great for casual dining, morning coffee, or for sharing intimate conversations. By adding a snug table and a few chairs, you can include one at the end of a kitchen peninsula.
'A banquette seat or a ledge can offer a cozy, warm spot for a family member to sit in their nook while still being visually connected to the activities in the larger room,' says Sally.
What's more, banquettes can also be built out to include extra storage under the seat. If you have too tight a corner, try a small round table that has a pedestal base so you'll be able to easier to maneuver around more.
5. Make a narrow room into a cozy corner
Some spaces around the home are just too narrow, small or compact to be full-fledged socializing spaces. In that case, utilize them as transitional, resting spots or narrow living room corners. Add a long sofa along the length of the room, and if you have space, add two more chairs.
Design the layout such that it faces an outdoor area or another larger space, so the corner doesn't seem too closed in and limiting, and you have lovely views at all times. In this project, for instance, the seating faces the window gallery, making it an ideal cozy space to spend time during the afternoons and evenings.
6. Turn a corner into a cozy workspace
Have yourself the corner office you've been dreaming of, by adding a table and chair at the far end of the living room. Conveniently tucked into a nook, small home offices can have a lot of character, especially when designed with slick, design-savvy furniture and lighting pieces. Add a lick of paint and you have a space you'd love working at.
Keep in mind that two functional areas integrated into one need to have some semblance in design. Try to choose similar styles of furniture for both 'zones', and if you want to have a more seamless look, allow a large piece of rug to cover both spaces. Try to have a similar color scheme for both, although you can personalize the office space with small cubbies or storage baskets.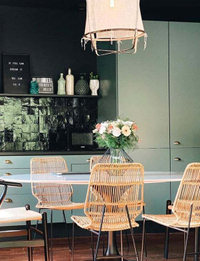 This smoky green paint has a strong undertone of blue, and can give spaces a feeling of depth and serenity. Ideal for any space, indoor or outdoors.
7. Make the most of a bay window
Alcoves provide a great, cocooning vibe, and can make for the ideal pensive corners. These are great perching spots for viewing indoors and out, and help create an intimate spot for everyone who wishes to switch off just for a little bit.
For a cozy living room, consider converting the alcove into secondary seating; either for conversations or even for meals. Ensure you choose soft, transparent window treatments so that the views of the outdoors never get compromised.
'This room features a custom tan leather banquette that sits perfectly snug in the alcove,' say Kirsten Dahl-Feathers and Carlie Ng, designers at the Stylesmiths. 'We fit it with a walnut dining table and overhead antique cloche pendant to create a warm glow for intimate dinner gatherings.'
8. Bring down the ceiling height for a cozier feel
Want to create a cozy feeling inside your small dining room? Bring the ceiling a litte lower with added units, and create an enveloping feel.
'The way we go about creating a restful cozy space is to make a "place" within the space,' says Sally Timmins,. 'We may lower the ceiling in that area with storage, or add warmth with timber lining or layering in another texture.'
'In this space, we fit a cozy dining space, where the compact shape of the table and chairs were not chosen by chance; the idea was not to burden the space with massive objects,' says interior designer Yana Molodykh. 'We wanted to create a light, airy and snug atmosphere of life under the roof, and we did that with ceiling storage and an Akari floor lamp from Vitra.'
9. Introduce a daybed to make any corner cozy
Daybeds in living rooms are ideal for tight spaces, as these can accommodate two or more people, double up as a guest bed, and in even offer storage to place extra cushions, throws, and more. Many daybeds are customizable, which means you can move them around or remove the backrest pieces to suit however you'd like to lounge. These also act as ideal room dividers.
Versatile and available in modern forms, daybeds are in a wide variety of fabric upholstery options, so you can match them to the interior of your choice. These can transform any space into a warm, lounging area, be it a bedroom, living room, passageway to even a balcony.
10. Make a corner its own little vignette
With the power of decor, you can easily create a fresh, intimate zone that stands out from the rest of the home. Think color blocking walls to give a corner its own, distinct identity. You could even place a painted, eye-catching screen with a chair in a corner for an interesting look. Create a living room gallery wall with artworks or family photographs for some extra magic.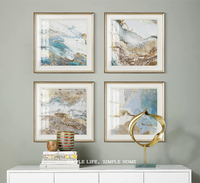 Choose these abstract works to enhance your cozy corner and make it like a mini art gallery.
11. Create built in seating in a mudroom or entryway
Seating is a must for an entryway or mudroom, so consider ways to introduce it into the corners of your space.
'When you are challenged with a narrow space, a built-in seating is an ideal solution,' says Nicole Yee, founder of NY Interiors. 'It's the perfect way to maximize seating and conserve floor space. You could even add hidden drawers underneath the seats for additional storage which is yet another benefit.'
The Livingetc newsletter is your shortcut to the now and the next in home design. Subscribe today to receive a stunning free 200-page book of the best homes from around the world.
Aditi Sharma Maheshwari is an architecture and design journalist with over 10 years of experience. She's worked at some of the leading media houses in India such as Elle Decor, Houzz and Architectural Digest (Condé Nast). Till recently, she was a freelance writer for publications such as Architectural Digest US, House Beautiful, Stir World, Beautiful Homes India among others. In her spare time, she volunteers at animal shelters and other rescue organizations.