Mudroom ideas from the experts to add value and decorative flair to this coveted part of the home
Thinking about mudroom ideas can not only increase the value of your home, but make it a better place to live, too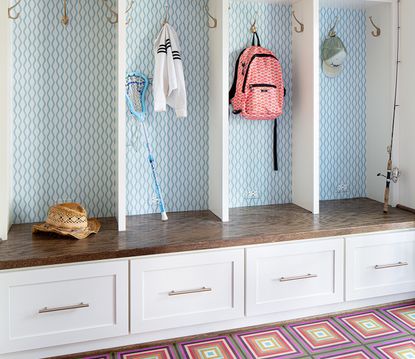 (Image credit: Michael Hunter)
Mudroom ideas have seriously upped their game. Long gone are the days of the neglected corridor where family members would leave their shoes, backpacks and coats strewn on the floor on their way into the house. Now, making a design statement in its own right, every inch of this precious space can be outfitted with custom organization for each member of the family—including pets.
But it's not only function that's important, as people are wanting these rooms to fit in with the rest of their home's decor. "Mudrooms are no longer thought of as an industrial space," explains designer Laura Tutun. "They have evolved the way the laundry room has and everyone wants a beautiful one. The storage solutions and material options are great now, making it possible to maximize every available inch. And people spend a lot of time in this area because it's normally how you enter and leave a house, so it should look as nice and organized as possible."
Designer Michelle Gerson concurs, stressing how important this space is to a family. "My suggestion would be to have fun with this space," she says. "I've been seeing and working on cooler, moodier-looking mudrooms as of late, with beautiful tile, cool light fixtures, and wallpapered ceilings." Read on to see what specific tips designers are urging their clients to consider.
Mudroom ideas
1. SELECT DURABLE MATERIALS
Just as in hallway ideas, durability is key when it comes to mudrooms since it's such a high-traffic area that sees its share of children and pets, along with dirt and wet shoes and clothing. When it comes to walls, designer Michelle Gerson avoids regular painted walls, which tend to scuff easily, and often turns to shiplap with a satin painted finish instead.
In this mudroom, she actually carried the material through to the custom cabinetry as well (as seen in the mirror refection). For the flooring, the designer chose a durable Belgian bluestone tile over wood, but she laid it out in an interesting chevron pattern. "When selecting tiles, make sure they're not too slippery," cautions Gerson. "The more grout the better, so avoid large tiles. And it's always nice to have a stylish bench for putting on shoes and a mirror for last looks when leaving the house."
2. PLAY WITH COLOR, PATTERN, AND TEXTURE
Mudrooms shouldn't be taken too seriously. In fact, they are the perfect opportunity to have fun with design and incorporate the playful patterns and objects that might not work in other areas of a home. Designer Sara Hillery took full advantage of her client's love of color for this mudroom that serves an active, sporty family with three kids and three dogs. Patterned wallpaper lends interest to the cubbies in this wall of custom white cabinetry, complete with deep drawers that double as bench seating, and could also easily work in your narrow hallway ideas.
People often avoid wood flooring in high-traffic mudrooms, but these hand painted wooden floor tiles from Mirth Studio have a vibrant pattern that's more forgiving than regular wood planks when it comes to scratches and dings. "For this project, we went with the 'more is more' approach," says Hillery. "We finished the space off with a playful rattan pendant that adds a nice natural texture to the room."
3. MAXIMIZE STORAGE
As part of the renovation of an 1800s residence, designer Laura Tutun refreshed an existing mudroom that sits between the back door and kitchen. The client wanted to keep the bench seating, so Tutun simply tweaked the design to accommodate deeper storage drawers below.
"Each drawer now has two movable wood partitions that divide the drawer into organized compartments for various objects," notes the designer, who chose a Trina Turk outdoor fabric for the bench cushion and coordinating custom window shades - these would also work well as the vibe for your laundry room ideas. "It's a small space, but we wanted to jazz it up because guests often use this entrance and you can also see the space from the kitchen," says Tutun.
4. MIX THE TYPES OF STORAGE
This family's mudroom is "their lifeline for everything," says designer Sarah Hillery, whose priority was giving the family as much storage as possible. "We were able to give them a lot of flexibility by using a mix of closed storage, cubbies, hooks, shoe drawers, and baskets, which the adults can reach without a stool. It's all about easy storage here and having enough compartments and space for each person."
Because hallway storage ideas like this need a bit of prettifying, Hillery added a rug to soften the space, and she recommends durable vegetable-died rugs with color variation to disguise dirt. And according to Hillery, there are no standard sizes to abide by when it comes to mudroom cabinetry. "I ask my clients what specific items they will be storing in the space and use that as my guide. Think about function first, then what storage is ideal for the available square footage.
5. Be subtly decorative
Just because a mudroom is serves a very utilitarian purpose doesn't meant it can't look and feel as luxurious as the rest of the home. Take designer Laura Tutun's own mudroom, for example, which she covered in an Hermès wallpaper. Painted trim, a sleek flushmount light fixture, terrazzo flooring, a shallow stainless-steel bench, custom window treatments, a coordinating rug, and artwork round out the chic space.
She designed a wall of built-in cabinetry that is divided into five locker-style spaces complete with shelving, hooks, and outlets for charging phones and other devices. Below are shallow drawers for small items such as sunglasses and wallets and deeper drawers for bulkier items. Lastly, the open spaces serve as shoe comparments. "Mudrooms should be beautiful, with great lighting and art," says Tutun. "The transition should be seamless from the mudroom to the rest of the house."
6. Make shallow recesses
There wasn't enough available square footage for a separate mudroom in this quirky Victorian residence, so designer Michelle Gerson carved out just enough space for the son's athletic equipment in a passthrough area between the powder room and basement and the family room and kitchen upstairs.
Porcelain tiles that resemble bluestone match the durability of the shiplap walls. "I love the neat look of closed storage with doors, but the truth is, many kids won't bother opening a door," says Gerson. "In this case, hooks are important, and I specifically love using double hooks because it's two hangers for the price of one."
7. DIVIDE A MULTIFUNCTIONAL SPACE INTO ORDERLY ZONES
As the only entrance to this triplex condo, this space had to function as both the foyer and the mudroom. Designer Laura Tutun broke the long, narrow space into three distinct zones to ensure function and beauty. Wallpaper, a console, and a mirror create a welcoming vignette on the right wall, while the closets on the left are dressed up with a lacquered finish, faux-leather panels, and chunky Lucite hardware.
The third area features a sleek cerused-wood built-in with deep drawers, bench seating, hooks, and shelving with bins for smaller items. "The porcelain floor has a great pattern and is super easy to clean, the faux leather looks and feels like real leather, and the ceruse finish, although pricier, wears well and doesn't show dings," explains Tutun. The designer also advises investing in high-quality European hardware (glides and self-closing hinges) that can handle lots of weight. "Kids will be hanging on these items in many cases, so it's important to spend money on the guts of the space."
8. KEEP THE PALETTE SIMPLE
The mudroom in designer Michelle Gerson's own home features a staggered series of handsome hooks to accommodate anything from coats and hats to bags and pet accessories. A sleek custom bench includes a storage grid for items such as umbrellas or lacrosse sticks, and there's room for shoes to be tucked underneath. Durable shiplap walls are painted in Gerson's favorite blue-gray paint shade, Benjamin Moore's Silver Half Dollar, while contemporary artwork and patterned cement tiles add a splash of fun. Current flooring trends are still erring towards the decorative, which Gerson embraced. "We got funky with the floor tile, which I chose for its imperfect edges and color variation," explains Gerson. "I didn't want to get hung up on something looking imperfect by accident in this high-traffic space."
9. Use shutter-style doors
While conceiving this mudroom, designer Sara Hillery took into account the fact that the space is visible from the kitchen and to guests passing through on their way to the powder room. Shutter-style lacquered doors not only look beautiful, but they allow for airflow—an important element for housing the client's collection of handbags hidden on shelves inside. Drawers are the perfect place for shoes or pet accessories, and baskets hold seasonal items that the clients don't need to access on a daily basis.
Wood flooring is used throughout the home, so Hillery carried it through into this space to maintain consistency (the clients don't have children, so the less-durable hardwood suits them fine). "We wanted to keep this space light and airy," notes Hillery. "The closed storage keeps things looking neat, and the pattern on the ceiling and the glass pendant add interest."
10. Close off the mudroom with a pocket door
For a family's mudroom, designer Laura Tutun installed a variety of storage that features open cubbies with hooks, drawers, open shelving, bench seating, and closed cabinetry with adjustible shelving and drawers to suit the family's changing needs. Chic-yet-durable finishes include a vinyl wall covering, a faux-leather bench cushion, and porcelain tile laid out in a striking grid pattern. But the most impressive component of the space just might be the pocket door. "It's so nice to have the option of closing off the space entirely if it's a bit messy," notes Tutun.
WHAT SHOULD BE IN A MUDROOM?
When designing a mudroom, some common considerations are the number of people using the space, whether kids or pets are a factor, specific storage requirements, square footage, and durability. Based on these factors, one can decide on the most effective storage solutions to fit the space. "Clients really like lockers for each family member so each person has their own space," says designers Michelle Gerson. "These contain hooks for backpacks and coats, a drawers for accessories, a shelf for hats, and shoe storage below. Additionally, I like a bench for putting on shoes, umbrella storage fitted with trays for drying, and additional hooks for wet items of clothing. Some people are also asking for stroller storage." Getting the layout right is key, says designer Sara Hillery. "Mudrooms are getting bigger and bigger, as people want everything there, from laundry and pet crates to locker storage and pantry overflow." For designer Laura Tutun, it's critical to incorporate "a mix of open and closed storage, drawers of varying depth, outlets for each family member, a mirror for touchups, and perhaps a bulletin board if the space is acting as a family command central. If the client requests seating, I like to install a small stool or a shallow, freestanding bench that doesn't take up too much room, since I find that most people don't end up using the seating."
DOES A MUDROOM ADD VALUE?
"In my opinion, you can't put enough money into these spaces," says designer Laura Tutun. "A mudroom is almost as important as a home office these days when it comes to adding value. Just think about how much stuff our children have, and you need a space to keep those things looking as organized and clutter-free as possible." Designer Sara Hillery agrees, offering that a mudroom is "the most asked-for space in older homes because they tend to have smaller closets and need more storage." Designer Michelle Gerson adds, "Many people will buy houses without mudrooms and then immediately realize upon moving in that they need one."
Alyssa Bird is a New York−based freelance writer and editor with experience covering architecture, interior design, travel, hospitality, and real estate. She has held editorial positions at Architectural Digest, Elle Decor, Hamptons Cottages & Gardens, and New York Cottages &Gardens. When she's not writing about dreamy spaces, you can find her tweaking the decor in her own Brooklyn home, honing her green thumb, testing out a new recipe, or scouring for antiques.