'It's where design trends start' - 9 Californian kitchens with a dreamy blend of organic luxury
Laidback luxe is the order of the day in these easy, breezy Californian kitchens, full of design ideas and inspiration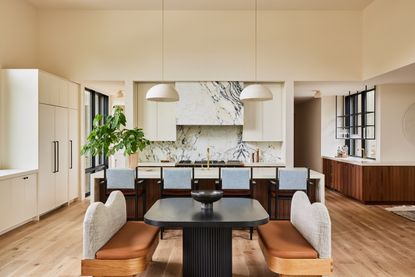 (Image credit: Sarah Sherman Samuel/Nicole Franzen)
The Livingetc Newsletter
For style leaders and design lovers.
Thank you for signing up to LivingEtc. You will receive a verification email shortly.
There was a problem. Please refresh the page and try again.
A Californian kitchen nails the art of blending luxury with informality for a welcoming yet upscale space that's perfect for families as well as entertaining.
The importance of organic-luxe materials is key to creating the Cali-cool kitchen, as well as ensuring a light, bright space that embraces an indoor-outdoor flow as much has possible.
'The style is bright, airy, and earthly,' says Sarah Sherman Samuel, an expert in modern kitchens. 'A Californian kitchen features neutral colors and aims to be an extension of the outdoors.
'Use natural materials like classic bronze, muted creams, wood, and marble. We love Zellige tile backsplashes: they are handmade, and the variation of color, texture, and raw edges adds a natural charm. And remember to pair modern elements with vintage for old meets new cool.'
What is a California kitchen style, and how do you channel it?
'The California kitchen style is characterized by a unique blend of natural elements, soft and bright tones, and a seamless connection between indoor and outdoor spaces,' says Victoria Holly, Principal and Founder of LA-based Victoria Holly Interiors.
'This type of kitchen style embodies the laid-back, coastal lifestyle that California is known for.'
For kitchens, California is where design trends start - think of those Nancy Meyers movies, of Gwyneth Paltrow's Goop videos. Designers reveal how to create the look below.
1. Bring the outside in
The outdoors lifestyle has a huge influence on the Californian kitchen style, and natural light, the indoor-outdoor flow and a connection to nature are all important factors in achieving the aesthetic.
'A quintessential California kitchen often features an open layout that encourages effortless flow between cooking, dining, and entertaining,' says Victoria Holly.
'In order to create this look, we incorporate elements like white oak kitchen cabinets, zellige tiles, and oil-rubbed bronze. We like to incorporate big open windows and a way to easily go outside to entertain.'
She adds: 'There are easy ways to bring the outdoors in, like incorporating eucalyptus branches and olive trees (two plants that California is well-known for).
'Incorporating indoor plants or even an indoor herb garden further reinforces the connection to nature.'
2. Choose zellige tiles
'California is all about being airy, beachy and breezy, for the most part,' says Linda Hayslett of LH.Designs.
'People love being outside at the beach, hiking, surfing, biking, swimming or camping. The zellige tiles in this Californian kitchen bring in that natural, imperfect texture of the outside into the space. The varying white color of the tile also makes it feel neutral and cloud like.'
Linda continues: 'The open shelving helps make the space not so closed off yet gives moments to highlight nice dinnerware. Then the two-toned cabinets are white on top and a light tan on the bottom to help bring in that white sandy beach feel of Cali.
'The style is clean, as Californians, especially Angelenos, are all about no-fuss, comfortable spaces where the flow is easy and makes sense - like calm waves.
'Everything in this kitchen feels like a fresh, sunny day out on the beach, which is what makes it a California kitchen.'
3. Include swathes of marble for a shot of glamor
Marble is the ideal kitchen countertop material, backsplash or kitchen island material as it's natural and boasts an organic-luxe aesthetic that represents Californian style.
Speaking about the stunning kitchen above, Ryan Saghian, Principal, Ryan Saghian Interior Design, says: 'This kitchen harmoniously blends sunbaked aesthetics, earthy materials, and subtle touches of opulence to create an authentic representation of a California kitchen,'
'The Viola marble countertops and backsplash add a touch of understated glamor reminiscent of the area's luxury, while the choice of stained walnut cabinetry emulates the earthy tones associated with the West Coast.'
He adds: 'The inclusion of unlacquered brass plumbing fixtures from Waterworks not only provides a functional aspect but also brings in a natural patina that beautifully grounds the space, mirroring the organic feel often found in California interiors.'
4. Opt for wooden cabinetry
Wood kitchen cabinets are a mainstay of Californian kitchens and offer that back-to-nature feel that chimes so well with the outdoorsy lifestyle.
In the kitchen by Banner Day Interiors above, wood is paired with white cabinets - another top choice - and a marble backsplash to create a contrast between materials for visual interest.
'We embraced the juxtaposition of an elevated material, such as marble, against the more primitive walnut as it is displayed here,' says Banner Day Interiors' Principal, Clara Jung.
'It channels what is considered a facet of the California philosophy: a certain casualness even amidst some formality.'
5. Mix luxe materials
Mixing up materials allows for a blend of laidback yet glamorous - a balance that's important in Californian decor in general.
'We love to add a mix of luxe materials, like shearling and metal to a kitchen to give it a little more edge and interest,' says Kristen Pena, Principal, K Interiors.
'Also a fun vintage piece can add personality. In this kitchen we love the use of the vintage lamp to touch on an old meets new moment.'
6. Pair modern and vintage elements
Kristen Pena is not the only designer that loves to mix the old with the new for that cool Cali feel.
Sarah Sherman Samuel is also a fan of the styling technique to bring a space to life.
She says: 'Pair modern elements with vintage. Look for vintage ceramics to style with or vintage barstools that make a statement, with curved backs, round seats, or mixed metals.'
7. See the light
One of the most important things about a Californian kitchen is making sure it's got enough light.
Natural light is always favored, but you can always brighten things up with white surfaces and kitchen countertop finishes.
'Californians love to feature the warm natural West Coast light, so accommodating sunshine takes center stage in design,' says Emilie Munroe of Studio Munroe.
'In this kitchen (above), the sparkling white Thassos stone backsplash acts as a mirror, reflecting the sparkle and sheen of light streaming through the sink window.
'To add a spark of West Coast whimsy to the elegant backdrop, the client selected a French Blue range as a feature amongst the clean, crisp white.'
8. Invest in statement seating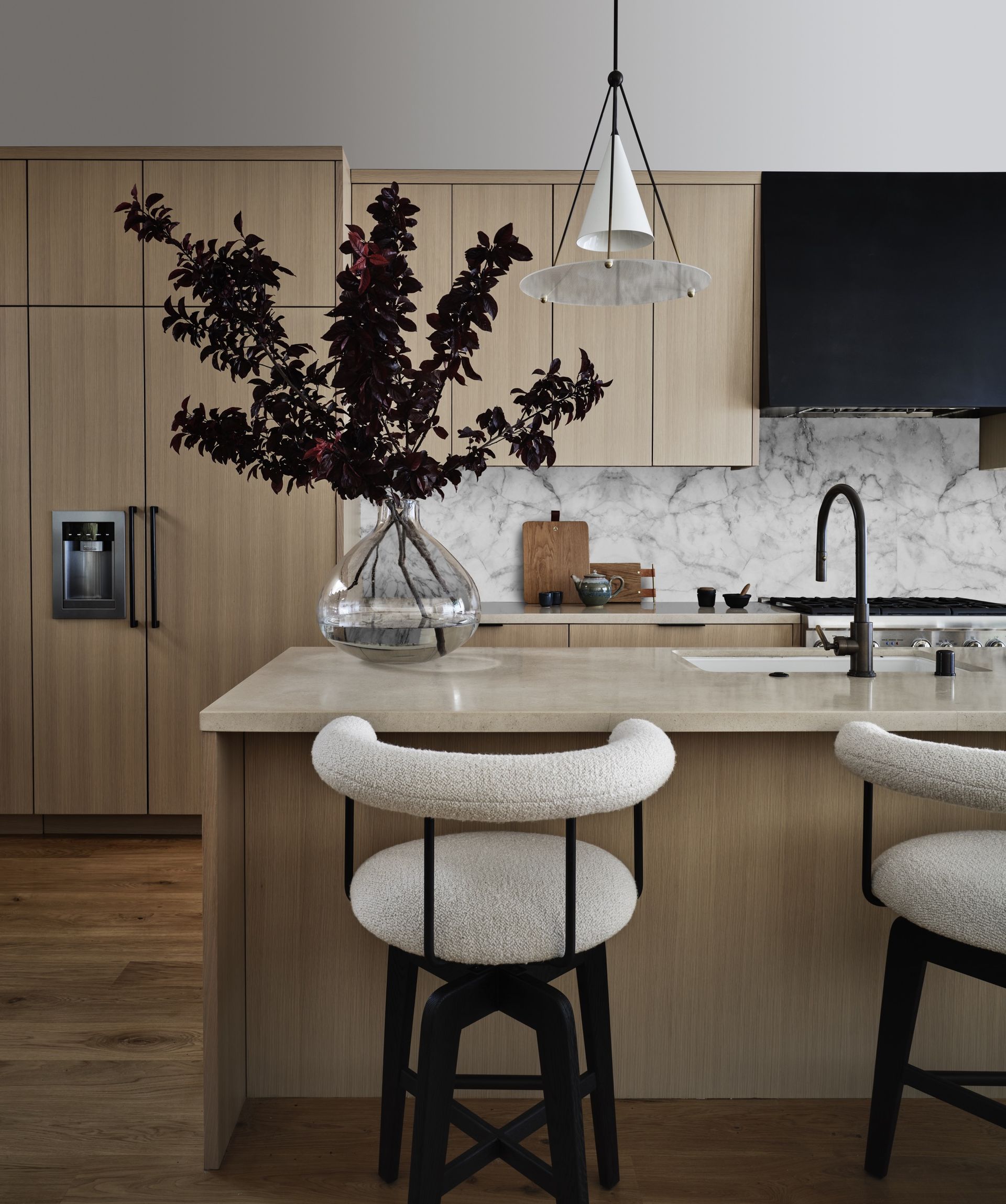 One things Californians love to do is entertain, and a big open kitchen with an indoor-outdoor flow is the perfect place to do it.
A kitchen island with seating is a common feature in a Californian kitchen, and serves as a gathering spot for family and friends. One way to add a designer feel and to make the space really inviting is to invest in cool seating.
Statement bar stools can elevate the island, offering a stay-a-while vibe that's informal yet upscale.
'Bar seating and lighting is something we usually advise clients that it is worth a splurge,' says K Interiors' Kristen Pena. 'Both add personality, edge and comfort to a space. In this kitchen (above) we wanted to be sure to get some contrasting fabrics, like boucle, and metals, like brass to juxtapose with the warm wood tones and natural stone.'
9. Install design-led lighting
Cool lighting is an important feature of any Californian kitchen, and will instantly elevate the space from functional to design-forward.
Whether it's stylish wall lights, sculptural pendants over a kitchen island, or a vintage table lamp on the countertop, chic lighting creates an inviting ambiance and a designer aesthetic.
Commenting on the kitchen above, Nina Freudenberger, Principal, Freudenberger Design, says: 'For this Manhattan Beach, California kitchen, I sourced different wood types and finishes for the wood paneling throughout to create a vintage, layered look.
'Richly patterned marble countertops and backsplash similarly make an organic statement, complementing the wood cabinetry and walls while adding a sense of glamor.
'Circular light fixtures above the windows and a striking table lamp with a curved form combine with the natural light to keep the space bright, playful, chic, and functional all at once.'
For style leaders and design lovers.
Ruth Doherty is a lifestyle journalist based in London. An experienced freelance digital writer and editor, she is known for covering everything from travel and interiors to fashion and beauty. She regularly contributes to Livingetc, Ideal Home and Homes & Gardens, as well as titles like Prima and Red. Outside of work, her biggest loves are endless cups of tea, almond croissants, shopping for clothes she doesn't need, and booking holidays she does.