See inside Nanette Lepore's house - a colourful brownstone in New York that's rich and romantic
Designer Nanette Lepore's house is a kick-ass party pad-cum-family home that mixes a dash of fashionista chic with a playful, club-like vibe. Good times guaranteed...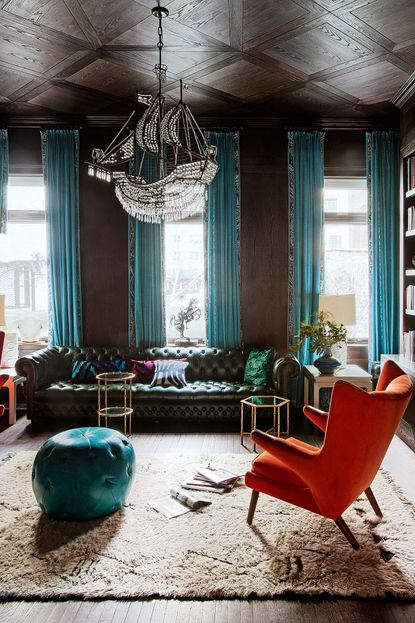 The Property
A five-storey New York brownstone. In the basement of this modern home there's a playroom. The kitchen, family room and home office are on the ground floor. A dining room, library, living room and WC are on the first floor. The second floor houses the master bedroom, Violet's bedroom, a bathroom and a WC. A dressing room, guest bedroom, bathroom and laundry room are on the top floor.
See more incredible and inspiring modern homes across the globe
kitchen
Richness, romance and space to roll back the rugs and dance – that's the maverick spirit that prevails through Nanette Lepore's New York home.
The fashion designer, whose clothes are worn by celebrities including Blake Lively, Taylor Swift and Lauren Conrad, is the first to admit her downtown Manhattan brownstone, stunning as it is, regularly 'gets a workout'. Her last bash? An all-night Oscars party held in the library, with the bar and buffet set up in the adjacent dining room and the living room designated the official chill-out zone.
Nanette and her husband Robert Savage, who is a painter as well as her business partner, spotted the house while walking daughter Violet to school. The previous owners were a couple with six children and the house, unsurprisingly, showed signs of wear and tear.
The renovation took a year, starting with the modern kitchen, which Nanette switched from country style to an urban scheme.
Library
Next on the couple's list was laying beautiful dark-wood floors as a foil for their furnishings and artwork. This room, with its fabulous crystal ship chandelier and dark-wood panelling, sums up the 'richness and romance' Nanette wanted for her home.
The way the colours of the furniture pop against the dark wood is a clash of the conventional with the unexpected that makes this scheme work– like the Chesterfield next to a portrait of Eva Perón.
Dining room
Nanette prefers 'white walls loaded with pictures', but admits that her gallery of junk-shop portraits might work better against a darker background.
See Also: Bright ideas - exploring colour in the dining room
Living room
An antique sideboard displays many of the couple's treasures.
master bedroom
Nanette and Robert's bedroom includes an intimate group of seats at one end of the room.
Guest bedroom
This space is full of intricate surfaces that bring a subtle opulence to the cool blue and white décor – inlaid tables, a stonking metal pendant light, rich velvet and a shaggy rug. If guests look closely at the artwork, they'll see a few more surprises, in the form of risqué etchings.
Photography / Matthew Williams
Styling / Hilary Robertson/Sarah Cave
See Also: 24 Guest bedroom ideas - Gorgeous guest room schemes to make visitors feel at home

Shining a spotlight on the now and the next in home design and decor, Livingetc is the UK's best selling high end and contemporary home design magazine. As a brand, Livingetc showcases the world's very best homes, breaks and makes the trends, and has access to leading international designers for insight and ideas. It was first published in 1998, and is currently edited by Pip Rich.