Explore this cabin-style house in Italy with colorful global influences
Design guru Patrizia Moroso has put as much love into her house in Italy as she does into creating style classics...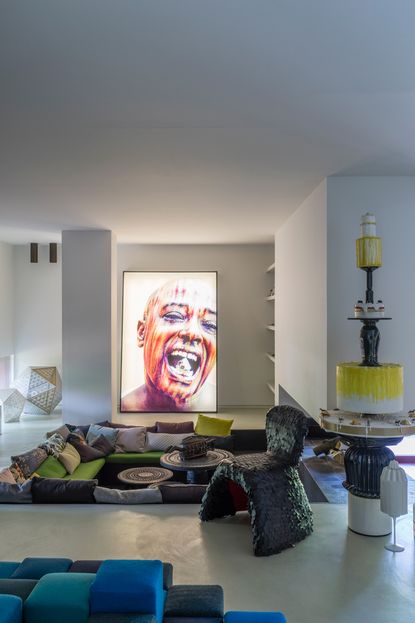 THE PROPERTY
A two-storey, architect-designed house in Italy, located in the northeast's Udine. The entrance level opens into a long hallway with a large open-plan living area. The modern home also a kitchen, two guest bedroom suites, a hammam and WC. Upstairs, there's a family living room, kitchen, the master bedroom suite, three further bedrooms and two bathrooms.
See more fabulous modern homes, from Islington to Italy
ENTRANCE HALL
This is a cabin in the woods with a Moroso spin, reimagined as a series of intersecting black and rust-red boxes that slot into each other and progress from more public areas on the entry level floor to calmer, more private, family spaces upstairs. Patrizia and her husband wanted their home to be 'a haven, but with a total connection with the outside landscape'.The entrance hall leads into the open-plan living area, with a 'conversation pit', (shown above) where Patrizia has informal meetings.
When it came to the architecture, Patrizia brought together Martino Berghinz and her good friend Patricia Urquiola (who originally trained in architecture).
A mosaic based on a traditional Senegalese motif runs the length of the entrance hall.
GARDEN AND TERRACE
The house is built at the top of an incline, so the sightlines from balconies and windows just skim the tree tops. The seeds of inspiration had been sown over a decade ago, on a work trip the two women made to Australia. The colours of a trip to Uluru (Ayers Rock) stayed in their minds and fed into the design of the new house, with earthy reds, railings that are reminiscent of Uluru's desert viewing platform and a cedar-clad exterior inspired by Australia's boxy 'uncomplicated' outback houses.
Throughout the house and garden, furniture adds standout colours and shapes that have become the hallmarks of Moroso. The mix is constantly being added to, but flux is all good in Patrizia's book.Sebastian Herkner's Banjooli chairs are inspired by the way ostriches spread their wings in their mating dance.
DOWNSTAIRS LIVING ROOM
This space is a vibrant overlaying of African artefacts with contemporary furniture and photography, set against black stucco walls and clay-red resin flooring.
See Also: Living room ideas - 24 decorating tricks to inspire
HALLWAY AND STAIRS
The strong red and grey echo the blocky exterior architecture, while wood was chosen for the stairs to herald entering the softer, more private part of the house upstairs.
KITCHEN
The space leads out to a tree-level balcony, where chairs inspired by husks of corn add vibrance and the architecture harks back to the outback houses of Australia.
UPSTAIRS LIVING ROOM
The upstairs is the more private part of the house, with wooden floors and white walls for a serene mood.
The room has a scale that can take big, bold paintings and a mash-up of traditional African and modern Italian furniture.
UPSTAIRS DINING AREA
The family's upstairs dining room overlooks the wilderness that was the main draw of the location. The multi-coloured chairs were a beautiful accident that happened when the factory switched to making a new batch in a different colour. The moulds produce a few chairs with swirls of the two, but it's not possible to recreate them on a large scale.
This home celebrates the beautiful blurring of lines: between interior and exterior and between home and work, serving as a playground for the Moroso creative spirit to be let loose on a grand scale.
GUEST BEDROOM
Red, black and green bring soul into the space, while sections of glass maintain a flow in this woodland sleep zone.
This is a place to admire the fruits of Moroso's brave, brilliant design collaborations, but it is also a family home that radiates the warmth and creativity of its owner.
See more of Patrizia's work at Moroso here.
Photography / James Merrell
See Also: 24 Guest bedroom ideas - Gorgeous guest room schemes to make visitors feel at home

Shining a spotlight on the now and the next in home design and decor, Livingetc is the UK's best selling high end and contemporary home design magazine. As a brand, Livingetc showcases the world's very best homes, breaks and makes the trends, and has access to leading international designers for insight and ideas. It was first published in 1998, and is currently edited by Pip Rich.