10 best sofa beds 2021: stylish, design-led and comfortable
The best sofa beds for the living room, guest room or home office; from compact space-saving designs to comfortable corner sofa beds and spacious chaise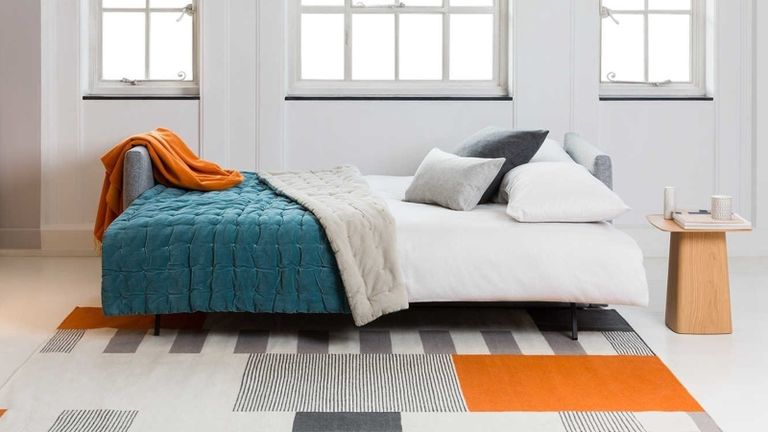 (Image credit: Heal's)
By Amy Lockwood
Looking for the best sofa beds? The way that we use our homes has changed significantly over the past few years, and as such the multifunctional sofa bed has truly come into its own, allowing our homes to adapt to multiple purposes as and when required.
Rather than creating a dedicated guest bedroom that might rarely be used, adding a sofa bed to the home office or living room allows for greater day-to-day use of your square footage and allows for easy adaptation when guests come to stay. 
They're also the perfect solution for kid's sleepovers and, with a new breed of sofa beds that you won't want to hide out of view, a great space-saving solution for small homes and apartment dwellers who want to entertain for more than just one evening.
In this guide, we've rounded up the best sofa beds on the Livingetc radar, bringing together those offering comfort, functionality and, of course, a good dose of style. 
And if you're inspired to update your main seating while you're here? Our edit of this year's best sofas will point you in the right direction for design-led modular, two and three-seater, and on-trend corner sofas.  
The best sofa beds
1. Heal's Oswald Sofa Bed
Best sofa bed: a king-size sofa bed with pocket-sprung seating and sleeping
Specifications
Seats: 3
Sleeps: 2
Sofa size: H98 x W222 x D103cm
Extended length: 152cm
Sleeping area size: H98 x W222 x D152cm
Sleeping area type: Pocket-sprung foam fold-out
Upholstery options: 3
Reasons to buy
+Contemporary design+Pocket-sprung foam seat and backrest makes for comfortable sitting and sleeping+Foam and feather back cushions+A super generous king-sized sleeping area+Hidden storage
Reasons to avoid
-Only three fabric options-Only one width option-Limited showroom availability to try before you buy
A contemporary boxy shape with rounded edges, Heal's Oswald sofa bed fuses modern design with sit and sleep comfort - often a hard trio to find in the search for a multifunctional sleeper sofa.
This is a fold-out click-clack sofa bed where the sofa seat extends forwards slightly and the backrest folds flat to create the sleeping surface. Often these types of design are less comfortable to sleep on than pull-out sofa beds with a dedicated mattress, but in this case, the seat and backrest are formed from several foam layers and - the important bit - there are 10cm deep pocket-springs nestled in the foam's midst. 
This makes for a sofa base with a good amount of give and bounce - not a soft and squishy sofa, but definitely enough comfort that you could use this sofa bed as your main everyday living room seating if that's what you're looking for. And it offers a comfortable sleep experience too - in our opinion akin to a dedicated mattress - and a generous king-size mattress-sized sleeping area.
The loose back cushions are also a cut above the standard, with feathers and foam creating a really comfortable surface to relax against and the back height providing plenty of support. And, once the sofa bed is pulled out into position via the leather strap - a manouevre made especially easy thanks to the bed legs which unfold automatically - a handy storage area means these cushions can be stored safely away so as not to clutter the room.
The downsides are the limited fabric choices, but the mid-grey and navy blue are both versatile options, and, for some, sleeping with a fixed armrest above the head and below the feet might perhaps feel a little claustrophobic. 
However, this is still one of the best sofa beds we've come across; satisfying all needs without too much of a compromise in any area.
2. Innovation Living Cubed 140 Sofa Bed
Best sofa bed for the home office: a compact seat that hides a double width sleeping area
Specifications
Sofa dimensions: H67 x W147 x D96cm
Extended dimensions: 201cm
Sleeping area dimensions: W140 x L201cm
Upholstery options: 4
Reasons to buy
+Compact design+Full size double mattress-sized sleeping area+Flat-pack build useful for rooms with awkward access
Reasons to avoid
-Firm seating and sleeping-Limited upholstery options-Needs some self-assembly
If you're looking for occasional seating and extra sleeping space in a home office or playroom, then the contemporary Cubed 140 sofa bed could be a good option. 
This is another fold-out sofa bed, where foam cushioning has been enhanced by springs to add some extra give, however, compared to the Heal's Oswald sofa bed, we found this option pretty firm. It isn't going to be the best choice for everyday use in the living room, but as useful occasional seating, the compact 147cm width makes it a good option to squeeze into the home office. 
The armless design also means that despite its narrow width, this small hybrid seat can still hide a decent double mattress-sized sleeping area.
Fabric options are limited, but again there are some good basic colourways with the mid-grey Twist Granite and dark grey Kenya both versatile upholstery solutions. 
And lastly, the hidden bonus for some is that this sofa bed arrives flat-packed, making it easy to fit it into rooms with awkward access, through small door frames, or to manoeuvre up twisting flights of stairs to an apartment or first floor home office if you need to. 
It does mean there's some self-assembly to be done once you have it situated, and two pairs of hands definitely make getting the job done easier, but if you're after a compact and relatively affordable occasional sofa bed, we think this option is worth some construction time. 
3. Sofa.com Bluebell Sofa Bed
Best classic sofa bed: firm but stylish seating that works well in a period property
Specifications
Seats: 3
Sleeps: 2
Sofa size: H95 x W202 x D110cm
Extended length: 233cm
Sleeping area size: L183 x W143 x D10cm
Sleeping area type: Pull-out foam mattress
Upholstery options: 70+
Reasons to buy
+Classic design is great for a period property+Available in loveseat, 2, 2.5 and 3 seater options+Feather-wrapped foam seat cushions+Wide selection of upholstery choices+Coordinating furniture available
Reasons to avoid
-Fairly firm seating-A little shorter than a standard small double mattress-Takes up a fair amount of space when extended
If you're looking for a sofa bed for a period property, or just prefer a classic sofa shape rather than a contemporary design, then the Bluebell from Sofa.com could fit the bill.
Inspired by classic drawing room seating, the rolled armrests, turned wooden legs on castors and piped upholstery detail offer plenty of traditional detail.
However, you will need to be prepared for a firm seat. This is a pull-out sofa bed which means the sofa seat cushions are resting on the back of the metal bed frame when the sofa is upright which doesn't leave room for much give. Most normal sofas have webbing or springs in the frame under the seat cushions which provides much more give and bounce and generally makes for a far more comfortable sitting experience. 
The Bluebell counteracts this with feather-wrapped foam seat cushions which up the sofa base comfort levels a notch, and we found the high backrest firm but pleasantly supportive.
On the plus side, this classic design has a good range of 70+ upholstery fabrics on offer and there is a strong selection of matching furniture, including an armchair, traditional sofa, chaise and corner sofa, and a coordinating ottoman. So if your living room layout allows this sofa bed would work well as an accent piece alongside the classic sofa range.
The options of loveseat, two, two and a half, and three-seater sofa bed will also help to find the best fit within a wider suite.
4. Heal's Cane Sofa Bed
Most on-trend sofa bed: decorative cane detail with pocket-sprung seating and sleeping
Specifications
Seats: 2 - 3
Sleeps: 2
Sofa size: H72 x W210 x D94cm
Extended length: 140cm
Sleeping area size: H38 x W200 x D140cm
Sleeping area type: Foam fold-out
Upholstery options: 1
Reasons to buy
+Pocket-sprung foam and feather cushions make for comfortable sitting and sleeping+On-trend cane side arm detail+A generous bigger than double mattress-sized sleeping area
Reasons to avoid
-Only one fabric option-Armrests for decoration rather than comfort-Limited showroom availability to try before you buy
Inspired by the Art Deco period, Heal's Cane sofa bed blends on-trend cane lattice-work side panels with striking geometric black elmwood armrests. 
The fold out sofa bed's foam and pocket-sprung fixed seat and back cushions aren't quite as soft as the Oswald model which takes top spot on this list, but they still have plenty of give making for a supportive and comfortable sitting and sleeping experience, and feather and fibermill mix scatter back cushions add some extra squish-factor.
Transforming the sofa into a bed is a fairly simple task, although on this model you will need to fold the metal bed legs out from under the bed base yourself as opposed to the Oswald's automatic unfolding. 
There is only one upholstery option on offer with the Cane sofa bed, but seeing as it works perfectly to contrast with the cane detailing we don't think that's too much of a sacrifice. 
Overall this is a supportive sofa bed with some great decorative detail that sets it apart from the average sit/sleep option, so if it blends with your decor it's a statement addition that has a lot to offer.
5. Love Your Home Felix Three Seater Chaise Sofa Bed
Best chaise sofa bed: spacious seating with a king-size mattress and hidden storage
Specifications
Sofa dimensions: H87 x W279 x D170cm
Extended dimensions: W279 x L216cm
Mattress dimensions: W160 x L200cm
Upholstery options: 100+
Reasons to buy
+Pull-out sofa bed with dedicated mattress+Hidden storage in chaise+Full king-size mattress+Mattress upgrade available+Smaller widths available+Over 100 upholstery options
If you have the space and want a sofa bed that can be used as the main seating in a larger living area, then a chaise or corner sofa bed both make good options.
The Felix chaise sofa bed from Love Your Home comes in a range of sizes, from 1.5 to 2 and 3 seater configurations, with the 3 seater offering a generous king-size mattress of sleeping space for guests. And if that isn't comfort enough, you can also upgrade the mattress from open sprung to pocket sprung with a memory foam topping. 
There are also over 100 upholstery fabrics available, from slubby linens to premium leathers and on-trend boucles, enabling you to tailor the look to a wide range of interior styles. 
And, best of all, that handy chaise section isn't just for putting your feet up, it also hides some spacious storage that's perfect for stashing guest bed linen out of sight during the day.
6. Darlings of Chelsea Norbury 3.5 X 3.5 Seater Corner Sofa Bed
Best corner sofa bed: maximise your seating area with this wrap-around couch
Specifications
Sofa dimensions: H83 x W260 x D260cm
Extended dimensions: W260 x L260cm
Mattress dimensions: W143 x L195 x D12cm
Upholstery options: 100+
Reasons to buy
+Pull-out sofa bed with dedicated mattress+Not-quite-a king-size mattress+Mattress upgrade available+Feather-wrapped foam seat cushions+Smaller widths available+Over 100 upholstery options+Coordinating furniture available
Reasons to avoid
-Low backrest
For a family home, or a holiday rental, maximising the amount of seating space that's available is always a good idea, and when it includes the ability to transform that seating into an overnight crash pad for guests, even better. 
The Norbury corner sofa bed from Darlings of Chelsea is a great option for a modern home, with slim curved armrests and a low profile that also makes it a useful piece of furniture for zoning an open plan layout, and feather-wrapped foam cushions ensuring comfortable lounging.
There are a great range of corner size options available, which makes finding the best fit for an individual interior a simple task, and the design is also made in a variety of other styles including a chaise, plus 2 and 3-seater sofa beds.
The sleeping arrangements don't scrimp on options either, with the largest pull-out not-quite-a king-size mattress available in 12cm deep pocket-sprung or memory foam options.
7. Willow & Hall Deverill Modular Corner Sofa Bed
Best modular sofa bed: a sectional design with a range of possibilities
Specifications
Sofa dimensions: H88 x W227 x D227cm
Extended dimensions: W227 x L22dcm
Mattress dimensions: W114 x L182 x D14cm
Upholstery options: 100+
Reasons to buy
+Pull-out sofa bed with dedicated mattress+Create the ideal configuration for any room+Armless design maximises seating space+The deepest mattress we've come across+Mattress upgrade available+Feather-wrapped foam seat cushions+Removable covers+Over 100 upholstery options
Reasons to avoid
-Mattress is a little shorter than standard-Only just under a small double's worth of sleeping space
A modular sofa is good solution for any room with a tricky layout, and for smaller spaces or awkward alcoves this armless sectional design maximises the seating space you can squeeze in. 
For larger spaces the sectional units allow you to go as big as you need, adding more sections to create a modular mammoth if you wish. 
The addition of a hidden sofa bed makes this even more of a versatile solution, although considering the potential size of the sofa you can create it's a shame the mattress comes in at not quite a small double's worth of sleeping space - although that could be a bonus if you're working with limited space.
And the shortage of legroom is well compensated for by an ultra deep 14cm mattress and a choice of three mattress constructions; open-sprung, pocket-sprung and memory foam.
Feather-wrapped foam seat cushions ensure comfort, and removable covers make this a great option for a family home, playroom or holiday rental. 
8. Loaf Pudding Love Seat Sofa Bed
Best chair bed: a crash pad for one that's otherwise a great accent chair
Specifications
Loveseat dimensions: H89 x W120 x D120cm
Extended dimensions: W120 x L247cm
Mattress dimensions: W93 x L198 x D12cm
Upholstery options: 100+
Reasons to buy
+Pull-out chair bed with dedicated mattress+Feather-wrapped foam cushions+Over 100 upholstery options+Coordinating furniture available
Reasons to avoid
-Only sleeps one-No mattress upgrade available
If you only need sleeping space for one additional guest, then a chair bed is a great way to add extra functionality to the living room, home office or guest room, and with a design as appealing as Loaf's Pudding loveseat then you'll be more than happy to have use of it for seating the rest of the time. 
A deep seat padded with feather-wrapped foam cushions makes the perfect place to curl up with a good book or a glass of wine, and a wide range of upholstery options means you can choose whether to have this loveseat coordinate with existing furniture or add a pop of contrasting colour.
From guest's point of view the single sleeper mattress is a good depth at 12cm and the open-sprung construction offers a comfortable night's sleep.
9. Northern Daybe Sofa Bed
Best contemporary sofa bed: modern and minimalist design
Specifications
Sofa dimensions: H69 x W200 x D92cm
Extended dimensions: W120 x L200cm
Sleeping area dimensions: W120 x L200cm
Upholstery options: 2 (more available on request)
Reasons to buy
+Contemporary design+Ingenious transition from sofa to bed
Reasons to avoid
-Fairly firm seating-Limited upholstery options
Minimal yet satisfyingly robust, the Daybe sofa bed from Norwegian design studio Northern utilises simple building-block construction for its form. The uncomplicated approach is spearheaded by designers Morten and Jonas, two graduates from Bergen Academy of Art and Design, whose collaborative designs are often characterised by irreverence and wit. 
On this occasion it is honesty of purpose that drove the design; doing away with the sofa bed's usual springs, levers and mechanisms to create a multipurpose unit by the simplest means possible. Just unbuckle the leather corner straps, lift off the padded foam backrest, lay down next to the seat, and rebuckle to hold things in place.
Available upholstered in a range of Kvadrat fabrics, we love the larger-than-life soft pastel pink modules contrasted with the graphic black scaffold frame.
10. Made.com Haru Small Sofa Bed
Most affordable sofa bed: budget design with luxe looks
Specifications
Sofa dimensions: H78 x W120 x D86cm
Extended dimensions: W120 x L182cm
Sleeping area dimensions: W120 x L182cm
Upholstery options: 11
Reasons to buy
+Super affordable+Compact size+Great for a kids room+Good colour options
Reasons to avoid
-Fairly firm seating-Limited upholstery options
A very reasonable price makes this small sofa bed perfect for a kid's or teenager's bedroom; providing an instant crash-pad for friends and sleepovers, or working well as a multipurpose accent chair in a boudoir or guest bedroom.
Available in 11 upholstery options, including 5 luxe-look velvets with fabric-covered button detail and a good selection of shades, the overall look is more high-end than its budget price tag might suggest. 
On the flip side, because this is a fold-out foam sofa bed both seating and sleeping are fairly firm, and, as the name suggests, the small sofa bed is... well, small... especially in terms of mattress length which is a good few centimetres below average dimensions. Fine for the occasional night's sleep for the young at heart, but perhaps not so great for the long-legged adult or those staying for more than a night. 
And although this sofa bed claims to be a double, we think it's a pretty tight squeeze for two, although there is a larger option available that will likely result in better guest relations come morning time. Plus, a single chair bed version if you're pushed for space.
---
What's the difference between a click-clack and pull-out sofa bed?
Sofa beds come in two main types; click-clack or fold-out sofa beds where the sofa itself unfolds into a flat sleeping surface, and pull-out sofa beds which offer a dedicated mattress and a collapsible metal bed frame that pulls out from under the sofa seat cushions, leaving the back and arms of the sofa in place.
Generally speaking, click-clack models tend to be a firmer proposition for sitting and sleeping, so they're more suitable for occasional use. The sleeping area can be very low to the ground once extended, and you're less likely to have as much choice in upholstery options.
On the plus side click-clack sofa beds tend to have the most modern and innovative designs, they often take up less space once extended and are usually far more affordable than their pull-out counterparts.
Pull-out sofa beds have a raised sleeping platform and, depending on the model, can offer a mattress very similar to the one you might use on a bed, so usually offer the closest thing to a 'real' guest bed. They tend to be made by sofa specialists so there is likely to be a range of coordinating furniture to match if you want a sofa bed to blend with a living room suite, and there are usually a wide range of upholstery choices on offer.
A pull-out sofa bed is more likely to need more room however, as the main sofa frame stays in place whilst the bed extends. They are also usually more expensive, although well worth the investment if it's a piece of furniture you're going to be using regularly.
What to consider when shopping for the best sofa beds
Mattress type The best pull-out sofa beds generally offer a range of mattress options to suit sleeping preference, and budget. Open-sprung mattresses are the most basic of the bunch, graduating to pocket-sprung and then memory foam. If a sofa bed is only likely to be used occasionally an open-sprung option is normally fine, although it pays to check mattress depth too - cheaper models have fairly thin 'old school' mattresses that guests are more likely to feel the metal bed platform through, whilst higher-end models tend to have mattresses that range from 10 - 14cm deep. If you want to offer guests the most luxury possible, then the deepest pocket-sprung or memory foam mattress is the most likely to deliver.  
Cushion type If your sofa bed is also going to be used for sitting a lot, then you want the sofa cushions to be comfortable. The best sofa beds are similar to the best sofas in that a mixture of feather and foam is often best. Feathers offer a deep and comfortable seat to sink into, but can need plumping, whereas foam is usually much firmer but keeps its shape. The new hybrid options tend to offer a foam seat pad wrapped in an outer layer of feather for the best of both worlds.  
What is the difference between a sleeper sofa and a sofa bed? 
When searching for sofa beds you might come across two terms - sleeper sofas and sofa beds. In the UK we generally refer to a sofa that converts into a bed as a sofa bed, whereas in the US the same piece of furniture is called a sleeper sofa.
Want more space-saving inspiration?
A sofa bed is a great piece of multifunctional furniture for making the most of a small space, or creating plenty of sleeping room for extra guests. 
Discover more stylish ways to maximise space in our small living room ideas or  small bedroom storage ideas.
Amy's eye for colour, form and composition was honed in the design studio, creating prints for the interiors industry whilst studying textile design at Winchester School of Art. Here she developed her knowledge of key design principles and gained a deeper understanding of how a space can influence our sense of wellbeing, the ways we respond to our environment, and what we deem to be of value.
Amy's own style is considered, contemporary and timeless, with a strong interest in contemporary craft and homewares that champion collaboration between traditional makers and innovative technologies. A belief that design must exist in balance with the natural world fuels her interest in exploring sustainable, circular, and regenerative design processes and underpins her passion for natural materials and responsible craftsmanship.
When she's not writing about interior design or sourcing the latest homewares for Livingetc, Amy is most often found deliberating over the perfect shade of white paint, adding to her ever-growing plant collection, or printmaking in her home studio.