10 best sofa beds 2021: stylish, design-led and comfortable
Discover the best sofa beds for the living room, guest room or home office; from compact space-saving designs to comfortable corner sofa beds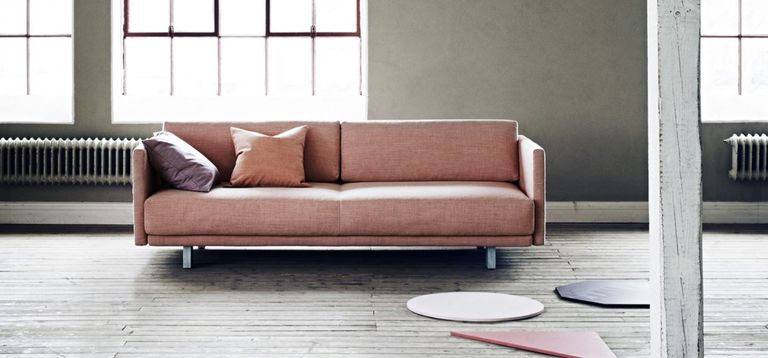 (Image credit: Soft Line)
By Amy Lockwood
Our edit of the best sofa beds is influenced by a year that has seen the way we use our homes shift in ways we might never have thought possible. 
Lockdown and home working have seen guest rooms turned into home offices, grown offspring return to childhood homes where outdoor space is more accessible, and holiday homes in the UK used a good deal more than may originally have been intended.
The result? It's the year that the sofa bed has come into its own. Our rooms are suddenly having to adapt to multiple purposes, and as such we want furniture that can adapt too. Traditional beds - in guest rooms that are barely used - now seem superfluous when the best sofa beds can provide multifunctional work-from-home seating space that easily transforms into guest sleeping when needed. 
Read on to discover a new generation of the best sofa beds, offering comfort, style and functionality. 
And if you're inspired to update your main seating while you're here? Our edit of 2021's best sofas will point you in the right direction for design-led modular, two and three-seater, and on-trend corner sofas.  
The best sofa beds
1. John Lewis Cubed 160 Sofa Bed
Best king size sofa bed for contemporary design
Specifications
Sofa Dimensions: W174 x H77 x D103cm
Seat Height: 44cm
Bed Dimensions: L200 x W140cm
Bed Height: 36cm
Fabric Options: 2
Lead Time: 1 week (as of writing)
Reasons to buy
+Good value for king size sofa bed+Prompt delivery options
If time is of the essence then the Cubed 160 sofa bed combines contemporary minimalism with John Lewis' prompt delivery options. 
The sofa's contemporary block form is balanced by carefully thought out slim armrests that allow more space for sleeping once the no-zag spring mattress is unfolded. A super generous king size mattress worth of space in fact. 
The ample sleeping room, and soft back cushions that make for comfortable sofa-lounging in the daytime, add up to a big set of ticks from us.
2. Heal's Hinge Luxe Sofa Bed
Best sofa bed for quick unfolding and a daytime nap
Specifications
Sofa Dimensions: W200 x H84 x D93 cm
Seat Height: 39cm
Bed Dimensions: L200 x W120cm
Bed Height: 39cm
Fabric Options: 2
Lead Time: 1 week
Reasons to buy
+Quick and easy click-clack unfolding+A contemporary take on the classic Chesterfield
Upholstered in Royal Blue velvet, Heal's Hinge sofa bed is a colourful and contemporary interpretation of the classic button-back Chesterfield. 
The 'click-clack' mechanism allows for quick and easy unfolding when siesta time strikes, with an additional two options for tilting the backrest when seated, depending on the state of relaxation you're aiming for.
At the size of a small double bed, the sleeping area is perfectly adequate for overnight guests, but we think this sofa bed really comes into its own for a cheeky daytime snooze.
3. Sofa.com Isaac Corner Sofa Bed
Best sofa bed for spacious lounging and laidback living
Specifications
Sofa Dimensions: W175 x H92 x D95cm
Seat Height: 47cm
Bed Dimensions: L185cm x W134cm (220cm total when extended)
Bed Height: 47cm
Fabric Options: 66
Lead Time: 8 - 10 weeks
Reasons to buy
+Loose linen creates a laidback look +Easy to wash or replace covers+Corner sofa maximises lounging and sleeping space
If you have lots of guests to accommodate, then the Isaac corner sofa bed offers plenty of lounging space and additional sleeping room. 
Slim arms and a straight frame keep this look contemporary, while quiet details like the visible seaming and deep feather cushions ensure a premium feel.
Upholster in loose-fit washed linen covers for a relaxed, laidback look that's perfect for holiday homes and beachside retreats. Plus, removable covers offer great practicality; allowing for easy washing and the option to replace the upholstery as necessary, giving your sofa bed extra longevity.
4. Splitback Frej Sofa Bed
Best sofa bed for the guest room that's now a home office
Specifications
Sofa Dimensions: W232 x H79 x D99cm
Seat Height: 38cm
Bed Dimensions : L200 x W115cm
Bed Height: 36cm
Fabric Options: 2 (more available on request)
Lead Time: 13 weeks
Reasons to buy
+Adjustable backrests+Multiple configuration options with additional chair beds
Amongst the best sofa beds for a multifunctional home office turned guest room, Innovation Living's Frej sofa is smart enough to conduct work-related video calls in seat form, and once reclined, a pocket-sprung mattress and versatile three-step drop mechanism will easily convince guests no comfort has been spared.
Conceived by Danish industrial designer Per Weiss - who is clearly a man fond of the Tetris video game - the sofa bed alone is comparative to a small double once fully reclined, but add a Frej chair bed, or two, and suddenly interesting configurations abound...
... two chairs plus sofa make a spacious double with independently adjustable backrests for night-time reading; one chair plus sofa creates an L-shaped layout particularly useful for daytime siestas; whilst alone, the chair beds are ideal for kids and solo guests.
5. Sofa.com Isla Sofa Bed
Best sofa bed that doesn't look like a sofa bed
Specifications
Sofa Dimensions: W210 x H92 x D106cm
Seat Height: 53cm
Bed Dimensions: L183 x W143cm (L229cm total when extended)
Bed Height: 22cm
Fabric Options: 102
Lead Time: 8 - 10 weeks
Reasons to buy
+Wide range of shapes, styles and sizes+Over 100 upholstery options
If you want your sofa bed to not look like… well, a sofa bed… then Sofa.com offers a wide range of their regular sofa frames with ingeniously well-hidden fold-out mattresses.
The best sofa beds in the collection range from compact loveseat to two and three-seater, and even a two-and-a-half-seater sofa bed! So finding an option to fit into a guest room, bedroom or tricky alcove just got a lot easier. Even better there are over 100 upholstery fabrics and colours to choose from, including velvets, linens, leathers and wools, so you are sure to find a furnishing fabric that will work with existing decor.
We think you can't go wrong with the contemporary drawing room elegance of the Isla three-seater. Now just to decide between Bahama or Dusty Rose matt velvet...
6. Love Your Home Felix Chaise Sofa Bed
Best chaise sofa bed for handy storage
Specifications
Sofa Dimensions: W259 x H87 x D100cm
Seat Height: 46cm
Bed Dimensions: L200 x W140cm
Bed Height: 46cm
Fabric options: 108
Lead time: 8 - 10 weeks
Reasons to buy
+Useful storage space for bedding+Huge variety of upholstery options+Size and orientation choices
Spacious sleeping options abound in the Love Your Home range, with the Felix sofa bed offering additional useful storage - ideal for guest bedding - hidden in the chaise longue.
Opt for a single, double or king size mattress, all with a choice of coil or pocket springs. (Pocket spring mattresses offer more support than a coil option, and are generally more comfortable; therefore the slightly higher price tag).
A wide range of upholstery fabrics, from slubby linens to premium leathers, offers the opportunity to really make this sofa bed your own.
7. Petite Friture Grid Daybed
Best sofa bed if you don't want your guests to stay toooo long
Specifications
Sofa Dimensions: W187 x H86 x D72cm
Seat Height: 45cm
Bed Dimensions: L187 x W72cm
Bed Height: 45cm
Fabric Options: 6
Lead Time: 6 weeks
Reasons to buy
+Daybed meets graphic art installation+Alternative to classic sofa seating
Yes, it's a more daybed than sofa bed. No, it's probably not going to have your guests raving about their good night's sleep. But if space is tight and you want multifunctional furniture that offers great versatility - and Bauhaus-slash-Graphic-Art talking-point decor - then the Grid sofa might just have your name on it. 
Created for Petite Friture by design studio Pool, the Grid daybed epitomises the brand's bold design ethos; a wooden plinth strapped with upholstered cushions forms the seat and bed base, with a connecting semi-circular side table doubling as a headrest once the geometric cushions are rearranged for sleeping. 
Novelty aside, you get a single bed's worth of sleeping space, and the unconventional table-and-seating arrangement is a useful alternative to installing a sofa where you may not use one - especially handy for tricky layouts, like converted apartments where internal hallways can offer almost as much 'wasted' space as actual rooms.
8. Northern Daybe Sofa Bed
Best modern and minimalist sofa bed
Specifications
Sofa Dimensions: W200 x H69 x D92cm
Seat Height: 39cm
Bed Dimensions: L200 x W120cm
Bed Height: 39cm
Fabric Options: 2 (more available on request)
Lead Time: 7 - 8 weeks
Reasons to buy
+Modern minimalism+Simple transition from sofa to bed
Minimal yet satisfyingly robust, the Daybe sofa bed from Norwegian design studio Northern utilises simple building-block construction for its form. The uncomplicated approach is spearheaded by designers Morten and Jonas, two graduates from Bergen Academy of Art and Design, whose collaborative designs are often characterised by irreverence and wit. 
On this occasion it is honesty of purpose that drove the design; doing away with the sofa bed's usual springs, levers and mechanisms to create a multipurpose unit by the simplest means possible. Just unbuckle the leather corner straps, lift off the padded foam backrest, lay down next to the seat, and rebuckle to hold things in place.
Available upholstered in a range of Kvadrat fabrics, we love the larger-than-life soft pastel pink modules contrasted with a graphic black scaffold frame.
9. Made.com Haru Small Sofa Bed
Best small sofa bed at a very affordable price
Specifications
Sofa Dimensions: W120 x H78 x D86cm
Seat height: 42cm
Bed Dimensions: L182 x W120cm
Bed Height: 29cm
Fabric Options: 11
Lead Time: 8 - 10 weeks
Reasons to buy
+Compact size ideal for small spaces+Most affordable option+Fun colourways perfect for kid's rooms
A very reasonable price makes this small sofa bed perfect for a kid's or teenager's bedroom; providing an instant crash-pad for friends and sleepovers.
Available in eleven pick-and-mix colours with fabric-covered buttons and five velvet upholstery options, more thought has gone into the Haru's minimalist styling and clever detailing than its budget price tag might suggest. 
As its name hints at, the small sofa bed is... well, small... especially in terms of mattress length which is a good few centimetres below average dimensions; perfect for children or the more petite amongst us, perhaps not so great for long-legged friends.
10. Soft Line Meghan Sofa Bed
Best contemporary sofa bed for compact spaces
Specifications
Sofa Dimensions: W214 x H90 x D99cm
Seat Height: 40cm
Bed Dimensions: L200 x W123cm
Bed Height: 40cm
Fabric Options: 13
Lead Time: 6 weeks
Reasons to buy
+Good option for apartment living
A contemporary sofa bed that doesn't stray too far from a classic-look sofa, this slimline number is a really useful option for apartment dwellers. 
Designed by Berlin-based Müller & Wulff, the narrow armrests, low profile and tall legs create a sense of spaciousness; particularly useful in open-plan apartments where heavier furniture may add too much bulk.
Once the bed frame is pulled out then the backrests slot into the base to create additional sleeping space, which although only the size of a small double bed, does mean you can overnight guests without encroaching on valuable floor space.
---
What to consider when shopping for the best sofa beds
Mattress type The best sofa beds are usually the ones that offer a pocket sprung mattress, as this is the most similar build to a traditional bed mattress. These are likely to be most comfortable if you have guests staying for a good length of time. However, they can also take up a bit more space - and add to the price - so if you just need somewhere to occcasionally put someone up for a night or two, a foam mattress can do the job just as well.
Cushion type If your sofa bed is also going to be used for sitting a lot, then you want the sofa cushions to be comfortable. The best sofa beds are similar to the best sofas in that a mixture of feather and foam is often best. Feathers offer a deep and comfortable seat to sink into, but can need plumping, whereas foam is usually much firmer but keeps its shape. The new hybrid options tend to offer a foam seat pad wrapped in an outer layer of feather for the best of both worlds.  
What is the difference between a sleeper sofa and a sofa bed? 
When searching for sofa beds you might come across two terms - sleeper sofas and sofa beds. In the UK we generally refer to a sofa that converts into a bed as a sofa bed, whereas in the US the same piece of furniture is called a sleeper sofa.
Want more space-saving inspiration?
A sofa bed is a great piece of multifunctional furniture for making the most of a small space, or creating plenty of sleeping room for extra guests. 
Discover more stylish ways to maximise space in our small living room ideas or  small bedroom storage ideas.