The best floor lamps for home offices
9 Striking floor lamps for home offices. Brighten up your home office or study with a practical—and beautiful—floor lamp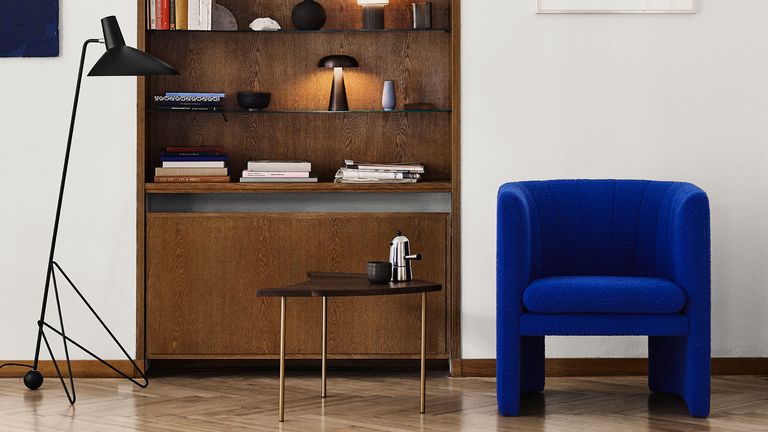 (Image credit: &Tradition)
We've put together a guide on the best floor lamps here, but if it's the best floor lamps for home office you're after then this guide is for you!
Working from home has become the new norm for many of us. As a result, we're spending more time than ever before in home offices. Practical lighting in a study is essential—but it's equally important to create the right ambiance. Thankfully, there are plenty of floor lamps that are the perfect combination of form and function, whether you're searching for a powerful, directional reading lamp or a decorative floor lamp. From energy-efficient LED lamps to iconic design classics that have stood the test of time, this is our curated pick of the best floor lamps that will add a distinguishing touch to your work-from-home space.
Looking for some home office inspiration? Explore our gallery of ideas here...
The best floor lamps for home offices
1. FLOS KELVIN FLOOR LAMP
The powerful yet energy-efficient LED floor lamp
Specifications
Size: Height: 110cm, Depth/Reach: 67.5cm, Base width: 16.5cm, Base depth: 16.5cm
Material: Floor Lamp: Aluminium, Base cover: Injection printed PC, Flex: Fabric coated
Recommended light bulb: 30 x TOP LED 8W 556lm total 2700K CRI 95 [i] DIMMING
Reasons to buy
+Provides directional reading light with 30 powerful LEDs+Three different light intensities+Produced from recycled materials
Reasons to avoid
-Some users may find the touch on/off and dimming function unintuitive
Designed by renowned industrial designer Antonio Citterio for Italian brand FLOS, this lamp packs 30 powerful LED lights into a fully adjustable directional head—making it ideal for positioning over a reading chair or home office desk. It's got a sleek, minimal appearance that will fit into most interiors and is made entirely from recycled materials.
2. ANGLEPOISE X MARGARET HOWELL TYPE 75 FLOOR LAMP
An iconic lamp with a contemporary twist
Specifications
Size: Height: 141cm, Base diameter: 25cm, Lampshade height: 19cm, Lampshade diameter: 14cm
Material: Aluminium, Cast iron
Recommended bulb: 6W LED
Reasons to buy
+Design classic+Anglepoise constant tension spring technology makes it easily adjustable to ensure perfect balance+Available in a range of fun colours+Affordable
Reasons to avoid
-Technical design might not fit all interiors
Originally designed in 1932, the Anglepoise lamp quickly became an icon thanks to its innovative spring mechanism that makes it the perfect reading lamp. The classic lamp was given an update in 2004 by Sir Kenneth Grange to include a scaled up floor lamp, and most recently was treated to a palette of fresh colours chosen by British fashion designer Margaret Howell—including rust and teal. Perfect for adding a pop of colour.
3. METAL AND FIR FLOOR LAMP
The practical lamp with inbuilt storage
Specifications
Size: Height: 158cm, Width: 44cm, Depth: 44cm
Material: Metal, Cotton
Recommended light bulb: E27 LED, max 40W
Reasons to buy
+Integrated shelves to allow the lamp to double as storage, saving space+Clean, classic design that would suit traditional interiors+Affordable
Reasons to avoid
-Doesn't provide directional light
If your home office is on the small side, look for space saving solutions—such as this clever floor lamp with integrated shelves. It's ideal for positioning beside a desk or reading chair, and looks great stacked with books. The rectilinear design makes it easy to fit into tight corners and against the wall. 
4. FRANK LLOYD WRIGHT TALIESIN 2 CHERRY-WOOD FLOOR LAMP
The architectural design icon
Specifications
Size: Height: 204cm, Width: 41cm, Depth: 41cm
Material: Cherry wood structure
Recommended bulb: 10 x Max 25W E14 bulbs
Reasons to buy
+An architectural icon that will make a handsome statement in a home office+Sculptural form
Reasons to avoid
-Very expensive-Offers ambient light, rather than directional light-You'll need quite a bit of space as it makes a bit impact visually
If you've got some serious cash to drop on a lamp and you want to bring a slice of architectural history into the home office, this handsome lamp by Japanese brand Yamagiwa is the one to go for. Originally designed  in 1911 to sit in Taliesin, one of the Frank Lloyd Wright houses, by the architect himself, the sculptural lamp features a series of cherry wood boxes and shelves, each containing a light.
5. FRITZ HANSEN CARAVAGGIO FLOOR LAMP
The most playful floor lamp
Specifications
Size: Height: 151.5cm, Diameter: 40cm
Material: Aluminum, Steel
Bulb type: E27, Max 150W
Reasons to buy
+Fun, playful looks +Provides directional light+On sale
Reasons to avoid
-Still quite expensive on sale
Add a fun touch to the home office with this characterful floor lamp designed by Cecile Manz for Fritz Hansen. The oversize shade sits atop a slender stem, creating a playful contrast. The shade is mounted on a flexible tube that can be tilted up to 40 degrees to provide directional light, making it suitable for working.
6. &TRADITION TRIPOD FLOOR LAMP
The best minimal floor lamp
Specifications
Size: Height: 134cm, Base: 47cm, Diameter: 63cm, Flex length: 200cm
Material: Lacquered metal, Brass
Bulb type: E27, Max 60W
Reasons to buy
+Classic Nordic design from 1953 by Old Masters Hvidt & Mølgaard+Tripod design makes it easy to fit into corners+Elegant maroon red colour
Reasons to avoid
-Expensive
This lamp is the perfect way to do minimalism with a soft touch. The clean lines of the tripod base and the angled shade seamlessly fit into most home offices, while the rounded edges of the feet and the playful ball keep it from being too stark.
7. MADE.COM SEPPO FLOOR LAMP
The best multi-directional task light
Specifications
Size: Height: 165cm, Width: 25cm, Depth: 25cm, Flex length: 230cm
Material: Metal
Bulb type: E14, Max 4W
Reasons to buy
+Three adjustable heads offer precisely directional light+Tall, narrow design fits into small spaces+Chic industrial looks+Affordable
Reasons to avoid
-It takes LED bulbs with a maximum of 4W so it's not a super bright light
The antique brass fittings and elegant black stem of this lamp are a celebration of industrial design language. Its three rotating heads make this the perfect multi-tasking lamp, as you can shine a light on both your desk and a reading chair without having to constantly adjust the light source.
8. HOUSE BY JOHN LEWIS BRANDON FLOOR LAMP
Best affordable yet stylish floor lamp
Specifications
Size: Height: 165cm, Depth: 28cm
Material: Metal, Plastic
Bulb type: 8.5W ES LED Classic, 28W ES Classic Eco Halogen
Reasons to buy
+Simple, minimalist design+Directional light+Very affordable
Reasons to avoid
-Needs to be assembled—some users report difficulty-Base may be unstable on carpet
You don't need to spend big to get functional lighting for the home office, as this simple lamp from John Lewis goes to prove. The minimalist, archetypal lamp doesn't just look good—it also features an adjustable cone-shaped shade that can direct light.The Coordinates F floor lamp by Michael Anastassiades strips the floor lamp back to its essential elements—a simple round base and two lighting bars that can be set to the desired angle during assembly. The result is a spectacularly minimalist alternative to more conventional floor lamps. The on-trend champagne finish makes it a winner.
9. MENU HASHIRA FLOOR LAMP
The lamp inspired by a traditional Japanese rice paper lantern
Specifications
Size: Height: 83cm, Diameter: 30cm
Material: Steel, Linen, PS plastic, Ash wood
Bulb type: E26 incandescent
Reasons to buy
+Translucent shade creates a cozy, glare-free ambiance+Luxurious materials, including linen and ash timber+Simple, minimal design+On saleThe slender tripod fits easily into corners, making it ideal for small spaces+Modern, Nordic-inspired design +The head swivels to shine light in any direction+Affordable
Reasons to avoid
-Still quite pricey, even though it's on sale
If you're looking to create a cosy yet refined ambiance in your home office, go for this simple cylindrical lamp by Norm Architects for MENU. A Nordic take on traditional Japanese paper lanterns, it features a semi-translucent linen shade sitting atop a solid timber base. When it's not in use, it becomes a minimal yet striking sculptural element.
---
How to choose the best floor lamp for a home office
If you're looking for a floor lamp for a home office, the first thing to do is work out the purpose of the light and how much light you need. If it's a task light for desk work or reading, you'll want to go for an LED of at least 5-10 watts, while mood or accent lighting can work well at a lower brightness. Also keep in mind that the taller the lamp, the greater the area that it will light. If you use your home office for various purposes—say, it doubles as a spare room—you may also want to consider a dimmable lamp that can create different ambiance at different times. While a floor lamp might be all you need, chances are you'll want to pair it with a desk lamp if you spend any length of time working in your office. In this case, think about what kinds of lamps will work together visually. Do you want to go for an eclectic mismatched look or a more coordinated style? Which brings us to the final point for consideration—the lamp as a decorative element. Whatever you choose, make sure it fits the interior scheme for the room.
What is the best floor lamp for a home office?
Like anything in the home, this largely depends on what you're looking for. If it's a directional reading light, you can't go past the powerful Flos Kelvin floor lamp; if it's a decorative element to provide ambient light, the Hashira floor lamp by Menu is a winner; and if price is the deciding factor, the House by John Lewis Brandon floor lamp is hard to beat.