The 12 best colorful rugs to make your home feel instantly happier
The Livingetc editors have sourced the 12 best colorful rugs - bright and beautiful designs which help to fill your home with flair and style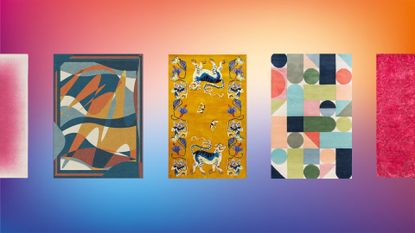 (Image credit: Ruggable x Barbie, Ruggable x Monica Ahanonu, Anthropologie & Amazon )
The Livingetc Newsletter
For style leaders and design lovers.
Thank you for signing up to LivingEtc. You will receive a verification email shortly.
There was a problem. Please refresh the page and try again.
Color is a central tenet of design in all its forms, the same applies to rugs. Your choice of rug color can directly impact the mood and visual appeal of the room. While darker and more intense tones can offer a grounded foundation for your floor, bolder colors can add a sense of reverie to your room. The lightest of hues can open up the space and help you create a calmer scheme. Colorful designs bring together the best bits of these shades, positioning rugs as the focal point of the room rather than the last thought.
As you set foot on your journey to find the perfect rug, you can start by looking at our best rugs feature for expert advice and our favorite finds. If color is where your heart is, you can discover our exclusive list of rugs below. We've scoured through the best home décor stores to bring together these kaleidoscopic creations.
Colorful Bright Rugs
Material: Polyester
Size: 6' x 9'
Price: $379
A color that is dominating the conversation right now, pink is guaranteed to make a statement. This washable rug design helps you bring a bit of Barbie in to your scheme but still feels contemporary and clean.
Material: Wool & Rayon
Size: 5' x 8'
Price: $698
Highly contrasted characters dance across this gold wool rug from Anthropologie. Artist, Sarah Gordon's painted florals and creatures help create a rug that feels abstract and engaging,
Material: Polyester
Size: 8' x 10'
Price: $569
An interesting exchange of color and shapes takes place on this Ruggable x Monica Ahanonu blue patterned rug. Its warm tones of carrot orange, coriander yellow, and denim blue would blend beautifully with mid-century furniture and lighting.
Colorful Patterned Rugs
Material: Nylon
Size: 5' x 8'
Price: $498
This Anthropologie design showcases a striking emerald hue that would add a touch of glamour to interior schemes. The whimsical depiction of cheetahs prancing across a green patterned rug adds to the appeal of this design.
Material: Rayon, Cotton & Wool
Size: 8' x 10'
Price: $2,898
Jewel tones of fuschia and red make for a dramatic and rich rug experience. Lean into maximalism by introducing this brightly patterned piece to striking living and bedroom designs.
Material: Polyester
Size: 5' x 7'
Price: $439
Shades of punchy purple, blue, red, and pink form this bohemian paisley print design that takes its lead from Persian rugs. Created with the queen of color, Iris Apfel, this Ruggable design works well with traditional or modern interiors.
Colorful Geometric Rugs
1. Geometric Color Block Rug
Material: Wool & Cotton
Size: 5' x 8'
Price: $399
Hand-tufted for extra comfort, this geometric rug uses color cleverly thanks to its graphic shapes. Its soft and warm color palette makes it a versatile design choice that would blend well with a variety of furniture and lighting styles.
Material: Polypropylene
Size: 5'3" x 7'
Price: $138
Refreshing shades of blue and grey give this geometric indoor/outdoor design from Wayfair a contemporary and calm feel. Create a calming outdoor area for living or dining with it and stay cool, whatever the weather.
Material: Wool & Cotton
Size: 8' x 10'
Price: $426.23
Delicious blocks of color cover this large rug, creating a playful and vibrant design that would be right at home in a child's room or in an energizing living room scheme.
Colorful Outdoor Rugs
1.Bold Bright Outdoor Rug
Material: Polyester
Size: 5' x 7'
Price: $426.23
If you want to bring energy and excitement to your outdoor space, this is the right rug for you. This Ruggable x Monica Ahanonu piece perfectly balances strawberry pink, bright orange, and blue with a softer canvas ground.
2. Yellow Stripe Outdoor Rug
Material: PET
Size: 4' x 6'
Price: $199
Yellow brings joy wherever it goes. This fade-resistant Kathy Kuo outdoor rug would add a touch of sunshine to your outdoor areas with ease. The smart stripe lends elegance to this design and keeps it from feeling too overwhelming.
How do you match a colorful rug?
The secret to matching a colorful rug lies in timing. Choosing your rug at the right stage allows you to find the best matches in terms of furniture, lighting, and finishes. Too often rugs are reneged to last place on the design decision scale which can make it harder to achieve cohesion in your scheme. A colorful rug can be a big statement so you can choose to balance that by looking to more neutral accompaniments or leaning into the design further by taking a maximalist approach to color.
"Rugs are such an underrated way to bring color and vibrancy to a space. I think it works especially well when the rest of the color palette is neutral (walls, countertops, flooring). If you select a colorful rug, consider adding decorative elements like throw pillows (just please, no furry ones), artwork, and even significantly sized decor like large vases or crystals to the space. Remember, you want to accent the colors in the rug - not take over the entire palette. A hint of the hue here and there is enough to draw the eye and be impactful without overpowering the rest of the palette," says interior designer Breegan Jane. Think of your rug as your foundation, the colors that sit within those fibers are likely going to be the best ones to play with when it comes to choosing your furniture, lighting, and accessories.
For style leaders and design lovers.
Writer and design expert Faaizah Shah is the founder of The Interiors Consultancy. She has worked with designers such as Staffan Tollgard and design houses such as Sanderson to help them understand and communicate their narratives. She is known for crafting engaging stories and imaginative content, and understanding great decor from her years alongside some of the best creatives in the industry. She is also a contributor to Livingetc.