Working out on lunch break at home - how to get it right and the perfect Barry's 30 minute regime
Working out on lunch break can be short, sweet and a successful with this simple Barry's at home plan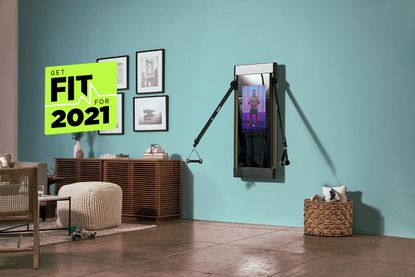 (Image credit: Tonal)
Making time for exercise at any part of the day can be challenging, let alone trying to squeeze it into the lunch hour. Prioritising your goals for working out on lunch break will not only boost your energy levels, but research shows that energising workouts may lead to better job performance, more enthusiasm and increased creativity. Creating this habit is easier said than done, especially when the odds can be stacked against us with dreary winter weather and the current pandemic circumstances.
So whether or not you've filled your space with the best home gym ideas, take advantage of our compilation of practical tips below to help you build that lunchtime fitness habit and enjoy it to boot.
Preparation is Key
Block out the time in your diary. That fitness appointment should be as important as work meetings, so pencil it in for the week ahead so you're committed to the session. By booking it in your diary, others know you're away from the desk and you can't be reached.
Pro tip: add some buffer time to account for those pesky meetings that run over. Remember, think quality over quantity for these sessions - an effective, full body workout doesn't need to take you more than 20-30 minutes.
Dress for success. Keep your "work" activewear and "gym" activewear as separate as you can. It's pretty likely you're working in some sort of activewear these days, so changing into your "workout outfit" can help to mentally switch on and prepare for the workout ahead.
Flexibility over rigidity. Barry's Master Trainer, Jemma McKenzie-Brown says, "I find it best to have a schedule when it comes to my training. Sit down and decide how many days a week you're comfortable training and a rough time of day, so you know you can have some structure without being too rigid about it." Life will happen - be willing to swap that Monday workout for Tuesday without feeling defeated.
Let's Sweat Together, but Apart
Get friends or family involved in your workout! Not only will it be more enjoyable to have friends along for the session, but it's built-in accountability - you'll be less likely to cancel if your mates are joining.
Rely on sweat equity. Join a live stream class to be part of a community. Booking a live class allocates a time for your workout (step 1 done!), you'll be surrounded with likeminded people providing a daily dose of social interaction for the day, and you're more likely to show up and participate if you've paid for class. It's a win, win scenario!
Treat yourself! A common concern of working out at home is that you won't push yourself as hard as you would at the gym. Create achievable mini-goals to help track your progress, and be sure to share these with your workout crew for support and accountability. Once you've smashed those goals, reward yourself for a job well done!
Take Positive Action
Pick your workout the day before. Spend the time mapping out what workout you'll do the next day, so it's one less hurdle to jump over. Need some inspiration for choosing a new at-home routine? Check out our recommendations on the best fitness apps to download this year.
Create your fitness space. Choose one space in your home that's your gym space; a space that makes you feel excited and prepped for the workout ahead - see our guide for how to make a home gym for more inspo. Keep all of your fitness equipment together so it's easy to reach and available for whatever the session throws your way.
The struggle has been real this year, even for elite athletes. Endurance adventure athlete Sophie Radcliffe says, "It's hard to stay motivated, but energy and feeling good all flow from taking positive action. Motion is lotion - start small and start today. Move your body, move that stuck energy, replace negative thought and lack of energy with endorphins, feeling alive and do something to make yourself feel proud."
Now, Get Moving
We've enlisted the help of Barry's London Master Trainer, Jemma McKenzie-Brown, to kickstart your new routine with a 15-20 minute bodyweight workout found below! All you need is a mat, a good attitude and 20 minutes in the diary. Let's go!
WARM UP
1 min jogging on the spot to get your heart rate elevated and the blood pumping
Round 1: 1 min per exercise – 3 times through
1 – Commandos. Start in a high plank position, on or off your knees, with your shoulders over your wrists. Keeping your hips as still as possible, lower down onto your right elbow and forearm, then your left – so you're in a low plank. Push back up to a high plank one hand at a time and repeat.
2 – Walkouts with press up progression. From standing, fold your torso forwards reaching your hands towards the floor and walk your hands forward until you're in a high plank. From the plank bend the elbows out wide and lower your chest down to the floor. As soon as the chest kisses the floor, squeeze and push yourself back up to a high plank position. Walk your hands back towards your feet, stand up and go again – adding an extra press up every time you walkout.
3 – Glute Bridges Lie on your back with both knees bent and feet on the floor hip-width apart. Push into your heels and lift your hips as high as you can into the air. Squeeze your glutes at the top and then lower your hips back to the floor. Repeat.
Round 2: 1 min per exercise - 3 times through
1 – Squats Standing with feet hip width apart, bend your knees and lower your bum towards the floor like you're going to sit down in a chair for 3 seconds. Weight MUST be in your heels and chest up! Squeeze your glutes and stand up again.
2 – Duck Walks Staying low and in your squat walk forward 4 paces, leading with the heels, and back 4 paces, leading with the toes. Stand up whenever you absolutely need a break!
3 – Burpees Jump down into a high plank position. Lower your chest down to the floor and push back up to standing, jumping as high up into the air as possible!
Round 3: 1 min per exercise - 3 times through
1 – Tricep Dips Find a bench, stool, bed or chair. Facing away from your prop, put the heels of your hands on your surface behind you, shoulder width apart. Place your feet on the floor a few feet ahead of you and then lower your bum down towards the floor for 3 seconds, bending and keeping your elbows pointing back behind you. Straighten your arms and repeat.
2. Wide press ups From a plank position, bend the elbows out wide and lower your chest down to the floor. As soon as the chest kisses the floor, squeeze and push yourself back up to a high plank position.
The Livingetc newsletter is your shortcut to the now and the next in home design. Subscribe today to receive a stunning free 200-page book of the best homes from around the world.
Jamie Chin-Dickey is a professional in the fitness industry, specialising in building brands, inspiring people to work out, and making group fitness fun. As well as writing for Livingetc, she has worked with gym brands such as Frame, UN1T and Milo and the Bull, and partnered with health food companies such Nush. She is currently working at Faire, helping to bring small brands together.