What's the best way to organize spices? This is what professional declutters choose for a more minimalist kitchen
The 4 ideas organizers use to store spices to maximize function and minimalize clutter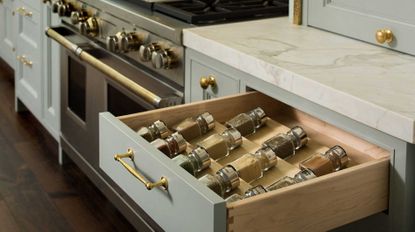 (Image credit: Rev-a-Shelf)
The Livingetc Newsletter
For style leaders and design lovers.
Thank you for signing up to LivingEtc. You will receive a verification email shortly.
There was a problem. Please refresh the page and try again.
We love the look of a minimalist kitchen, but there's one piece of kitchen 'clutter' it's hard to put away - the spice rack. As you venture out of our culinary repertoire and delve into an expanse of cookery books that adorn our shelves, your spice collection begins to grow exponentially. Where once salt, pepper, and chilli flakes would suffice now exists a realm of za'atar and ras el hanout. The once-satisfactory half-shelf of jars now no longer stands up to expanding requirements.
After speaking with two organization experts, we've discovered how to organize a kitchen for spice storage, depending on your personal desires for your space. 'The best spice storage solution harmonizes with your kitchen's design, cooking style, and budget,' says Olivia Parks, owner of Professional Organizer New Orleans. 'The main aim is to make your spices easily accessible whilst preserving their quality and flavor.'
Take a look at these tips to see how to keep your spices looking organized in a way that works for you, without ruining your kitchen aesthetic.
1. Spice racks
A traditional spice rack can be a bit of an eyesore, but in the right guise, it's still one of the best solutions. The simple construction tidies all your pots neatly into one place thus negating the precarious balancing act currently happening in your cupboard.
This classic idea has some clear benefits that make it an obvious winner for some. 'For those who value accessibility and visibility, spice racks provide an at-a-glance overview of your spices' says Olivia Parks, 'however, for some, a spice rack may take up valuable counter space or detract from a minimalist kitchen aesthetic'.
So if you are an avid cook that requires quick access to a multitude of spices at any given time perhaps the trusty spice rack will continue to be your choice of storage. Not to worry if you need to keep spices off the countertop, there are more solutions coming your way.
2. Drawers
If maximizing counter space is your biggest concern you may wish to consider storing your spices in drawers to declutter kitchen countertops and maintain that clutter-free look. Not only this but they also might be the best way to prolong the life and quality of your supplies. 'In-drawer spice organizers keep spices hidden away from light and heat, preserving their quality,' explains Olivia. The flat layout also makes for easy labeling and a quick way of locating spices.
'If you do this it is best to add a non-slip liner underneath so the bottles don't move around,' adds professional organizer Robyn Reynolds, from Organize2Harmonize. 'You could also put the spices in space tins that are magnetic at the bottom with a magnetic liner underneath in the drawer'.
If you are repotting spices, take extra care to label them after disposing of their original container. After all, no one wants to mistake cumin for cinnamon in their baking.
Olivia urges us to consider our personal needs when opting for a space storage solution. 'This option may feel too extensive for kitchens with limited drawer space or those using fewer spices,' she says. It would be unnecessary to take over a whole draw for 6 spice pots, so consider using half a draw. This can easily be done by dividing the space with a tiered rack.
3. Over-the-door organizer
For something a little out of the ordinary when you're tight on space, you will love this clever pantry idea from Olivia. 'If you're looking for an affordable and creative solution, consider repurposing an over-the-door shoe organizer,' she says. 'These can be hung inside a pantry door, transforming unused space into a full-length spice rack. Each pocket is a neat holder for a spice jar, offering a clear view and easy access.'
It goes without saying that a deep clean should commence before you start shoving spices in your shoe organizer, but it's a clever way to add spice storage into your kitchen.
4. Tiered cabinet storage
If you want to store spices in your kitchen cupboards, there's still some best practice for how to organize your kitchen cabinets when it comes to spices.
'If you prefer keeping them in the cabinet, a tiered shelf unit is a must so that you can see what you have' Robyn says. 'Oten people have way more than what will fit in one cabinet so I suggest keeping the ones you use often close to your prep area in the cupboard and store the rest in the pantry.'
Unless your whipping out the exotic spices on an average Tuesday this idea will work well, keeping everyday necessities close by in easy reach whilst keeping your space clear.
3 of the best spice storage organizers
For style leaders and design lovers.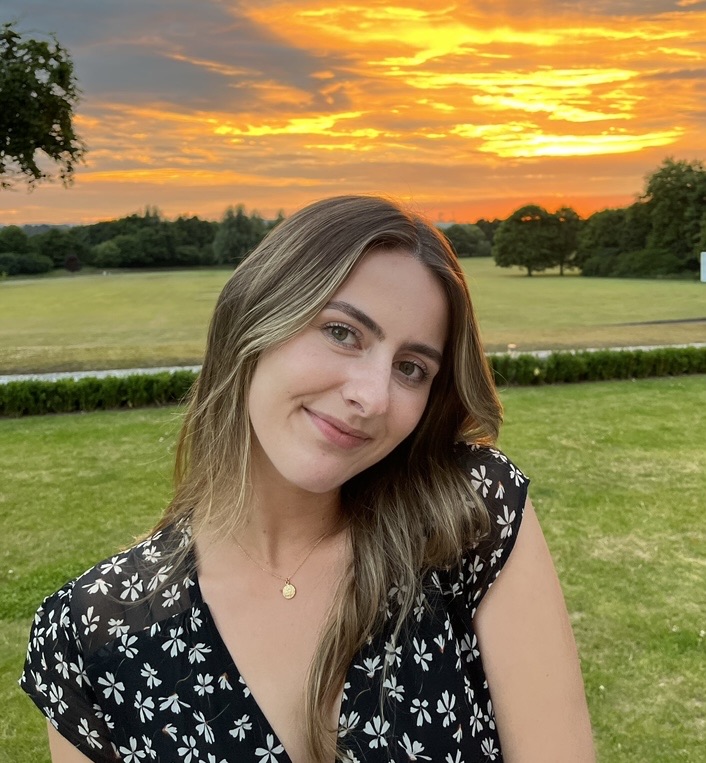 Amy recently completed an MA in Magazine Journalism at City, University of London, with experience writing for Women's lifestyle publications across arts, culture, and beauty. She has a particular love for the minimalist aesthetic mixed with mid-century furniture, especially combining unique vintage finds with more modern pieces. Her previous work in luxury jewellery has given her a keen eye for beautiful things and clever design, that plays into her love of interiors. As a result, Amy will often be heard justifying homeware purchases as 'an investment', wise words to live by.