Refacing vs replacing kitchen cabinets - expert advice to help you decide how to refresh
Experts reveal the pros and cons to refacing vs replacing your kitchen cabinets for the best choice for your home and budget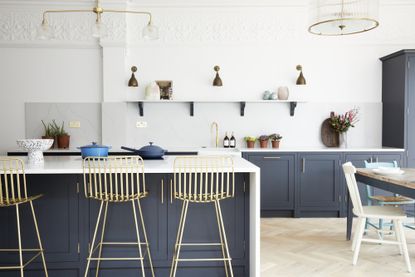 (Image credit: Olive & Barr)
If your kitchen cabinets are in need of some TLC, there are two main options that you will need to decide between: refacing vs replacing.
There are a number of factors to consider that will help guide you in the right direction, with budget being one of the main points to think about.
Refacing is a cheaper alternative to ripping out your existing kitchen to start again. Al Bruce, Founder of Olive & Barr, says refacing 'involves leaving the existing carcass and wrapping the cabinets in a new color or replacing the fronts of the doors and draws to give your kitchen a completely new style'.
He continues: 'Replacing, on the other hand, involves removing the existing cabinets completely in order to give the kitchen a new look and update on quality and style.'
Refacing vs Replacing kitchen cabinets
What is refacing kitchen cabinets?
'Refacing kitchen cabinets entails picking out new doors and drawer fronts to replace the existing style but keeping the carcass or cabinet boxes, which can be covered (in a veneer) to match the new fronts,' explains Ben Burbidge, MD Kitchen Makers.
'This also provides an opportunity to update the hardware (handles or doorknobs) to create a fresh new look for your kitchen.'
And Elizabeth Sherwin, Creative Director, Naked Kitchens, adds: 'Refacing entails updating or replacing the cabinet fronts/fascias within a kitchen; this includes doors, drawer fronts, end panels, plinths, fillers and any other trims that are visible on the exterior of the cabinetry.
'In some instances the client may choose to replace worktops and appliances at the same time, however the key here is that the original cabinet carcasses will remain in place.'
Refacing kitchen cabinets: Pros
There are a number of reasons why you would choose to reface your kitchen cabinets instead of replace the whole lot. Our expert explain below:
1. Refacing is more affordable
Refacing certainly offers a more economical alternative to replacing a full kitchen.
Naked Kitchens' Elizabeth Sherwin says: 'Opting for replacing the fronts only within a kitchen would tend to be around 1/3 to 1/2 of the cost to replace the full cabinetry. Installation time and costs will also be lower for this option.'
Olive & Barr's Al Bruce agrees: 'This is a great option for those who haven't the budget for a brand-new kitchen. It's easy to opt for trendy kitchens, but the downside with that is they often fall out of fashion quickly, so if your kitchen still holds its quality, but is in need of a modern refresh, refacing could be the perfect solution.'
And Kitchen Makers' Ben Burbidge adds: 'Refacing a kitchen represents a more budget friendly option if you can't stretch to installing a brand-new design.
'It's not a cheap process but you can choose replacement components that suit your taste and don't break the bank.'
2. Refacing is more eco-friendly
As there's less waste, refacing your kitchen cabinets makes for an environmentally friendly choice.
'If your existing cabinets are of a high build quality, this is absolutely a more environmentally friendly option than replacing a full kitchen and will generally use up to 80% less sheet material,' explains Elizabeth Sherwin.
3. Refacing is a good choice when updating to sell
If your kitchen needs a spruce up before it goes on the market, and the cabinets are still in a good condition, refacing is an excellent choice for an aesthetics upgrade that will appeal to potential buyers.
'If you're updating a kitchen within a property that is intended to be sold on, immediate value can be added at minimum cost by bringing the kitchen fascias up to date,' says Elizabeth.
4. It allows for detailed customization
This option makes your kitchen hugely customizable, with a range of door styles, colors and finishes to choose from.
'This not only allows you to create your dream kitchen style, but provides transparency and control over every cost involved,' says Elizabeth.
5. Refacing is ideal if you need the job done quickly
The manufacturing lead time for cabinet fronts is typically shorter than that of a full new kitchen - typically 6-8 weeks, in comparison to 10-12 weeks for a full kitchen.
If you're trying to turn around a property renovation quickly, this could be beneficial.
Refacing kitchen cabinets: Cons
While refacing comes with a number of benefits, there are also potential issues to consider.
1. The layout must stay the same
If your kitchen layout idea is working for you, this isn't necessarily a con; it's simply something to consider if you do feel there are changes you'd like to make.
Al Bruce says: 'There isn't the option for a different layout, meaning that you find that the ergonomics of the kitchen aren't working for you, you'll be limited with options.'
And Elizabeth Sherwin adds: 'Ensure that you are happy that the layout of the kitchen works for you - if there is a fundamental problem, or something that is a persistent niggle that needs addressing then it would be good to resolve this for long-term benefits. It is also worth ensuring that appliances, or at least the pre-determined apertures for appliances suit your chosen models if you are thinking of updating these.'
2. It could turn out to be a 'false economy'
Ben Burbidge warns that if you end up wanting to make layout changes later on, or if your existing cabinets are not in a great condition, refacing could be a 'false economy'.
He says: 'It's worth making sure refacing isn't going to turn out to be a false economy. Check the integrity of the existing cabinetry and think carefully about the current layout and if it truly works for you and your family.
'If you foresee a time when you will have to make major kitchen layout changes then it might be prudent to save up and create the perfect kitchen for your home, particularly if you envisage staying there for years.'
Echoing this point, Elizabeth adds: 'It is worth ensuring that all of the existing cabinet carcasses are in good condition before cladding with replacement fronts to ensure that these will not need swapping in the near future. This could lead to additional expense in terms of replacing units and extra installation costs.'
Refacing kitchen cabinets: Average cost
This will, of course, depend on the size of the kitchen and the style of the fronts selected, however an average cost for refacing kitchen cabinets is likely to be in the region of $4,500-$7,500, excluding installation costs.
When refacing kitchen cabinets is a good idea:
- Definitely when working to a tight budget.
- If you are concerned about your carbon footprint. It is a more eco-friendly solution in comparison to replacing the entire kitchen.
- A great option if renovating a house that is not necessarily your 'forever home'.
- Fantastic for property renovating - buy to sell, buy to let.
What is replacing kitchen cabinets?
'Replacing kitchen cabinets entails the removal of existing cabinetry and replacement of the units in full - including carcasses, fronts and accessories,' says Elizabeth Sherwin.
'We find that often a full kitchen replacement is timed in with a full home renovation or other building works, such as an extension. This can be necessary where the existing kitchen has reached the end of its serviceable life, or where building works mean that the location and layout of this are no longer suitable.'
Replacing kitchen cabinets: Pros
Kitchen need an upgrade? Find out why replacing your cabinets makes a savvy choice:
1. You'll have full control of layout and storage
Replacing the cabinets allows you to have full control over the kitchen layout, the storage options and the flow of the kitchen - creating a bespoke space that really works for you and your family.
'As the hub of the home, having a new kitchen means you're able to design a space from scratch for the entire family to enjoy, cook and entertain in,' says Olive & Barr's Al Bruce.
'This option will allow you to go right back to the drawing board to consider the layout of the room without having to work around existing cabinetry constraints,' agrees Naked Kitchens' Elizabeth Sherwin.
'As the client, you will have the freedom to create a kitchen that suits your needs - whether this is from a storage perspective, style, layout, worktops, handles, and appliances.'
And Kitchen Makers' Ben Burbidge concurs, adding: 'Replacing your existing kitchen provides an opportunity to assess what you actually need from the space and how it can best suit your family and lifestyle.
'The requirements for an avid cook compared to someone who is rather more functional, or a busy family home compared to a house that one or two people live in can be markedly different. Often, existing kitchens simply don't work for a particular lifestyle, which is when you can create the perfect space for you.'
He continues: 'The first thing to consider when purchasing a new kitchen is how you'll spend your time there and what is possible in the space. Do you need a layout that is ideal for socialising, with a breakfast bar and wine fridge, or is cooking your biggest passion and you'd benefit from a larger preparation area and oven?'
2. Beautiful kitchens sell houses
'It is a well known fact that modern kitchens and bathrooms sell houses,' states Elizabeth.
'The kitchen is an integral part of any home, and there will be no chance of prospective/future buyers being put off or daunted by works required if they feel safe in the knowledge that the kitchen has been recently installed. A reputable name is also a huge selling point.'
Al Bruce agrees, adding: 'For those that are considering selling their homes in the near future, a new kitchen is likely to increase the value of the home.'
3. It's a worthwhile investment for a forever home
If you know you are set to spend a number of years in your home, investing in the kitchen you really want is never a bad decision.
'If this is your forever home, this is your opportunity to put your stamp on the property and to create the perfect kitchen for you,' says Elizabeth.
Replacing kitchen cabinets: Cons
There are some points to consider before splashing out on a new kitchen, including:
1. Replacing kitchen cabinets is expensive
Replacing a full kitchen will come at a higher cost than replacing the fronts only.
'The only real downside to replacing your kitchen is the cost and disruption,' says Ben Burbidge. 'Simple remodels can be affordable and swift but for more involved designs can take up more budget and time.'
2. Longer lead times than refacing
You will need to account for more time to physically remove and install a new kitchen
'Replacing kitchen cabinets is a more expensive route than refacing, and longer lead times would mean this process would take several months,' says Al Bruce.
And Elizabeth Sherwin says: 'Production lead times will often be longer to produce a full kitchen - we work to a 10-12 week lead time from confirmation of order.'
3. Replacing kitchen cabinets will cause more disruption
Replacing kitchen cabinets in their entirety will no doubt involve more mess and disruption to your living space.
Elizabeth says: 'If living in the property, part of this process may involve setting up a small temporary kitchen so that you have an area to cook and wash up whilst the old kitchen is being removed and the replacement being installed.'
Replacing kitchen cabinets: Average cost
This will, of course, be dependent upon style and size, however, on average new kitchen cabinets cost upwards of $18,000.
When replacing kitchen cabinets is a good idea:
- This can be necessary when the existing kitchen has reached the end of its serviceable life.
- Where building/remodelling works mean that the location and layout of the existing kitchen is no longer suitable.
- If the existing kitchen layout is not appropriate or safety distances have not been observed.
- If there has been damage to the property such as a leak or fire that cannot be remedied.
- If you want to make layout changes to better suit your lifestyle.
Are there any other options for giving your kitchen cabinets an upgrade?
As well as refacing and replacing, refinishing your kitchen cabinets is also an option. This is a good DIY option if you're on a budget, and involves learning how to paint kitchen cabinets.
Ben Burbidge says: 'Refinishing works best for wooden kitchen cabinetry. You simply change the color of the kitchen by sanding down or using a chemical to remove the current finish. Once you have a well-prepared surface you can prime and apply a new color with the best paints for kitchen cabinets, or stain.'
The Livingetc newsletter is your shortcut to the now and the next in home design. Subscribe today to receive a stunning free 200-page book of the best homes from around the world.
Ruth Doherty is a lifestyle journalist based in London. An experienced freelance digital writer and editor, she is known for covering everything from travel and interiors to fashion and beauty. She regularly contributes to Livingetc, Ideal Home and Homes & Gardens, as well as titles like Prima and Red. Outside of work, her biggest loves are endless cups of tea, almond croissants, shopping for clothes she doesn't need, and booking holidays she does.